The Hoan Kiem District has completed the project on expanding pedestrian street including Hang Buon, Ma May, Dao Duy Tu, Hang Giay, Luong Ngoc Quyen, Ta Hien streets.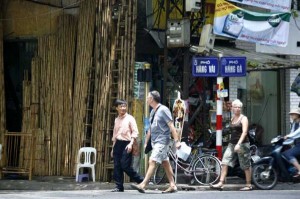 According to a survey executed by the district, there are about 10.000 people in these streets. They mainly earn living by doing business in service and tourism for domestic and foreign tourists. The commercial service accounts for 60% and foodservice makes up with 12%. This place has 240 stalls including 100 food stalls.
The pedestrian route of Hang Dao-Dong Xuan is currently over-crowded. Therefore, it is necessary to expand pedestrian routes for tourists. The project has been sent to People's Committee of Hanoi city to get an opinion from authorities before being deployed in December.