Hoi An is well known as the best place for foodies when coming to Vietnam. There are thousands of delicious things to fill your stomach and most of them are very cheap. Let's check our list below.
Com Ga (Chicken Rice)
Com Ga or chicken rice isn't originated from Hoi An but the locals had made the dish so much more special and delicious compared to other regions. The dish is displayed with fried yellowish rice topped with chicken meat and herbs. It's used together with a bowl of soup having chicken organs like hearts or liver. A plate of Com Ga will cost you about 20,000 – 35,000VND. The best place you can find the best Com Ga is Ba Buoi restaurant at 22 Phan Chu Trinh Street and its next-door neighbour Ty. There is also a food-stall on Le Loi Street, named Huong, is also said to be good.
Banh Bao – Banh Vac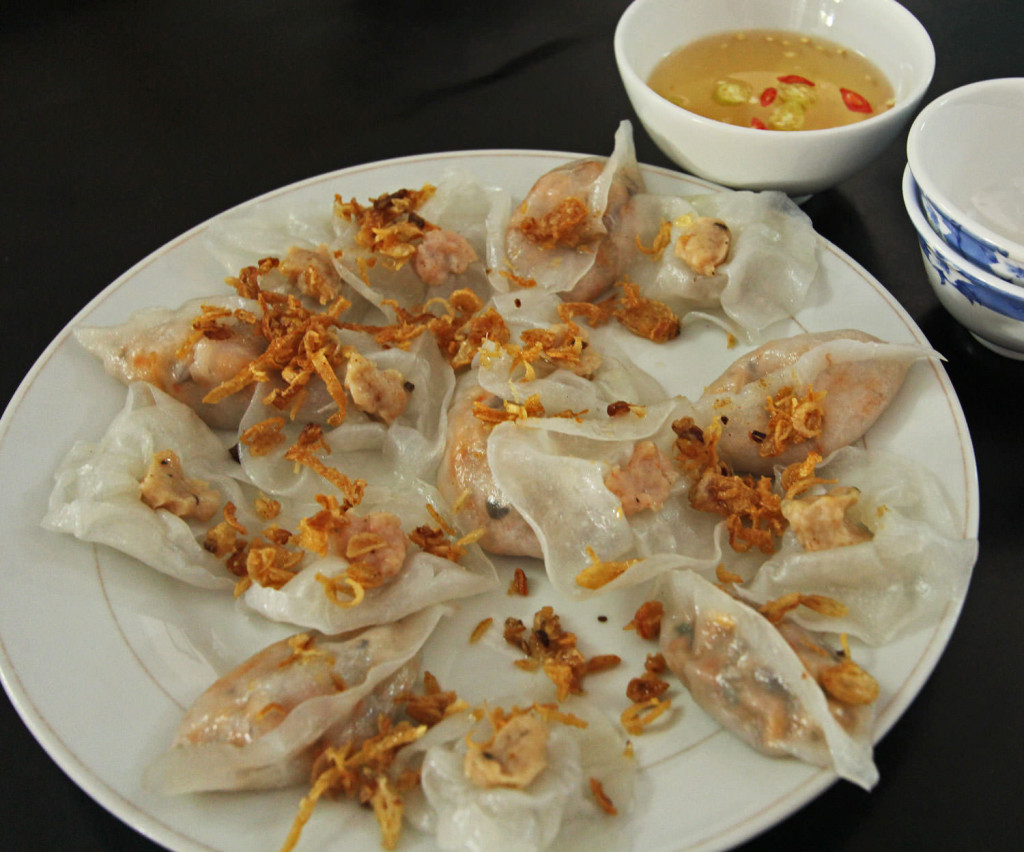 This dish is said to be found only in Hoi An, Quang Nam. In English, the name of the dish is quite fancy – White Rose, for the cakes, are quite small, white and looked very pretty. White Rose is a common dish around Hoi An, you can see food-stalls and vendors selling the dish all the time. Actually, Banh Bao and Banh Vac are two different cakes but served together on one plate with sauce. Banh Vac is made with ground shrimp, garlic, spring onion, lemongrass, and spices. Banh Bao, on the other hand, has minced pork and mushrooms inside. The sauce can't be too strong or too light, it must be just right with the fragrance of shrimp broth. For the best Banh Bao and Banh Vac, you should visit Bong Hong Trang (White Rose) in Nhi Trung street.
Cao Lau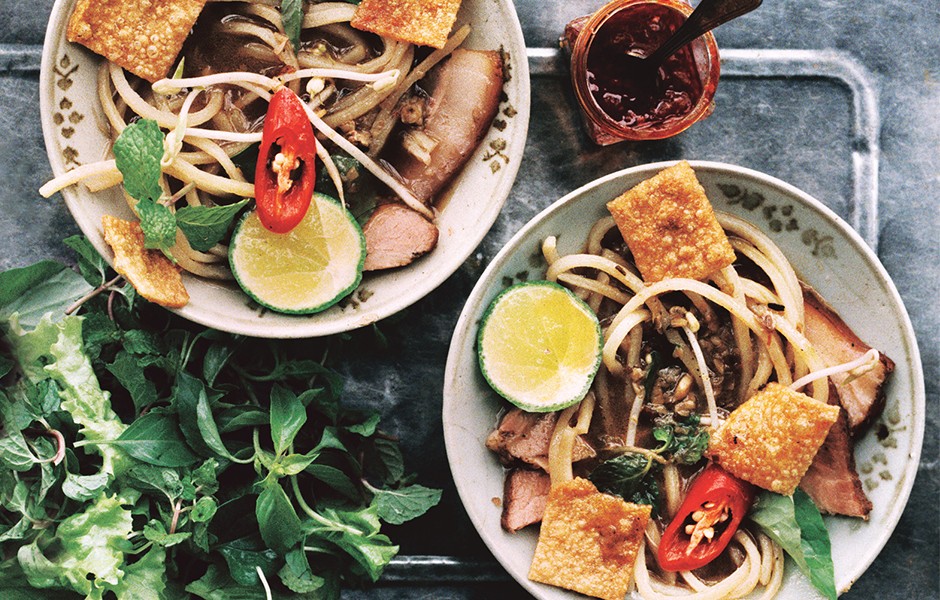 The dish has been invented from the 17th century when Hoi An was still a famous harbour. Maybe it's the reason that Cao Lau has influences from both Chinese food and Japanese's famous soba. The yellowish noodles are served with pork, different greens, sometimes topped with fried pork rind, peanuts, rice crackers, and/or scallions; and sometimes served with lime or chilli jam. You can have a decent bowl of Cao Lau for 30,000 – 50,000VND. One of the best places for Cao Lau is Ba Be food-stall in a market opposite Ong Temple.
Trung Bac Restaurant at 87 Tran Phu or Thanh Cao Lau at 26 Thai Phien is also said to sell original Cao Lau.
Mi Quang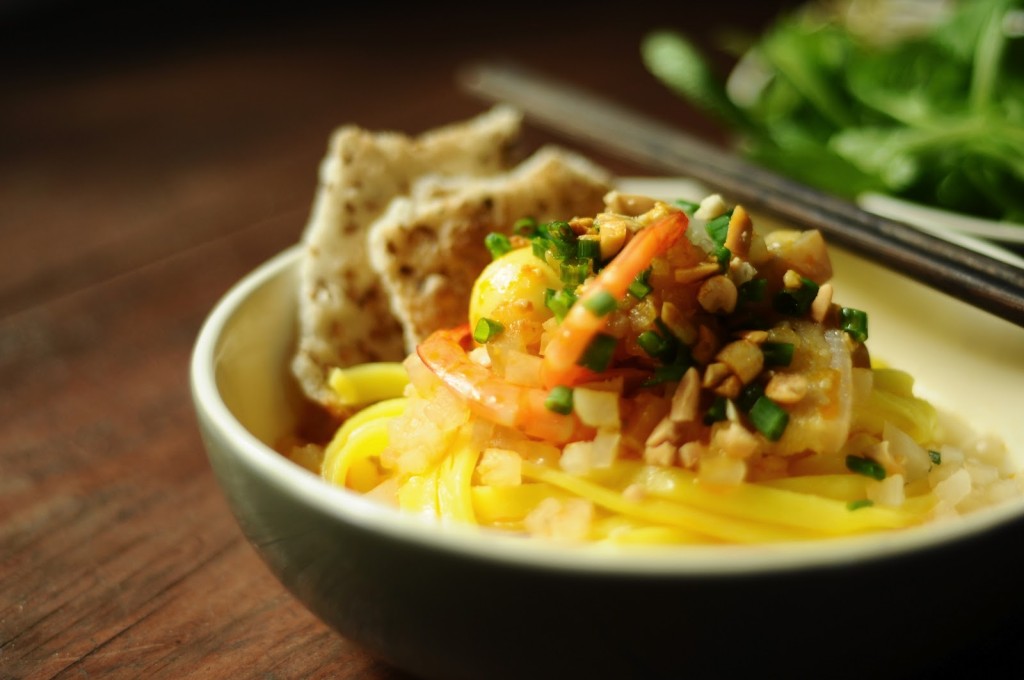 Mi Quang is the most famous speciality of Hoi An. Tourists often make mistake between Mi Quang and Cao Lau but once you try it, the two are totally different. Mi Quang is served with shrimps, pork, quail eggs and herbs. In the past, main ingredients were only shrimp and pork, which were also used to make the broth and toppings with peanuts and rice crackers. In present days, the dish has gradually become diverse with more toppings like chicken, fish, squid, eggs, snails, and even frogs. A bowl of Mi Quang is often charged from 20,000 – 40,000VND, depending on the contents.
A small restaurant at 6A Truong Minh Luong Street is a good place to try out Cao Lau. Other places are also recommended are a food stall on Nguyen Hue Street which has the original Mi Quang.
Banh Beo (steamed rice pancake)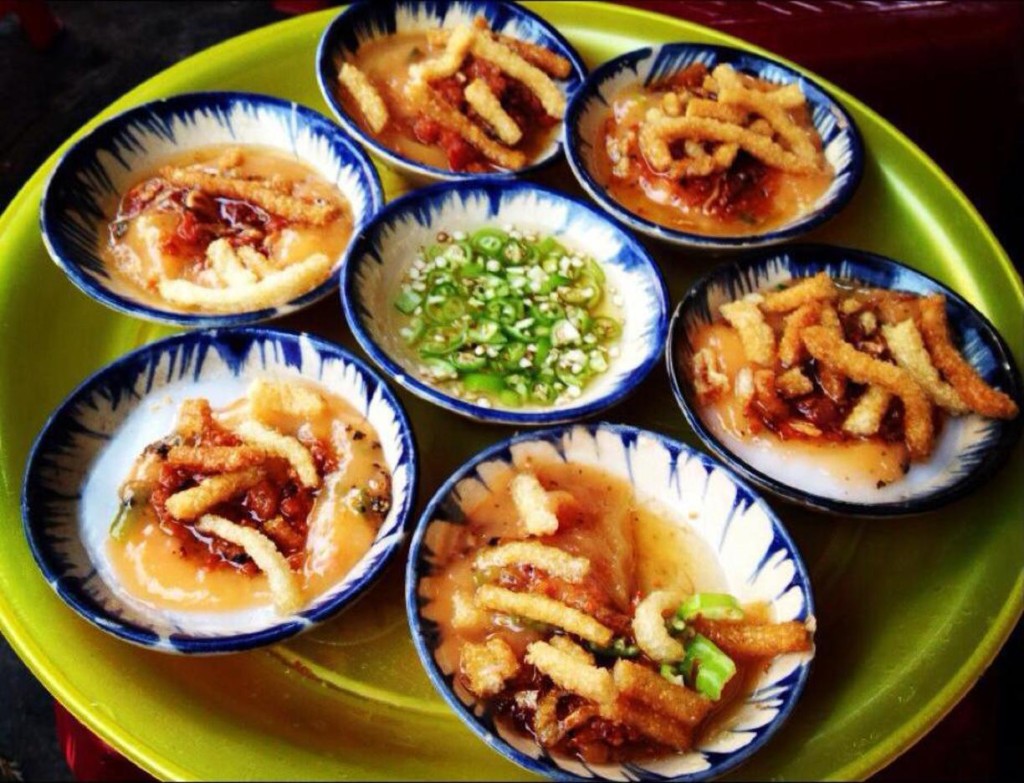 Hoi An's Banh Beo looks and tastes quite different from Hue's Banh Beo. The dish is a favourite of the middle-class people of the cheap price and delicious taste and high energy. The steamed rice pancake is chewy, thicker, topped with a red and thick sauce which is made from achiote or tomato juice added to a mixture of shrimp and pork. The dish is served with a fish sauce which has various tastes with the different cook. Cam Chauan Cam Nam areas have the best vendors of Banh Beo.
Hoanh Thanh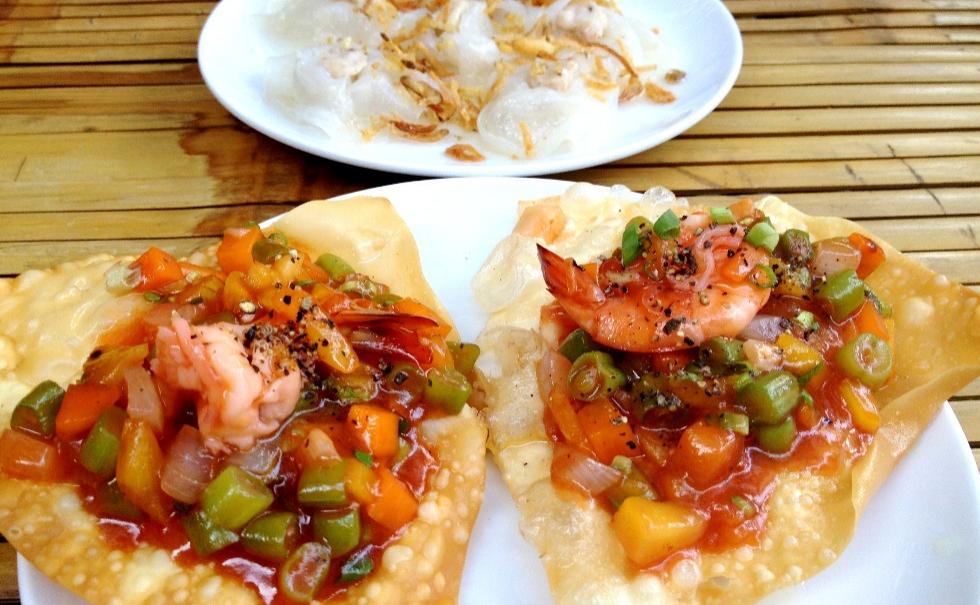 Originally, HoanhThanh is a Chinese dumpling, as known as wonton. However, Hoi An people changed the dish a lot to suit their style so Hoanh Thanh in Hoi An has a distinct taste. Hoanh Thanh is often eaten with soup or fried. In Hoi An, there is a crispy variation of Hoah Thanh which is the combination of fried dumplings topped with a spicy sauce containing shrimp, char siu pork and vegetables…. No 14 Ba Trieu street and 27 Tran Phu street are great places to find the best Hoanh Thanh.
Banh Mi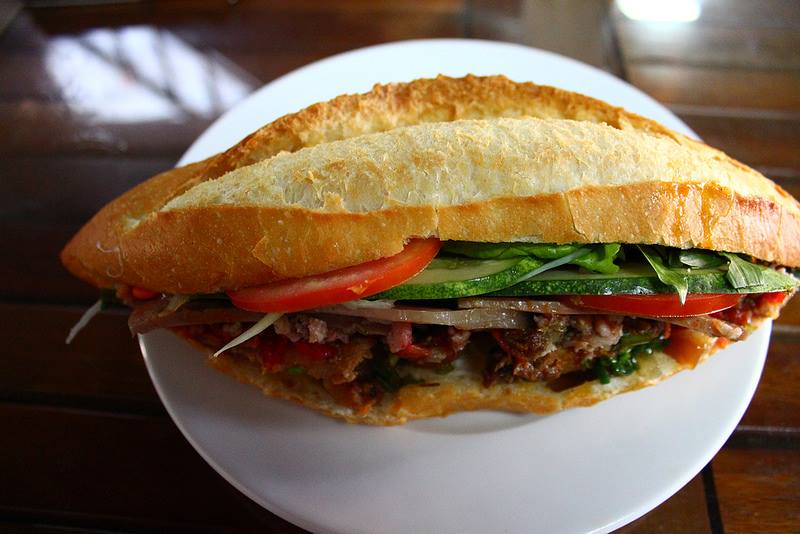 Banh Mi needs no introduction. As it got praised as the best sandwich on earth, in Vietnam, Banh Mi is still a daily street dish we often have in the rush of the morning. Hoi An is the place you can try out the best Banh Mi in Vietnam. Banh Mi Phuong and Madam Khanh are both famous on a global scale for their hundreds of variations of Banh Mi with a crispy crust and rich fillings, friendly attitude and cheapest prices. Madam Khanh is located on Tran Cao Van street and Banh Mi Phuong on Hoang Dieu street. You can have one for 20,000 – 35,000VND.
Banh Xeo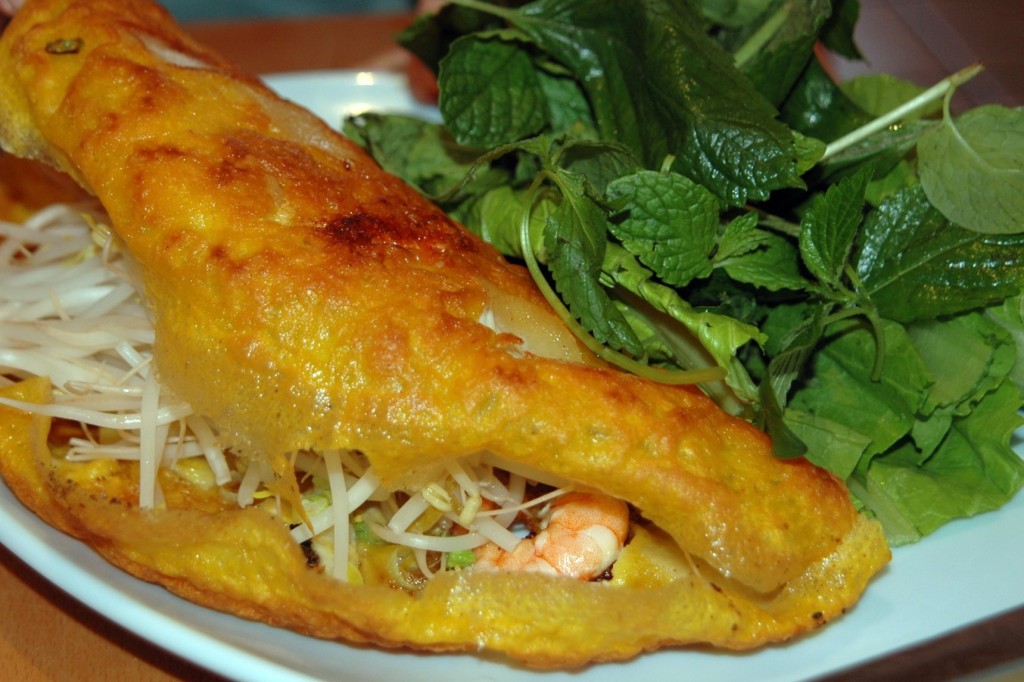 Banh Xeo is no stranger to Hoi An people, and especially on rainy season, the dish is loved by locals. The main ingredient of Banh Xeo in Hoi An is not beef or pork like other regions, but shrimp. Other fillings are hulled mung bean and bean sprout. The cake is also smaller, especially when compared with the southern variation. Banh Xeo is served hot with a lot of herbs and green vegetables. Best Banh Xeo is recommended to be found in Ba Le Well Restaurant in Tran Hung Dao street.
Banh Cuon Thit Heo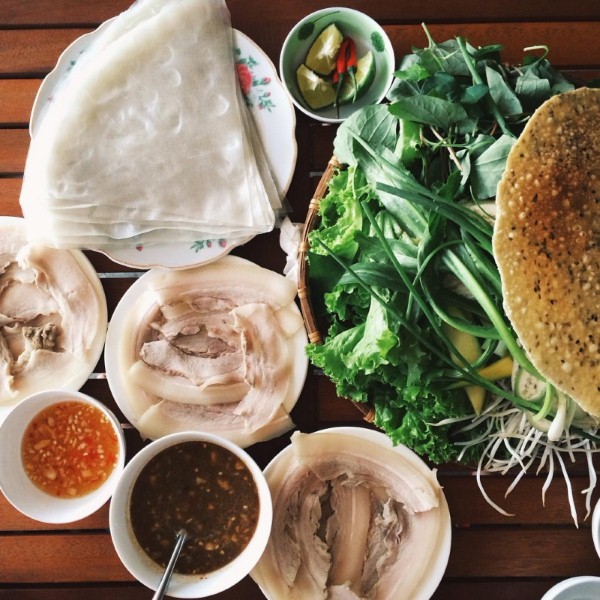 Banh Cuon Thit Heo or grilled pork wrapped by wet rice paper cake is one of the must-eat dishes of Hoi An. The pork meat grilled on coal will be wrapped neatly by the white and wet rice paper cake then dipped into a spicy sauce served with a lot of herbs and vegetables. Try it and I believe that you won't be disappointed. You can easily find a vendor selling this dish on streets like Tran Phu, Le Loi, Tran Hung Dao, Bach Dang…. a serving costs you from 35,000 – 80,000VND. Quan Mau at 35 Do Thuc Tinh and 215 Trung Nu Vuong are great places to have a taste of this famous dish.
Che Bap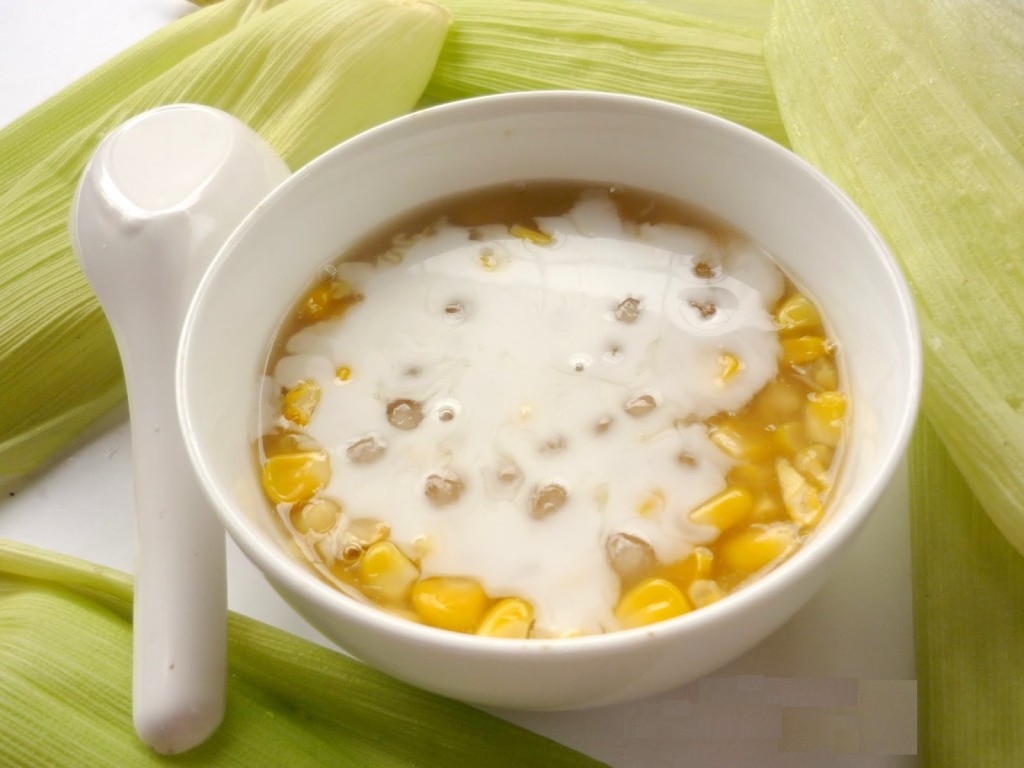 Che Bap (Corn sweet soup) is a perfect dessert for your food tour in Hoi An town. You can find this sweet and fresh soup in every corner of the town. The price for one serving is also cheap only 5000VND for one bowl.