Travel agencies and tourism experts affirmed it would be difficult to attract tourists if Health Ministry tightens the entry rules.
According to the recent official dispatch of the Health Ministry, international travelers would have to self-isolate for 72 hours after arrival; the first 24 hours are mandatory. The Covid-19 testing must be conducted twice, each on the first and third day. In case the travelers need to move to other places, they would have to test every day in the period of quarantine.
Furthermore, the travelers must show a negative PCR test result obtained within 72 hours of departure, instead of rapid antigen test results as proposed by the Ministry of Sports, Culture and Tourism.
Unvaccinated children under 12 would not be allowed to leave their accommodation until they furnish negative Covid test results for seven consecutive days, the Health Ministry suggested.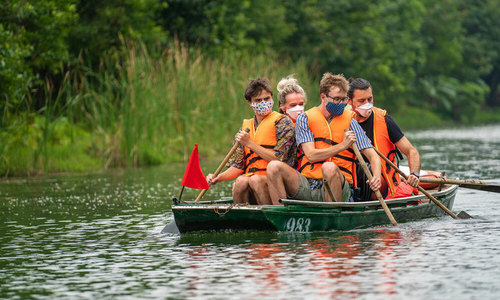 "The Health Ministry's official dispatch is "illogical and inconsistent", which works against the government's new strategy of living safely with covid", said Nguyen Tien Dat, general director of Hanoi-based tour operator AZA Travel.
"The country will fully reopen borders in less than two weeks. Inconsistent regulations from the Health Ministry will put the tourism industry in a difficult situation. Vietnam has recorded over 100,000 cases a day and the risk we might get covid from them is lower than the risk they are infected from us. "he added.
"The country has lifted all restrictions for domestic tourists in the new normal period, why don't we treat foreign and domestic tourists alike?" he wondered.
Dat said Asian visitors always tend to have short trips (4 or 5 days only). Under the circumstances, they would opt for other countries with easier entry rules.
Pham Ha, CEO of Lux Group, said he was disappointed at the Health Ministry's response because Vietnam is behind other Asian countries and the restrictions would make us miss the opportunity to recover the tourism industry.
"Other countries in Southeast Asia had reopened their borders to foreign tourists and lifted almost travel restrictions while Vietnam's visa policy and entry requirements are yet to become clear and consistent", he added.
Ha said many European tourists from the U.K., France, Germany, Italy and Turkey were eager to return to Vietnam in May but his company could not provide the service due to the unclear visa policies.
A representative of an HCMC-based tour operator said it was kind of a shock to see Health Ministry's official dispatch. The travel agencies could not prepare for the reopening in a short time with such regulations.
"No tourist will come to Vietnam to stay in hotels for three days. The tourism industry will not be able to recover if such strict testing and quarantine requirements remain in place," he said.
Cao Tri Dung, chairman of the Da Nang Tourism Association, said the Health Ministry's recommendations pose challenges for the tourism industry after the hardest hit by the pandemic over the past two years.
"If tourism barriers are not lifted, the reopening would be impossible," Dung said, adding that the tourism industry had been waiting for a final decision from Prime Minister Pham Minh Chinh.