Whenever talking about Hue, tourists often think about imperial citadels, tombs or vestiges associated with golden age of dynasties. In order to understand more about this city, let's find out Hue's culinary culture, which contributes to the attraction of Hue tourism.
We can see cultural feature and fussy characteristic of old capital from simple to sophisticated dishes. All of them are very distinctly Hue. No need to be an expert or guidance of local people and tour guide, you are still able to equip yourself a list of good restaurants satisfying 4 elements: good-looking, delicious, healthy, cheap.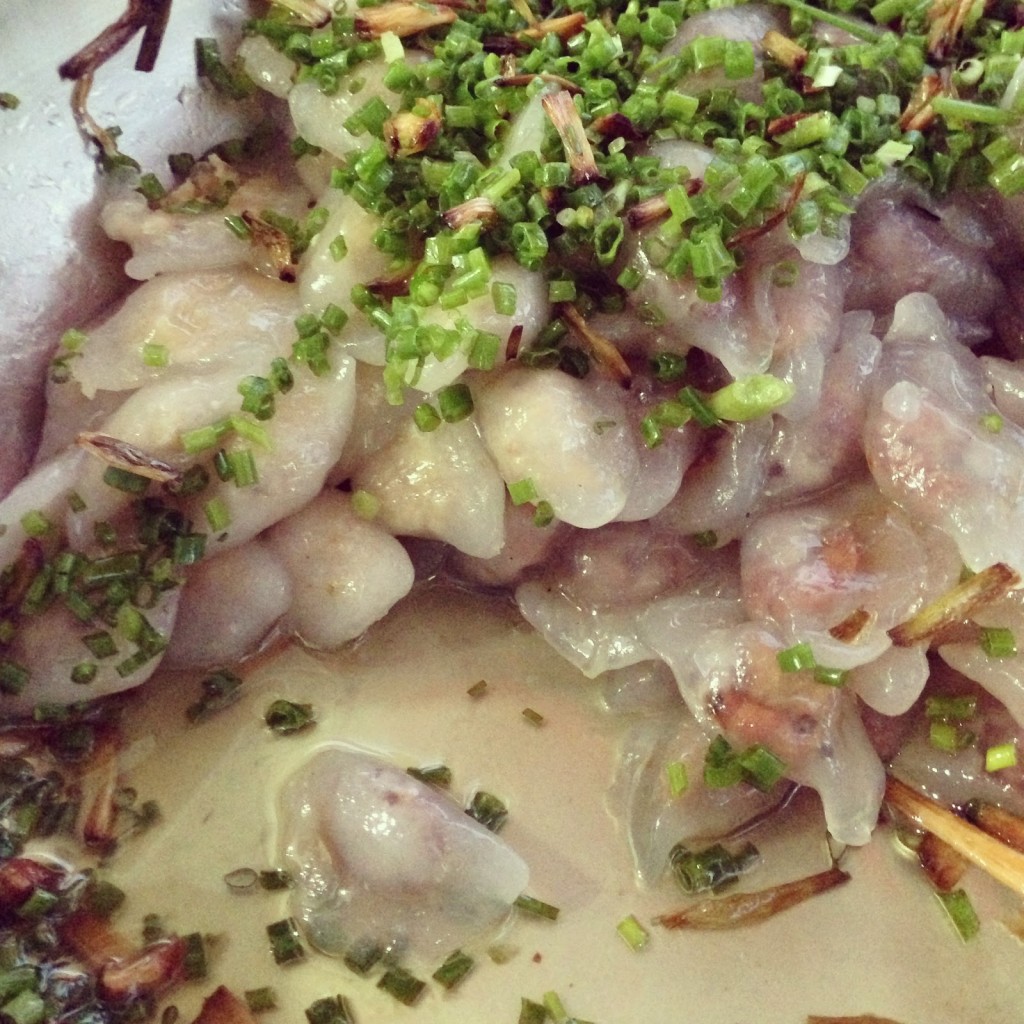 Foremost, we need to discuss about the cakes. You should reward yourself with a varied types of cakes at Hang Me restaurant, No.12 Vo Thi Sau street such as banh bot loc (steamed tapioca cake filled with shrimp and pork), banh nam (steamed flat rice dumplings with pork and shrimp), banh beo (water fern cake), banh it (glutinous rice cake with meat and shrimp), cha tom (fried shrimp patty), nem chua (fermented pork roll)…. However, to enjoy them best in a certain time, we need a plan to limit your excitement because the dishes are beautifully decorated and looks very attractive. The restaurant owners are often adroit and precise. They will provide you with consultancy for each cake.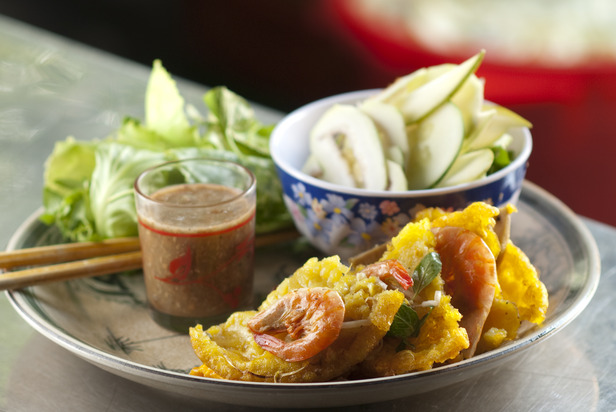 The first is banh beo placed in a small plate topped with chopped dry shrimp and served with green chili sauce.
The next is banh it. There are two major types of banh it: banh it tran is a savoury rice dumpling filled with mung beans, pork, and shrimp and banh it la gai, a pyramidal shaped sweet dark green rice dumpling flavoured by la gai (ramie leaf) and filled with sweetened mung bean and coconut and wrapped in banana leaves.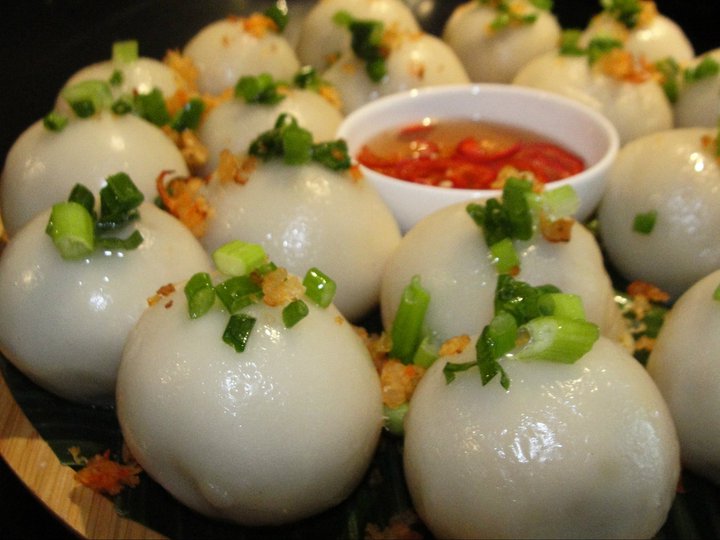 Following is banh nam, banh bot loc that are wrapped in banana leaves and steamed for a few hours. However, the leaves still remain green. The dumplings are very little but you should not eat too much because there are many delicious dishes waiting for you. Cha tom at this restaurant is extremely sweet-smelling. Ground shrimp tastes savoury, minced pork fat is mixed with ground pork and spices to make them taste rich but not greasy.
The common characteristic of banhs in Hue is shrimp ingredient. Perhaps, we should stop the theme "banh" to continue with rice or noodle with mussel at Con Hen. A small simple restaurant stands on the left at the end of the bridge in Ung Binh street.
For something new, we should go to Che Hem restaurant at No.26, Hung Vuong street to enjoy bowls of che (sweetened porridge), However, we advise you not to try roasted pork if you are not familiar with the sweet-pork taste. Just enjoy the made with corn, sweet potato, mung bean…
One of the top must-try dishes for tourists in Hue is banh trang phoi suong (dried rice paper) served with boiled pork, fish sauce and vegetables. Try it and taste a unique flavour.
Besides, bean sprout salad (also known as peperomia pellucida) mixes beef will wake up your sense of taste.
Of course, you can not miss com nieu (rice cook in clay pot), ca kho to (caramelized fish in clay pot) or ca bong kho tieu (caramelized goby in clay pot). Despite simple dishes, they require the chef excellent skill of spice usage, fire control, and decoration. Another dish well wort a try is ficus auriculata mixes pork, very sweet-smelling and fleshy. In hot weather, it would be a wise decision with sour fish soup dish.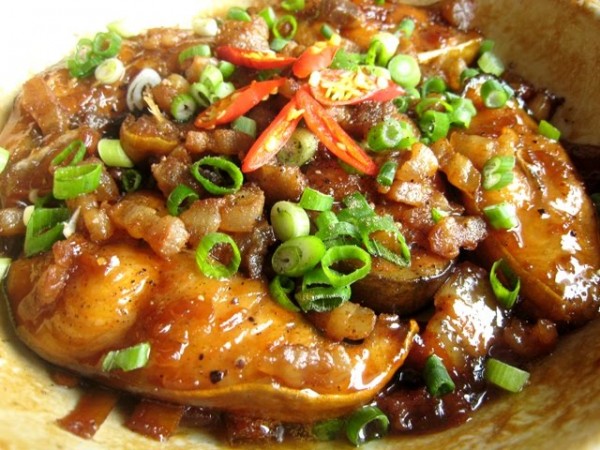 In order to enjoy Hue distinctly fish sauce, nothing is better than the combination between pork, vermicelli and vegetables with bun mam dish (Vietnamese gumbo) at Me Theo restaurant, No.64 Ba Trieu. This place serves to main types of bun mam including bun mam lon xon (mixed gumbo) and bun mam bo tai (gumbo with rare beef). Banh uot thit nuong (Steamed rice pancake with grilled pork) and (Grilled pork with vermicelli) at Huyen Anh restaurant, K52 Kim Long street is a familiar address to many tourists and even taxi drivers. Nem lui (grill meatball on skewer) and banh khoai (khoai cake) at No.11, Pho Duc Chinh will certainly please you with perfect sauce.