1. Hanoi – the capital of Vietnam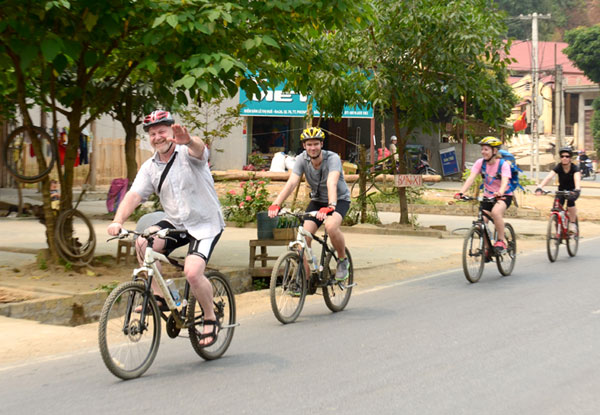 Bicycle has always been a very convenient means to explore Hanoi along with the renowned cyclo. Especially when the city centre is not too large and the attractions are close to each others. By bicycling, you can easy move place to place around the city with lesser worries about traffic or scamming.
Bicycling is most suitable for streets around Sword Lake, Old Quarter, West Lake, Thanh Nien street, Hoang Hoa Tham street, streets around Ho chi Minh Mausoleum, Lenin Park…. If you are fit enough, even bicycling out of Hanoi seems not to be a bad idea when there are a lot more attractions in the suburbs of Hanoi such as Thay pagoda, Duong Lam ancient village, Ba Vi National Park or nearer options are Bat Trang ancient village, along Red river banks.
At present, there are a lot of bike rental shops around Tay Lake, Old Quarter, Thanh Nien street, Hoang Hoa Tham street. With the price of VND 80,000- VND100,000/half day and VND 150,000-VND 200,000/full day depending on types of bicycle, you can freely explore Hanoi's beauty in the streets. Also there are a lot of travel agents which have bicycling tours with very reasonable prices.
2. Da Nang
As an environment-friendly city offering most fascinating coastal streets, Da Nang is worthy of an ideal place for bicycling. From Han River to My Khe beach or the way from Han market to Non Nuoc village, wide and windy streets are always favorite routes of cyclists.
There is nothing more thrilling than cycling on Da Nang's coastal streets, breathing the fresh air and enjoy fresh seafood. Particularly, many tourists choose cycle as a main transport to visit popular tourist destinations in Da Nang such as Son Tra peninsula (20 km from Da Nang), My Khe beach, Marble Mountain…. Some travelers even take on the Hai Van pass – one of the most dangerous pass in Vietnam yet too beautiful for words.
Currently, some travel agents in Da Nang offer full-day city cycle tours that cost about  1 million VND. Bicycle rental service is also very popular in Danang. Most of the hotels provides this service for tourists.
3. Hoi An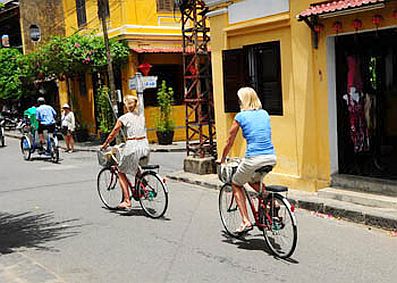 Hoi An can not be out of the list of ideal places for cycling. Hoi An is indeed a small lovely town with its radius does not exceed 10 kilometers, especially the triangle coastal trail connecting ancient town's center, An Bang and Cua Dai beaches with 5 km long for each side, very suitable for cycling.
Traveling in Hoi An, tourists especially do not want to use other transports but cycle because only cycle tour make you feel intensively the peaceful and tranquil lifestyle and ancient beauty of the town that was recognized as World's Heritage Site by UNESCO. More than that, cycle transport easily allow you to stop any time to take photos or buy souvenirs. With good quality of roads, routes to Thanh Ha pottery village, Cam Thanh "one day live as a cultivator" village, Tra Que vegetable village and Kim Bong village are perfect choices for cyclists.
Some travel agents provide biking eco-tours. However, most of tourists like to rent a bicycle and explore the attractions in Hoi An by themselves. Bicycle rental service in Hoi An is quite popular and affordable.
4. Dalat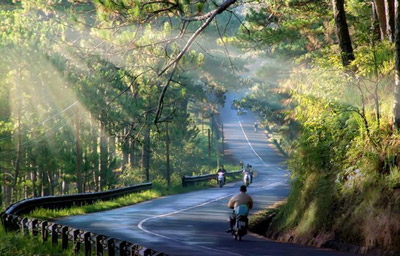 Dalat is known as the most romantic city in Vietnam due to year-round cool climate and poetic landscapes. Besides, most of tourist destinations in Dalat is located not so far from each others. Therefore, a cycle tour will not take you too much time and energy.
Visiting Dalat by bicycle will help tourists enjoy fresh air and immerse in poetic space of Xuan Huong lake, freely admire city's flower garden and stroll in Love valley… Da Lat has many beautiful waterfalls near by which can be visited easily by bicycles. We suggest you to not miss out the Prenn waterfall together with Prenn pass (as in picture above). Cycling through this beautiful route in the morning is one of the best moments Da Lat can offer.
Cu Lan village, and Langbiang-the highest mountain in Dalat also are great places to explore by bicycle.
5. Vung Tau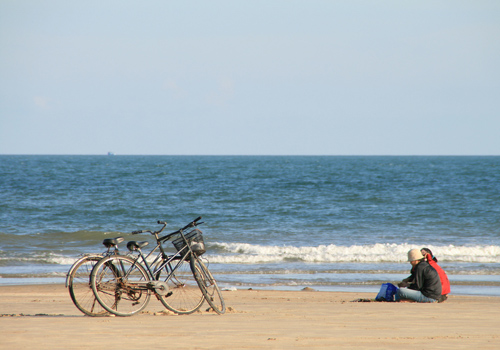 Not as bustling as Hanoi or Saigon or nearly tranquil as Hoian, Vung Tau still has distinct features to attract tourists. What impresses the tourists most when coming to Vung Tau must be clean beautiful streets. Therefore, there is nothing strange when the most favorite transport of the tourist here is bicycle.
In Vung Tau, tourists like to cycle around fascinating coastal streets, stop to swim at Truoc, Sau, or Duong beach, visit Bao Dai palace or Jesus statue on the hill and enjoy a cup of coffee in the shade of the trees and contemplate the sun slowly disappear below the western half of the horizon.