Carnival festival, firework show, art programs participated by top national artists and international art groups….. are interesting activities of Tourism-Sports-Culture week and the 2nd flamboyant festival in Haiphong.
On the afternoon of 7th May, Mr. Le Khac Nam, Vice chairman of Haiphong people's committee said that Haiphong Tourism-Sports-Culture week would take place from 9 May to 18 May with more than 30 events regarding to culture, sports and tourism.
The highlight of this action week is opening ceremony of Red river delta Tourism-Sports-Culture week and the 2nd flamboyant festival taking place from 8 p.m to 10.30 p.m on 11 May.
Together with Vietnamese art groups, 8 foreign troupes such as Lao, Japan, Russia, India, Korea will also take part in and perform at Carnaval festival as well as during the week.
Many important events are also held in Tourism-Sports-Culture week including Open Red River Delta Tourism Fair, opening of photography camp with title " my sea and islands".
These events focus on "Red river civilization" theme with specific images about cuisines, culture, heritages of 11 provinces and cities.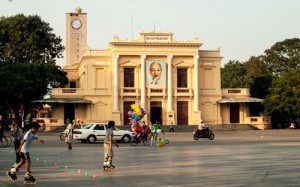 Aiming to honor and emphasize Haiphong's beauty, every activity in the festival will be related with city's characteristics. For example,the performance stage is decorated with lighthouses, ports and the closing ceremony will be ended in colorful image of red flamboyant flowers.
As far as taxi and hotel prices are concerned, all business units are asked to commit to quote the price in public and not overcharge tourists. The current  penalties will be given to any violation, even business licences withdrawal.
According to Haiphong people's committee, the city center has 7,853 rooms to meet accommodation demands of tourists in this occasion.