In the morning of November 22nd, the Launch Event for Saigon Big Sales 2013 was held in Ho Chi Minh by municipal Department of Culture, Sports and Tourism in association with Department of Industry and Trade, Vietnam Skyline Advertise Limited Company.
The Deputy Director of Department of Culture, Sports and Tourism of Ho Chi Minh City, Mr La Quoc Khanh said that the Saigon Big sales 2013 was an important event which plays a big role in establishing and developing products, increasing quality of activities of trade and service, creating a unique product to simulate consumption, meeting a demand for entertainment and shopping for consumers, especially the tourists in Ho Chi Minh City.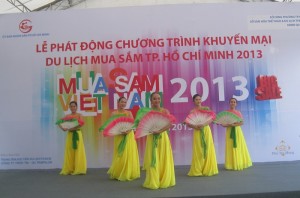 The Big Sales program is expected to be participated by 500 organizations and units who are standard shopping centres, hotels and restaurants, health care centres with more than 1.000 shops providing fashion, health care products, food, drinks, fruits, local specialities, entertainment service, tourism, art….with reasonable price and suitable for demands of consumers.
In addition, the enterprises will offer promotion programs at the foundation such as a discount, gift…