Da Lat has a wide selection of authentic dishes made from fresh ingredients. For those who want to make a food tour in Da Lat, stick to the streets. Street vendors are worthy for the reputations of their food.
Following are some dishes which should not be missed in your food tour. Proceed for more details.
Nem nướng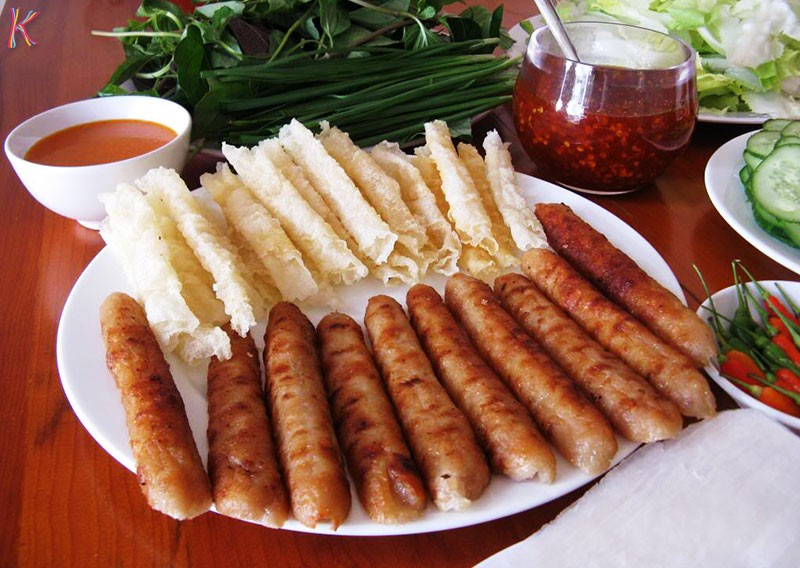 This is one of the most famous dishes in this city. Nem nuong is quite different from the ones in other areas in Vietnam depending on ingredients. Nem nuong in Da Lat is made up of many different ingredients such as nem, rice paper, sour maker, sauce and a variety of herbs (including perilla leaf, sweet basil, chives and mint). All the ingredients will be rolled up in one rice paper before dipping in a thick peanut sauce. When you put a spring roll into your mouth, you will immediately realize a brilliant balance of texture, flavours and colours. There are some famous food stalls and the most famous of which is Ba Hung Restaurant. This local dish only costs at 30,000 VND (1.50 USD).
Bánh tráng nướng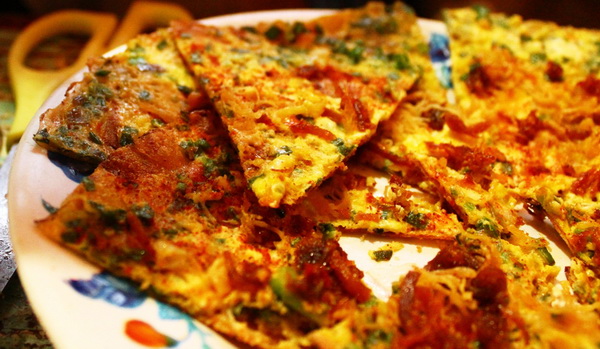 Banh trang nuong can be spotted at every corner of Da Lat. It is a large sheet of rice paper grilled over smouldering coals and topped with all sorts of delightful goodies. This dish is made up of various ingredients such as eggs, spring onions, chopped meat, fried tiny shrimps, dried beef, etc… While cooked, it will be rolled up with all of the ingredients inside. The cake is eaten with chilli sauce. It costs only 7000 VND- 8000 VND per one.
Chả Ram Bắp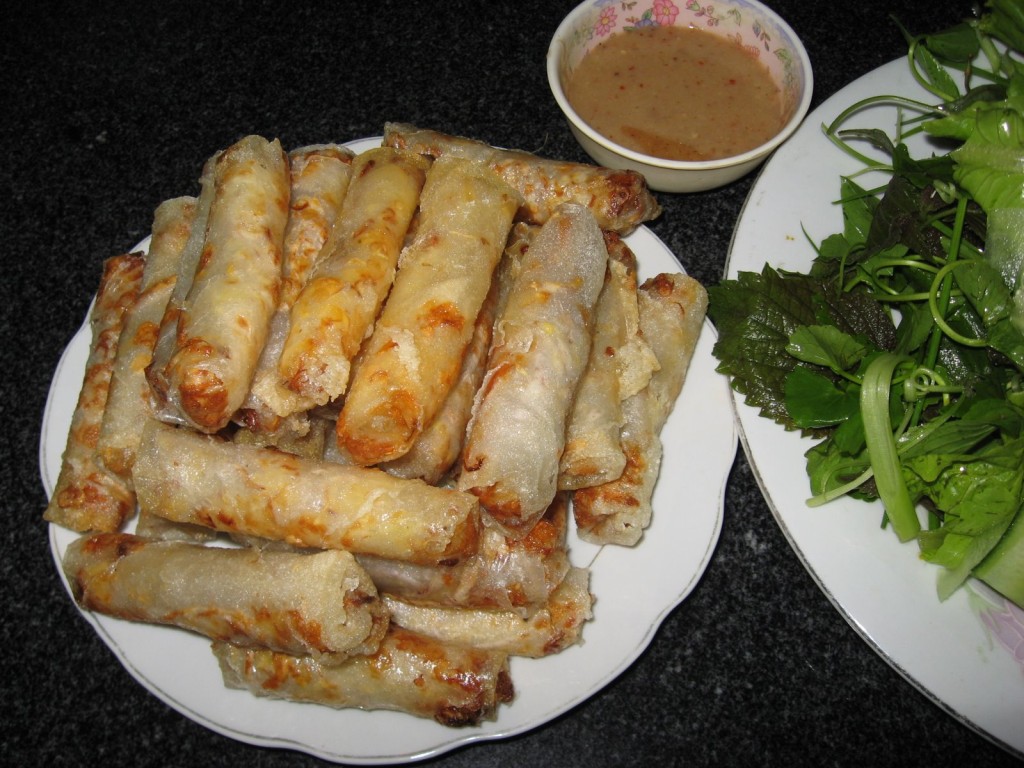 Cha ram bap is a crispy and fried sweet corn with rice paper rolls. A rice paper with a mixture of egg, dried baby prawns is barbecued and then dipped into a sweet and spicy sauce. When waiting for the dish, tourists will be served beforehand some herbs and fruits such as cucumber, carrots which are eaten with Cha ram bap. Drop off the food stalls along Nguyen Cong Tru Street. The price is only 20.000 VND per one.
Bánh Ướt Gà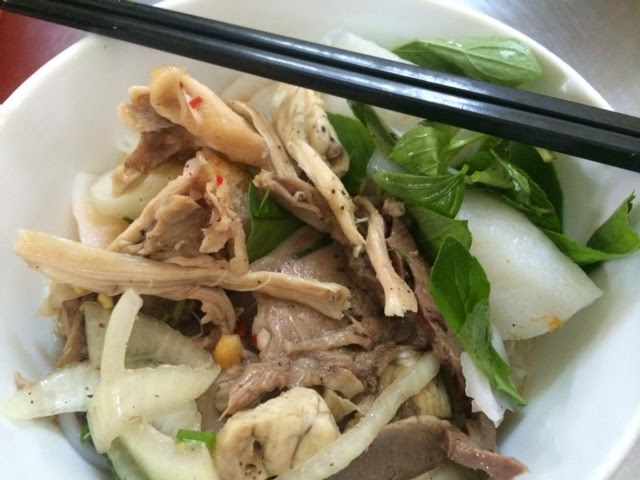 Banh Uot Ga (wet chicken cake) is served with chicken and chicken hearts. The combination of plastic bread, chicken soft with sweet and crispy chicken heart makes food very tasty and exotic. You are suggested visiting wet cake stall on Tang Bat Ho Street, near Da Lat market where selling prices of items vary from 30.000 VND to 60.000 VND
Bánh mì xíu mại (banh mi with pork meatball)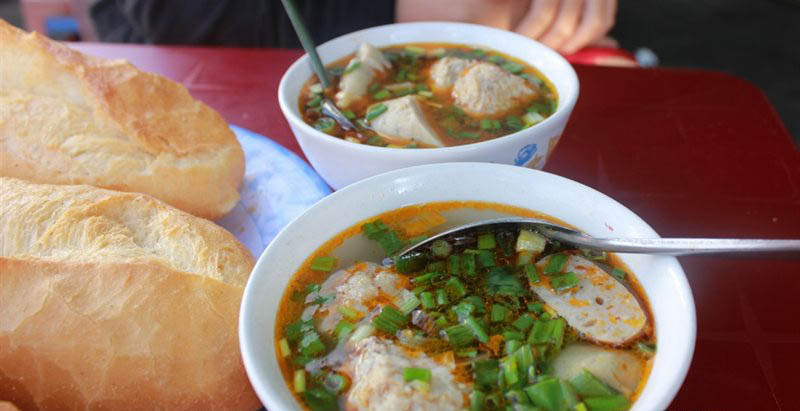 It is so popular that you can easily find a small stall near the school gate or entrance to the market…..It is considered as an ordinary breakfast to locals. Normally, there is a variety of bread or Vietnamese baguette: "banh mi trung" made with scrambled egg, "banh mi bi" made with pork skin, "banh mi thit nuong" made with grilled pork… However, "banh mi xiu mai" with juicy crushed pork meatballs is the most unique in this city. It will be dipped into the fish sauce with two more tablets of "xiu mai". Your bill is only under 10.000 VND for one serving.
Strawberry Icecream
Strawberry is considered as one of the specialities in this city.  There are a lot of products made from strawberry and mulberry…. one of which is strawberry ice cream made by locals. The fruits are harvested at the spot and then prepared with fresh milk and other ingredients, creating incredible ice cream. It's quite different from ones serve as desserts in restaurants and hotels. Just try and experience.
Mixed Salad
Thanks to geographical features, Da Lat is an ideal place to grow a variety of vegetables and fruits, which are the main ingredients to make a popular salad in this city. The vegetables are so crispy and fresh. Tourists will absolutely not able to forget the mixture of flavour from tomatoes, onions and vinegar. Don't forget to try it even once.
Bánh Căn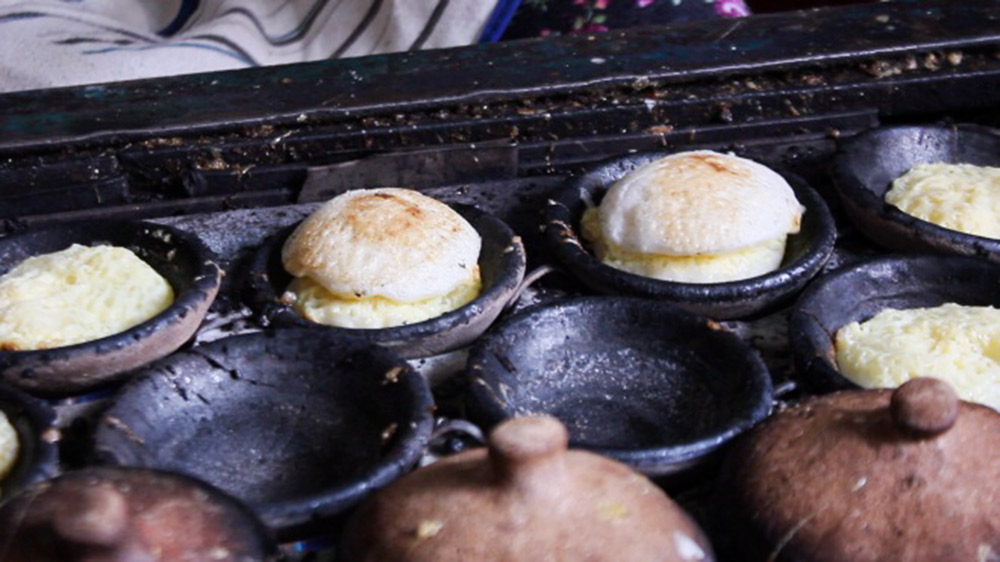 One of the most popular dishes is Banh Can which is a little rice flour cake cooked in small and round pods over hot coals. A quail egg is dropped in the middle and sprinkled with spring onions. After cooking on a giant cupcake tray, these little cakes are crispy on the outside with spongy consistency inside. The cakes are often eaten dipped in a light fish sauce. The most famous food stalls for Banh can is along Tang Bat Ho street, one of the oldest streets in Da Lat. It costs about 20.000 VND.
Mì Quảng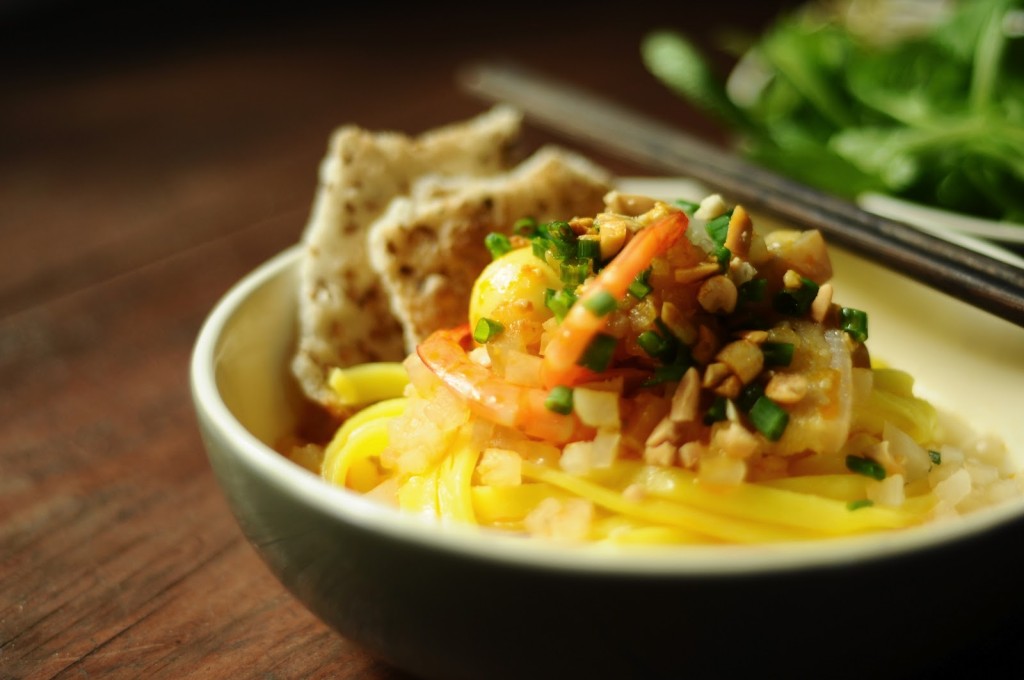 Mi Quang is a type of noodle which is made from rice flour eaten as a soup or a dry dish. It might remind you, Mi Quang, in Da Nang. However, there is a little different here on its way up from the coast to the mountains. Mi Quang in Da Lat is served with more gravy and herbs. Moreover, the gigantic pig's trotter is often overcooked until the meat and fat are so tender that they melt in your mouth.  In addition, Mi Quang in Da Lat is replaced with thin white noodle instead of the thick yellow ones used in the coast. The price for one bowl is about 30.000 VND.