On September 9, Hue city organized many activities to celebrate 20th anniversary of Hue relics' recognition as World Cultural Heritage by UNESCO (1993) and 10th anniversary of an Intangible Cultural Heritage of Humanity honor being bestowed on Hue Royal Court Music (2003).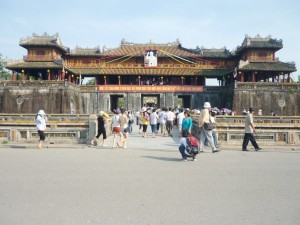 Speaking at the ceremony, Deputy Minister Nguyen Xuan Phuc said that Hue needed to build a comprehensive management plan for the relics in conformity with general plan of the local, ensuring the harmony between conservation and sustainable development. At the same time, he appealed to everybody for consensus to turn Hue into an attractive tourism center, worthy of significant cultural values that Hue owns.
According to Mr.Nguyen Van Cao, chairman of ThuaThien Hue People's Committee, there are about 100 relics preserved and restored with total investment of nearly VND 800 billion, of which VND 350 billion comes from budget. As being known, the fee collected from entrance ticket of Hue relic complex reached approximately VND 900 billion from 1006 until now. 40% of this money was invested to restoration and preservation plan for the relics.