Transport: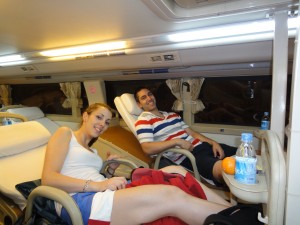 There are 2 options to go to Sapa from Hanoi. The first is to take the overnight train from Hanoi to Lao Cai with average fare is about VND 250,000-600,000/ ticket depending on the type of bed. The second way is to catch high standard bus of Vietbus, Ha Son, Sao Viet company whose  ticket fare ranges from VND 200,000/passenger to VBD 250,000/passenger for the journey Hanoi-Sapa.
 Accommodation: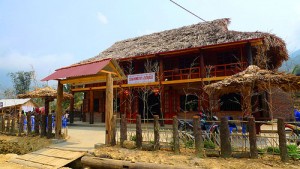 There are a lot of bare-bones hotels in Sapa located around center with the price of VND 250,000-400,000/ double room. In case you travel at weekend, it would be a good idea to book in advance to avoid breaking your schedule.
Transport in Sapa: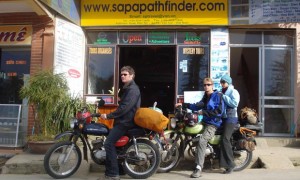 The most economical and interesting way of visiting Sapa is  motorcycle. You could ask the help from your hotel for this or rent a motorcycle to travel for your initiative with the prices from 150,000 VND to 200,000 VND / day (fuel up to you).
Eating and drinking: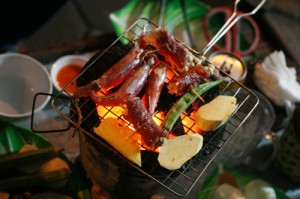 Sapa has a cuisine street of affordable delicious barbecue dishes and rich menu such as  eggs, chestnuts, corns and sweet potatoes…. The restaurants around the lake always serve distinctly mountainous dishes like barbecued wild pork, ngon su su, black chicken…
There are also many European restaurants in Sapa with reasonable price ranging from VND 50,000/person/meal to VND 100,000/person/meal.
Attractions: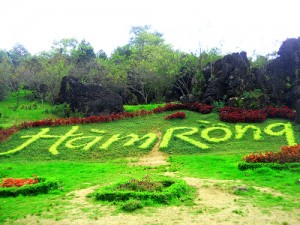 The town church situated at the  center's square.
Sapa market, where you can buy yourself local products.
Cuisine street is especially bustling in the evening.
Ham Rong mountain: is suitable for outdoor adventure lovers to explore stunning natural beauty with ancient peach forests, luxury orchard gardens and flowers carpet along the way, very colorful and charming.
From the position of 1,600 m high above sea level, you could have a bird's eye-view of white clouds floating Sapa, spectacular Hoang Lien and breathe the fresh cool air . Entrance ticket: VND 60,000/person.
Take a tour of Silver waterfall, O Quy Ho , or spend time with Love waterfall, one of the most pristine, mysterious and majestic  passes in the Northwest. It is situated 20 km from Sapa town.
Visit villages and attend daily life of ethnic minorities H'Mong and Dao. You could reach to villages by motorcycle and then sign up for a trekking trip around Cat Cat, Sin Chai village (same direction), Ho and Ta Van village (same direction); Ta Phin village or Muong Hoa valley with strong impression of picturesque terraced fields.
Based on your schedule in Sapa, you could arrange yourself  a perfect itinerary with the help of hotel receptionists or local residents in Sapa, great tour guides if you know how to make friends with them.