1. Grilled banana roll 
At World Street food Congress held in Singapore in last May, grilled banana roll of Vietnam was selected the most favorite dish.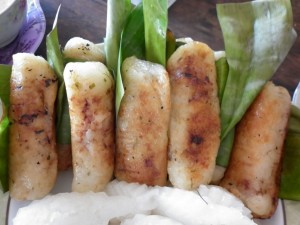 Banana is wrapped in sticky rice, bring to grill together will create an amazing flavor when eating. Before serving, it is chopped into pieces and coconut milk and crushed peanuts are added to the top.
2. Baguette with grilled meat
Baguette with grilled meat in Nguyen Trai street was picked up tobe one of top 12 best street food in the world by American travel site Condé Nast Traveler.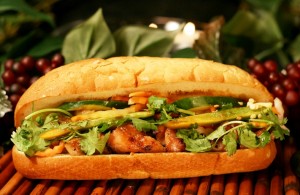 The baguette is filled up with barbecue pork, slices of cucumber, carrot pickle (do chua), coriander and a drizzle of soy sauce.
3. Grilled chicken
In 2012, Hanoi named the list of 10 best street food city in Asia of CNN with grilled chicken.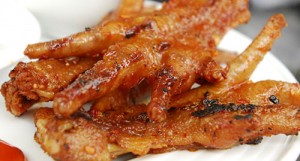 Chicken feet and wings are grilled over charcoal after being marinate in a mixture containing honey.
4. Sea crap spring rolls
As a popular dish in Vietnam, Sea crap spring roll was also selected one of most delicious street food in Asia.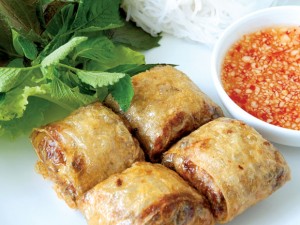 Originated from Haiphong city, sea grab spring rolls became favorite dish of Vietnamese peopole and foreigners across the world.
5. Khot cake
Also at World Street food Congress, Khot Cake of Vietnam listed among top 35 inspired street food in the world.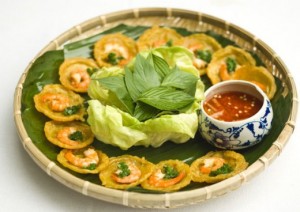 The main ingredients of khot cake were rice powder and well-grinded pork.The cake was served with flavour sauce, snack vegetable and cucumber.
6. Rice noodle with sour crab soup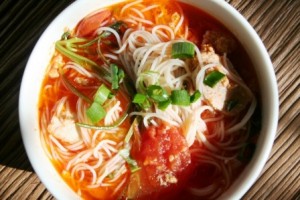 Being the favorite dish of Vietnamese people. Rice noodle with sour crab soup was selected one of the most attractive dishes in the world by CNN in 2012.
7. Pho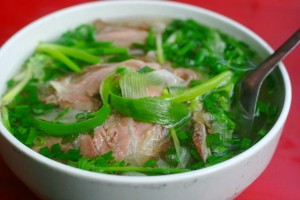 Pho is not only the most popular breakfast in Vietnam but is also internationally renowned as a symbol of Vietnamese gastronomy. Pho is commonly eaten for breakfast, although many people will have it for their lunch or dinner.
8. Vermicelli and  grilled chopped meat
Vermicelli and grilled chopped meat includes rice vermicelli, grilled pork and spicy, raw vegetables and well mixed fish sauce….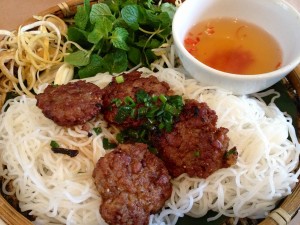 The sauce will then contain all the essential tastes, sour, hot, salty and sweet. Grilles of well cooked pork would be opened and the contents dropped into the bowl of fish sauce.