Besides traditional and ancient cultural festivals, some annual tourism activities are worth your time.
Ha Long Carnival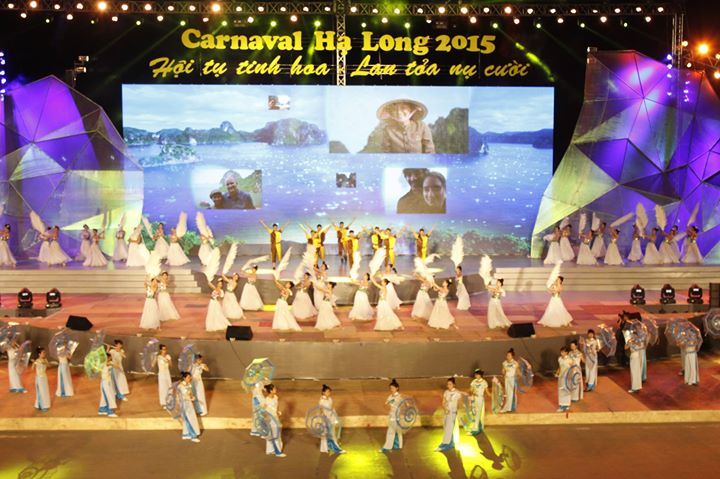 Time: each year, April – May
Activities:
Halong Carnival is the biggest tourism event in North Vietnam, attracting a huge number of tourists every year. The festival theme is pretty modern and westernised since the main customer target of Ha Long is western tourists. You sure will enjoy the joyous and colourful atmosphere of a rare Vietnamese carnival festival. The festival comes up with a different theme each year to emphasize the traditional and natural values of Ha Long bay heritage. The music performances are well prepared with songs about the beauties of Ha Long and the country. There are also artists from other countries like Laos, Thai Land, China showing their authentic cultural dances and songs. The most stunning part of the carnival must be the parade stroll along the coast of more than 3000 participants who are actors, models, dancers joining to make an unbelievable sight of the festival. The parade floats are designed in both traditional style and modern style with the pattern used the most is a dragon to fit the name of the renowned bay. And of course, the dragon dance can't be missed out. Street performances are a combination of many cultural traits from Asian to Western. Other performances like laser, music, water and firework show surely can't be ignored. The Ha Long Carnival is the heart and highlight of the whole Ha Long week each year along with many other important events like Ha Long Bay photo exhibition, Halong Cuisine festival and classical music concert. So if you plan to visit Ha Long at this time, to not skip these very exciting activities.
Hue Festival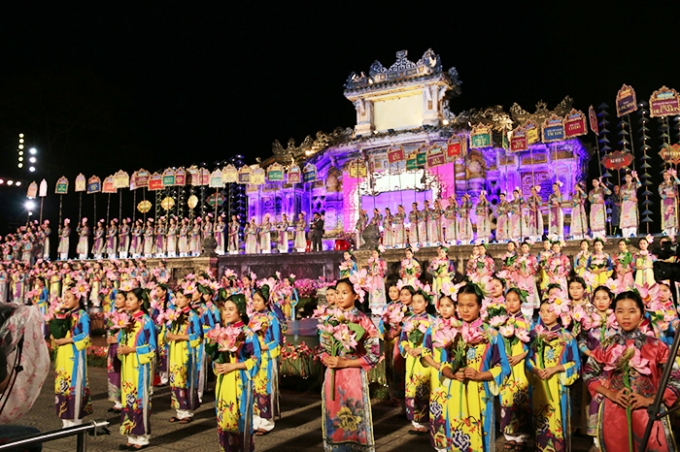 Time: biennale event, April, May or June
Activities:
Hue Festival has become more than a tourism festival. It has gained reorganization for its authenticity as well as its cultural diversity, all organized on a higher level and larger scale.  The cultural event is held every two years since the year 2000.
Hue was once a capital under Nguyen dynasty and still this day it keeps the royal atmosphere of the old Vietnam. The grand opening ceremony of the festival is magnificent with the re-enactment of Nguyen Hue's enthronement, Nam Giao and Xa Tac Offering Rituals, royal defined music performance and the most special Nguyen Dynasty's Doctoral examinations. Many cultural events will take places such as Hue Poetry Festival, Massive Street Arts Performances, the Dialogue of Drum and percussion instruments, Art Exhibition, historical film week, gastronomy quarter, kite event, and the famous "Ao Dai" Grand Show.
Another important part of the Hue festival is the art performance from foreign artists. Thousand of artists from all over the world come together in Hue to show their talents, deliver cultural exhibitions through 40 venues throughout the country.
Danang International Fireworks Competition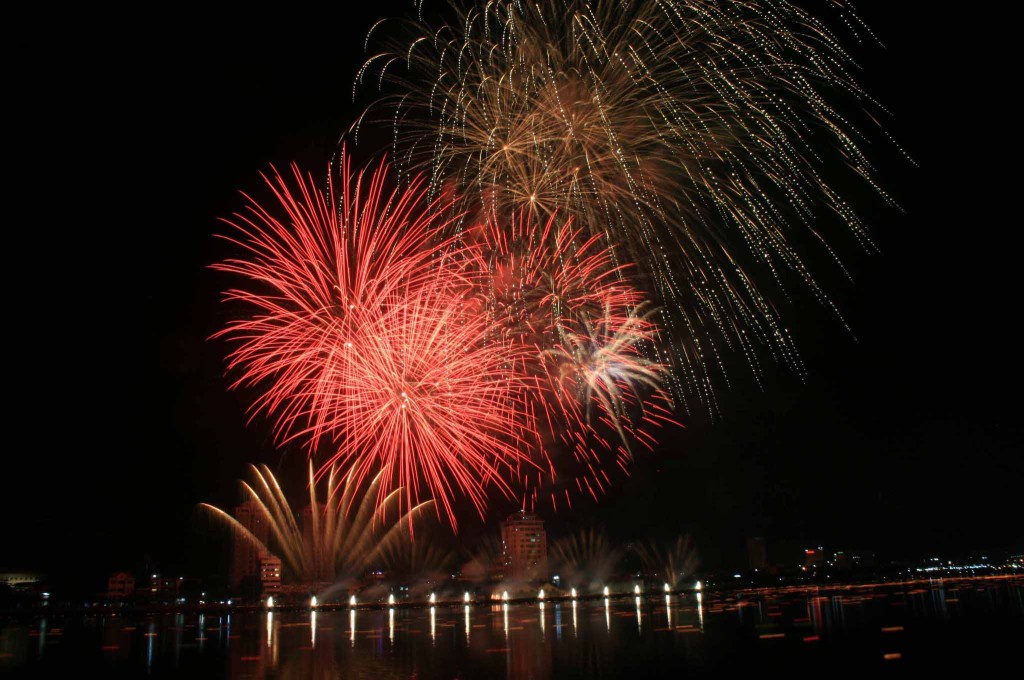 Time: biennale event, April
Activities:
Da Nang International Fireworks Competition is the largest firework contest in Vietnam ever since 2008, from 2013 held every two years often on 2 days 29th and 30th of April. The competition has become a renowned cultural-tourism event of Da Nang and keeps attracting many tourists over the world come to enjoy the colourful and splendid sky night of the city every two years.
In each competition, Da Nang welcomes several firework companies from Russia, Italy, Japan and USA to come and compete on a different theme each time such as Fairy Dance, Sounds of Han river, The Sparkling Han River and Colors of Da Nang. The best feature of firework performance must be the combination of firework and music to tell a story.
Beside firework competition, there are other activities like music concerts, entertainment and cultural shows. The tickets are ranging from 200,000VND to 300,000VND ($10-$15).
Vung Tau International Kite Festival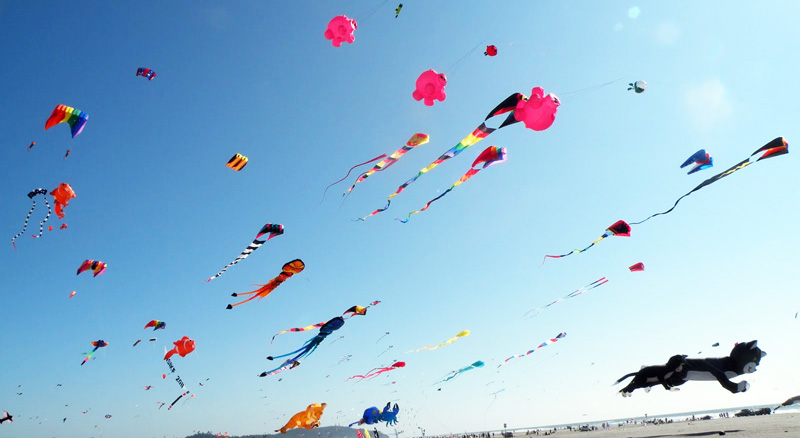 Time: every year, from March, April or May
Activities:
Vung Tau international kite festival is the event that has most foreign contestants coming from at least 20 countries around the world. Starting from 2009, the festival has attracted hundreds of artisans with their splendid kites. The main event is held on the beach making the scene like it's from another world. Each of those beautiful and colourful flying things is a message, a reminiscence of childhood, a cultural symbol and a wish that sent to the sky. We can't help to feel happy when coming to Vung Tau kite festival where our souls are lightened by the sight of the kites on the blue sky and sea of Vung Tau.
Each year, there is a different theme for the contest such as "On the same sky", "Fly with Vietnam", "Dance of Peace" or "Legend of thousand years"; you can see many unique kites mimicking the shapes of octopus, hippocampus, ray, bear, birds and other fictional animals. Beside kite contest, there are many interesting activities like kite-making class, rokkaku contest and several kite flying competitions. Coming to Vung Tau international kite competition, you will meet a lot of people who have a strong passion and love for kites.