Trang An eco-tourism site is located in the vicinity of six communes, namely Truong Yen, Ninh Xuan, Ninh Hai, Ninh Hoa, Ninh Nhat (Hoa Lu District), Gia Sinh (Gia Vien District), and Ninh Khanh and Tan Thanh wards of Ninh Binh City, Ninh Binh Province, more than 90 km from Hanoi to the South. With tourism potentials in terms of history, ecology, spiritual culture, Trang An is a favorite destination of Vietnamese and foreigner visitors.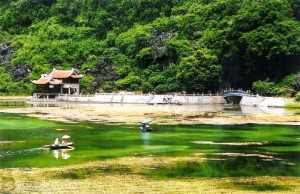 According to unfinished statistics, Trang An eco-tourism site has about more than 310 higher plant species, algae and mushrooms. Of which, some are precious tree species that were used for food and health treatment.  Moreover, there are about 30 species of animal, over 50 bird species, tens of reptile species, some of them are rare animals like antelopes, phoenixes…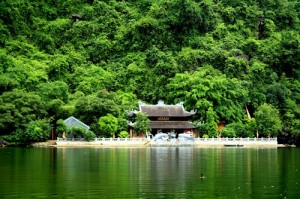 Trang An grottoes covers an area of thousands of ha that belongs to Truong Yen, Ninh Xuan, Gia Sinh, Gia Hai communes with more than 100 caves and grottoes. Over half of them were connected together. It is said that this used to be the place where Dinh Bo Linh trained his navy soldiers over 1000 years ago. Trang An eco-tourism complex is also the home to mountain area and Bai Dinh pagoda in Gia Sinh which include Tam The temple dedicated to Buddha, Phap Chu pagoda, La Han corridor, belt tower and many other subsidiary buildings.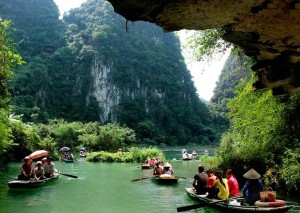 Inside the pagoda sits an bronze Buddha statue of 10 m high, 100 tons weight that was listed in Vietnam Record Book as the highest and biggest bronze Buddha statue. 3 other bronze Tam The statues weigh 50 tons for each; 2 bronze belts, one is 27 tons, the other is 36 tons; and 500 stone Buddha statues sculptured by craftsmen of Ninh Van village.