Vietnamese cuisine is famous for authentic dishes including soups, rolls, and sandwiches. We can name easily some best dishes which are the trending right now such as Phở, Nem Cuốn, Bánh Mỳ, Bún Bò Huế…. Being ignored most the time by food bloggers and travellers to Vietnam, Vietnamese desserts, with its variety in tastes, healthy ingredients and fragrant smells always are loved by Vietnamese people.
Like Che, a Vietnamese term that refers to any traditional Vietnamese sweet beverage, dessert soup or pudding, we must have hundreds of kinds of Che, each kind in its turn is different in each region. You can easily find dessert stalls in the market, or street vendors or small dessert restaurants in every street after having a Vietnamese meal to have a bowl or a glass of the sticky, fresh and fragrant liquid which is carefully made by a Vietnamese mother. Cakes or puddings are also very common and liked by youngsters.
All these desserts are either Vietnamese or from another country but modified a lot to suit Vietnam people's taste. Most of the famous Asian desserts are available in Vietnam but made differently.
Chè Khúc Bạch – Almond Panna Cotta Lychee Dessert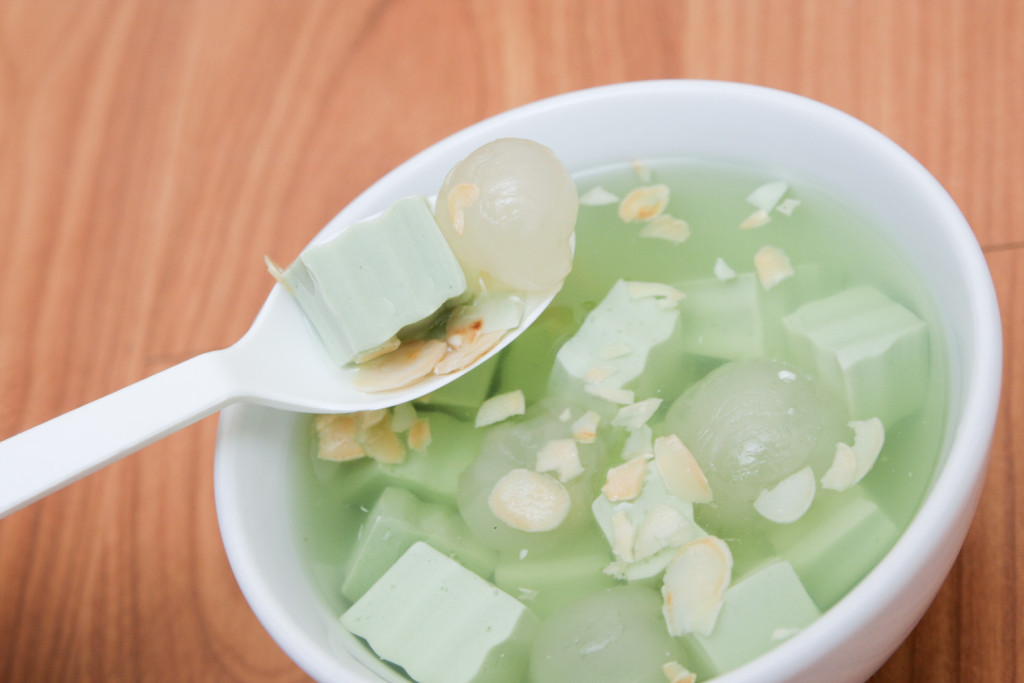 This dessert is a refreshing beverage that is very popular in summer. The name "Khuc Bach" refers to the small white (Bach) seaweed segments (Khuc) that are served in the bowl. Technically Che Khuc Bach is made from seaweed with almond, lychee, milk and syrup. The chilled seaweed a pleasant fragrance. You can add some fruits such as lychee, longan, wiki, apple… and enjoy the refreshing taste of this interesting dessert.
In Hanoi, best places to enjoy CheKhuc Bach are Lyncapucino in Hang Tree Street, Khuc Bach Miu in Hang Giay Street, Huong Mai Restaurant in No. 93 Hang Bac Street, no.57 To Hien Thanh Street with price ranges from 20,000 to 25,000VND. In Saigon, you should come to Hoang Ty restaurant where the trend of Khuc Bach started (at no.320 Vo Van Tan street, District 3); New Street Food at no.143 D5 Street, Binh Thanh District.
Sữa Chua Mít – Jackfruit Yogurt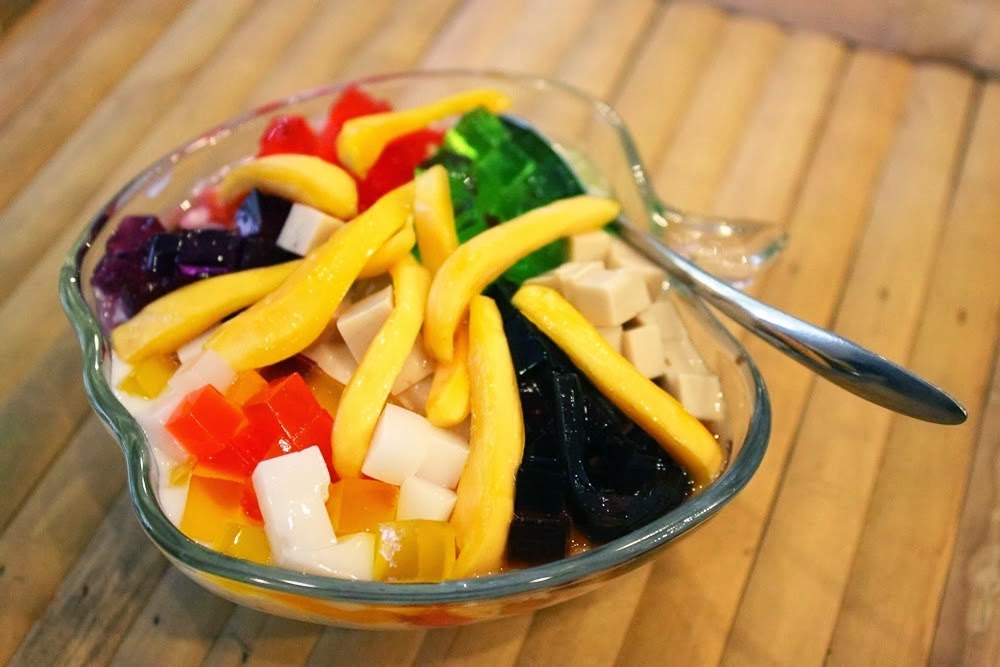 Jackfruit yoghurt is very popular among young people. This dessert is slightly cheaper than Khuc Bach, mostly from 15,000 – 20,000VND. It's believed that this dessert is also good for your skin. A colourful bowl of jackfruit yoghurt includes the yellow of jackfruit, green and pink of jellies, white of sago and yoghurt. Put crushed ice on and you will have the best dessert for summer. Any dessert restaurant in Vietnam has this dessert and you can easily find a bowl for yourself.
The most famous place to have some jackfruit yoghurt must be Hoang Anh restaurant at no.22 and no.24 Ba Trieu street. The price Hoang Anh offers is cheaper than most places in Hanoi only 15,000VND for one bowl.
Tào Phớ – Douhua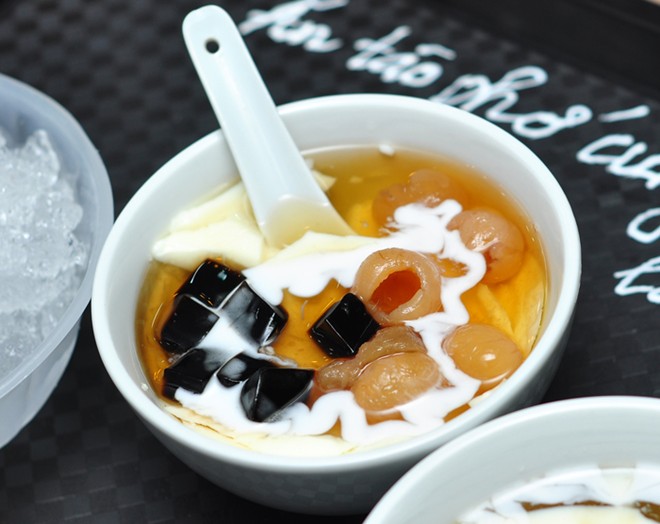 Tao Pho or Douhua is a traditional dessert of not only Vietnam people but also of many other Asian countries such as China, Malaysia, Thailand and Singapore. Tao Pho is made from very soft tofu and looks like tofu pudding, eaten with syrup. Nowadays, Vietnam people have invented many ways to make this dessert more interesting. Red or black beans, lotus seeds are served with Tao Pho. Nowadays, the syrup can have many different flavours like chocolate, milk, coffee…
In Hanoi, there are many great places you can find the finest Tao Pho such as alley 105 in Bach Mai street with their famous green bean Tao Pho. The owner of the restaurant has 20-year experience which can guarantee the quality of her dessert. There is a small restaurant which is opposite to Nghia Tan Junior High School with only 6000VND for a full bowl. In Saigon, there is a famous restaurant that lies close to the New World hotel. To those who love the traditional taste of Tao Pho, Ganh Hang restaurant at no.40 Tran Cao Van is definitely your first choice.
Che Ba Mau – Three Colored Dessert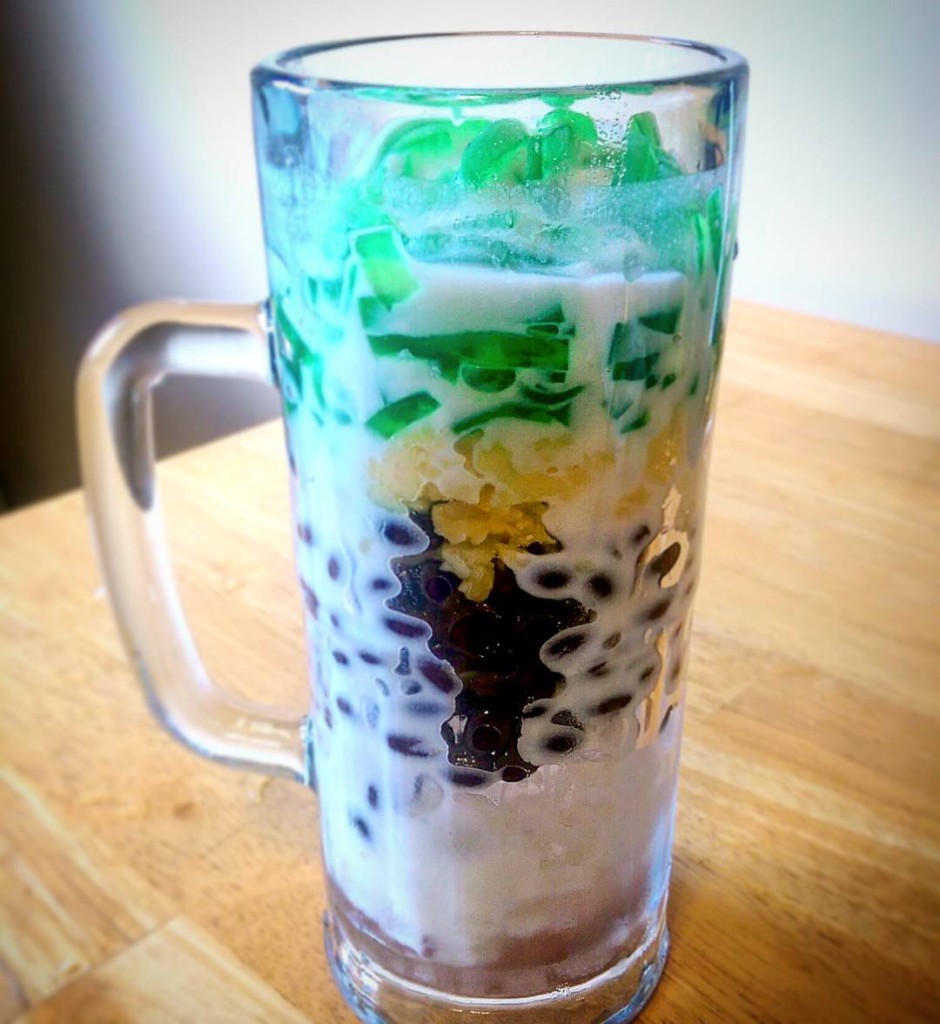 The common name of this dessert is "layered dessert with sweetened beans", but in Vietnam, nobody knows that name, because many desserts have beans and a lot of …layers. The three colours are red of red beans, yellow of mung bean paste and green of pandan jellies with some white of coconut milk topping. Besides its good look, this dish is very delicious, fresh and easy to make. It's also said that the dessert is very familiar to Thai dessert with the same taste. Remember to put 2 layers of crushed ice in the bottom and the top before putting coconut milk. Mix up everything before you eat.  Enjoy this refreshing dessert in hot summer days, you won't be disappointed.
The most well-known place for Che Ba Mau in Saigon must be the dessert stall in Nguyen Phi Khanh street in Ho Chi Minh city. The seller is famous for his "cold" attitude to customers and the superb quality of his dessert.
Bánh Da Lợn – Steamed Layer Cake
Literally the right English name of this dessert translated from Vietnamese would be Pig's Skin Cake. This dessert will impress you deeply with its gorgeous look with light green surface and yellow lines in between. The cake is made from tapioca starch, rice flour, mashed mung bean paste, taro, or durian, coconut milk and/or water, and sugar. In the end, the cake must have a pleasant vibrant green colour and fragrance of pandan leaf. The yellow layers can either be mung beans or durian.
You can find best Banh Da Lon on the old streets of Hoi An with very cheap price only from 3000-5000VND.
Bánh Bò Nướng – Honeycomb Cake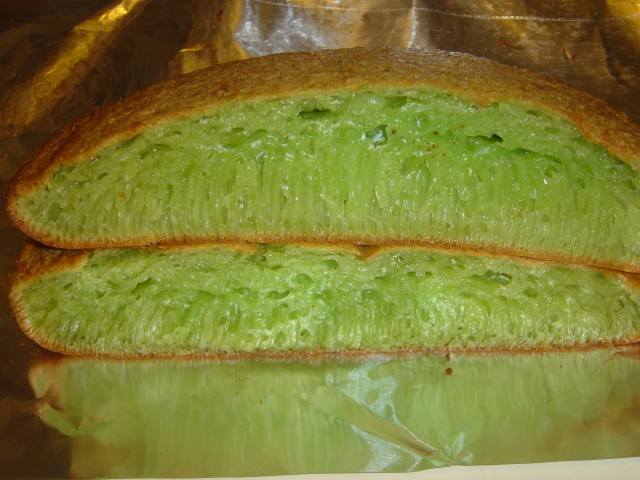 This is also a traditional Vietnamese dessert that uses a lot of pandan leaves. Banh Bo Nuong is a perfect partner with a hot cup of green tea in chilling weather. People of South Vietnam are really proud of this cake they often make for family or friends. The outside crust has a light brown colour since the inside is velvet green of pandan leaves. The cake will make you remember its distinctive fragrance of coconut milk, pandan leaves and vanilla. You know it's a true Banh Bo Nuong when it has a honeycomb texture inside, that's why the name of the cake is Honeycomb. The secret is in the single-acting baking powder which must be put at the very last, and you have to stir the liquid very quickly and smoothly before baking it. This powder is the whole point of your success.
To find the best Honeycomb cakes, you must go south. In Ho Chi Minh city, Mister Dao often stop at Thu Duc high school and Nguyen Huu Huan high school to sell his cakes. At the T cross Tan Da-An Diem – Pham Don in District 5, there is a small stall selling this cake that always being crowned.
Hoa Quả Dầm – Mixed Fruits Dessert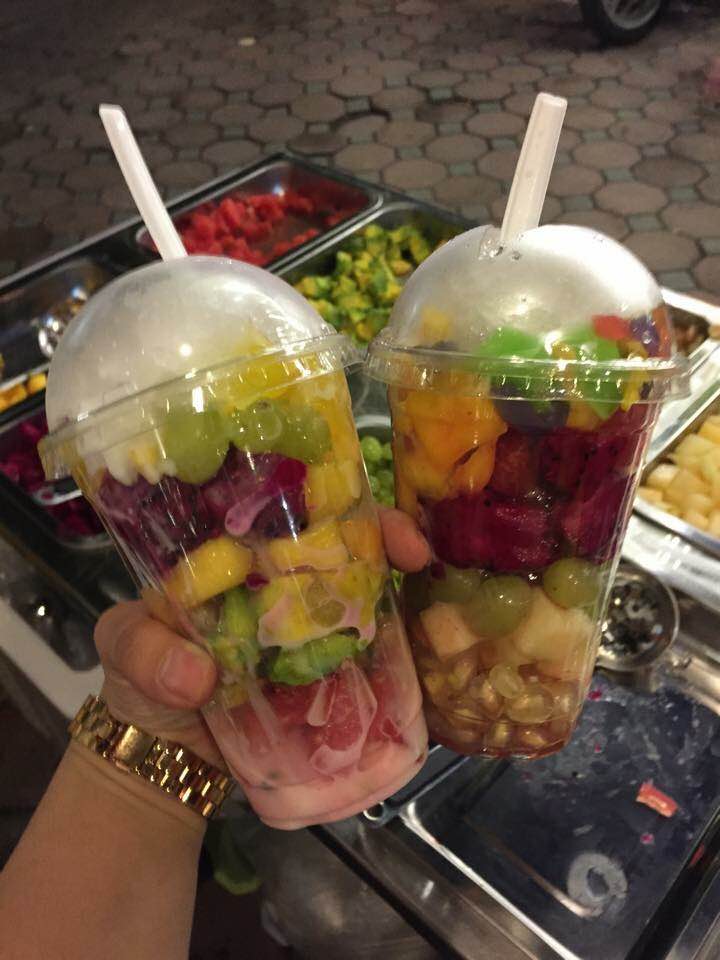 A very common dessert in Vietnam because of its simplicity and health benefits will make your summertime more refreshing. Vietnam is a tropical country so there are a wide variety of fruits which can be made many kinds of desserts. Apple, mango, jackfruit, kiwi, watermelon, guava, strawberry, and grape will be cut into cubes and mixed together. Some milk and yoghurt are added on the top with crushed ice.
In Hanoi, we can't forget to mention To Tich street which is called "the street of Hoa Qua Dam". There are a dozen of small and humble dessert restaurants lying along the street yet the desserts they offer are always highly recommended. In Ho Chi Minh, PhanAnh restaurant a no.60 Nguyễn Thái Bìnhstreet, or the famous Five Boys Restaurant… you can find the best smoothies here which suit your taste.
Bánh Pía – Pia Cake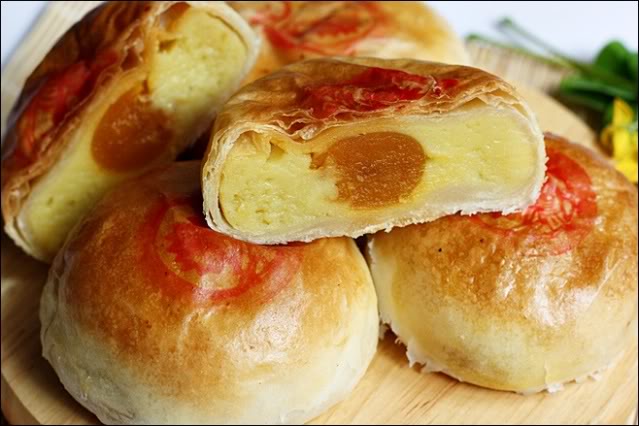 Pia cake is a speciality of Soc Trang province and was introduced by Chinese people in the 17th century.  Pia cake has a strong taste durian fruit, the greasy and buttery flavour of salted duck eggs and steamed green beans and Indian taros. This dessert is not easy to make and people often buy this cake to give friends and family. The ingredients are wheat, green beans, durian, egg…. This cake is very addicted and if you are a durian lover, you should not miss this dessert.
Best Pia Cake, of course, is in Soc Trang with noble brands such as Tan Hung and Tan Hue Vien. There are many kinds of Pia Cake, and the price ranges from 50,000 to 150,000VND for one pack.
Chè Trôi Nước – Mung Bean Mochi with Ginger Syrup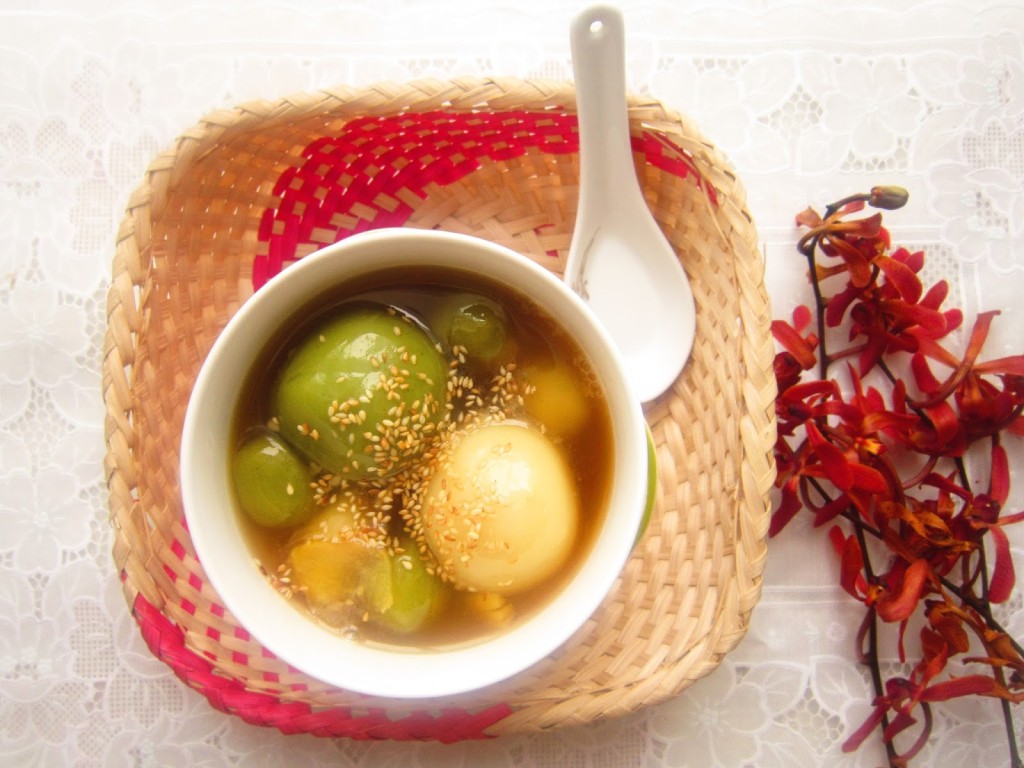 This is a wonderful choice in winter to heat your body up. Troi Nuoc dessert has originated from China and been introduced in Vietnam a long time ago. The mochi balls are made from mung bean paste wrapped in a shell made of rice flour. These balls are served in thick, sweet-flavoured and brown ginger syrup. The dessert must be heated before eating and served with sesame.
To enjoy the best Che Troi Nuoc, come to the restaurant of Madam Thom at no.146 Quan Thanh Street, Hanoi or no.10 Hang Tre.
Sâm Bổ Lượng- Chingboleung (or Cold Dessert Drink)
Sam Bo Luong is a sweet and healthy dessert originated from Guangdong China. This dessert has many ingredients namely dried longan, bobo seeds, lotus seeds, pho tai (a specie of sesame), red jujube, yam and water, sugar and crushed ice. This dessert is often used in hot weather. The refreshing and lightly sweet taste of Sam Bo Luong will cool off your hot summer days.
Sam Bo Luong dessert can easily be found in China town in Ho Chi Minh City. Nha Den stall at no. 476 – 478 Tran Hung Dao B street, district 5 offers many traditional Chinese desserts. This stall opens from late afternoon to mid-night and a favourite spot of dessert lovers.
We can find the amazing creative power of Vietnam people in their effort to make a wide diversity of dishes and desserts, to combine any possible ingredient to each other or just to make an old dish more delicious. Food lovers, what are you waiting for, come to this cuisine paradise not only to eat wisely but also to learn how to cook rightly.