Follow me to visit 5 popular floating markets in Vietnam. Floating market attracts visitors not only by specific culture of southern rivers but also by diversity of tropical products.
Cai Rang floating market, Can Tho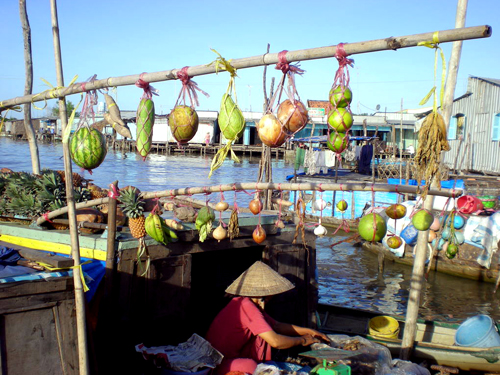 Situated on Cai Rang river, about 6km from Can Tho city, Cai Rang floating market becomes a not to be missed destination of tourists. To reach the market, the tourists have to take 30 minute boat ride from Ninh Kieu wharf.
As one of 3 largest floating markets in the Southwest, Cai Rang is always crowded with sellers and buyers as well as hundreds of boats since the early morning. Weekdays, the market opens from 3 am to 9 am and almost all day on the days near Tet. At Cai Rang floating market, the tourists are not only satisfied with the boats and canoes full of fresh fruits, agricultural products, but also enjoy a variety of food service featuring Western characteristics such as: noodles, coffee, floating pubs. You will be also impressive with unique "hang on sale" marketing. The wholesalers hang the sample of what they sell on a pole called "cay beo" so that the visitors could easily see from the distance. The laughter, the voice, the sound of oars and floating feeling when sitting on the boat will surely leave unforgettable impression in the hearts of many tourists to Cai Rang, Can Tho.
Cai Be floating market, Tien Giang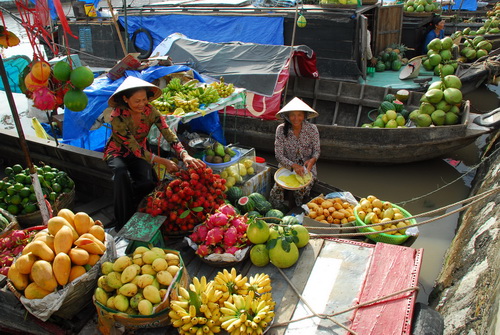 Established from the 18th century, Cai Be floating market is the border of 3 provinces including Vinh Long, Ben Tre and Tien Giang. The oldest floating market makes a strong impression on tourists not only by the hustle of the boats on the river but also by picturesque aquarelle of the town with consecutive gardens, the street along the waterfront. This place has a wide range of products, ranging from fruit to poultry, seafood, and even household appliances, textiles. If you want to buy something as a gift for relatives, you could choose sweet mandarins, coconut candies, or more special is soap made from coconut, a popular specialty in Cai Be. To visit the market by boat, the tourists should wake up early because it only opens from 2 am to 8 am.
Phung Hiep floating market, Hau Giang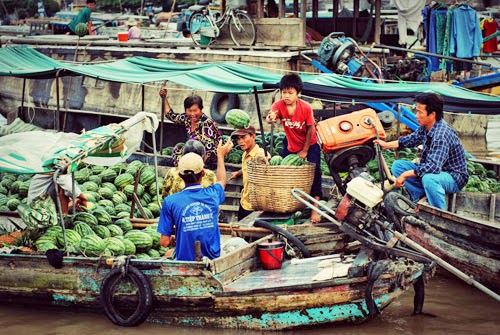 Phung Hiep floating market is 75 km from Vi Thanh city, Hau Giang  province and approximately 30 km to the South of Can Tho city's center. The market is located at Phung Hiep- the meeting point of 7 rivers. Therefore, it is also called Nga Bay (7-way crossroads).
Similar to Cai Be and Cai Rang floating markets, Phung Hiep market gathers hundreds of boats providing goods and products not only for local but also for the northern region and tourists. Besides enjoying Western specialties, the tourists could also buy famous fine arts of Hau Giang to offer family and friends. The distinction in Phung Hiep floating market is snake market with a variety of snake species and high quality snake wine. If you wish to explore western rivers, the Nga Bay floating market is sure to satisfy you with both beauty and unique culture of the Mekong Delta.
Long Xuyen floating market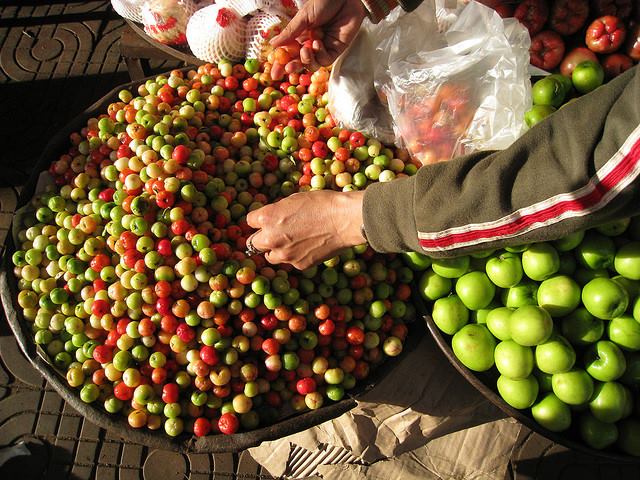 Situated about 2 km from the city's center, Long Xuyen floating market is not as famous as other markets but it attracts tourists for warm and friendly–ever inhabitants. At Long Xuyen floating market, the main product is vegetables such as melons, tomatoes, potatoes, cabbages… and well-known fruits such as bananas, grapefruit, oranges, tangerines… Besides, the market opens almost all day. Therefore, you do not need to wake up early like other floating market. Together with the boats and canoes, the tourist will have opportunity to witness the daily activities of the local people to know more about their rustic simple life here.
Tra On floating market, Vinh Long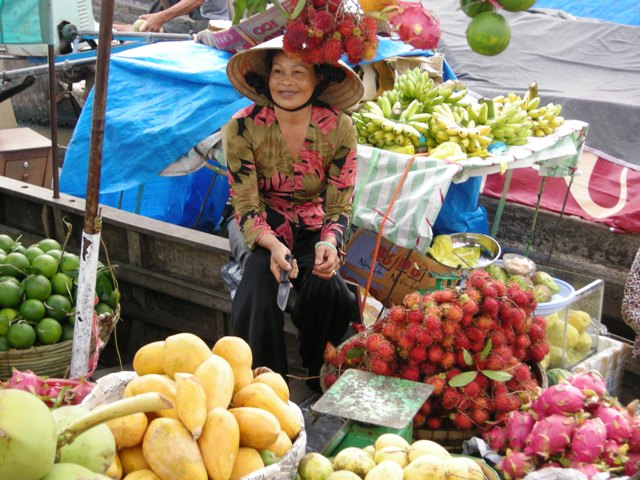 Being 250 m from Tra On rivulet, Tra On floating market is located at downstream on the Hau river of over 300 m long. Especially, the market often gathers along the tide. Thus, it is very crowded on days of high tide. Tra On floating market plays a role as a wholesales market; all the products are sold by wholesale. Agriculture products include yams, sweet potatoes, cucumbers, melon …, the fruits are also abundant with Tan Thanh king oranges, Hoa Binh caimitos, Luc Si Thanh durians… Another distinguished characteristic of Tra On market is beautiful canoes selling colorful flowers. Coming to Tra On, the tourists do not forget to enjoy "ca chay" (burned fish) specialty that can not be found anywhere else.