1. Book the boat tours
Cam Thanh Coconut Village in Hoi An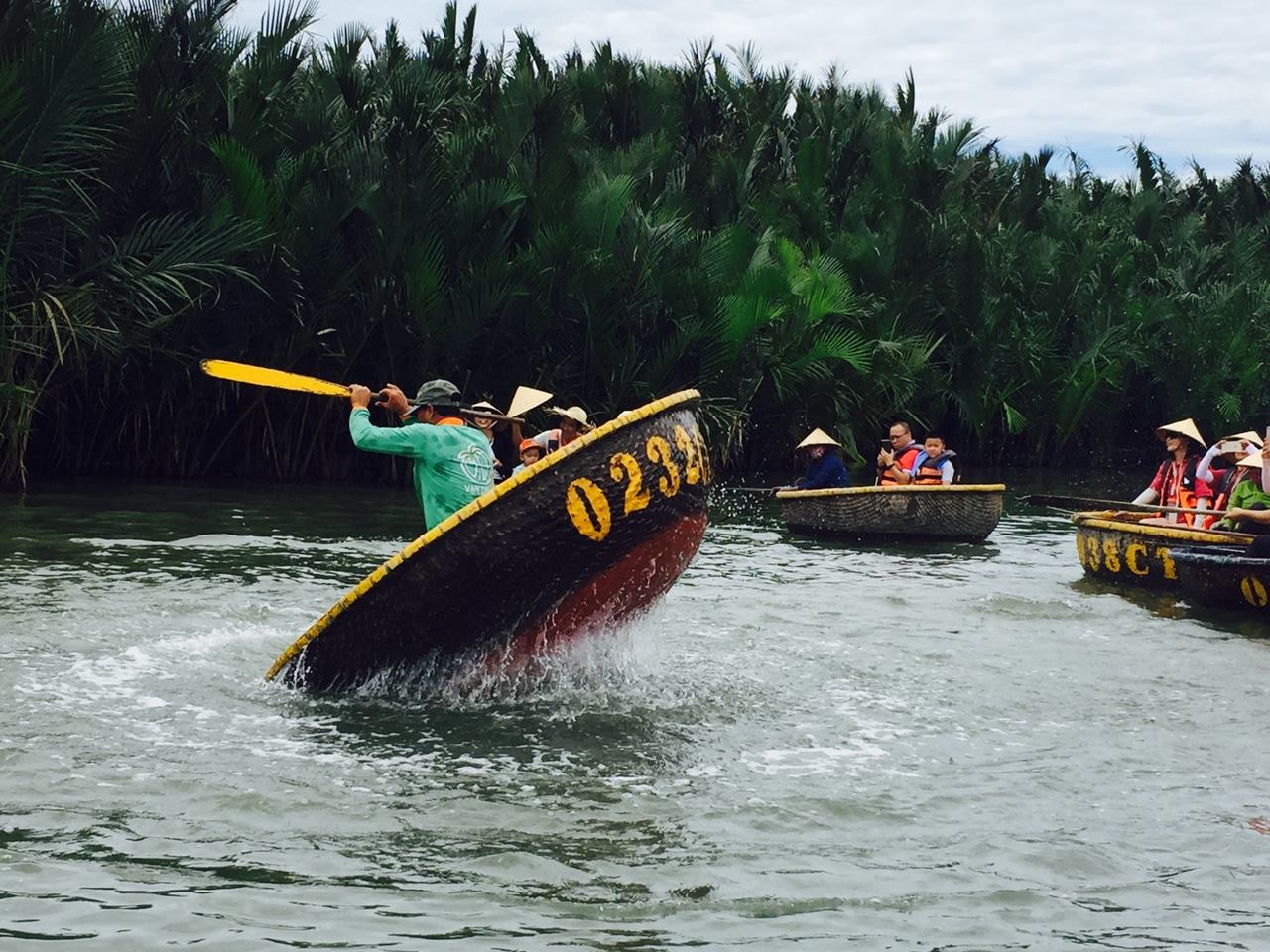 It will be a refreshing trip to water coconut village in Cam Thanh which is just 7 convenient kilometers away from Hoi An old town. The place was once a shelter for locals and soldiers during war, now is a famous tourist destination around Hoi An. The thing that should impress you the most must be the bamboo basket boats which are used everywhere in Central and South Vietnam in daily life of fishing families.
Come to Cam Thanh village, you'll have chance to learn some traditional fishing techniques and how to paddle the basket boats in proper way. The boat ride will take you through the channels under the giant water coconut leaves. You can request a performance of basket boat's spinning and give the performer tips after.
There are several restaurants offering cooking classes too if you want to combine an eco trip and cooking tour.
Boat trips on Thu Bon river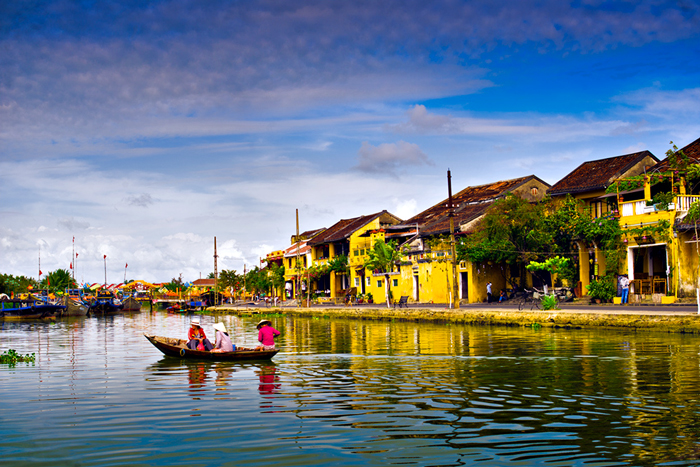 Along the riversides you will encounter a number of touts offering to get you on a ride down the Thu Bon river. A quite number of vessel types ranging from sampans to bigger motor boats. Generally one hour trip is quite cheap, expect to pay around 100,000VND and yes, you'll have to negotiate.
Hoi An Kayak Tour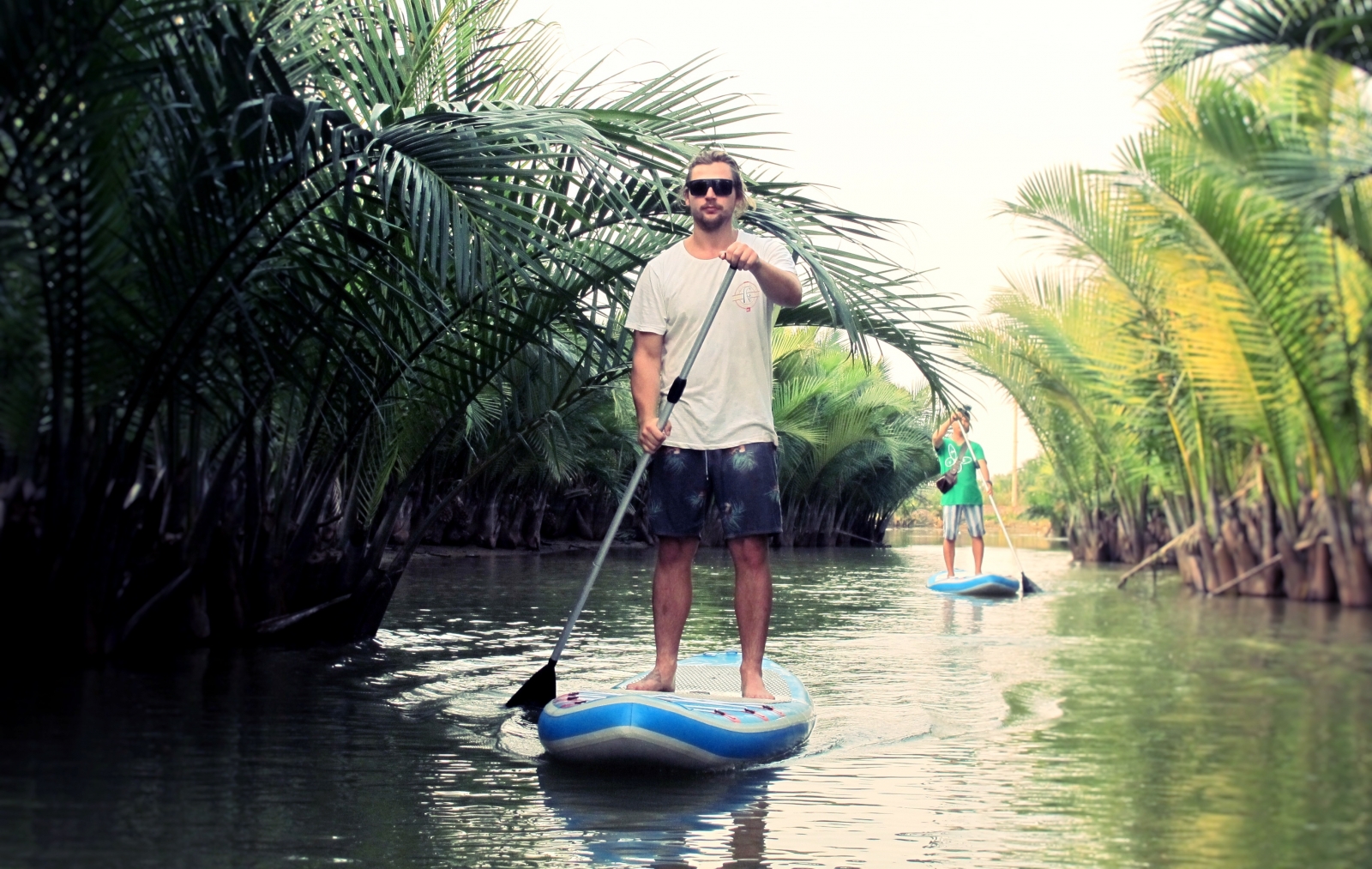 Hoi An Kayak Center have a range of guided kayak tours from easy to adventurous. The difficult ones are half-day and full-day trips exploring the islands. Prices vary depending on numbers. For example, the two-hour paddle with canoe or kayak is $30 per person for one or two people, or $25 per person of there are three to six people.
They also have SUP tours which cost $27 per person for one to two people, $25 for three to four people. SUP Monkey, located at 111 Lac Long Quan, Khoi Tan My, Cam An ward, Hoi An, is a great agency for some sunrise or sunset paddle boarding session. For sunrise, it does require getting up early – 4:45 start at An Bang beach.
The best time for SUP and kayaking falls in between April and September where the weather and river are much milder. Seek advice on accessing the shallow inlets during high tide, also prepare alternative routes.
2. Register cooking classes
You love to cook and you're visiting Hoi An? That's a perfect combination to learn how some of the best dishes in the old town. So why would you spend an afternoon for this activity? Below is all you need to know about Hoi An cooking classes.
Vy's Market Restaurant & Cooking School |
Add: 3 Nguyen Hoang Ton St, Hoi An
Morning Glory Restaurant | http://msvy-tastevietnam.com/cooking-classes/
Add: 106 Nguyen Thai Hoc St, Hoi An
Tel: (0510) 392 6926
Mail: [email protected]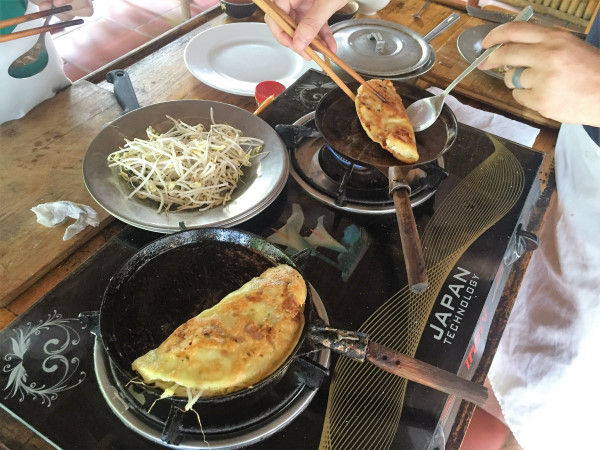 Mrs. Vy is the owner of both Vy's Market Restaurant & Cooking School and Morning Glory Restaurant. And both are great places to have some hand-on cooking experiences. They are organized, clean and cozy. A standard class for two hours and four dishes costs 550,000VND. Half-day class lasts from 8:30 to 13:30 including buying the ingredients at the market and a tour through some street food kitchens, costing 925,000VND per person.
Red Bridge Restaurant & Cooking School | www.visithoian.com/redbridge/
Add: Thon 4, Cam Thanh, Hoi An
Tel: (0510) 3933 222
Mail: [email protected]
Cooking classes of Red Bridge restaurant take place at their beautiful riverside villa. Classic half-day class is $33 per person, included a market tour and a boat ride to their location. But with "Deluxe Day Tour", you get to hand pick herbs in Tra Que vegetable village with four featured dishes: clay pot fish with fresh dill, lemongrass shrimp grilled in banana leaf, grilled chicken with banana flower salad and beef pho. It costs $55, lasts from 8:00 to 15:00.
Green Bamboo Cooking School & Café | www.greenbamboo-hoian.com
Add: 21 Truong Minh Hung St, Cam An ward (near Cua Dai Beach).
Tel: (0905) 815 600
Mail: [email protected]
Green Bamboo will bring to you a homey experience since the cooking school is held in a real family home. A standard class costs $40 per person, starts from 8:00 to 15:30 everyday. One special thing is every participant can choose one dish from a menu of 68. It also includes a market tour.
Hoi An Mama Home Cooking Class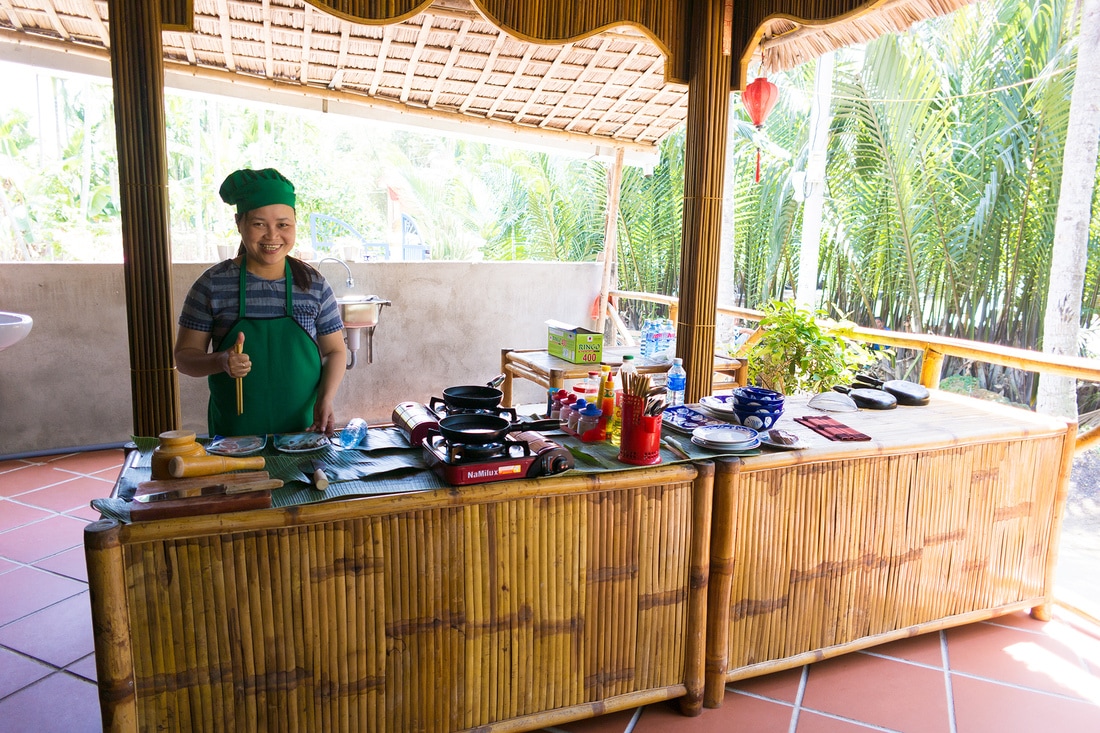 Add: 60/12 Phan Chau Trinh, Hoi An
Tel: +84 979 58 77 44/ +84 976 128 977
During a cooking session of 3 hours and a half, you will meet Mama Nở, she is not a professional chef but a traditional Vietnamese mother who can cook perfectly all Vietnamese dishes. With her large and deep knowledge and experience, you can expect the highest quality of her food. The cooking class will be held at her own 100 years old house which is the best way to deliver the family atmosphere of a traditional meal.
There are also menus for vegetarians, no market tour, and if you have any specific dietary requirements, you inform before taking class.
• Price: 19 USD/pax.
• Child (Age 4 – 8): 10 USD/1 pax
• Below 4 years old: FREE
3. Food tour
A food-tour is almost a must-thing to do when visiting the old town of Hoi An. There are plenty food tour operators in Hoi An you can choose from. We only recommend the best:
Eat Hoi An Street Food Tour | https://www.eathoian.com/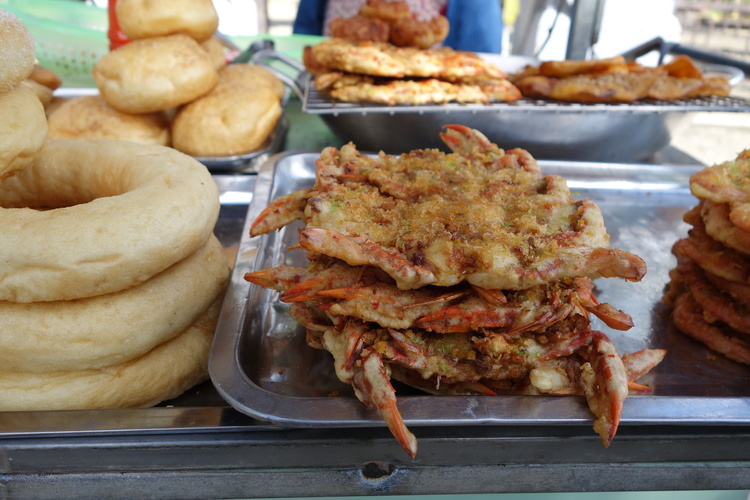 Add: 37 Phan Chau Trinh St.
Tel: +84.0905411184
Mail: [email protected]
Opening hours:
• Monday – Friday: 7am – 10pm
• Saturday: 8am – 10pm
• Sunday: 8am – 11pm
They have three tours: tour 1 – street food, tour 2 – cooking, tour 3 – cycling. So we should just focus on tour 1 only.
The street food tour lasts for 4 hours and 30 minutes (starts from 14:00), costs US$45 per person and is available everyday.
The guide's name is Phuoc who comes from proper Hoi An farming stock with a history of four generations. Growing up in Tra Que vegetable village and living in the old town all his life, Phuoc knows exactly what to show you all the fun and the authenticity of Hoi An cuisine.
Hoi An Food Safari| http://hoianfoodsafari.com/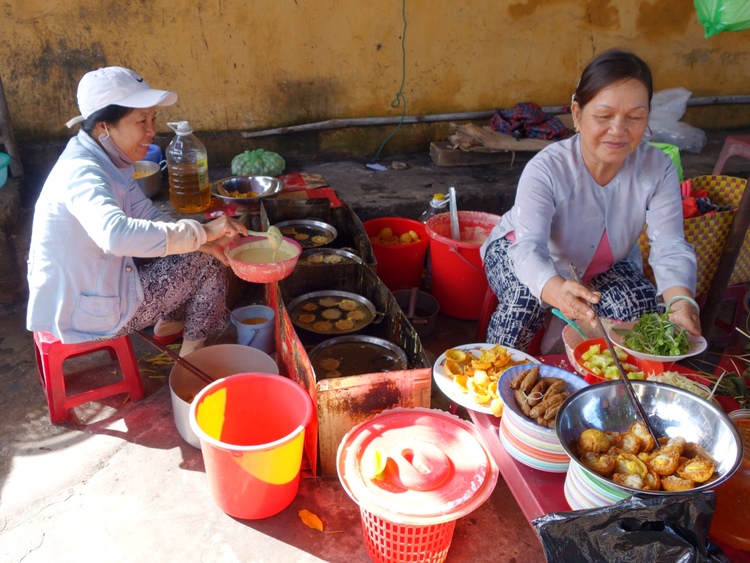 Tel: 0918 355 756
Prices: Adult $50, Children 6-12 $40
Opening hours: 8:00AM – 12:30PM
You will just have to give your hotel location (if you are around the center of the town); their staff would come to pick you up between 7:30 and 8:00. First you will head to a local suburban fresh food wet/dry market where you will be given an overview of everyday Vietnamese life in Hoi An. The guide will stop at least 10 food vendors for you to try the dishes. Out of 40 dishes they have on the list, you will be trying from 10-15 depending on availability.
The Original Taste of Hoi An | http://tasteofhoian.com/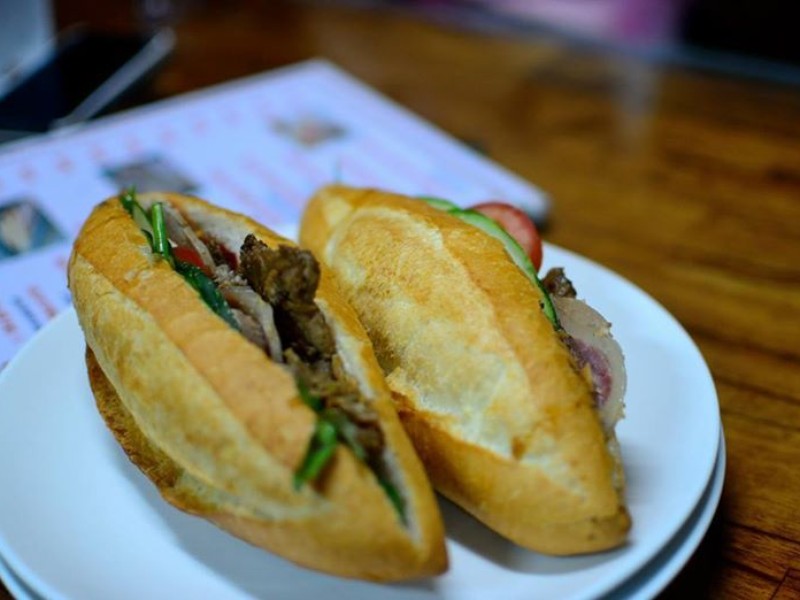 Add: 58B Tran Cao Van St. Hoi An
Tel: +84 (0) 0121 7621 693
The tour will last for four hours with a total 40 tastings offered. On the first two hours, you will be served in both standing and eating places usually catering to only local Hoi An people. You will have chance to enjoy the sounds, the sights and the tastes of the place, a great photographic opportunity. During the last two hours, a comfortable private tasting room will be where you enjoy the sampling food brought from vendors outside of the walking tour route.
Vespa Adventures | http://vespaadventures.com/
Add: 134 Tran Cao Van, Hoi An, Vietnam
Mail: [email protected]
Tel:
• From outside Vietnam: +84 1222993585 or +84 938500997
• From within Vietnam: 01222993585 or 0938500997
Food tour organized by Vespa Adventures runs nightly from 5:30PM – 9:30PM, starting from their central Hoi An café where you can have a sample of Banh Can while watching the streets. Next taster is the famous White Rose dumplings in town. Then you will proceed to An Hoi Islet; go for a boat ride along the ancient town to Cam Nam island, where you join the locals for a seafood starter looking over Thu Bon river. The next drive will get you to a restaurant to enjoy a hot pot and Vietnamese rolls. Last spot is a Hoi An's vibrant dining scene serving contemporary cuisine.
The tour costs $79 per person (30% off for kids under 12), includes: local food, drinks, Vespa, tour guide, helmets, raincoats, insurance, experienced drivers.