Hoi An is a street-food sanctuary where food is not only various, abundant, delicious, authentic but most important very cheap. Check out now the best street foods and where to find them.
Cao Lau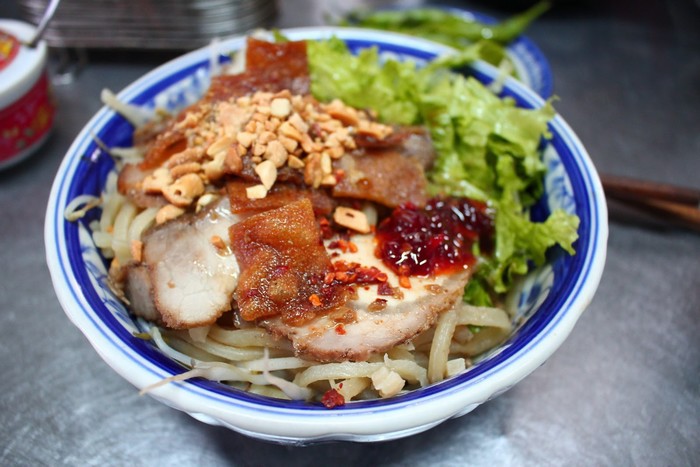 Cao Lau is the pride of Hoi An cuisine, one of the most popular dishes in the old town. Many have mistaken Cao Lau and Mi Quang because both dishes have yellow noodles. But they do taste differently with different toppings. Cao Lau is rather a mixing dish where you mix all noodle, pork and herb all together before taking a bite. The noodles are in lighter yellow and have round shape while Mi Quang's noodles are quite flat and slightly wider. Especially, fried species of Cao Lau are added to the bowl to increase the crispiness. Best places to have Cao Lau are the vendor or Ba Be stall (at Tran Phu street) or Cao Lau Ba Thanh (Cong Chanh crossroad). Other places you can try:
• Ms Ha stall E035 at Hoi An Central market
• Ms Thanh stall at 26 Thai Phien St.
Com Ga (Chicken Rice)
Com Ga has to be the most famous speciality of Hoi An. The dish itself isn't originated in Hoi An but the clever locals have made it so much more special and delicious compared to Com Ga in anywhere else. It's made of yellowish fried rice topped with chicken meat and herbs, served with a bowl of soup. Right in the old town, you can easily have a taste of the dish: Ba Buoi restaurant at 22 Phan Chu Trinh and its next-door neighbour Ty. There is also a food-stall on Le Loi Street, named Huong, is also said to be good.
Banh Bao – Banh Vac (White Roses)
Hoi An is the only place you could find this wonder. The English name of the dish is White Rose – must be the rose-like shape of the dumplings. The nick-name "white rose" was told to have originated from a foreign tourist who gave the dish the name for the first time trying it. White Rose is a common dish around Hoi An, you can actually find it everywhere. Banh Vac and Banh Bao are two different cakes but served together in one plate with sauce. Banh Vac is made with ground shrimp, added with garlic, spring onion, lemongrass and spices. Banh Bao has minced pork and mushroom inside. The sauce has to have three flavours in it: sour, spicy and sweet. The chillies must be both green chilli and red chilli. White Rose restaurant at 533 Hai Ba Trung is one of the best places to taste the dish.
Hoanh Thanh (Fried Wontons)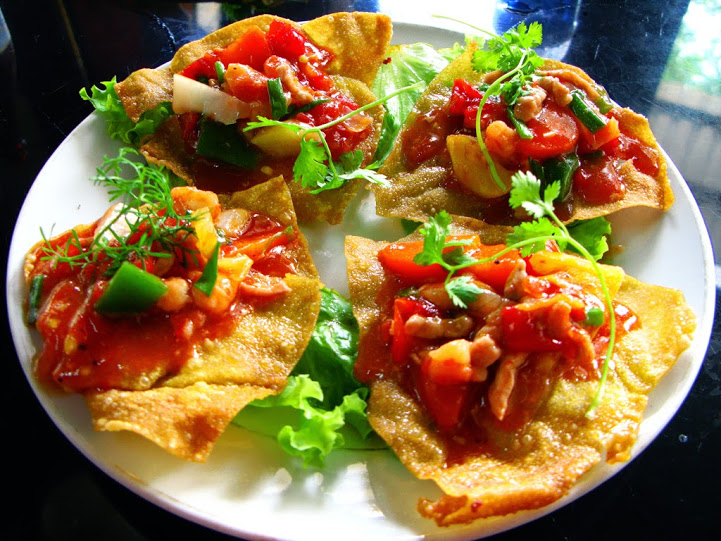 Hoanh Thanh or wonton is a typical Chinese dish yet Hoanh Thanh Hoi An will bring you pleasant surprises, not because of its creative way of eating but also its delicious taste. Hoi An people did change the dish a lot to suit their style. There are a lot of ways to eat wontons like soup, noodle and fries. Hoi An wonton is famous because of the crispy wonton fries topped with savoury spicy tomato-potato sauce containing a so on-point shrimp meatball and char siu pork in the middle. Come to no.14 Ba Trieu St. and no.27 Tran Phu St. to have a great taste of Hoi An fried Hoanh Thanh.
Mi Quang (Quang's Noodles)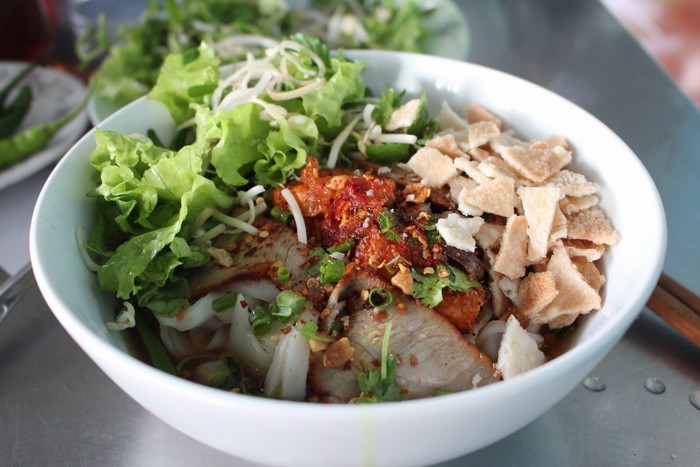 Mi Quang or Quang noodle comes from Quang Nam and Da Nang so pretty much Hoi An is its home. Although you can find Mi Quang everywhere you go in Vietnam, the taste which is found in Quang Nam is always special and distinctive. Indeed, Mi Quang in Hoi An has distinguished look, texture, flavour and is served with little broth unlike most kinds of Vietnamese noodle soup. The noodle is different, too – it's turmeric yellow, wide in shape and smooth in texture. A bowl of Mi Quang contains a lot of things: shrimps, slices of pork belly, spare ribs, sesame rice crackers, roasted peanuts, and fresh herbs. All of these things make the dish not only so appetizing but also pleasing to the eye. Mui Quang is generally cheap, about 15,000 – 25,000 VND per bowl. Some places to find Mi Quang:
• Mr Hai restaurant – 6A Truong Minh Luong Street
• Ms Bich restaurant at 272 Hung Vuong St
• On Thai Phien Street
Banh My (Vietnamese Sandwiches)
Hoi An is famous for having the best kind of Banh My on earth and no, it's not exaggerating at all. There are some five-star Banh My stalls in Hoi An you shouldn't miss once you visit the ancient town.
Madam Khanh The Banh My Queen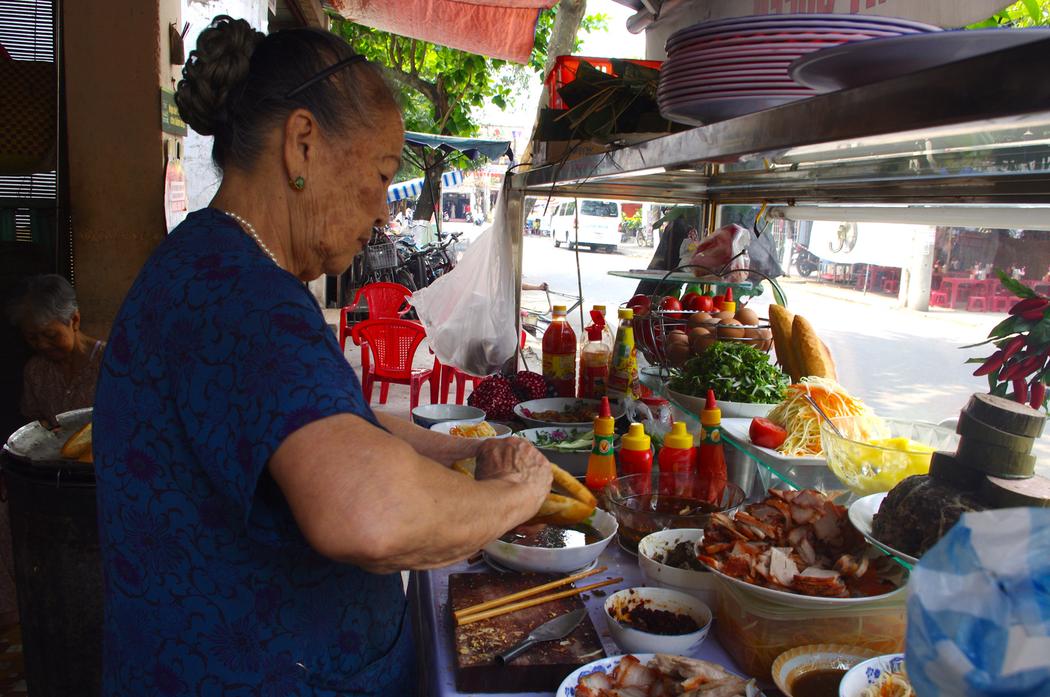 It's the stall of Nguyen Thi Loc (age 81) or the Banh My Queen stall. With a history of more than 30 years operating, the taste of Banh my here will not disappoint. The fillings are varied from eggs, grilled pork to sausage, herbs and sauce. The sauce is with special taste is what makes Banh my of Mrs Loc so delicious and savouring. Only 300 sandwiches served daily to make sure the quality of each one of them is superior. You're expected to pay one dollar for one Banh my.
Banh My Phuong

Received so much reorganization from eaters from all around the world, Banh My Phuong can't be left out of this dish. The restaurant is located at 2B Phan Chau Trinh St., welcoming hundreds of customers every day. Each sandwich is made only in 1 to 2 minutes but still contains full of fillings and herbs. Banh My Phuong has three kinds of sauces and a dozen kinds of fillings, not to mention herbs. Prices are varied for each kind. And you can also customize your sandwich as you like.
Xi Ma – black sesame sweet soup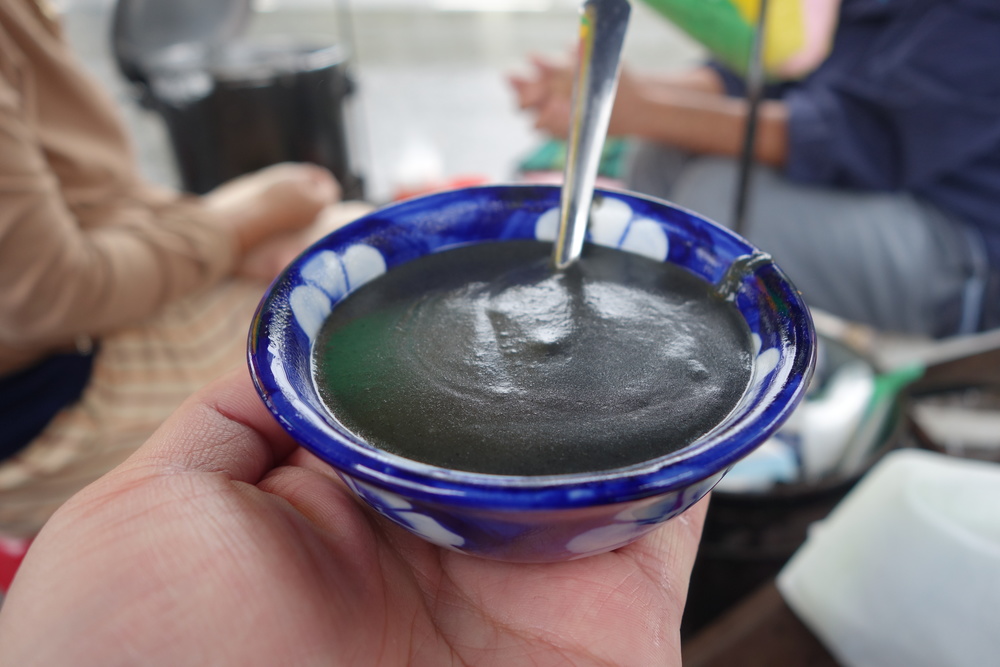 Xi Ma is a kind of dessert that everyone would enjoy. It is made from black sesame (mainly), sugar, pennywort, cassava powder and a kind of Chinese medicine. You might be taken aback by the soup colour – black but once you taste it, you wouldn't be able to forget its taste. Xi Ma has the origin from China, obviously but also become a very familiar dessert to Hoi An people. It also can be a medicine which can cure or support patients who are suffering from hypertension, atherosclerosis and chronic colitis.
Where to find Xi Ma:
The crossroad of Nguyen Truong To St. and Ly Thuong Kiet St. and around the ancient town streets at night like Nguyen Thai Hoc, Tran Phu, Le Loi…
Mango Cake (Banh Xoai)
Banh Xoai is one of the cheapest treats of Hoi An and you can easily notice it on the casual streets. When you try Mango Cake, you might be confused because there is no mango inside the cake. The cake is made of a layer of sticky rice on the outside and peanuts and sugar inside. It tastes very sweet and is perfect for dessert after the main course. The reason for the name is explained that the inside of the cake looks very like the shape of mango seed. The cake is round, white, quite small and sold a lot on old town's streets.
Restaurants
1. Nu Eatery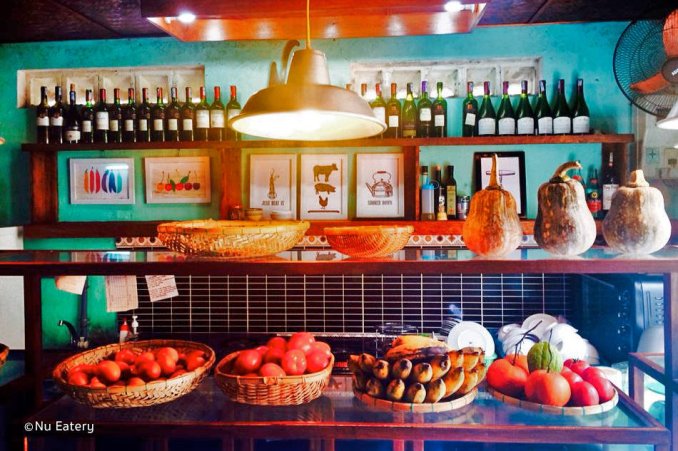 Add: 10A Nguyen Thi Minh Khai, Hoi An, Quang Nam.
New restaurant: The Sea Shell Restaurant – 90 Lac Long Quan, An Bang beach.
A classic vintage ambience matches just right for phenomenal quality of food, located in the town which is the best place on earth to enjoy Vietnamese cuisine. Despite the humble appearance, Nu Eatery scored big with their fresh and creative flavours. The steamed buns shouldn't be missed and chilli pork ragu noodle is tasty, too. For dessert, lemongrass ice cream would be refreshing.
They have a new restaurant at An Bang beach which has the same style and menu highlighted with pork belly sliders, pulled pork wraps and seasonal salads. You can go with a group and eat your way through the entire menu, that. There is also a menu for vegetarians.
2. Son Hoi An Restaurant
Add: 232 Cua Dai – Cam Chau, Hoi An
Tel: +84 94 950 14 00
This is the restaurant that can quench your thirst for authentic Vietnamese cuisine. Although the quite inconvenient location and slow service, Son Hoi An can make up for you by the superior quality of their food. Some of the best are Coconut Soup with noodles, Squid with tamarind, Wanton and Nostalgic spring rolls, Clay pot chicken, etc.
3. Orivy Hoi An Local Food Restaurant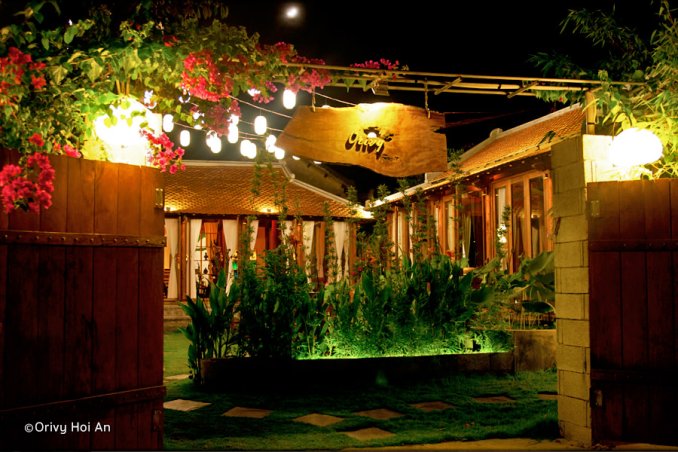 Add: 576/1 Cua Dai, Hoi An, Vietnam
Tel: +84 90 964 70 70
Located in a quiet residence, Oviry is the perfect place to enjoy the exquisite Hoi An local food. There are two sections: the dining garden and two dining rooms. Not only for the food quality and romantic ambience, Oviry is also praised for their friendly staff and reasonable prices. Do try out their brown rice sesame and peanuts and many other Hoi An specialities such as white rose, Banh Xeo, fried wonton, Hoi An spring rolls…. The prices are exceptionally reasonable.
4. STREETS Restaurant Café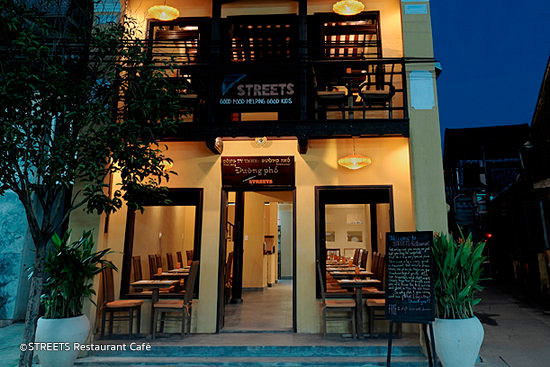 Add: 17 Le Loi Street, Hoi An
Tel: +84 510 3911 948
The bistro is located right in the heart of the old town which is very easy to find. One thing special about STREETS is that it's a charity with purpose to help Vietnamese kids who've been struggling. You can expect a service from English fluent-speaking, friendly and professional staff. One thing at STREETS that will probably make you satisfied is the cleanness from the open kitchen to your table. The traditional dishes are well-made with authentic tastes. Try Cao Lau, summer rolls, chicken panini, coconut ice cream with pineapple, bread and butter pudding with passion fruit….
5. Minh Hien Vegetarian Restaurant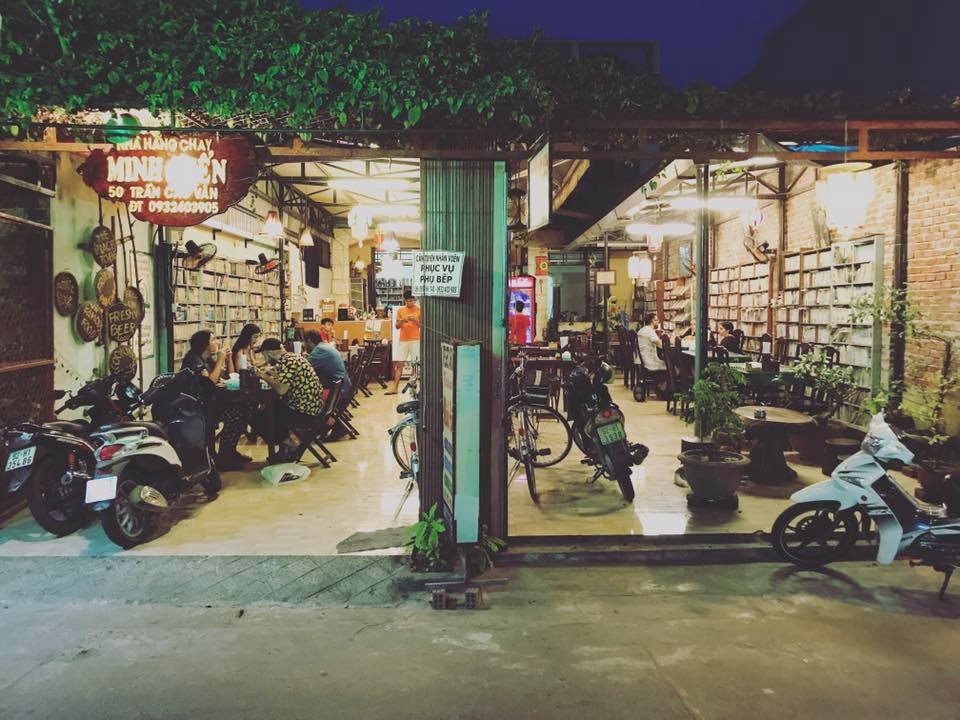 Add: 50 Tran Cao Van | 30A Dinh Tien Hoang, Hoi An
Tel: +84 93 240 39 05
Even you are not a vegetarian you should come and try Minh Hien Vegetarian Restaurant because it's just so good to not to. The ambience is spacious, nice and cosy. There are cooking classes as well if you want to learn some new dishes. Dishes that are most loved are cauliflower spring rolls, stuffed tofu, tofu baked in banana leaf, eggplant in banana leaf and white rose. The food is unique in flavours and textures and really worth your money.
6. HOME Hoi An Vietnamese Restaurant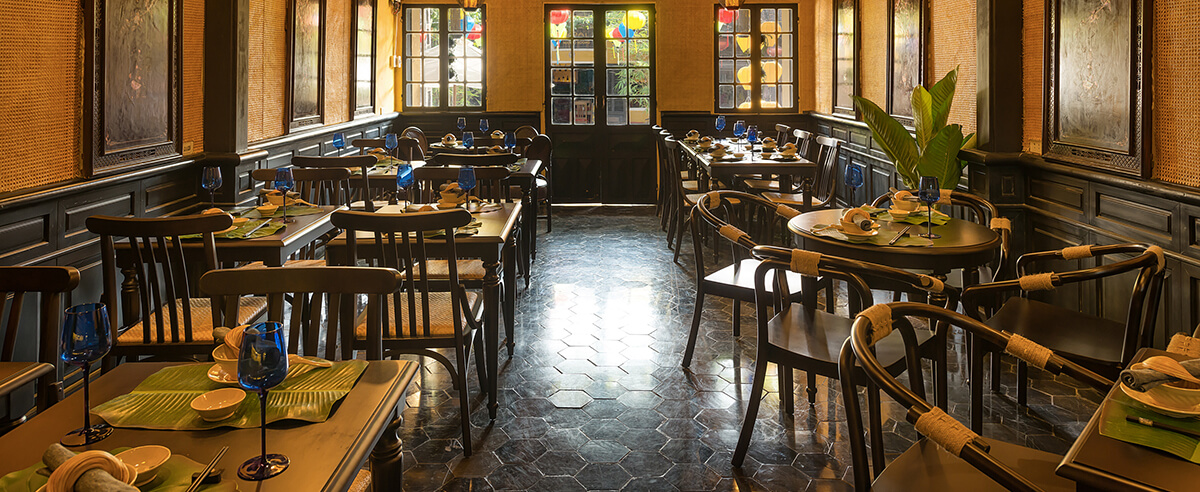 Add: 112 Nguyen Thai Hoc Street, Hoi An
Tel: 84-235 392 6668
Located at Nguyen Thai Hoc Street, HOME Hoi An is close to most attractions of the old town, serving a charming and elegant ambience which blends just so perfectly to the atmosphere of the Hoi An. The two-storey French building turned restaurant oozes a nostalgic feeling to it with trademark lantern, wooden doors and yellow paint. 80 seats are ready to serve from 1:00 PM to 23:00 PM every day. Kitchen is led by Chef Thien offers a menu that showcases the authentic Hoi An cuisine with signature dishes like Mi Quang (Quang-styled noodle), Cao Lau, Com Ga (Chicken Rice), White roses, Hoanh Thanh (Fried Wonton) and much more. The prices, however, are not entirely cheap, but the food quality is worth it.