If one is to think about Belgium and its (in)famous traits and culture, one would definitely mention the complicated political landscape, the Atomium or the small statue of Manneken Pis. But what makes Belgians stand out the most is their deep and profound love for food and beverages. Many people know the waffles, or well known french fries (and every single time a Belgian will say they are actually Belgian fries, and not French), chocolate, or even the mussels are quite famous. But what makes Belgians the proudest of their identity is the rich culture and history of its beers.
Belgians are proud people, even though they would not boast blatantly open towards other people, and as much as they try to berate things they don't like about their country, they also do like to defend some parts of our culture that are worth defending.
From the regular but world-famous lager Stella Artois to the fruit beers or even Westvleteren, a Trappist beer which won the label of the best beer in the world multiple times,  Belgian beers are quite popular and famous and many breweries worldwide produce beers inspired by the old Belgian traditional ways.
Vietnam Visa Easy attended this cheerful opportunity to try out some Belgian beers.
The event ran from 6 pm – 11 pm in the American Club in 21 Hai Ba Trung and upon arrival there was already quite a lot of people. There were different stands where one could taste a different kind of beers, food or do some small activities and win prizes.
We settled for Westmalle, Kasteelbier rouge and Gouden Carolus classic.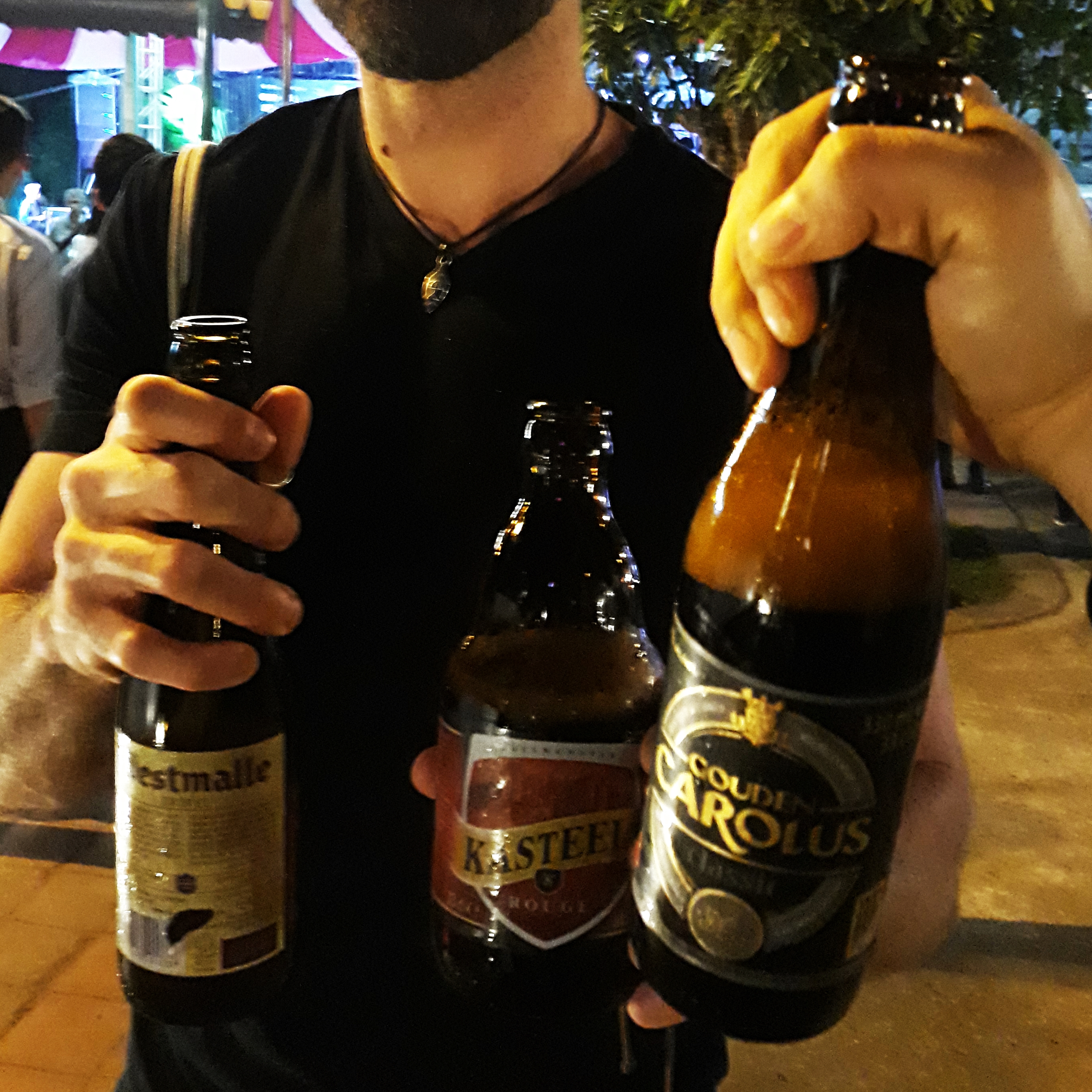 There was music blasting aloud and the atmosphere was nicely relaxed, as one would expect from a beer festival. The big prize of the evening was a trip to Europe, but alas we did not win. However, we were able to eat some Belgian fries and drink lots of different kind of beers including Hoegaarden, Leffe, Westmalle, Kasteelbier, Duvel, La Chouffe, Kriek, etc.
It was definitely a nice evening and Belux Cham did a wonderful job with organising this event!
---
More information about the event down below:
Belgian Beer Festival Hanoi 2018
March 30th, 2018
From 6:00pm til 11:00pm
American Club – 21 Hai Ba Trung, Trang Tien, Hanoi, Vietnam
———
85 Belgian Beers at your choice with good food and non – stop live music
Entrance Fee: 400.000VND/pax – including 1 Belgian Beer and 1 Food
Pre-sales: 300.000VND (before 29/03/2018)
——–
Where to buy tickets in Hanoi? 
Entrance TICKETS are NOW AVAILABLE in Hanoi FROM 13/03/2018:
– TOP CHEF RESTAURANT: 162A Hoang Hoa Tham Street/Tel: +84 9 8898 1713 or +84 9 8702 8927
– BELGIUM EMBASSY: Floor 9, Hanoi Tower, 49 Hai Ba Trung Street/Tel: +84 24 3934 6179
– EUROCHAM: Room 8, Floor 3, Horizontal Towers, 40 Cat Linh Street/Tel: +84 24 3715 2228
– CEEC VIETNAM: Unit 8, Floor 3B, Horizontal Towers, 40 Cat Linh Street/Tel: +84 24 3715 2224
– ICHAM: Casa Italia, 18 Le Phung Hieu Street/Tel: +84 24 3824 5997
– CCFIV: Floor 3, Horizontal Towers, 40 Cat Linh Street/Tel: +84 24 3715 2229
– BOYDENS ENGINEERING: Floor 14, Geleximco Building, 36 Hoang Cau Street/Tel: +84 24 3519 0808
– NORDCHAM: Unit 8, Floor 3B, Horizontal Towers, 40 Cat Linh Street/Tel: +84 24 3715 2228
– BEDGASM HOSTEL: 32A Nha Chung Street/Tel: +84 24 3266 9468
– MIRAI SUSHI & SAKE: 2D Quang Trung Street/Tel: +84 9 3881 1558
– MIRAI SUSHI & SAKE: N04 UDIC Complex, Hoang Dao Thuy Street/Tel: +84 9 8101 1558
– TICKETBOX: https://goo.gl/FEVAei
——