If you like to visit Vietnamese streets by bicycle, here are some suggestions about the best places for cycling in Vietnam.
Elegant Hanoi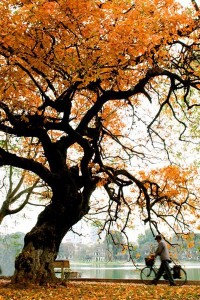 Hanoi is one of the most-visited destinations in Vietnam where people could find the bustling atmosphere of busy modern life as well as tranquil space. With shady streets, pretty alleys and cool poetic lakes, many tourists choose to explore Hanoi by bike. It is considered as an ideal transport for a short tour around Hanoi capital. The popular streets for a bike tour include Phan Dinh Phung Street, Hoang Dieu Street, Ho Chi Minh Mausoleum, West Lake, Sword Lake, Old Quarter, Kim Ma Street. After a tour, you could take a tea break at a small coffee shop and see everything going on in the streets.
Romantic Hue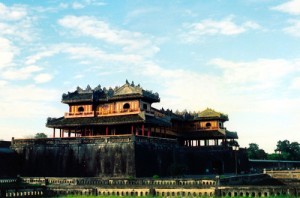 Hue's image is always associated with beautiful girls in ao dai and palm-leaf conical hat. Lying along the poetic Perfume River, the ancient capital is such a good place for biking. From royal palace to royal toms, from Con Hen to Thuan An sea, or the street running along the banks of Perfume River. Hem sweetened porridge or Hue cakes at Dong Da market and street food stalls are always favourite addresses whenever you want to stop over and relax.
Dynamic Danang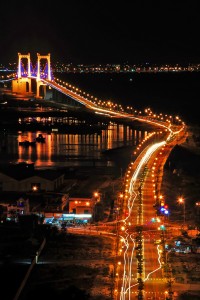 The beautiful beaches, imposing mountains, beautiful rivers, exotic lagoons, immense rice fields, rich farms, historic sites and peaceful villages are spectacular landscapes that you will encounter on the road from Danang to Hue. Whether you travel from Hue to Danang or vice versa, the trip should be taken by either bike or car to enjoy the amazing scenery. It is fine sandy beaches with fresh ocean air and beautiful streets that make Danang become a perfect place for an unforgettable bike tour. Many attractions are easy to explore by bike such as Non-Nuoc Mountain, My Khe beach…
Ancient Hoian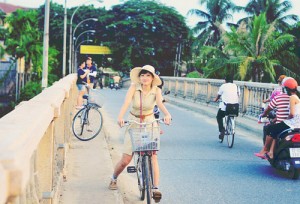 Hoian is always not-to be-miss name in top perfect places for a biking trip in Vietnam. Hoian is a small city that will not take you much time to explore. That's why nowhere is more suitable for bike tour than Hoian. It would be fantastic when wandering on the bike to tiny alley decorated with so many colourful flowers or riding along shady streets from Thu Bon River to Cua Dai beach and going through vast rice fields to visit beautiful villages where live friendly residents. When the trip is done, a cup of soy milk or douhua will be a good reward for you.
Youthful Vung Tau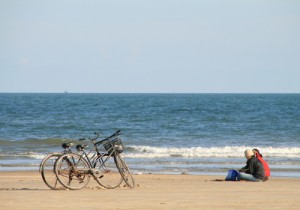 Vung Tau is surrounded by a nice sea road. It is not so noisy, just the sound of waves and winds from the ocean. With only a bike, tourists could be free to explore the city. Sometimes, you can stop to soak into cool water at Bai Truoc and Bai Sau beaches, visit Bao Dai palace or Jesus statue on the hill and enjoy coffee at a coffee shop and contemplate the sunset.