If you have chance to visit the Central Vietnam, do not miss the special dishes below:
Hue noodle soup (Bun bo Hue)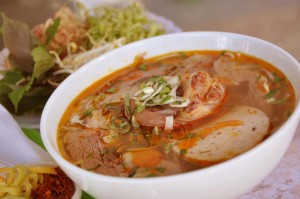 Whoever has ever enjoyed Hue noodle soup must be impressed by its spicy hot taste. Not only is put into the broth, chili is also available on the table in variety such as minced chill, shacha sauce, pepper…. Enjoy a steaming bowl of spicy Hue noodle soup to warm you up and explore the specific features of Hue cuisine.
Rice mixed with mussels (Com hen)

A bow of mussel rice will offer a blowing flavor with sweet taste from mussel and peppery from chili. It is a combination of different ingredients: cold rice, fresh veggies, flavorful herbs, sour taste of star fruit, pungent aroma from shrimp paste, warm tasty mussels, hot chili, crispy deep fried pork's skin, tasteful roasted peanut and white sesame…served with a bowl of the super clear mussels's soup. Rice mixed with mussels is something really out of tourists' imagination in the beginning. Just a yesterday's leftover rice but when it's mixed with veggies, roasted peanut, sesame, cooked tiny mussels, some spicy sauce and we have a dish, an awesome dish.
Quang noodle (Mi Quang)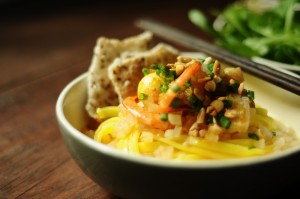 The distinction of Quang noodle is that it is served with very little broth and almost like a dry noodle dish or noodle salad with the broth serving to bring all the flavors together. Therefore, if you do not eat a Quang noodle bowl fast enough, the broth will generally quickly be soaked up by the noodles. This noodle dish is a complex mixture of flavors and texture. The vibrant wide yellow turmeric noodles, sesame rice crackers, roasted peanuts, fresh herbs, and flavorful but light broth sets Quang noodle distinctive from other Vietnamese noodle soups.
Cao Lau noodle soup (Cao lau)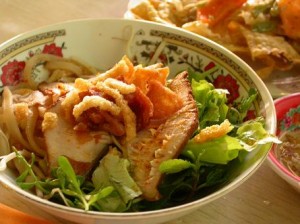 Similar to Quang noodle in appearance but this dish has its own particular characteristics. A good bowl of Cao Lau noodle soup include special noodles, some slices of pork and fried crispy pigskin or dried noodles and poured with viscid. The good-smelling sweet broth is made from pork mixed with some spices. Cao Lau noodle soup is also served salad greens, beansprouts, coriander, mint, basil, lime and fried rice crackers.
Don Quang Ngai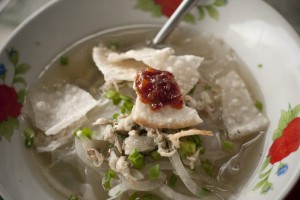 The name sounds strange but the dish is actually very simple. A bowl of Don include broth, don, onion, crispy rice cracker and green pepper. To get the full flavour of the dish, you have to eat don and broth at the same time to feel sweet taste of broth, crispy and tender of grilled rice cracker and hot of pepper.
Rice with Tam Ky chicken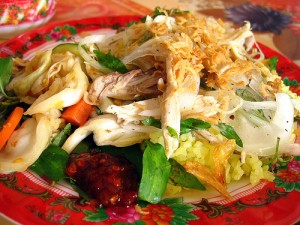 For the past years, Tam Ky is always associated with the dish of rice with chicken. The unique feature of the dish is the combination of ordinary and sticky rice. The chicken is not cut into slices but torn and mixed with onion, coriander, herb, and some spices.
Hue cakes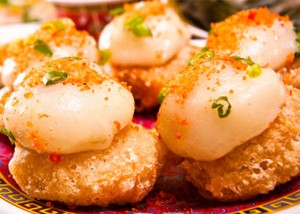 Coming to Hue ancient capital, tourists should not miss famous cakes such as banh ram it (fried mochi dumpling), banh phu the (husband and wife cake), banh bot loc (rice dumpling cake), banh nam (flat rice flour dumpling), banh beo (water fern cake), banh uot (steamed flat cake) ….
Fish cake noodle soup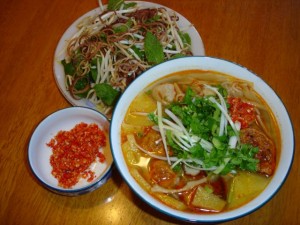 Fish cake noodle soup is a popular dish in the Central with many trade marks like Quy Nhon, Danang, Nha Trang fish cake noodle souop… The simple food comprises clear broth, fried fish cake and tiny vermicelli. The ingredient to make fish cake are often mackerel, lizard-fish, black-marlin… Flavour of fish cake noodle soup will be completed when being eaten with chilli, vegetables and herbs.
Nha Trang fish noodle soup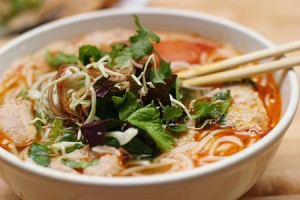 Fish noodle soup is a simple dish in coastal city. The dish is made from dam fish, a special fish species in Khanh Hoa sea. after being cleaned, the fish is boiled to remove skin and bone. The fish meat is cut into pieces. The broth of noodle soup is made from fish bone, so it is very elegant and naturally sweet.
Snake-head tapioca noodle soup (Banh canh ca loc)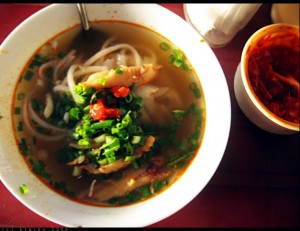 This is popular dish in the Central's provinces like Hue, Quang Tri…with main ingredients including noodle and snake-head. The snake-head is thoroughly cleaned, boiled to remove bone and fried until turning yellow. The dish is very helpful for health.