In culinary diary today, we are going to introduce you to a very popular dish in Saigon: Com Tam (Broken Rice). If Hanoians are proud of pho, the Saigoneses are happy with Com Tam.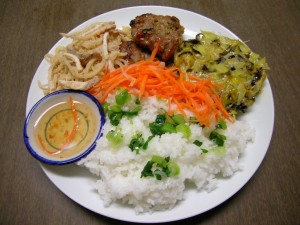 The Saigoneses eat Com Tam as frequently as the Hanoians eat pho, even more. Because there are so many Com Tam restaurants in Saigon that it is possible to collect them all. In the past, Com Tam was the dish of manual labours. Then, Com Tam went with them from the countryside to the urban and became a favorite dish of workers, students and office staffs. At that time, it was considered as the food for the poor because it is made from broken rice ( a very cheap kind of rice in Vietnam). However, Com Tam is now the preferred dish of all Southern people. Every day, they have to broke the rice to make Com Tam for nearly 10 million people.
Normally, Com Tam is served with grilled pork chops, various pickled vegetables, savoury egg cake. You can find some other dishes to go with broken rice such as fried chicken, Chinese sausage, sunny side up egg, shrimp… The dish is often eaten for breakfast but now many restaurants serve it for lunch and dinner.
Sometimes, they add soy sauce or sesame oil when grilling meat to make a sweet-smelling and beautiful colour. Additionally, a small bowl of fish sauce along with a small bowl of soup broth is accompanied with the dish.
If you want to enjoy an authentic Com Tam, "Com Tam Ba Ghien" at 84 Dang Van Ngu Street, Ward 10, Phu Nhuan District, Ho Chi Minh City would be the best place for you. The average price for a dish of Com Tam is about VND 30,000. The rush hours drop after 8:00 a.m., after 11:00 a.m. and after 6:00 p.m. If you don't want to waste time in queue, you have no choice but coming before then.
Other good restaurants are Com tam Cali, Com tam Moc, Com tam Thuan Kieu restaurant chains. Find the nearest to your hotel for your inconvenience.