In order to prepare Tourism-Culture Week 2013 in the late December with 4 events of national and international stature, Lam Dong province has rushed for upgrading infrastructure, renovating urban and vestiges as well as scenic spots in Da Lat.

As a highlight of Tourism-Culture Week, Da Lat has improved, upgraded, expanded and beautified pavement of more than 30 streets in the city such as Hung Vuong, Tran Hung Dao, Tran Phu, Ba Thang Hai, Nam Ky Khoi Nghia, Phan Dinh Phung…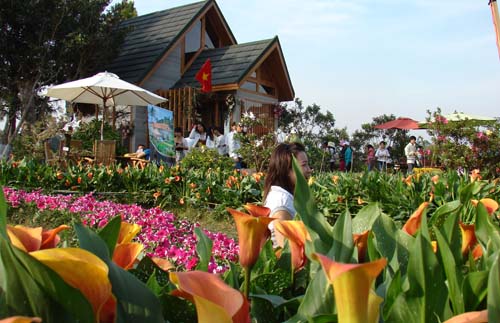 The city has invested to rebuilt and improved some traffic circle in such a way as to be in line with new space. A number of utility poles, traffic signs, sewerage systems, lamp poles in the city's centre have been also upgraded and renewed. The flea markets including Phan Chu Trinh market, antique market, night market are also removed, evacuated, and rearranged. Instead of it, 2 new shopping malls are brought in to operation comprising Big C Da Lat and Da Lat Cho Moi (Block C).
Apart from infrastructure betterment, Lam Dong province and Da Lat city have renovated plenty of famous landscapes and vestiges deteriorated by environmental elements and agricultural production. After being improved, Than Tho Lake is basically as beautiful as it used to. Besides, Tuyen Lam Lake, Tinh Yeu Valley, Mong Mo Hill, Prenn Waterfall, Cam Ly Waterfall, Xuan Huong Lake, municipal park…are also renovated and decorated with many new items.
At present, Da Lat is developing some parks for tourists and residents such as Lam Vien Square, were taking place the opening and closing ceremony of Tourism-Culture Week; Tran Quoc Toan Park ( Lady of Thanh Quan District Park), where will be the first cherry blossom park in Da Lat… Many ancient villas such as Dalat Cadasa Resort, Tran Hung Dao-Hung Vuong tourism area are also improved and decorated to greet visitors on Tourism-Culture Week.