Da Lat is overwhelmed with various flower species and bustling with a flower festival. Duration from November to February is the best time to travel to Da Lat if you desire to admire beautiful flowers and join the exciting atmosphere of the festival.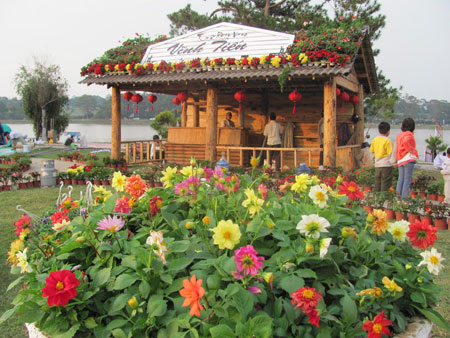 Da Lat Flower Festival is an attractive annual event of Lam Dong province that draws a large number of visitors and becomes a meeting place of flower lovers. Moreover,  there are plenty of interesting activities to welcome the festival. They are expected to give a new atmosphere to the land well-known for tranquil and peaceful space.
Da Lat is away famous for the romantic city due to thousands of radiant flower species. Not only does Da Lat benefit from the poetic landscape and moderate clime but Da Lat also leaves a welcome impression on a visitor by the classic beauty of ancient French architectures, villas, cathedrals… The must-visit attractions in Da Lat include Love Valley, Da Lat Flower Park, Domain Cathedral…
Love Valley
Love Valley is one of the most poetic landscapes in Da Lat, situated about 5 km from the city center to the north. This is the meeting place of small springs to create a clear Da Thien Lake surrounding the green pine valley.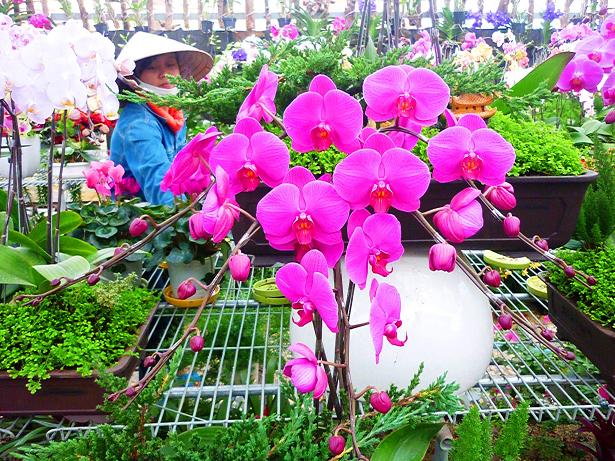 Love Valley is picturesque and fascinating thanks to the deep valley and year-round green pine hills. In 1972, a dam was constructed across the valley and created Da Thien Lake, embellishing the glamour for general setting and 2 other names for Love Valley were born, namely The Dam 3 and Da Thien Lake 3.
Visitors could go along the trails or climb hundreds of stairs, pass colourful flower gates to get to Vong Canh Hill, a perfect location to get a stunning view of Love Valley below.
Dreamy Hill
Exactly like it is called, Dreamy Hill is a dramatic landscape in Da Lat city. It is considered as a mini model of Da Lat.
Dreamy Hill is a new tourism area. It is an amazing architecture with an artistic arrangement of the villa, lake, restaurant, entertainment area, souvenir shop… together, they create a closed tourism area attractive to visitors.
Da Lat Flower Park
Da Lat Flower Park is situated at the north of Xuan Huong Lake, on the valley of Doi Cu. The previous name of Da Lat Flower Park is Bich Cau. At present, the park is enlarged up to 7,000 m² with open space, making a strong impression on visitors.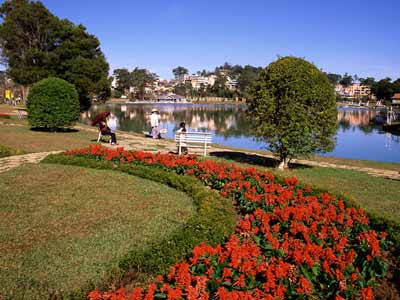 The flowers and ornamental plants in Da Lat are always in good care and beautifully pruned. Every year, Da Lat often holds flower festivals to attract domestic and foreign investors to make the city and neighbouring areas become the centre of producing and exporting flower in the country and Southeast region.
Domain cathedral
The building is distinctly French style of Normandie region, built during 1940-1943. This is another must-visit attraction in Da Lat city.
The distinctive characteristic when travelling to Domain Cathedral is that it is not simple a normal sightseeing like somewhere else but in association with meaningful works. The architecture of cathedral, the garden and surrounding monastery themselves are so excellent but the trip will be more completed if you subscribe or buy books at book stores to support the orphans, the handicapped and help the nuns to do the good deed.