Aside from Hoi An bridge pagoda, Vietnam has many impressive covered bridges in Hue, Nam Dinh and Ninh Binh such as Thanh Toan, Thuong Market, Luong Pagoda and Phat Diem bridges. The common feature of these bridges is wooden material and roof tiles. Despite being small bridges crossing the river, they are really attractions to tourists.

Hoi An Bridge Pagoda
Out of unique covered bridges in Vietnam, Bridge Pagoda is the most familiar to domestic and foreign tourists. The bridge is about 18 m long, covered, clear creeks flowing curves over the Thu Bon River bordering Nguyen Thi Minh Khai street and Tran Phu street.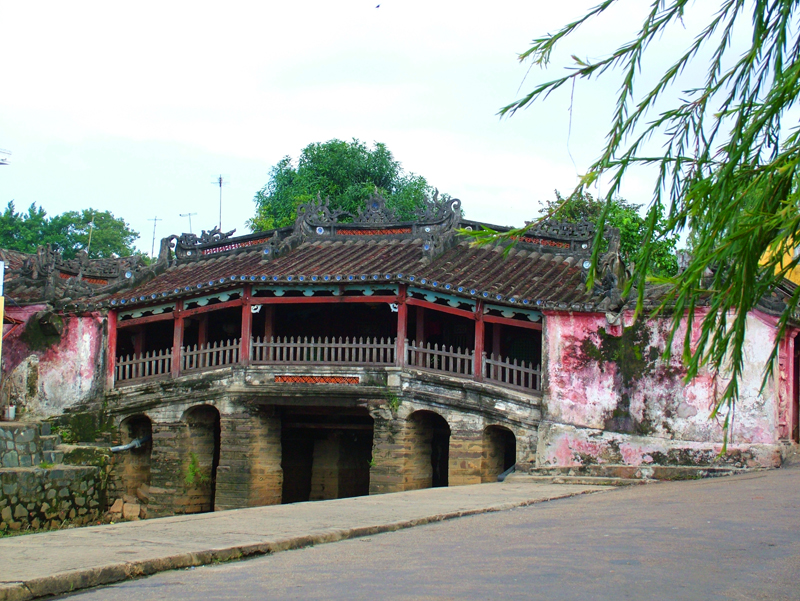 This bridge is built by Japanese traders around the 17th century, it is also known as Japanese bridge. It is a beautiful example of the Japanese architecture from the time. At one end, there is a sculpture of dog and on the other end is a sculpture of a monkey. The two animals are sacred symbols in Japanese culture. The roof tiles covering the bridge. On the main door of the bridge is a large plate with embossed 3 Chinese characters "Lai Vien Kieu" means "The welcoming bridge". Although it is called a Pagoda but there is no Buddha statue. Instead, there is a wooden statue of the northern god Tran Vo Bac De in the center of pagoda. – A protector of land, bringing the joy and happiness to people.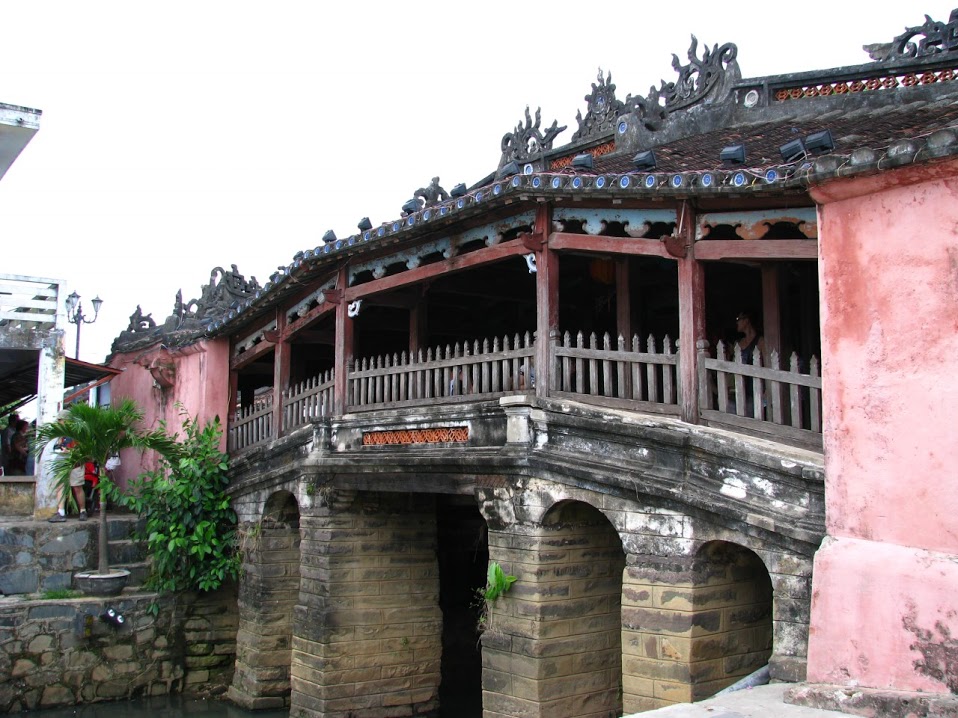 The pagoda was renovated many times in 1817, 1865, 1915 and 1986 making it a hybrid of architectures of Vietnamese, Japanese and Chinese. With distinctive religious architecture, Bridge Pagoda is regarded as symbol of culture exchange between Vietnam-Japan in Hoi An.
Thanh Toan bridge
Thanh Toan bridge is located about 7 kilometers to the east of Hue in Thuy Thanh Commune, Huong Thuy district. Similar to Bridge Pagoda, Thanh Toan bridge is divided into many compartments. The center compartment is to worship Mrs. Tran Thi Dao, the wife of a high-ranking Mandarin in Le Hien Tong's court, who offered the fund to build the bridge. The 6 other compartments have wooden platforms and parapets for people to lean their backs. The tile-roofed Thanh Toan bridge is not only an ancient architectural remain with highly historic and cultural values but also a tourist attraction.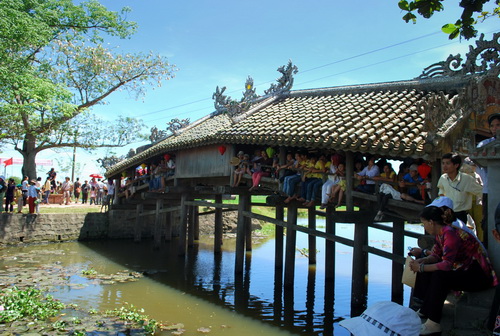 The bridge was built over 2 centuries ago and damaged many times by storms, floods and wars. However, after the bridge was destroyed, the villagers always contributed to repair, renovate and preserve it.
Next to the bridge is a village market, very convenient for tourists to enjoy delicious simple food after the sightseeing.
Phat Diem bridge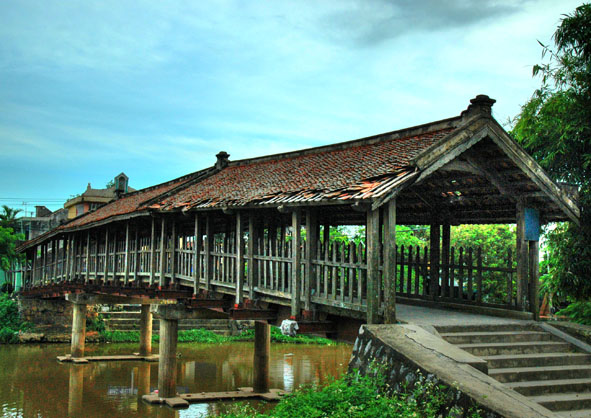 Phat Diem covered bridge is situated about 30 km from Ninh Binh city at the center of Phat Diem town, Kim Son district. Crossing An river, it is not only for transportation, but also served as an ancient communal house and is familiar to all local people. Among tile-covered bridges in Vietnam, Phat Diem bridge is quite large with a total length of 36m and width of 3m, comprising three spans, each of which has 4 compartments. There are two banisters and pillars all made of wood. The two sides of the bridge are connected to stairs down to the river. Compared to Bridge Pagoda and Thanh Toan bridge, Phat Diem bridge looks more elegant, expressing special creativeness of Catholic.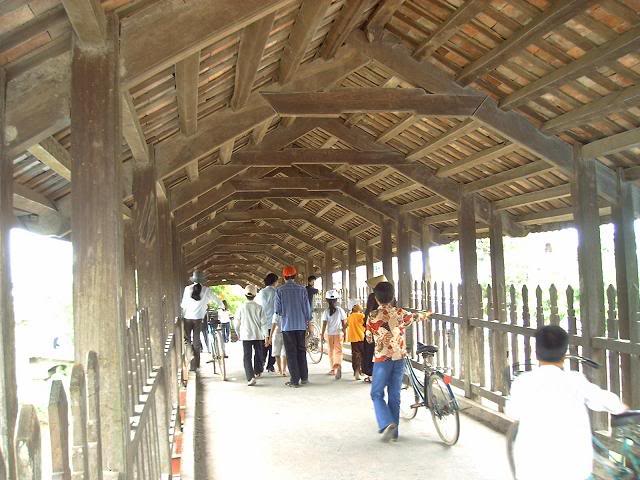 It is considered as an ancient bridge featuring highest art value out of ancient bridges in Vietnam.
Thuong Market bridge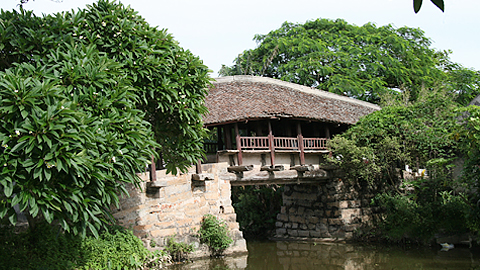 Luong tile covered bridge in Thuong Nong village, Binh Minh commune, Nam Truc district, Nam Dinh province crosses Ngoc river adjacent to Thuong market so people call it Thuong Market bridge. The bridge was embossed Chinese characters "Thuong gia kieu" at bridge ends. Thuong Market bridge consists of 11 compartments with about 1,45 or 1,65 m long for each. As for local people, the bridge not only serve as transportation but also an nice place to come in leisure time.
Luong Pagoda bridge
Located in Nam Dinh province also, Luong bridge in Hai Anh commune, Hai Hau district spans Hoanh river, more than 100m away from Luong pagoda. The bridge is composed of 9 compartments, 40 round columns, all in wood, sided with banisters featuring built-in chairs so visitors can sit and relax. The bridge rests firmly on 18 square stone pillars; with its beam system revealing skillful design and graceful artistry.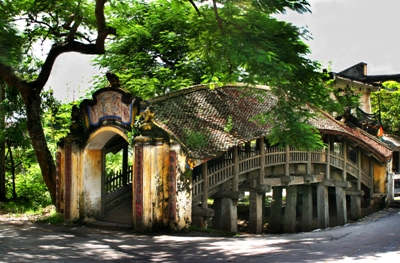 Although the wooden part of the bridge was carved simply, it shows the typical architectural structural style of the Vietnamese people, particularly through the arrangement of rows of pillars, the structure of beams and the technique of joining wood mortises.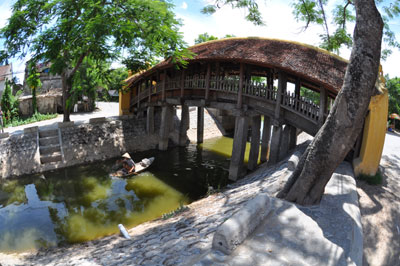 Like the Thanh Toan Tile-Roof Bridge in Hue and the Pagoda Bridge in Hoi An, the bridge of Luong Pagoda is one of the beautiful architectural works and typical ancient transport works remaining