Almost tourists like to spend a whole day to visit gorgeous islands when travelling to Nha Trang Gulf, one of the top 29 most beautiful gulfs in the world. 
Nha Trang Gulf covers an area of about 507 km2 including 19 large and small islands, of which Hon Tre is the largest one with an area of 3.250 hectares, while the smallest island is Hon Mot whose total area is about 4 hectares only. The bay has two seasons. The dry season starts from January to August and the rain season lasts during months from September to December. Ecologically, Nha Trang Gulf is one of the rare natural models of bays in the world because it owns almost valuable typical ecosystem of a tropical sea.
The island tour is an indispensable activity in the itinerary to Nha Trang. The most-visited islands in Nha Trang comprise:
Hon Mun Island
Situated at the Southeast of the city, about 12 km offshore, Hon Mun island has an area of 1.2 km2. This is the first Sea Preservation Zone in Vietnam. The name "Hon Mun" (means Black Island) comes from the high and rugged cliffs forming up caves, particularly black rock here as ebony, very rarely seen elsewhere, located in the southeast of the island. Due to the island's location adjacent to the hot sea-currents from the equator, suitable to the development conditions of corals and various types of tropical sea creatures, the sea bed of Hon Mun is home to an abundant and diverse group of marine species, an interesting and useful place for researchers, oceanographers and tourists to observe and explore more of the sea creatures' life.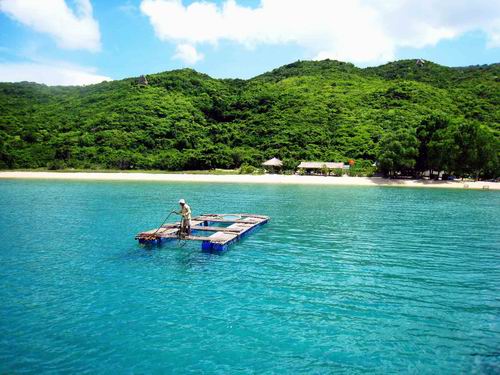 Hon Mun is a perfect place to go snorkelling and have happy hour in the aquatic world. All the diving centres come and stop near this island: visibility is always excellent there and there is an impressive variety of corals of all colours, with numerous pretty tropical fish. This is the island where all dive sites already mentioned in the Nha Trang section are located.
Now, many diving centres in Nha Trang run night tours. Plunging into the dark sea, all you can do is follow the light of a lamp, and newbies always feel a little startled with images flickering through their minds of fictional leviathans or very real sharks. As a reward, though, the dark blue sea looks beautiful with creatures searching for food at night that you cannot see in the daytime.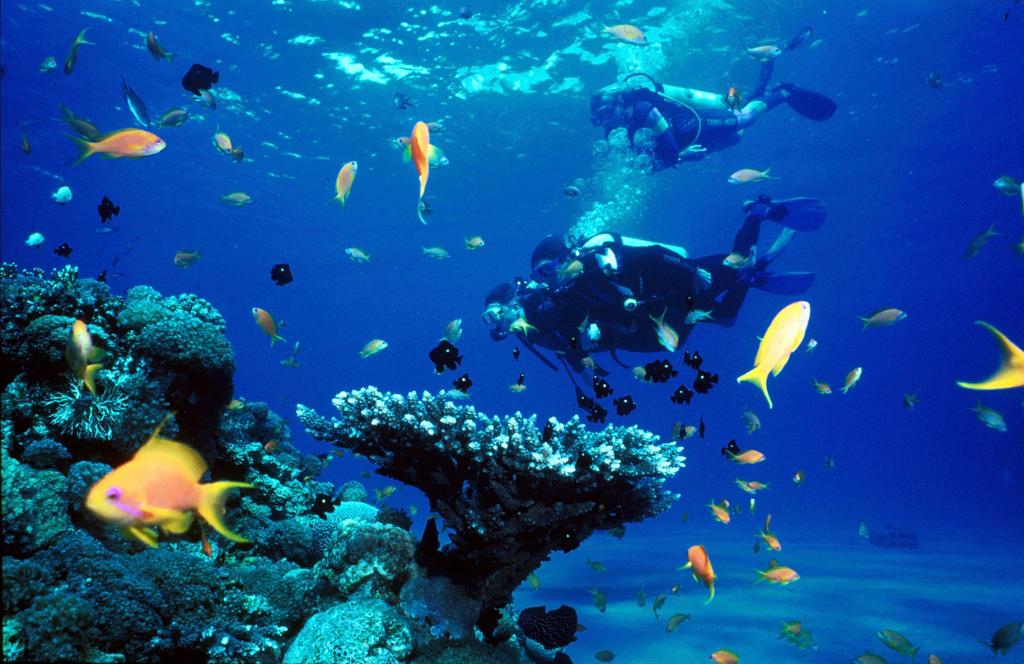 Hon Mot Island
As the smallest island of Nha Trang Gulf, the area of Hon Mot is only approximately 1 km2. There are about 200 residents living on the island. They mainly live by the fishing industry. In Hon Mun, you will see a lot of lobster cages that are used to raise lobsters. Besides, the island grows many coconut, mango and cashew trees. While the women and the aged are in charge of gardening, the young men are assigned to catch or raise fish.
Although the coral reefs in Hon Mot are not so many as in Hon Mun the water is shallower. Therefore, it is easier for inexperienced persons to go swimming and snorkelling in Hon Mot.
Hon Tam Island
Just 10-minute canoe ride away from the mainland of Nha Trang Gulf, Hon Tam Island make a welcome impression on visitors by green tropical forests, seagulls, gently sloping beaches and blue clear water.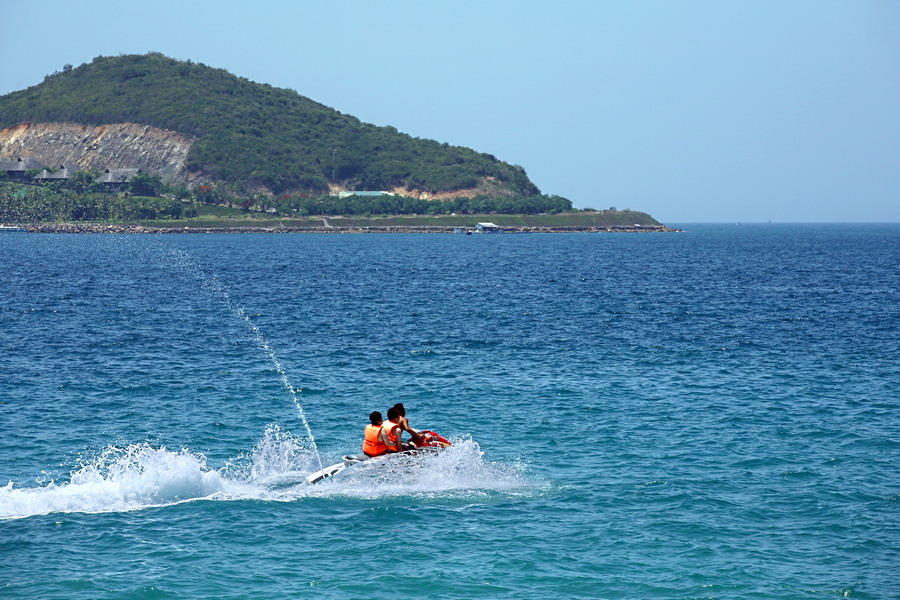 In the past 10 years, Hon Tam is a desert place in which only native fishermen live.  Situated 5 km from Nha Trang city, Hon Tam covers an area of 110 hectares. The name "Hon Tam" was originated from its green silkworm-shaped appearance facing the East of Nha Trang Gulf.
In recent years, Hon Tam has become popular to domestic and foreign visitors. It was selected as one of the world's greatest destinations for ocean exploration in 2004 and 2005. This place is also a friendly home of coral reefs and fish species.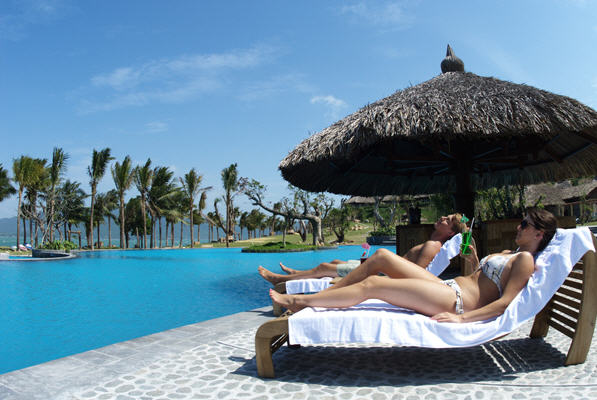 Hon Tam Island in Nha Trang offers the stunning beaches with white fine sands, crystal blue water. The beaches are also dotted with a lot of stones in different sizes that leave Hon Tam Island wonderful natural settings. Hon Tam Island even gets more charming thanks to the architectures made by a human. They are colourful flower gardens or traditional-style bungalows lying along the shore. Coming to Hon Tam, visitors will partake in dynamic activities such as beach football, beach volleyball, swimming, snorkelling, fishing… Moreover, delicious dishes made from fresh seafood in Hon Tam will certainly complete your wonderful holiday.
Hon Mieu Island
Hon Mieu is the nearest island of the city whose fishing village still remains traditional features. The villagers on the island earn living by fishing catching and farming. It would be a shortcoming if talking about a fishing village without discussing seafood. There are a lot of seafood restaurants on the island. Each one has several cages to raise lobster, squid, fish, snail, clam…. And they are all certainly fresh.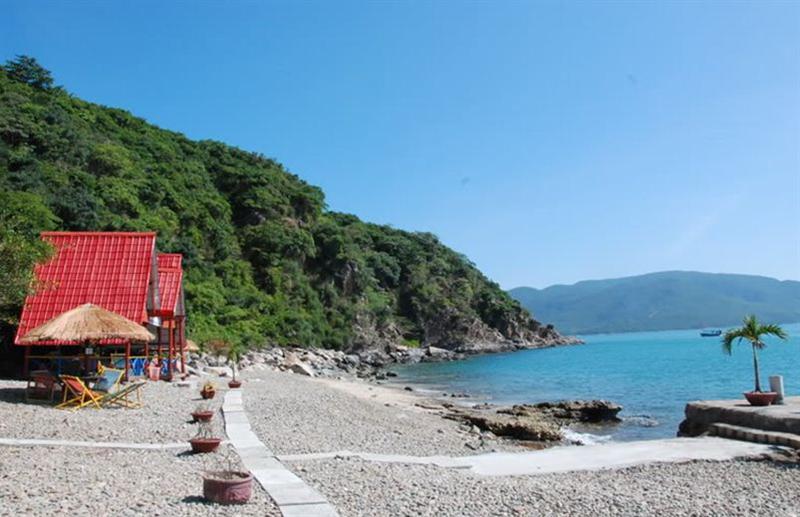 The visitors, particularly international ones love cruising around the island by small basket boats. This is a popular mode of transport of fishermen. They are very friendly and willing to direct visitors to ride the boat fluently. Most visitors get difficulty in making the basket boats move the right way for the first time but then they get used to it and have enjoyable moments.
The island has Tri Nguyen fish lake, which was built in 1971 by Mr Le Can. He is a fisherman of taste and has a big love for nature. His lake raises hundreds of fish species, establishing an interesting attraction.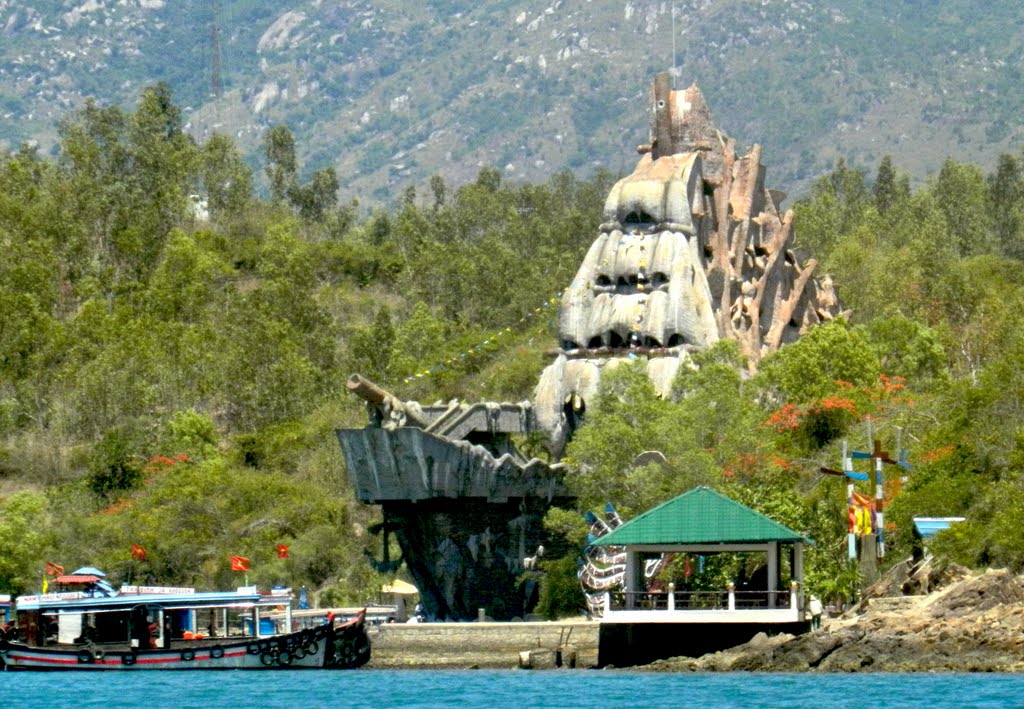 In 1998, they used a part of the lake to construct a Thuy Cung ship with the idea about a deeply-sunk ship at the bottom of the sea for hundreds of years. With the length of 60m long and 30 m in height, the ship was installed an aquarium system that contains hundreds of marine creatures species in different sizes.
The road from an aquarium to Bai Soi beach is now very nice. Visitors are advised to take a walk along the road to admire the natural beauty of the island. At the end of Bai Soi beach stands long rocky rapids. Passing the rapids, visitors will reach Bai Trang beach. This is another tourist destination in Nha Trang. The visitors could choose one of the following water sports to partake in jet skiing, parasailing, scuba diving…
Hon Tre Island
Hon Tre Island is opposite Nha Trang shore. With the area of 34 km2, it is the largest island in Nha Trang Gulf. Hon Tre Island covers totally the Southeast area of Nha Trang city. Due to this, the climate in Nha Trang is more moderate.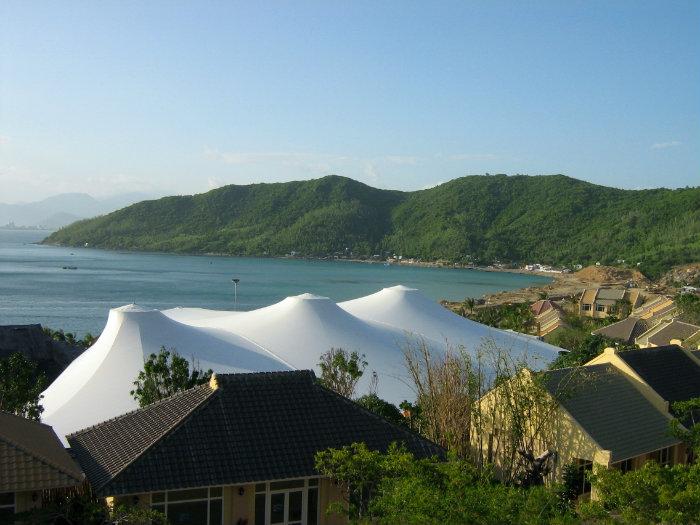 Hon Tre Island comprises architectures as below:
·        Vinpearl Land-resort island with a water park, amusement park, and a large 5-star hotel. The resort is connected with the mainland by cable car system of 3.200 meters stretching from Phu Quy tourism wharf.
·        The five-star hotel Hon Ngoc Viet is located at Bai Tru, facing the Northeast. In the past years, this place was originally a crowded fishing village.
·        Con Se Tre resort: this place will greet you with smiling faces painted on the stones. One of the distinctive characteristics of the resort is that all the architectures are made of bamboo.
From the origin of a rocky island, Con Se Tre resort was invested to become an ideal destination for visitors.
Hon Noi, Hon Ngoai Island (Yen Island)
Nha Trang city in Khanh Hoa is bestowed much natural favour, from fine sand beaches, rolling coral reefs, to rare marine creatures, and particularly swallow islands.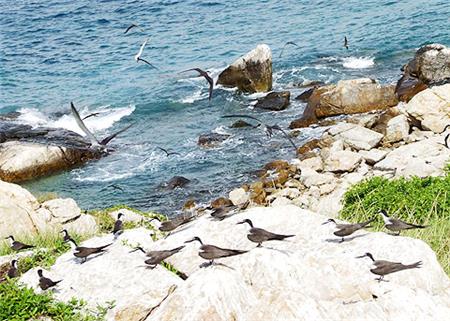 Yen Island (Swallow Island) is not a proper name of an island but the general name for the islands in which the swallows come to build a nest. Among island in Khanh Hoa province, Hon Noi a Hon Ngoai Islands in Cam Ranh Gulf are the most crowded with swallows. Based on the size of the island, local people called the larger island Hon Noi and the smaller was named Hon Ngoai. However, the output of Hon Ngoai is 5 times as many as the output of Hon Noi.
Swallow is the only bird species that doesn't make its nest from twigs and sticks. On the contrary, it uses saliva to build a nest and this is a very remarkable revenue source of local people. The nests are harvested twice a year in March and August.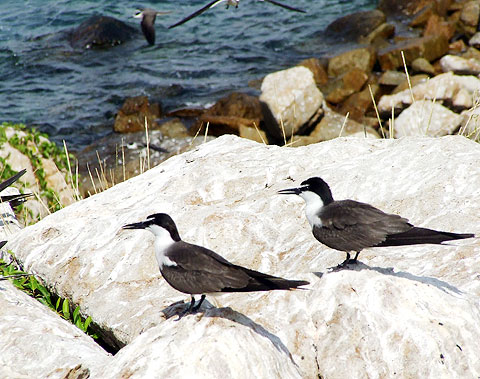 Edible bird's nest is among the most expensive animal products that are very healthy for humans. It is extremely good for those who are recovering from illness and in children with poor appetites.