Geoduck
The geoduck or dig-deep (also called elephant-trunk-clam) is well-known as rare seafood with high nutritional value and special taste. It could be found in many regions in Vietnam but the best place to enjoy the geoduck is Cat Ba island, a good marine environment for the development of this mollusc species.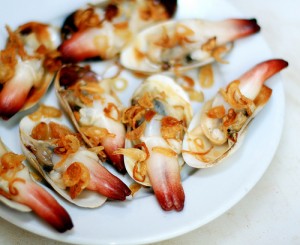 The geoduck is processed in various ways such as grilling, salad, porridge but the best is spicy-steamed geoduck.
Horseshoe crab
Horseshoe crabs often come in pairs. Females are larger than males. The males follow, often even hanging on to the females' backs with special hooks in their first pair of legs. That is why Vietnamese people always compare someone's love with the attachment of horseshoe crabs.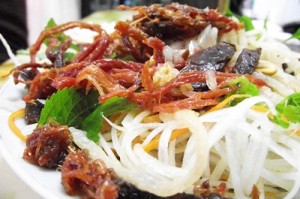 Although the ratio of meat to shell is small, male horseshoe crabs are not used to cook, only the females.  There are dozens of dishes are made from horseshoe crabs. The horseshoe crab is commonly used to make soup, salad and much more… The distinction of the dishes is that they often go with hot, sour spices such as chilly, vinegar, lemongrass, lesser galangal… and specific herbs like onion, hot mint, piper lolot. Among the dishes made from horseshoe crabs, the most delicious dishes are grilled and sweet and sour horseshoe crabs.
Song fish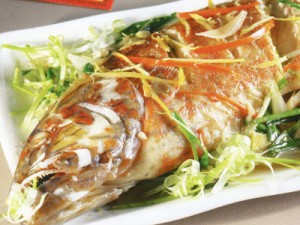 The fish lives in the warm water of the Pacific region with 37 species. In Vietnam, there are about 30 species, many of them offer high economic value. Particularly, in Cat Ba island, song fish come in three types: Song Mo, Song Den and Song Cao. Skilful chefs can create many dishes from these nutritious fish such as soup, hotpot, steamed, and grilled dishes.
Lobster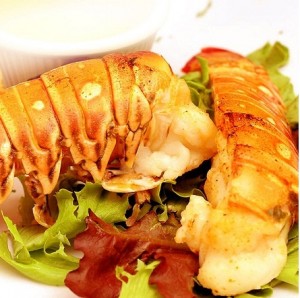 As the king of nutritious seafood, lobster is low in both fat and calories while providing significant amounts of protein. It allures guests by mild meat with a very soft texture and sweetened flavour. However, only a few people know that it is the mud inside the lobster's head is the most nutritious, not the huge claws or lobster meat. Lobster is made in varied dishes but the simplest and most delicious is beer-steamed or grilled lobster.
Sea snake

Sea snakes are small, only 1-2 meters long. They are found in warm coastal waters from the Indian Ocean to the Pacific. All have paddle-like tails and many have laterally compressed bodies that give them an eel-like appearance.
According to folk experience, sea snakes have higher value usages in food and medicine. Sea snakes are called "hai xa nhuc" that is salty, a fishy odour which has effective on anti-inflammatory, rheumatoid arthritis, spinal degeneration and pain, acute sciatica. In addition, snake gall has analgesic, sedative.
Snapper and gio fish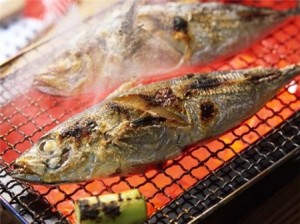 The sea has bestowed on the Cat Hai island two nutritious fish: snapper and gio fish. They are used to make many dishes such as: salad, hot pot, steamed, stir-fried, grilled.
Vermicelli with shrimp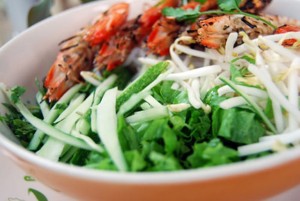 Vermicelli with shrimp in Cat Ba leaves a strong impression on guests with a rich flavour of the broth, sweet-smelling of fresh shrimp, fried fish balls and the acrid smell of pork rolled in piper lolot leaves. However, the best of all is the flavour of tamarind water replacing vinegar and lemonade. The dish is served with some vegetables and chilli slices.