If you need a suggestion for a street food stall in Saigon, you can find it here. As for the Saigonese, this is merely a normal street food stall but in the eyes of foreign ex-pats, it is a must-visit spot in Saigon.

In over the 5 years, the people in Nguyen Dinh Chieu apartment get familiar with the image of foreigners gobbling steaming noodle soup up in street food stalls.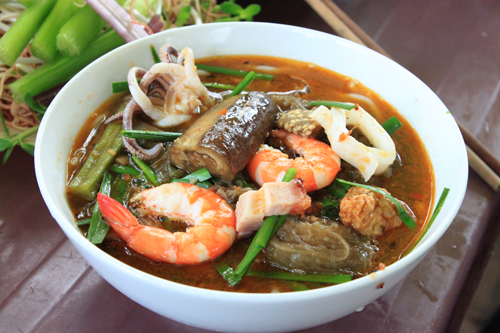 Coming here at noon, you will encounter a lot of foreigners hustling to enjoy Vietnamese dishes such as Vietnamese gumbo, beef noodle soup, grilled pork with vermicelli, kuy teav…
The fame of the stall was created by the popular chef Anthony Michael Tony Bourdain who suggested this stall on Culinary Discovery program by No Reservations (U.S.A).
In spite of 20-year history, the stall only becomes famous in recent 5 years. According to Ms Thanh, the stall owner, the chef Anthony and his crew enjoyed and filmed the food at the stall after reading an article on Asia life magazine. Being impressed with her humorous character, he decided to call the stall Lunch Lady. Since then, the stall gets popular and the name Lunch Lady also becomes familiar to tourists in Saigon.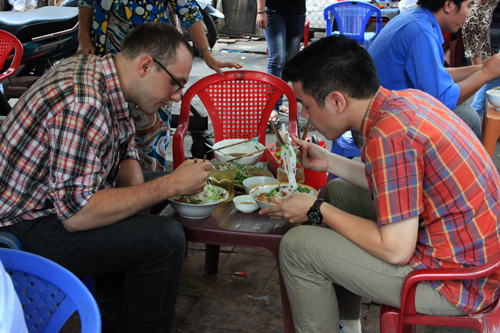 Regarding appearance, the stall has nothing special with a glass cabinet containing necessary ingredients to make a dish and a big pot of broth soup. It has no canopy, shop-sign or even a menu. Each day, the stall only serves one or two dishes that are varied day by day. You can not know what dish you will taste until you take a seat. It may be Vietnamese gumbo, kuy teav, grilled pork with vermicelli or beef noodle soup. Still, this doesn't make the customers troublesome. On the contrary, they are interested in that unusual regulation.
The stall is not only famous for delicious dish but also makes tourists curious because of rumours of backpackers. Although the stall only serves a few dishes and open about 2 hours a day (11 am-1 pm), the dishes are prepared carefully in all processes. That is the reason why most tourists like to come back here to taste the flavour of other dishes regardless of hot weather in Saigon at noon.