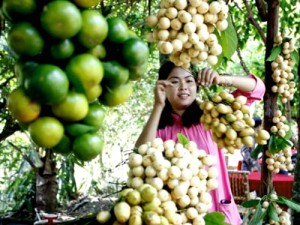 Garden tourism is very developed in Long Khanh because this place is famous for fruits. In May and June of lunar month, the gardens are crowded with visitors because this is rambutan and durian season.
Walking in the garden covered with cool shady trees, visitors are interested in looking at ripe bunches of rambutan hanging over their heads or yellow bunches of strawberry dangling from the branches to the roots.
The most interesting of garden tourism is that visitors could climb up the trees and pick fruits to scale, pay money and free to eat. If visiting in a big group, visitors could be able to buy the whole tree. When eating overfilled, garden owners have responsibility to cut the rest of fruits on the tree for tourists to bring home. In addition, the gardeners also provide "full stomach" service which allows you to eat as much as you can. The price for this service ranges from 20,000 VND to 80,000 VND depending on the price of each year and  each kind of fruits.
Vietnam offers vairous types of tourism that may interest you. Spend you time in Vietnam and you will have nice experience here. Under any circumstances, don't forget to obtain a visa for Vietnam in advance.