If Da Nang and Hue have the finest bays in Vietnam to stay on par with Ha Long Bay in the north, southern central coast has a collection of cities where tourism hasn't been too developed (well, except for Nha Trang) with loads of services and facilities. The people here stay hard-working, honest and friendly. Following is the top coastal cities in southern coast full with the authenticity of Cham culture and natural beauties.
Quy Nhon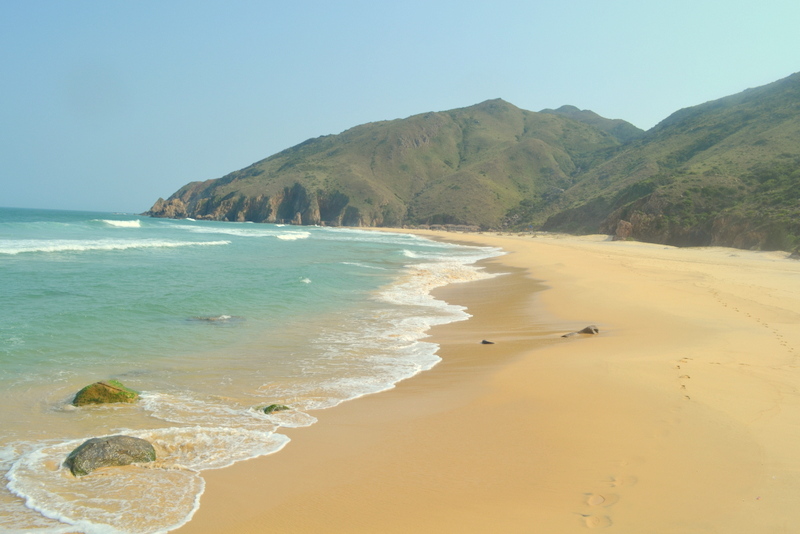 Come to Quy Nhon, there are 6 things you shouldn't miss to do. Quy Nhon is the heart of Binh Dinh province which was the capital of the Champa empire in the past. Binh Dinh is also the place the great king Quang Trung Nguyen Hue started the resistance that then led to the first reunification of the country in the 18th century. Therefore, Binh Dinh and Quy Nhon have significant historical and cultural values to them.
To Quy Nhon, you can either go by coach/bus, train or plane. From Hanoi, you can book a round-trip ticket to Phu Mat airport (Quy Nhon) for 1,3milVND (Vietjet) or 1,5-2mil VND (Vietnamairline); from HCMC it's 1,4mil (Vietjet) or 1,9-2,2mil (Vietnamairline). The airfares are often higher in the summertime. From Phu Mat airport to the city centre, the distance is about 30km and there is an available bus route operated by the airport to take the passengers to the city for a price of 50,000VND. The bus will drop you at no.1 Nguyen Tat Thanh. However, if you go with a group, you should choose a taxi for 200,000VND for a 30km journey and dropping you at your hotel.
By train, from Hanoi/HCMC there are trains that pass Quy Nhon at Dieu Tri railway station which is 10km away from the city centre. Coaches to Quy Nhon from other regions are also available. To move around Quy Nhon and other sites in Binh Dinh, it's best to rent a motorbike with an average price around 120,000VND-150,000VND per day per bike.
As a coastal city, Quy Nhon is gifted with Quy Nhon Bay and many beautiful beaches. Just a few steps away from the streets, Quy Nhon beach has long and wide sandbanks running along with the roads of the city. The waves here are calm, the seawater is blue and the atmosphere is just right for relaxing. Bai Trung (Egg Beach) was the famous beach that Queen Nam Phuong always visited in Quy Nhon, only 3km away from the centre. Quy Hoa beach is even more deserted with its crystal clear water, empty sandbanks. Xep beach which is 10km away from the city is another great beach to visit with more things to see such as a small forest with waterfall, stream. There are many more beaches down to the south such as Bai Bang, Bai Rang, Bai Bau….
The famous remains of glorious Cham culture in the past now are the couple of tower-temples which can be found a lot across central Vietnam. The towers called Banh It was built a thousand years ago, together with 7 other tower-temple complexes in Binh Dinh, is an evidence for the most prosperous days of the Cham empire.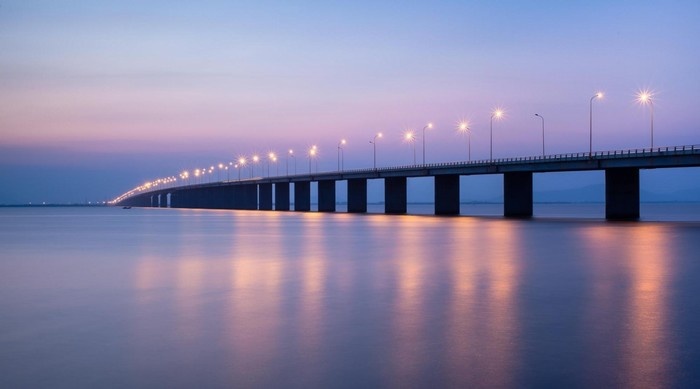 Quy Nhon has the longest sea-crossing bridge in Southeast Asia named Thi Nai which is also the symbol of the city. A ride on the bridge on a sunny and windy morning or a troll at night when the lights are on would be fantastic experiences.
A new trendy site in Binh Dinh nowadays is Eo Gio cliffs (cape of wind), located 20km away from the city centre. To reach Eo Gio, drive through Thi Nai bridge, then turn left to highway 19B and turn right at the second crossroad. Eo Gio is a wonderful site to enjoy cool and clean water, scenic landscapes and relaxing time. However, the place is still new so there is no tourist service here. We recommend you to bring food along.
Cu Lao Xanh island is a blue little island that located about 20km from the city. From Quy Nhon, there is only one boat coming to Cu Lao Xanh and back each day. The beauty of the island is unspoiled by tourism with its incredibly blue water and green hills. And do not miss climbing to the flagpole and lighthouse for spectacular scenery. There are abundant restaurants on the island so you don't have to worry about foods. You can have a really good time in this beautiful island without paying too much.
Tuy Hoa

Phu Yen has three sides facing the mountains and Tuy Hoa is located on the side that faces the sea. Phu Yen province lies down next to Binh Dinh and Quy Nhon is only 111km away from Tuy Hoa. As the capital of Phu Yen, you can find most of the services here from tours to motorbike rental. From Tuy Hoa to either north or south roads, you always see the blue calm sea running on the side with you.
Tuy Hoa is a slow city. Most of the inhabitants here live by fishing, making salt, farming… so you can find them very hard-working and honest. Especially, the language Phu Yen people speak here sounds very lovely. For a long time, Phu Yen had been quite separated with tourism because of its difficult location between two dangerous passes, Ca pass in the south and Cu Mong pass in the north. In recent years, an airport has been opened in Tuy Hoa and just last year a famous movie was filmed in Phu Yen have gained for the land a lot of attention of local travellers with its peaceful and unspoiled landscapes. Nowadays, visiting Phu Yen is much easier than before. There are flights from Hanoi and Saigon to Phu Yen from Vietnamairline and Vietjet air with price from 1,3mil-1.4mil VND. North-South trains also stop at Tuy Hoa.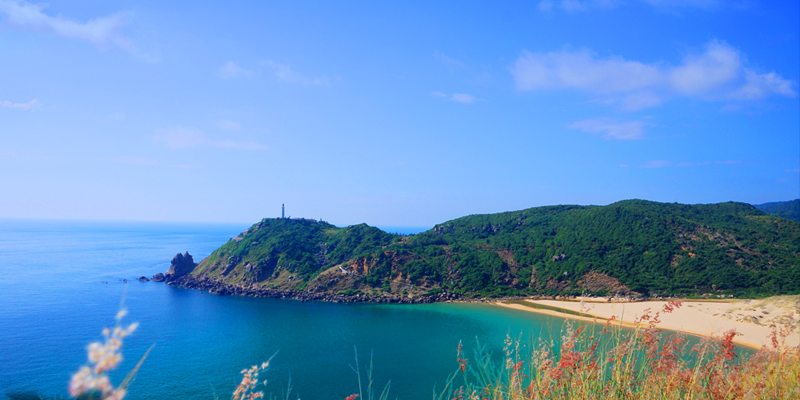 Tuy Hoa has three beaches lying next to each other, two mountains that are Mt. Chop Chai at Tuy Hoa plain and Mt. Nhan where Nhan tower-temple is located. Views on both mountains are beautiful. At night, Tuy Hoa is quiet and there isn't much entertainment here. However, you can go around the city centre to find some really good street dishes or grilled seafood.
From Tuy Hoa to the north there lies O Loan lagoon, Bai Xep beach, Ganh Yen beach, and the renowned Ganh Da Dia (Stone Plates Rapid); to the south, it's the scenic Mui Dien and Bai Mon beach, and lovely Vung Ro bay. There are many more sites to see in Phu Yen. To the west, we have Crong Trai Nature Reserve…. Just rent a motorbike and take your time to slow here to enjoy the best travel experience in Vietnam.
Nha Trang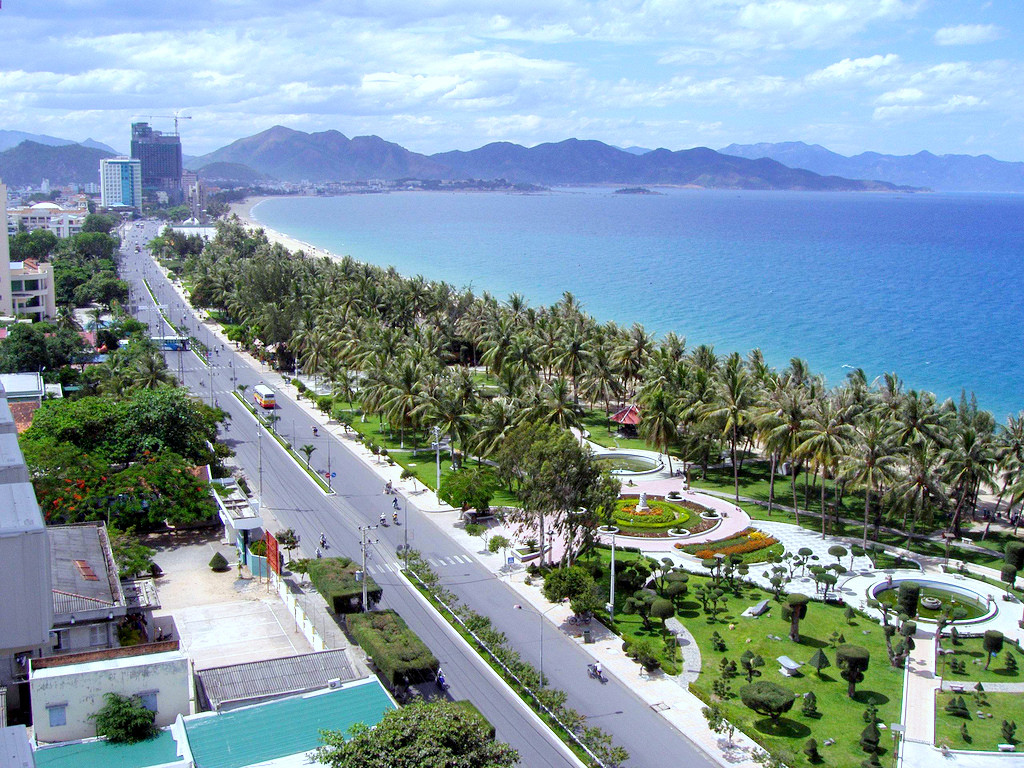 Nha Trang must be the most famous tourist city on this list. The coastal city has developed its tourism facilities and services for quite an amount of time. In the summertime, Nha Trang is always the best choice for domestic tourists who want to escape to the heat of cities.
Nha Trang is the heart of Khanh Hoa province, one of the top destinations in Vietnam, can be reached by trains, coaches and most aeroplanes. In summer, airfares to Cam Ranh from HN/HCMC of Vietnamairline and Vietjet are up to 2mil – 3,5milVND for a round-trip ticket. But there are some discounts from time to time.
In Nha Trang, it's best to rent a motorbike if you want to visit other sites of Khanh Hoa too. However, if you just want to explore Nha Trang, walking or bus is fine. You can just book a hotel/hostel on the main streets because all the main streets are close to the sea.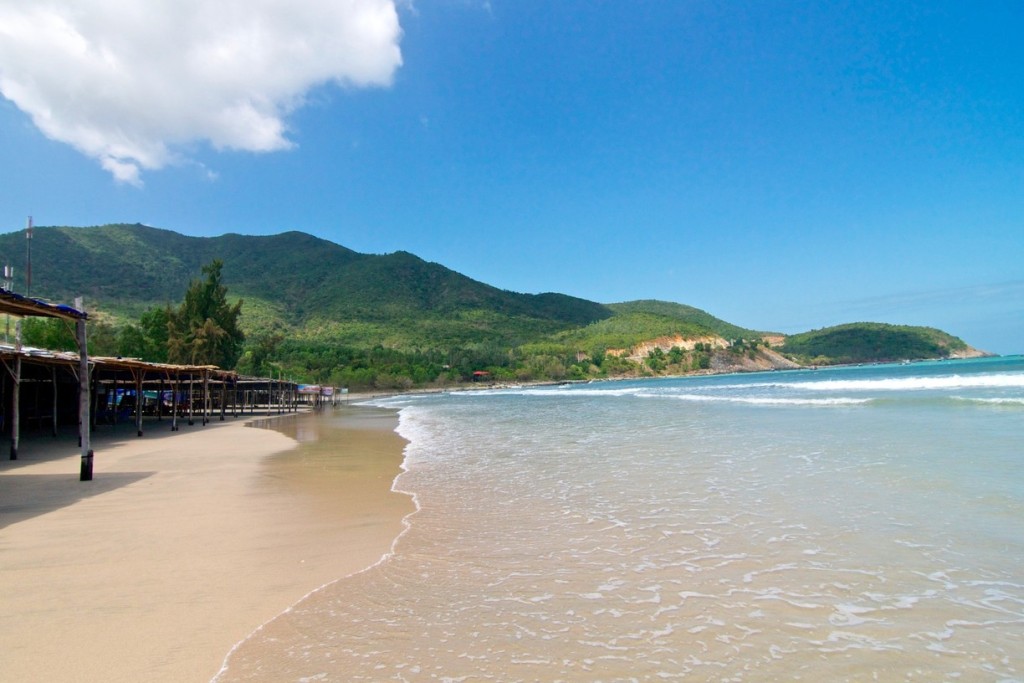 Come to Nha Trang, many choose to visit Vinpearl for its exciting entertainments and many other services. There is a lot to see in this park that you need a whole day spent there to enjoy. Vinpearl is located on Tre island and accessible through cable car or speedboat. You will be given a round-trip card which costs 600,000VND for an adult and 500,000VND for a child. By this card, you can enjoy all the games inside the park and visit the aquarium. A one-way card costs 530,000VND/adult and 450,000VND/child. There are also many other cards such as food card, fast-food card or transportation card….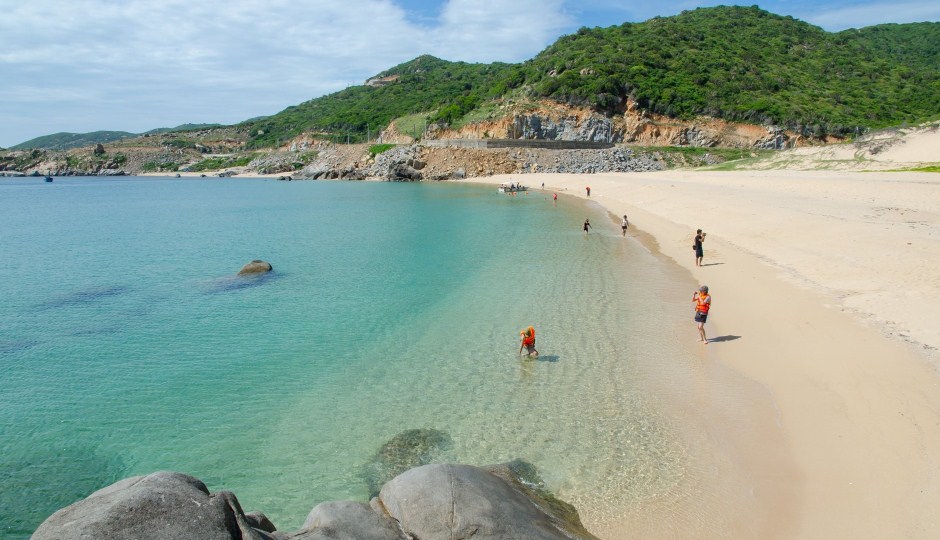 Nha Trang Aquarium Institute is a great place for children for both entertainment and education purposes. The institute even features a giant skeleton of a whale.
Swimming and scuba diving are best to do in Nha Trang where the water is blue, clean with wide and long sandbanks. A full-day tour to four islands in Nha Trang bay will cost you only around 200,000VND including lunch on the boat. Bai Dai (Long Beach) is a famous beach for its long white sandbanks.
In the city, do not miss the Po Nagar tower-temple of Cham people. This temple is considered the best among many other tower-temples across the central region. The entrance fee is 22,000VND per person. You can enjoy mud bathing at this site also for 150,000VND per adult and 70,000VND per child.
Every traveller to Nha Trang should spend at least two days or more to discover Nha Trang and other sites of Khanh Hoa such as Cam Ranh and Binh Ba and Binh Hung islands.
Phan Rang – Thap Cham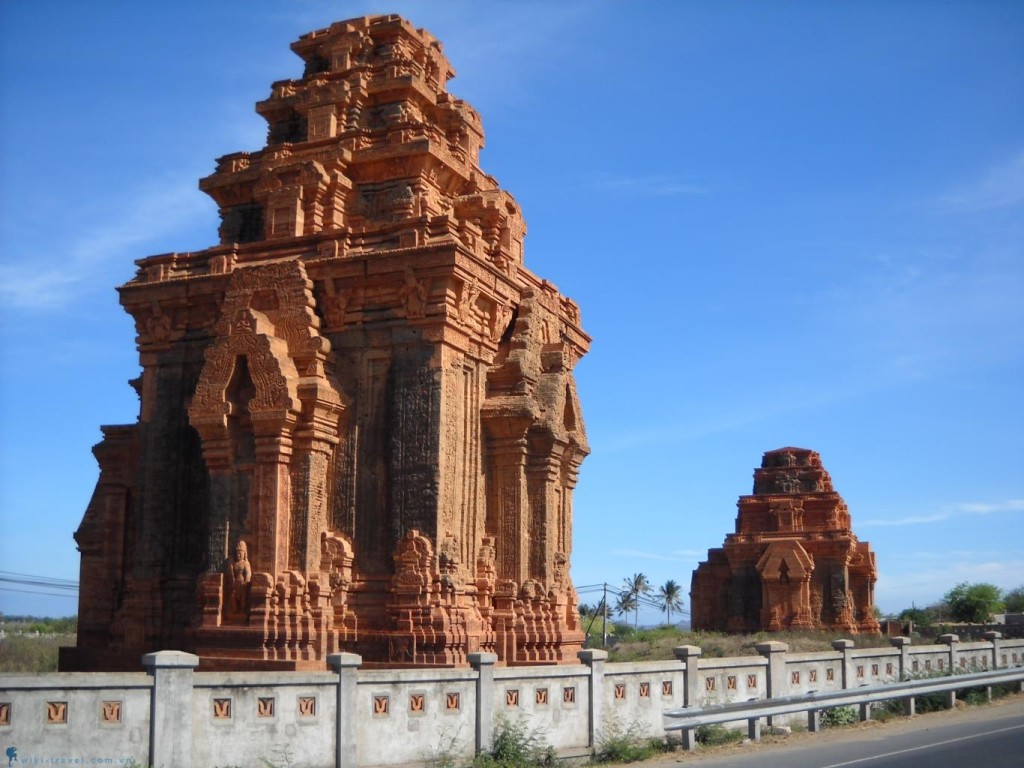 The fastest way to get to Phan Rang – Thap Cham city is to take flights to Cam Ranh airport which is 45km on the north, and then take a bus to the city of Ninh Thuan. Or by train, from HN/HCMC trains will stop at Thap Cham railway station.
Phan Rang – Thap Cham city as well as Ninh Thuan has so much to offer. The city was the ancient capital of Cham Pa empire with name Panduranga. Therefore, even now there is still a strong sense of Cham culture remaining on the daily life of Cham people here from their clothes, their foods, their old buildings. The Cham people, in general, are shy yet kind and they make really good food. Start from the city, you can immediately visit the beaches since Phan Rang is coastal as well. Phan Rang beach is just a little away on the east, a great beach with long sandbanks and strong waves. Located right up Phan Rang beach on the north, Ninh Chu beach is also a very beautiful beach.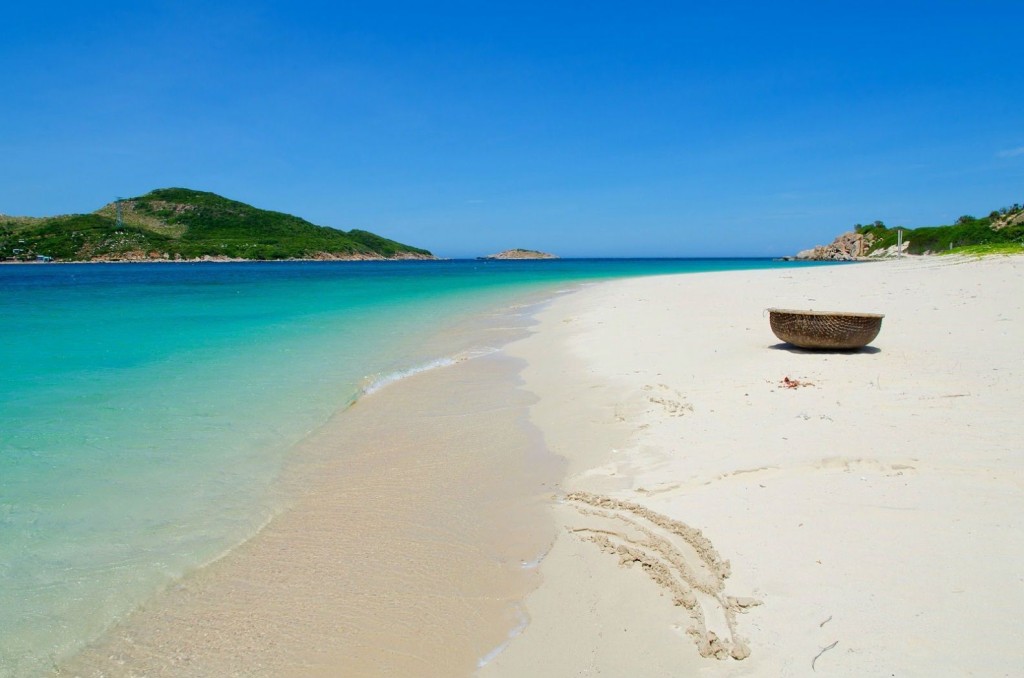 Inside the town, Poklong Garai tower-temple complex shows an intact example of Cham architectural in spiritual buildings. The towers are located on Trau mountain, about 9km away from the city centre on the west. One speciality of these towers is that the bricks were glued together just by the water.
Down to the south of the city, Nam Cuong sand dune is a perfect proof on the climate difference of Ninh Thuan compared to other regions of Vietnam. The climate in Ninh Thuan is hot with so many sunny days and dry with little rain yet affected greatly by the ocean making it very suitable for small deserts and sandhills to be formed.
Not far away is the oldest pottery village in Southeast Asia – Bau Truc pottery village of Cham people. The village is known for the well-made products and unique firing technique. If you have visited Bat Trang village in Hanoi, you should really check Bau Truc out to learn more about a different trait of pottery making in Vietnam.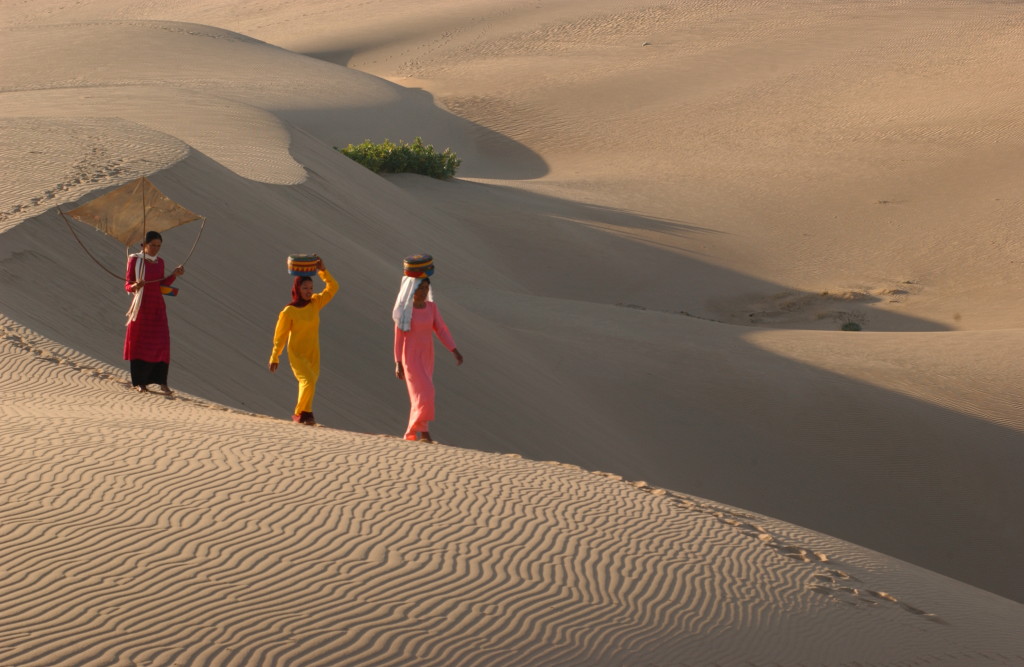 To the far north, Vinh Hy Bay and Nui Chua national park grace us with their supreme beauties and unspoiled wildlife. Vinh Hy seriously is the most scenic bay and the finest beach of them all. From Phan Rang – Thap Cham, you should choose the coastal highway to Vinh Hy for the great views along the ride. This 30km long way has so much to see and enjoy, such as the plantations with flocks of lamps, the salt fields, Hang Rai (Otter Cave) and Stone park with serene landscapes…. For those who love trekking, Nui Chua national park is not a bad option.
Phan Thiet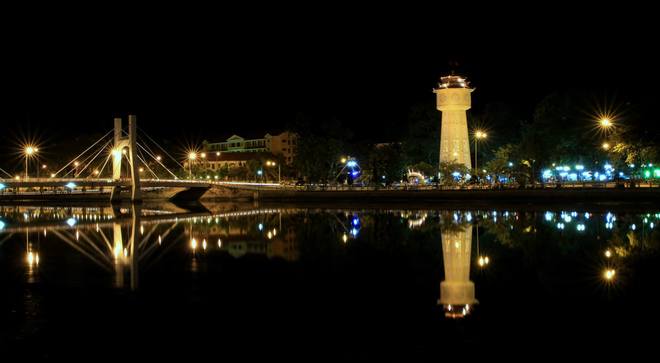 Phan Thiet is about 130km on the south to Phan Rang – Thap Cham city belonged to Binh Thuan province which has the same climate as Ninh Thuan. Foreign travellers are no strangers to the place since Mui Ne has been long recognized for its wonderful beauty. However, Phan Thiet isn't all about Mui Ne but many other interesting sites to explore.
To get to Phan Thiet, you must go by train, motorbike, and coach/bus because Phan Thiet is yet to have a proper airport. The old and abandoned airport is under construction for a new one to come around 2018.
Ho Chi Minh in his younger days was a teacher-child in Duc Thanh school, Phan Thiet which is now opened for tourism activity. Ong Pagoda and Van Thuy Tu palace both have great architectural styles; especially Van Thuy Tu is the worshipping place for God of South Sea or Whale God which is a very common spiritual practice in coastal regions of Vietnam.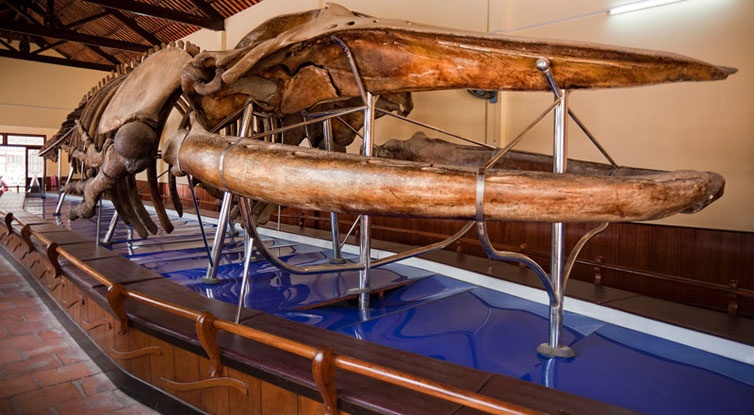 Mui Ne has everything to make a popular destination from wonderful beaches to impressive canyons and curvy sandhills. The services and facilities in Mui Ne are well controlled and organized. This must be the reason why foreigners have so many positives views about the place. Other sites in Binh Thuan that worth your visit are Ke Ga island, Bau Trang, Hon Rom, Mount Ta Cu and Cu Lao Cau island.
The food in Phan Thiet is absolutely fantastic with the freshness of seafood made by the creativity of Cham people. The tastes will be different from dishes made by north and central people but still very good and delicious. For Phan Thiet in general a tourist site so the prices here are not very cheap but you don't have to worry about being scammed or overcharged.