Ha Giang beauties had appeared endless times in Vietnamese literature, music, photography, cinematography, and many other kinds of art. Unlike those well-known destinations as Ha Long Bay and Hanoi, Ha Giang is somewhat of a hidden fairyland where a mixture of natural beauties and ethnic traditions is shaped to its finest. More than that, Ha Giang, like a stone flower, is a perfect example of human power overcoming the harsh and severe nature for a better life.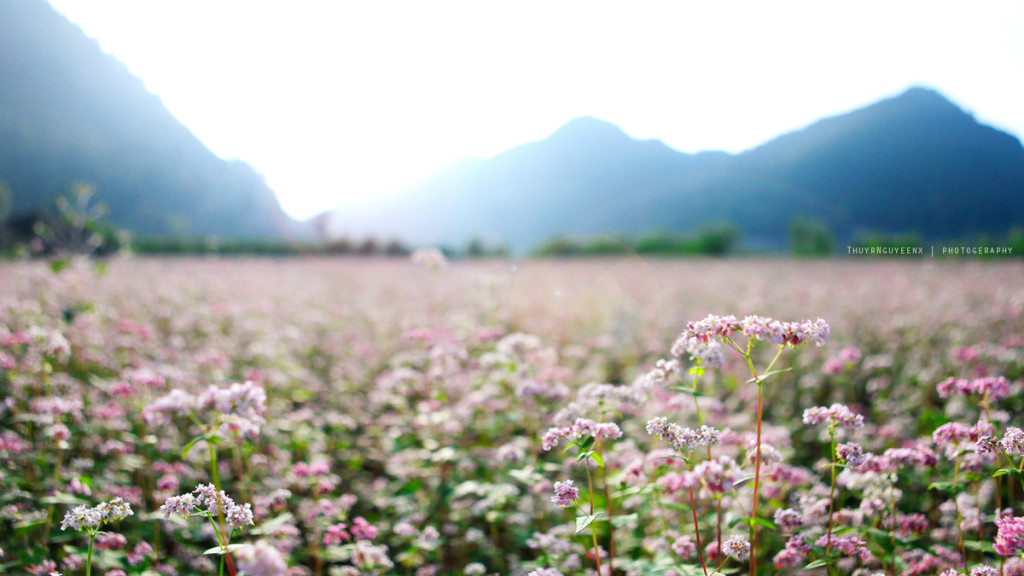 Located at the northernmost region, Ha Giang was never an easy place to visit and is considered as the final frontier of Vietnam. Old people from the delta regions used to think those want to go to Ha Giang just for travel are crazy. But that was of the old times. Ha Giang with its limitless potentials for tourism made people realized how important it is to develop Ha Giang as one of most attractive destinations of the country. And in fact, Ha Giang is on its way there.
Talking about potentials, we can't miss the pristine scenery which is made of the most breathtaking mountainscape of the north, poetic rivers, elegant terrace rice fields, spectacular karst plateau park and just as amazing, the cultural variety of many ethnic minority groups as Giay, H'Mong, Co La… up to 20 communities living in Ha Giang. All were waiting to be discovered.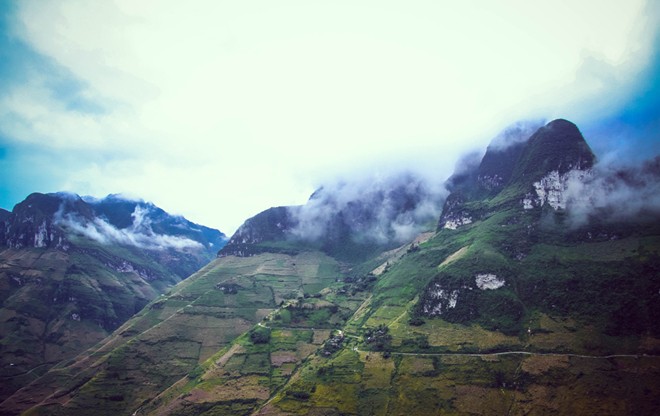 Ha Giang borders with Yunnan province of China and because of the close location to China, conflicts often happened in the past. In the last 20 years to now, Ha Giang became really safe to develop tourism. With the trend of adventure tourism as well as the rise of Asia travel, Ha Giang was rapidly seen as a most promising destination for adventuring activities in Vietnam.
Ha Giang province is about 300km away from Hanoi from the north. The total acreage covers an area of 7945.8 square kilometres containing 10 districts with Ha Giang City as its capital. The weather is divided into 2 seasons: dry and rainy. The higher locations have a colder climate with the distinctions of a mountainous area. The best time to visit Ha Giang should be and around and after Lunar New Year when a lot of festivals take place and you can witness the special cultural trails of Ha Giang ethnic minorities. From September to November is a lovely time for your trip because at this time Ha Giang is blooming in the romantic pink and white colour of Tam Giac Mach flower fields. Despite the fact that pictures look good when taking in summer, travellers should avoid visiting Ha Giang at this time. Sudden rains would happen unexpectedly and cause damages to the roads. Floods come after heavy rains and it's too dangerous if you travel to Ha Giang by motorbike.
If you start from Hanoi, the first destination would be Ha Giang city. In the centre of Ha Giang, you can visit destinations like Fairy Stream, Ha Phuong Water park, Cam son Mountain, Tha, Tuy, Tien Thang villages… When visiting Ha Giang city, don't forget to get a taste of Ha Giang specialities such as egg roll cake, wines, and many more…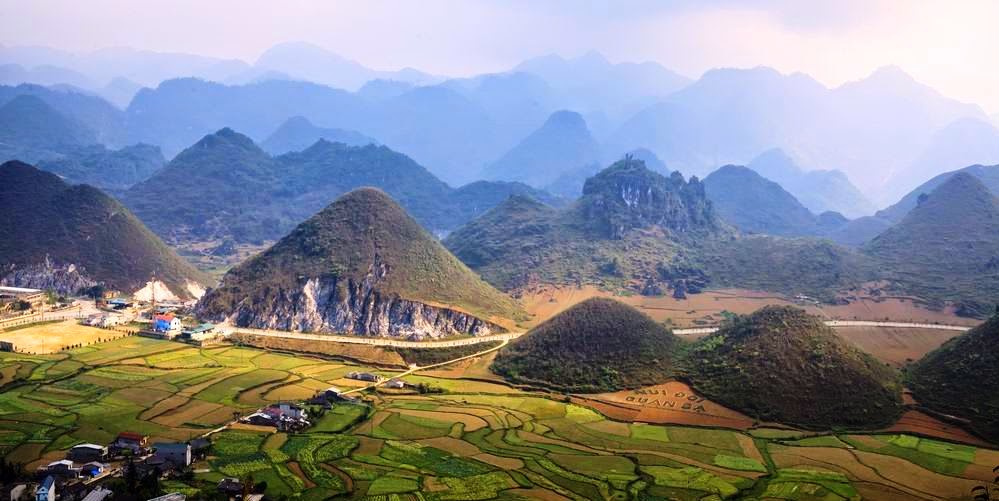 It takes you about one hour and a half to get to Quan Ba district where three communes share a border with China. On an altitude of 1000 meters above the sea, Quan Ba is a feast for eyes with poetic rivers, sheer mountains, and deep cliffs here and there. People don't call Quan Ba as a "Da Lat" of North Vietnam for no reason. The weather here is cool and suitable for tourism with tranquil sights around the district. Heaven Gate is considered the beginning of Dong Van karst plateau geopark with a spectacular view down to the district. Breast Mountain is a great place for sightseeing because of its unique beauty. Besides, culture and local people life are also interesting to experience. You can't miss the local fair in Tien Quyet Commune on Saturday morning right under the Heave Gate where ethnic minority groups gather not only to trade but also to eat, to talk, to play, to… date. It would be a memorial experience if you can join the local life even if for just a morning. Many villages of ethnic minorities are located all around Quan Ba district, you can explore them yourself easily since people here are very friendly and helpful.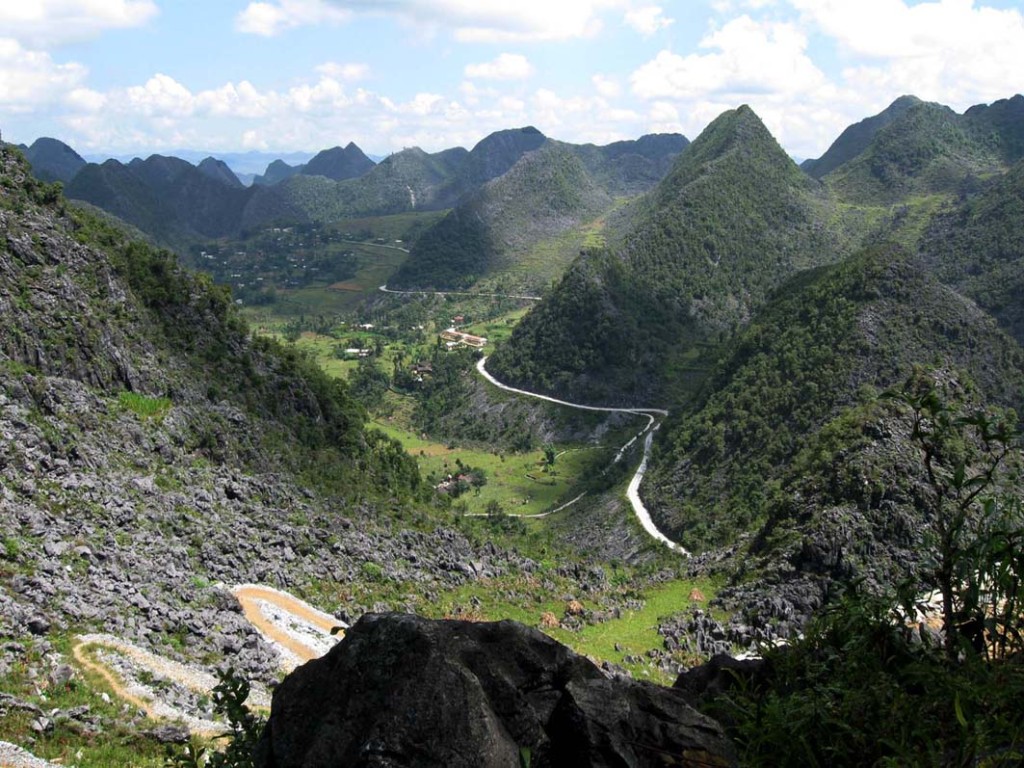 Continuing on road 4C or as its other name "Happiness Road" for another hour, you will reach Yen Minh District, entering the first district of total four covered by Dong Van Karst Plateau Geopark. Yen Minh is a paradise of cave, grotto and pine forests. Indeed, Yen Minh pine forest begins from Na Khe Town to Yen Minh Town making the view on both sides of the road very romantic and lovely. In Yen Minh, you have chance to visit Na Luong Cave located 25km away from the town which was referred to as the most beautiful cave in Ha Giang. En Grotto is not a bad choice when visiting Yen Minh. With a wild nature and great landscape, the grotto will amaze you by its mysterious beauty. Arriving Yen Minh town, it would be such a pity if you don't spend some time to visit some wonderful sites within the town. Yen Minh meadow just a hill above the town is a nice place to relax and enjoy nature. There is nothing better than after driving for so long, you can take a nap under a pine tree while listening to a stream nearby, enjoy the pleasant smell of flowers and the famous Vong flower. From the meadow hill, you can see the greenness of the valley field embraced by high mountains making it like a silent painting.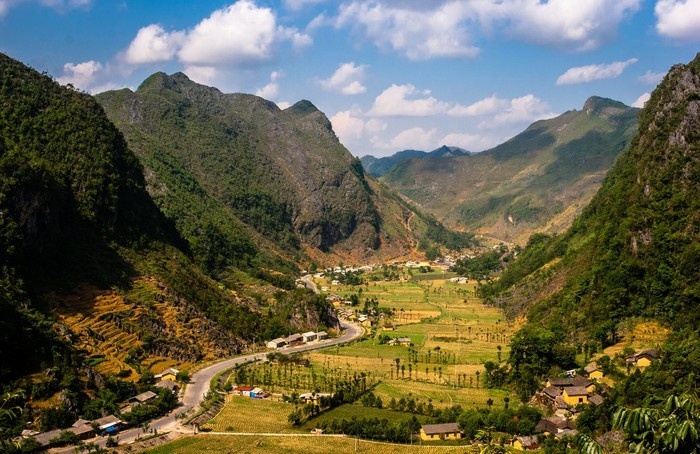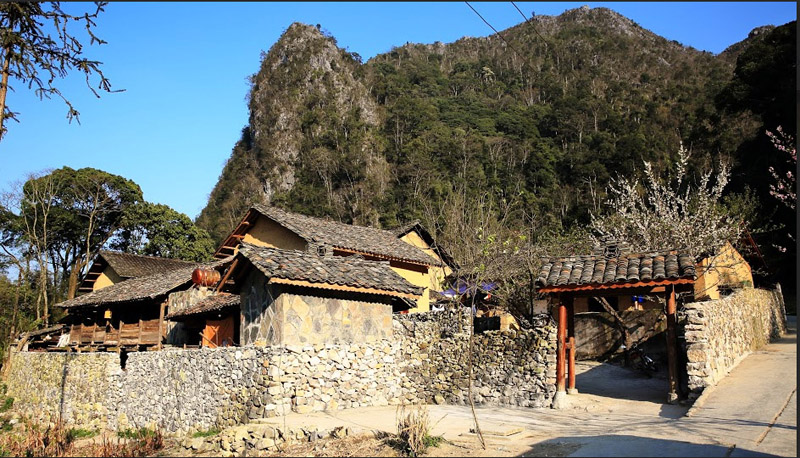 Dong Van is an only half-hour away from Yen Minh Town. On the way to Dong Van, you can visit such amazing site such as Sung La Valley, Pho Bang Town, Vuong Palace. Sung La has many fancy names, Ha Giang people call it "oasis" while young travellers crown it with "roses" of rocks. The scenery of Sung La valley even appeared in the famous movie "Pao's Story". The atmosphere here is quiet and serene with trees, and fields surrounded by mountains. It is the best place if you want to walk around and take pictures. You might want to take a look at the old house which was chosen for the movie. The house with yin-yang roof titles maintains its ancient features and the spirit of H'Mong in its unique architecture. Lung Cam village – the home to Lolo, H'Mong and Han people is a fascinating destination for those who love to explore. Next stop is well-known with a mysterious name "a forgotten town" which in fact is Pho Bang town lying close to the border. The town is hidden behind the high ranges of mountains and gifted harsh weather almost all year round. Because of its location, Pho Bang has both ethnic minorities from Vietnam and China. They live by farming day by day and whenever the local fair takes place, the whole town gets merrier. Vuong Palace is located in Sa Phin, not really far from Pho Bang town. Vuong's Palace was owned by Vuong Chinh Duc and his son Vuong Chi Sinh. Vuong Chinh Duc was the landlord of Sa Phin and known for his wealth and power. The palace was built mostly by Chinese constructors and best H'Mong craftsmen. There are with 4 horizontal and 6 vertical rows, 2 stories and 64 rooms contained in the palace, all are made of precious woods. To the modern-day, Vuong's Palace still remains in good condition and this fabulous building has become an attractive tourist site in Ha Giang.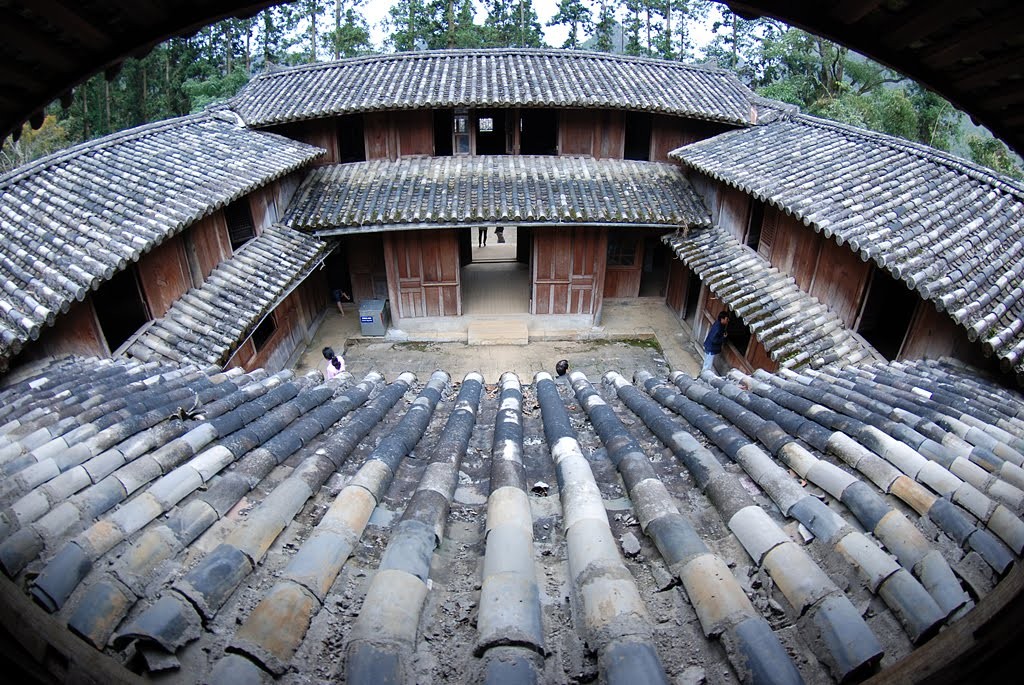 Dong Van karst plateau geopark is the pride of Vietnam nature. With 80% limestone, most distinctive black boulders in Vietnam in different stages of development dividing by environment conditions, Dong Van geopark amazes visitors by shaping the limestone and boulders in interesting figures like petals, flowers, branches, tiger making your experience the most wonderful one just by looking at these works of art of nature. Not only majestic in geological aspect, but Dong Van plateau is also living place of many ethnic groups like H'Mong, Dao and Lo Lo…with their distinguishing traits in cultures and daily life that you cannot find anywhere else.
Lung Cu is the farthest commune in the north of Vietnam, about 24 kilometres away from Dong Van town. Lung Cu flagpole was built-in Ly Thuong Kiet time, remade under French colony and renovated several times until it has its look today. The path to the flagpole has 839 stone steps of stairs and is a challenge to and anyone who wants to conquer the northernmost flagpole of Vietnam. And those who succeed are paid with the spectacular view on the top.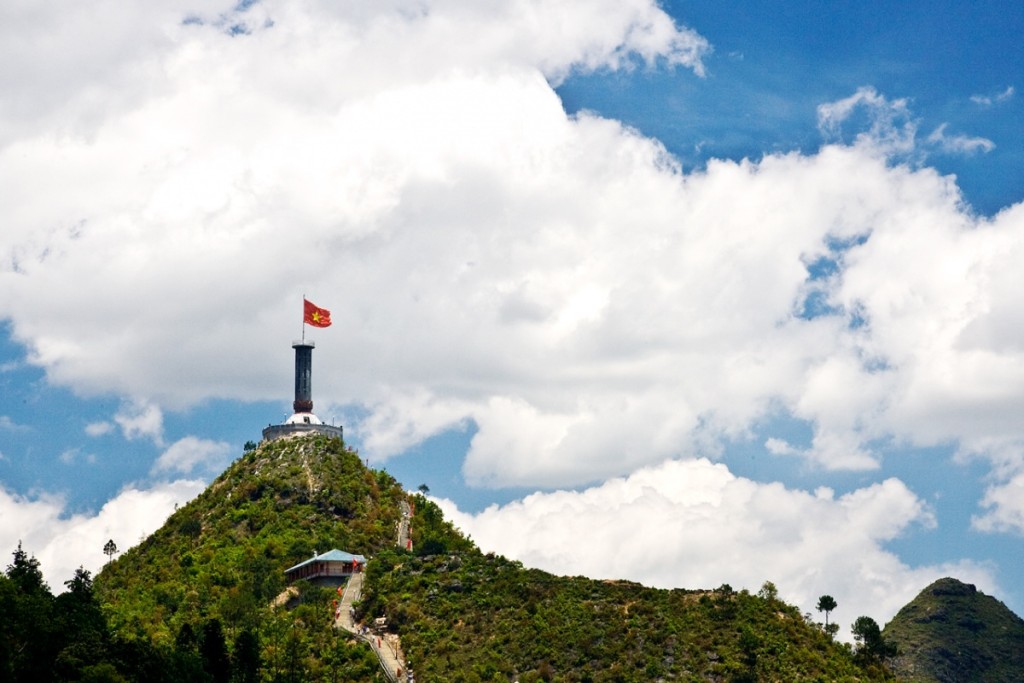 Dong Van town would be a nice stop for you to understand the life of people in a highland town. Like Hanoi and Hoi An, Dong Van town has an old quarter as well with a history of hundreds of years. The old quarter is a complex of 40 old housed standing side by side circled by sheer mountains and fields. In the morning, down in sunlight, the picture of the old quarter is made of two colours: the light golden colour filled the air and the greyness of houses' walls. You would never enjoy the nostalgic and vintage feeling this much. The architecture of the quarter is deeply affected by the Chinese style since Hoa ethnic (a Chinese ethnic) had been living for a long time in Dong Van. There is another side of the town, too. Dong Van fair takes place on Sunday and holidays or festivals. Many northern minorities such as Tay, Nung, Han, Mong, Hoa, Dao, Kinh…. come to the fair for many activities.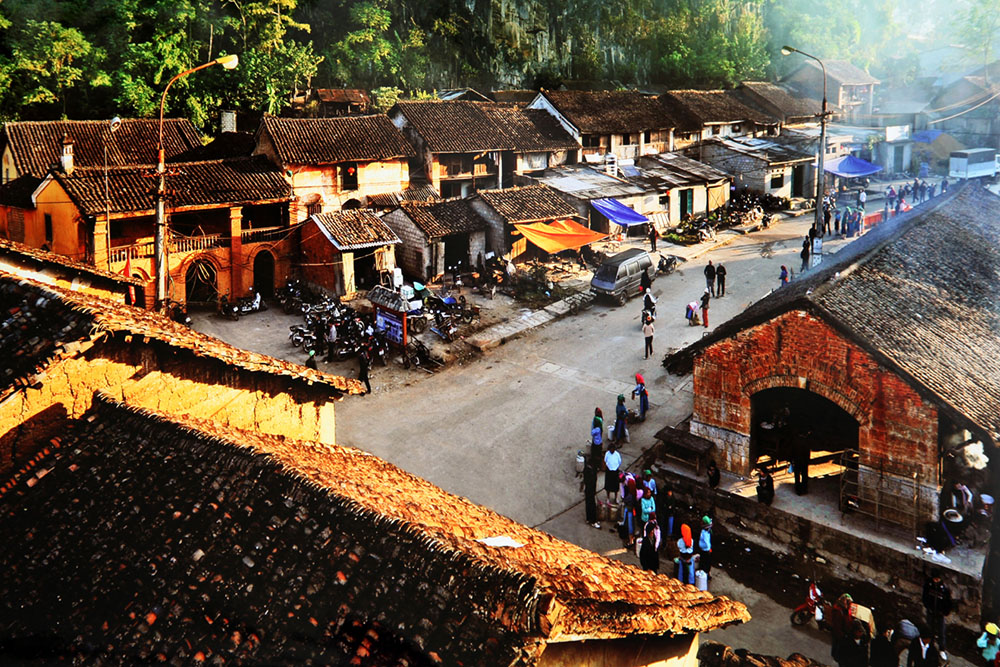 From Dong Van town to Meo Vac, you have to conquer one of the four legendary passes of the northern border mountain area – Ma Pi Leng Pass or the King of Passes. This pass is famous not only because of its extreme danger but more than that; the pass is loved by its paradise-like landscape. The Happiness Route part of the pass 20km long was built by the youngsters of the brave road-making team who were hanging on the cliffs nonstop in eleven months. One side of the pass is the vertical cliffs of Ma Pi Leng Mountain; another is the abyss and poetic Nho Que River. Ma Pi Leng pass has the most stunning panoramic vista in north Vietnam with a 2000m height where you can see the endless thousands of dark green mountains running toward the horizon. In such height, clouds and mist are your companies and they make the scene more and more surreal. Tu San chasm offers you a marvellous vision where Nho Que green water running through a narrow chasm between vertical grey cliffs. It gets more perfect under sunlight.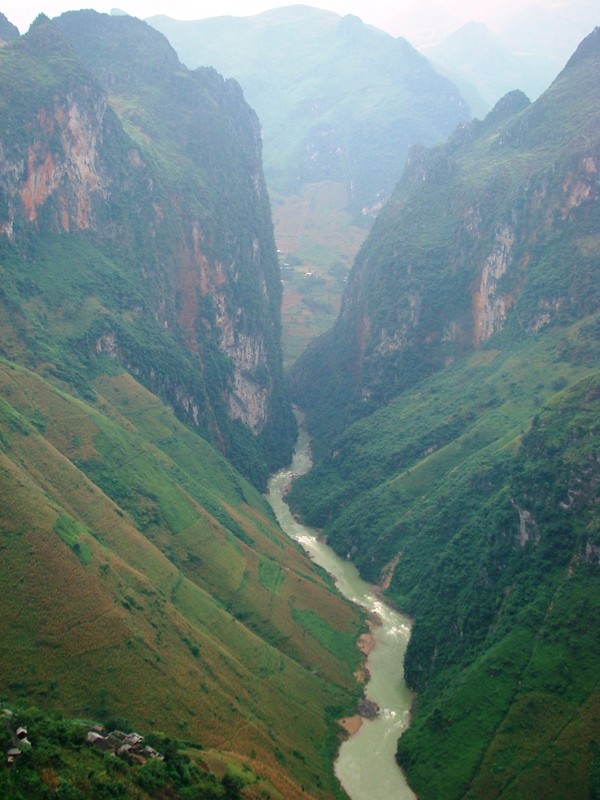 In Meo Vac, the most outstanding cultural activity is Khau Vai Love Fair happening only once a year in 27th March Lunar Calendar. The event takes place in Khau Vai commune, located in a Nung village. It is not literally a market; Khau Vai Fair is an opportunity for ethnic people to come to find love. Everyone is welcomed to the fair from young gals and guys to married people, even elders of many minority groups find their ways on the mountainside to Khau Vai every year on time. Married people find their ex-lovers to spend the whole day with each other and their wife/husband would never get jealous. Young ones find their love through singing, dancing or drinking. Khai Vai Love fair is one of the cultural beauties of Vietnam people showing the high spiritual life of highland communities. If you can't catch the fair in time, Meo Vac still has many other sites for you to explore. Lo Lo people village called Sang Pa A is one of few villages in Vietnam still remains it's status quo long time ago. Lo Lo minority has many distinctive festivals with their signature performance like Spring Festival, corn harvest festival, and the most special – praying for rain festival practising their fertility customs.
There are not many provinces of Vietnam where everywhere could be a sightseeing point or a tourist site. Ha Giang is one of those and anyone visits the place wants to return again and again. With spectacular landscape and important cultural values, Ha Giang is becoming a symbolic destination which can represent Vietnam as a country of natural beauties and ethnic tradition.
CLICK to see more our photos of this wonderful destination from our last trip!