Driving through Vietnam on a motorbike will be an adventure you won't soon forget. To keep that adventure more about the fun and less about the frustration, there's something you need to know before you go.
The riders of motorbikes below 50cc are not required a driving license, hence, this type of motorbikes is only suitable for city riding. For extended travel throughout the country, you definitely need a larger bike.
International Drivers Permits (IDP) are valid if your home country has signed under the 1968 convention, providing that your motorcycle license at home registered on the IDP. USA, UK, Australia, and Canada have signed only the 1949 convention on IDPs, so they are not valid. Otherwise, a Vietnamese license is needed. Even though many unlicensed travellers successfully bride the policemen when being stopped, you will bear full responsibility if you cause injury to yourself or others. In addition, keep in mind that no travel insurance benefits are given if you do not have a valid IPD or Vietnamese license, regardless that you were granted motorbike license by your home country.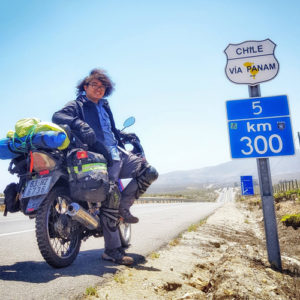 Tran Dang Khoa, the first Vietnamese to travel around the world using only his bike, the Honda.
Convert your home country driving license to Vietnamese license
Documents required:
03 color photos(3x4cm)
Translated and notarized copy of your existing Driving License by a public notary office. The driving license must be valid and in good condition. The damaged or edited licences are not accepted.
Copy of driving license
Copy of your passport(the photo pages  and visa page), or temporary residence card
Application form for exchange of driving licence (Download here)
Original Passport or temporary residence card (for purpose of comparison only)
Processing fee: 135,000 VND (about USD 6)
The application is submitted at the following addresses:
In Ho Chi Minh:
252  Ly Chinh Thang, Ward 9, District 3
111 Tan Son Nhi, Tan Son Nhi Ward, Tan Phu District
In Hanoi:
2 Phung Hung, Ha Dong District
16, Cao Ba Quat, Ba Dinh District, Hanoi
Processing time: 5 working days excluding weekends and national holidays
The covered driving license is valid to the end date of your visa or temporary residence card
Rent or buy a motorbike in Vietnam
Rent from reliable shops that provide proper vehicles rather than Chinese knock offs. Many travellers choose to buy cheap bikes from fellow backpackers to keep their travel costs down. The repair cost will soon match or exceed the rental cost, in addition, hassles of repairing constantly breaking bike are not worthwhile for its cheap price. The rental market in Vietnam is increasing and it is very easy to rent a standard automatic or semi-automatic model for the cost of USD 10 per day (prices are significantly higher for bigger, more powerful motorbikes). Buy a motorbike is an expensive choice unless you like to be its owner, or you are planning on travelling for more than one month.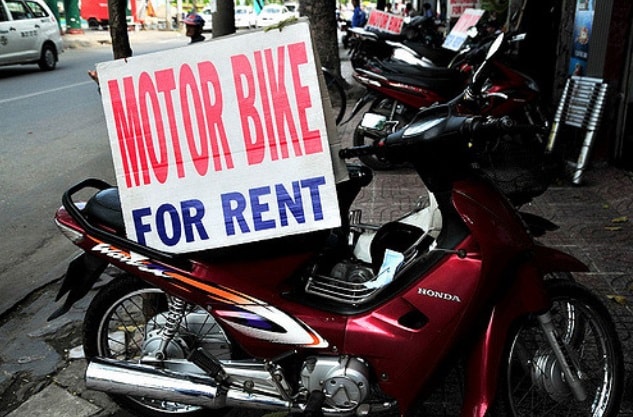 Rent
Recommended rental companies such as Tigit Motorbikes, Style Motorbikes, Dragon Bikes are professional and provide pick-up and drop-off service at some specific locations throughout the country. You are required to provide passport copy, hotel address and pay a deposit before you set off.  The average rental cost per day is around USD 10. Increasing demand and competition is continually raising the standards of motorbike rental in Vietnam: it's now easier and better value than ever before.
Buy
Once again, I emphasize that buying a cheap Chinese motorbike means you are risking your life. A used Chinese motorbike is advertised for sale for around USD 200. Don't let dishonest dealer cheat you with advertisements like Honda Wave, or Honda Win. Its correct name should be Chinese Wave and Chinese Win. Honda is the most favourable brand in Vietnam because it is reliable. If you are interested in Honda automatic scooters, the price is 30% higher than a semi-automatic. Touring motorbikes even cost more. Brands like Yamaha, Suzuki or SYM don't hold value well and are normally half of Honda competitors.
What bike to rent
110 cc to 125 ccs is completely sufficient to tour the country. A more powerful bike is needed in case you intend to ride through the rougher country in the Northwest region. Speed limits are – 40 km/h for the cities and 60 km/h for highways – so having a very powerful motorbike can often be a detriment in congested areas. You can navigate the country on an automatic, semi-automatic or manual, so choose what will work best for your experience.