Khanh Hoa is the furthermost province in the east of Vietnam, located in South Central Coast region; 447km away from Ho Chi Minh City, 1278km from Hanoi. The provincial coast spreads up to 385km in length when the west side of the province faces mountains and hills. The total area of Khanh Hoa is 5.197 km² include 200 islands and islets.
Khanh Hoa has 2 provincial cities, 2 airports, an island district Truong Sa which is a large group of islands in the far east sea. The region of the province belonged to Kauthara – a political centre of the ancient Champa Kingdom in 8th AD century.
With so much potential in both a natural resource and cultural resource, Khanh Hoa has developed tourism services, facilities and management in recent years and become one of the 10 tourist centres of Vietnam.
The province has a savanna tropical climate which is modified by geological differentiation. The climate here is milder and characterized by ocean climate. There are 2 seasons: wet and dry. From January to August is dry season, the temperature in summer months can be high. The wet season is short, only from mid-September to December. Best time to visit Khanh Hoa is around April and May because in this time the sea is calm and the climate is quite cool; from June to September, it's hot but still suitable for tourism activities. Avoid October and November because this time is storm season.
How to get there
By plane:  there are many flights to Cam Ranh airport in every day. From Ha Noi, a round-trip ticket to Cam Ranh is around 2,5mil to 3,5mil. From Ho Chi Minh, it's around 1,5mil-2mil. The airport is about 20km from Cam Ranh city, you can go by taxi or motorbike taxi.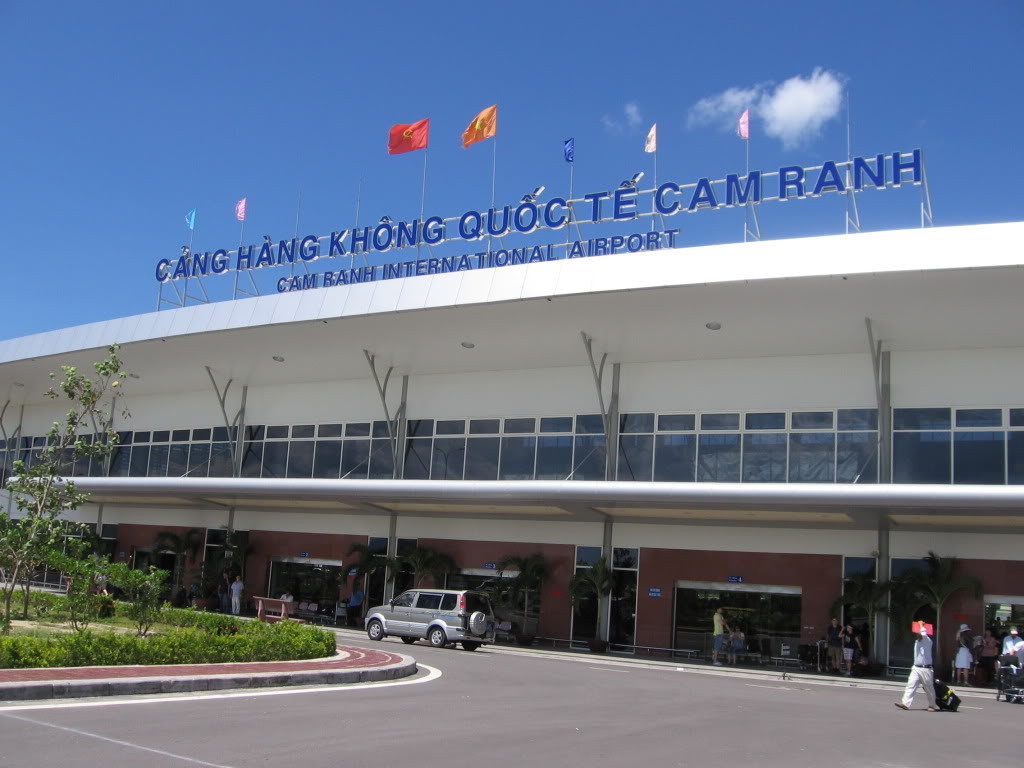 By train: from French colony time, Khanh Hoa was an important stop for the train. All Thong Nhat trains stop at Nha Trang Railway Station include SE1-8, TN1-4, SN3-4, and SNT1-2. The price from Hanoi ranges from about 800,000VND to 1,5milVND. From Ho Chi Minh, it ranges from 170,000VND to 600,000VND.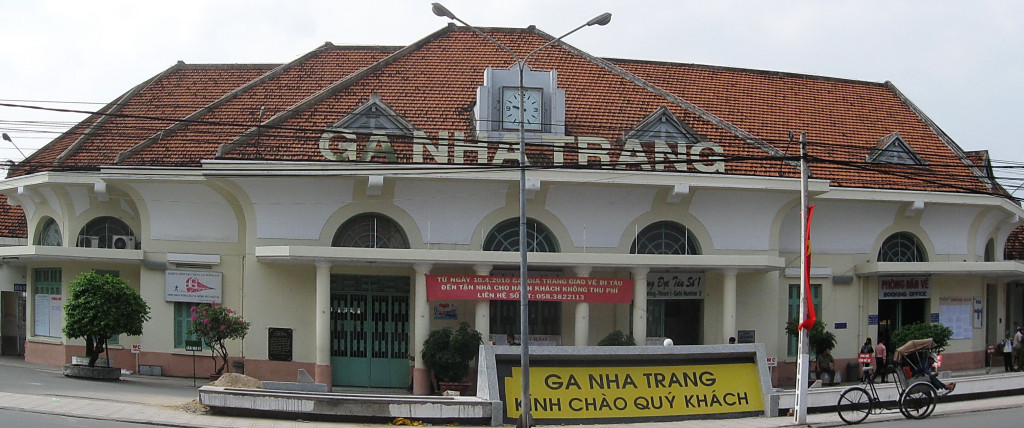 By coach: the price is cheaper if you start from the south. From Ho Chi Minh, it's around 200,000VND of companies like Lien Hung, Quang Hanh, Ha Linh, Hyunh Gia, TheSinhTourist…. From Hanoi, you should choose these 2 companies: TheSinhTourist and Hoang Long. One ticket to Nha Trang costs around 750,000VND. TheSinhTourist doesn't take reservations through a phone call; you have to go directly to their office to make your booking.
Get around Nha Trang
Motorbike rental service in Nha Trang is cheaper than other tourist destinations in surrounding areas. The cost ranges from 50,000VND to 100,000VND per day, no fuel cost included.
Or you can take buses to get around Nha Trang and to other districts.
Route 1: Bình Tân – Lê Hồng Phong – Thành – 5000VND
Route 2: Bình Tân – Trần Phú – Thành 5000VND
Route 3: Chợ Đầm – Ngô Gia Tự – Sông Lô – 4000VND
Route 4: Hòn Xện – Nguyễn Thiện Thuật – Vinpearl – 4000VND
Route 5: Cầu Trần Phú – Tô Hiến Thành – Hòn Rớ 1 – 4000VND
Route 6: Bến xe phía Nam – Bến xe phía Bắc – Chợ Lương Sơn – 4000VND
Accommodation
To 2015, Khanh Hoa has 572 accommodation establishments for tourism, with total 16,146 rooms. There are 8 5-star hotels with 1.329 rooms, 9 4-star hotels with 1.719 rooms, 40 3-star hotels with 2990 rooms and as the time goes these numbers would change. Many more cheap hotels and hostels are available in Khanh Hoa as well with very reasonable rates.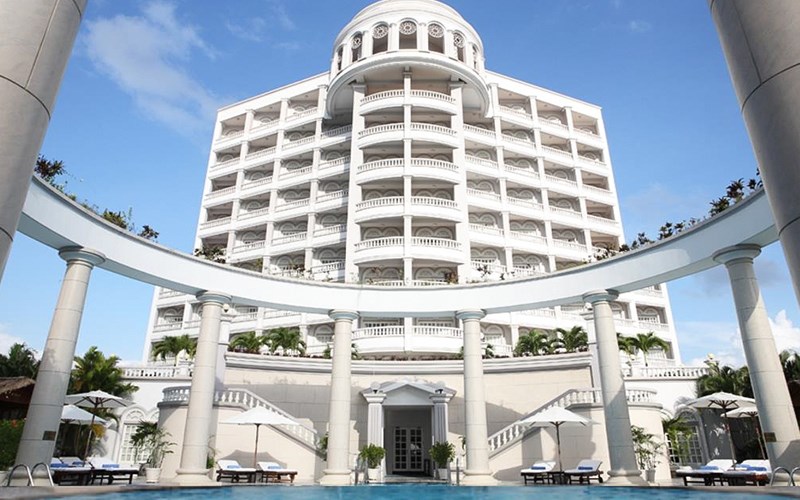 Attractions
Nha Trang City: is definitely your first choice when coming to Khanh Hoa. The city is a major tourist destination not only of the Central region but also of the whole country along with Ha Long Bay, Sapa Town, Hanoi, Hoi An…. The name of the city comes from Champa accent of "Ya Trang" or "Ea Trang" which are different ways to call Lau river. The beaches of Nha Trang are stretched up to 7km running along the city's east side. The seawater is deep blue, warm and hugged by the mountains and islands. Sandbanks are white, smooth and long. August is perfect to visit Nha Trang due to the sunny and dry climate. Vinpearl Land is located in Tre Island accessible by taxi, canoes, speed boats, ferry, and cable cars. This is a luxury recreation park with many interesting games and high-quality services. The total recreation area of Vinpearl includes an outdoor play zone, indoor play zone, an aquarium with more than 300 aquatic species, and a water park. Besides, Vinpearl also has other services such as shopping street, convention centre and versatile performance area, cuisine village, outdoor water music and performance stage, Exotica dance floor. You just need to spend about 450,000VND to 500,000VND to play and enjoy all the games. Another site you should visit is Husband Stone located at the foot of Lasan hill. Or take a 4-island or 3-island tour to visit Mot island, Tam island, Tri Nguyen Island, Mun island, Mieu island at a price of 180,000VND-200,000VND for a full-day tour including lunch on boat…. The tour activities are swimming (Tranh Beach), diving (Coral Bay), water gaming, visiting a pearl farm, visiting aquarium and fishing farm…. If you love discovering historical and cultural sites, absolutely you will not be disappointed in any way. The unique Ponagar Tower of Champa culture which surprises you with its antiquity and demureness is a must. There is mud bathing service there with only 100,00VND per person.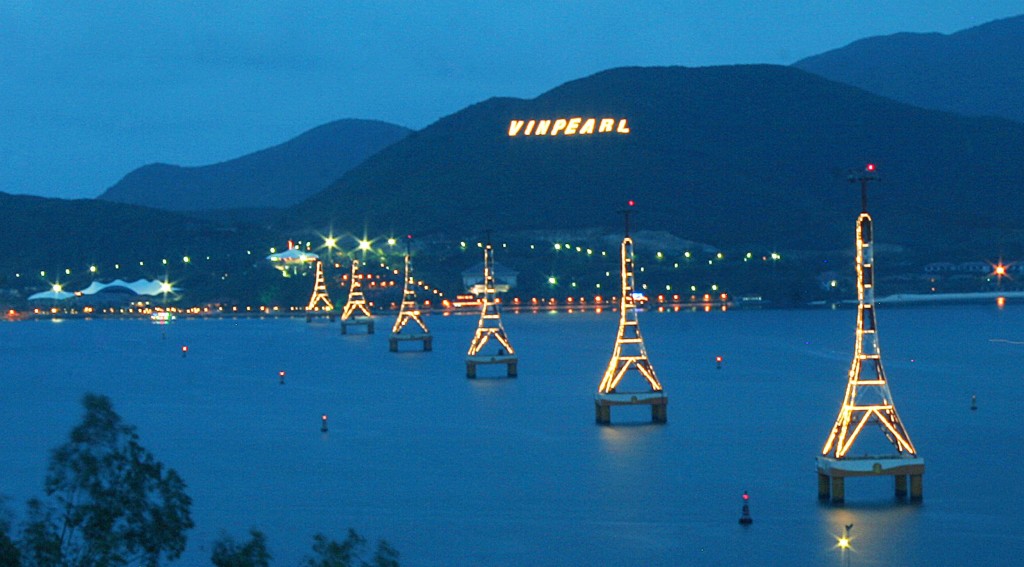 Binh Ba Island is one of the places that have the earliest sunrise in Vietnam. Located in Cam Ranh City, about 20km away from land, Binh Ba is still a stranger to many visitors. Local people have another name to the island as Lobster Island because the lobsters in Binh Ba are especially big and delicious. The ideal time to visit this beautiful island is from March to September but it's recommended to visit in the offseason to enjoy every charm of the place. Boats to Binh Ba are at 6:30, 7:30, 10:00, 14:30 and 16:30 every day only for 30,000VND per person, arriving at Ba Ngoi port. Because the island is still remote, there aren't so much accommodation facilities for you. There are some locals who open hostels for tourists. The price ranges from 70,000-100,000VND per room. Or you can ask locals to rent tents for camping on the beach. But do not camp too close to the water or camp on stormy nights. You can also rent a motorbike to get around the island, for 100,000VND to 120,000VND per day, ask the hostel owners or locals. Dawn watching is kind of a speciality of Binh Ba. On the top of the island's mountain, the view of the bay in the early morning is so inspiring and breathtaking that you can't be able to forget. Nom beach is perfect for swimming and diving because the beach is clean, nice and safe. Squids and fish catching at night are quite tempting for those who love seafood. You can buy ticket from locals for a reasonable price. And of course, you can't miss the island's speciality – grilled lobster. Crabs in Binh Ba are big and delicious too. In recent years, the local government has stopped encouraging tourism development on the island for a mostly military reason. So it might be hard to very hard for foreigners to visit Binh Ba.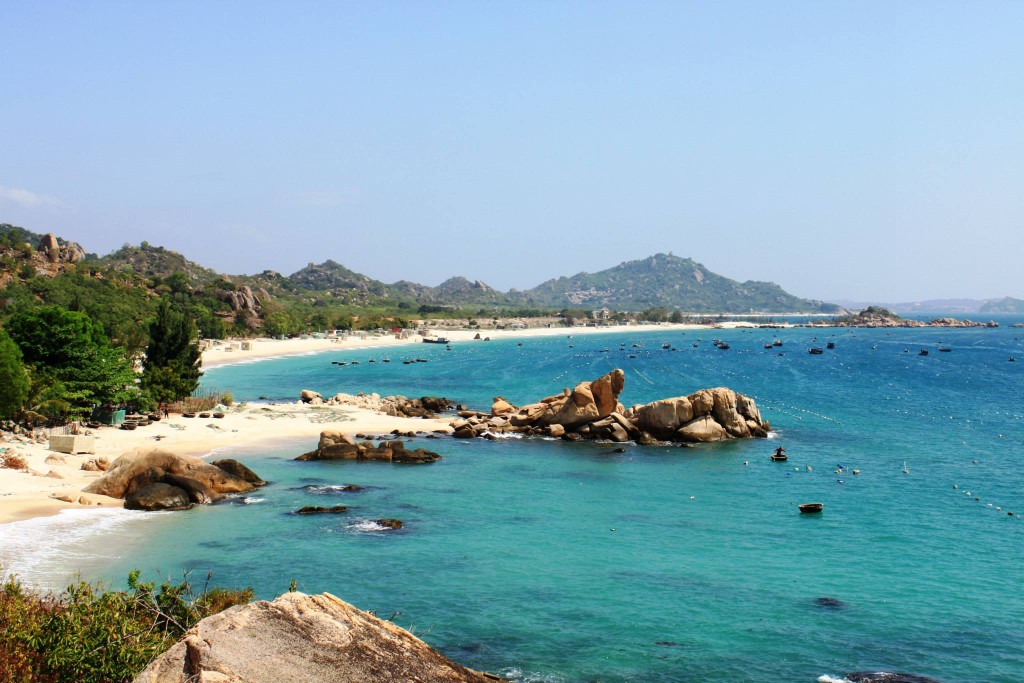 Binh Hung Island: is located quite near to Binh Ba island and known as a "coarse gem" of Khanh Hoa. Tourists often visit both islands at one time. And like Binh Ba, Binh Hung's beauties remain intact from influences of tourism. Summer is the best time to visit this remote paradise while October and November are not suitable because of storms. From land, you have to arrive in Kinh beach (Binh Tien) to move inside the island or you can sail from Binh Ba directly. There are no hotels in Binh Hung, only some hostels owned by islanders. If you want to experience something new, you should spend the nights in a raft house with only 70,000VND per person. Kinh beach is a perfect place to swim with very clear water, long and shallow beach so it's safe for children. The special Freshwater Beach has a freshwater stream running down from Chua Mountain. This beach is safe for swimming and water games with low sea level. Banana Beach and Tamarind Tree beach are also very beautiful for swimming and diving. However, Banana beach is quite deep so it's recommended that you shouldn't swim here without life-coat. Egg Stone beach is full of huge egg-like shaped rocks making a very unique landscape. This beach is only for sightseeing, swimming is dangerous because of the rocks and reefs. Chut Island's lighthouse is built in 1988 to inform the ships the sea area of Khanh Hoa province. The view of Cam Ranh bay on the top of the lighthouse is picturesque and romantic, a wonderful place to take photos.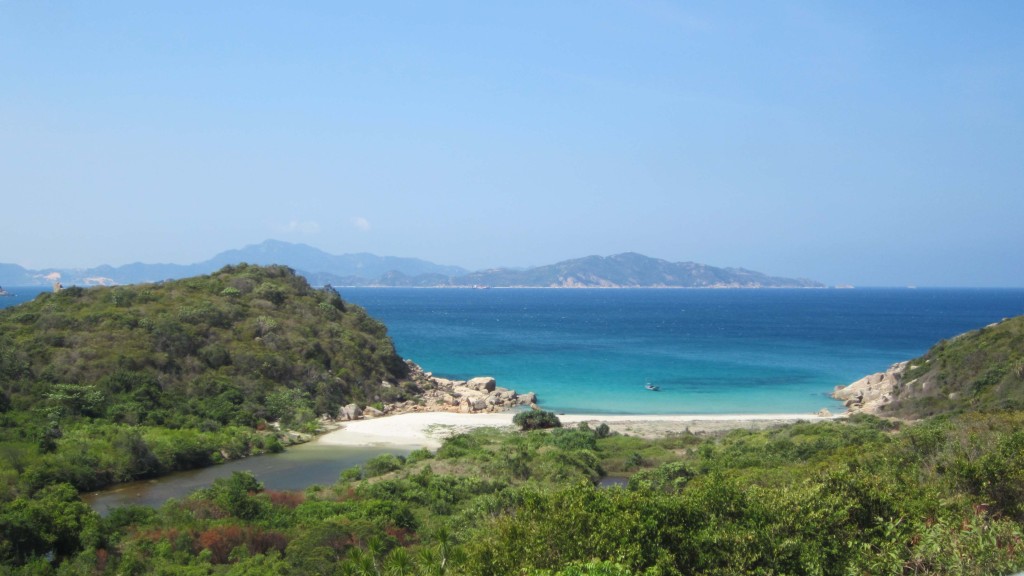 Easternmost Point on Land of Vietnam: Doi (Couple) point is located on Hon Gom peninsula. There are 2 rocks pointing out to the sea in a surrounding of a unique rock setting. Because this place is an easternmost point on the land of Vietnam, therefore Doi point is also the first place to have sunrise of the country. To reach the point, you have to pass Dam Mon peninsula and the road leading to there is very beautiful with both sides of the road are full of white sandhills and the sea coast running along with the road. It will take you a whole day to visit the point, and if you want to stay the night in Dam Mon, there is only hostel Hai Ha.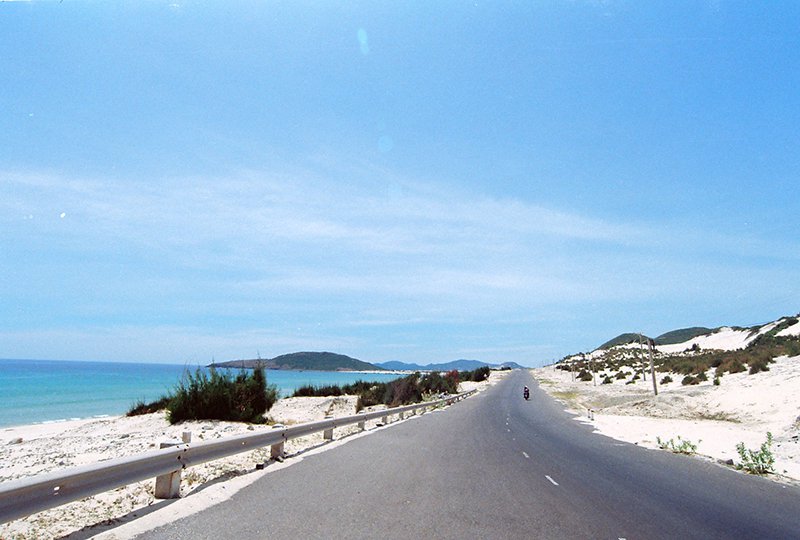 Ta Ghu Waterfall: is the most beautiful fall in Khanh Hoa. The fall height is 40m and the water falling into a lake that is 200m square. Come to this fall, visitors will have an enjoyable time with natural beauties to rest and recreation.
Dai Lanh beach: has a romantic landscape with 2 passes in the north and the south, a mountain range is in the west. The sea here is clean and calm, very safe for swimming. There is a freshwater stream that flows into the sea and never been dried.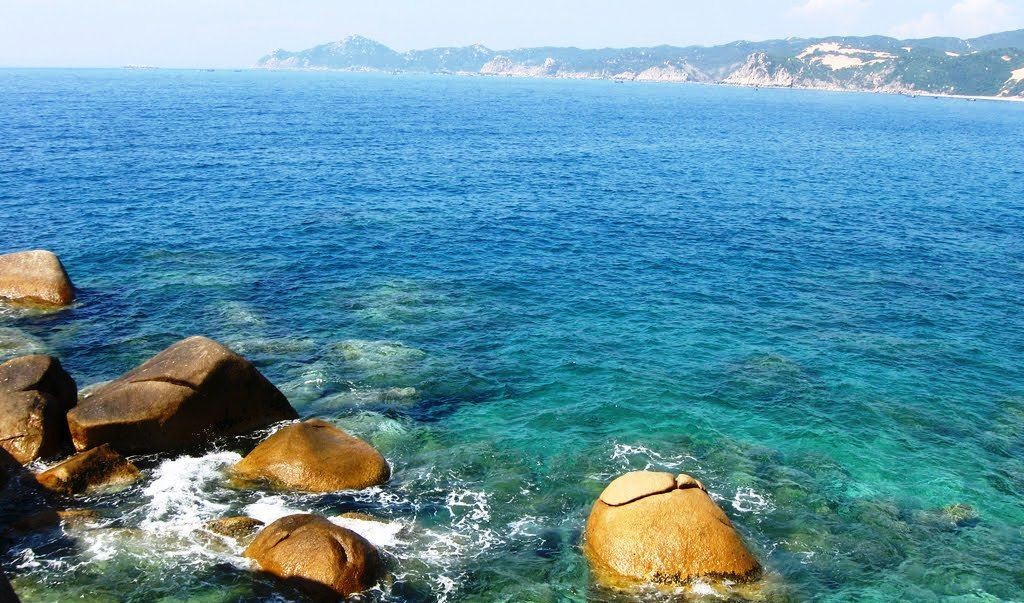 Nha Phu Lagoon: is a vast region of a blue lagoon and many islands as Thi, Lao, Sam, Silver Stone…. This lagoon is only 15km from Nha Trang city. The terrain is various from island, stream, sea, lake, and bay…. According to reports, the lagoon has 232 phytoplankton species, of which 150 species of Sillic algae take up 65%, and 32% is Hai Roi algae.
Po Nagar Temples: are ancient Champa temples, located on a height of 12m above the sea. This complex is 2km away from the city centre on Cai river (or Nha Trang river). The temples contain 3 levels: low, middle and high. This religious construction was dedicated to Po Ina Nagar goddess of Cham culture. A legend tells that the goddess is made of the clouds and sea foams. And she was the one who created the world, the precious woods, trees and rice. She had 97 husbands and 38 daughters, all of them became goddesses. Three daughters of the goddess are worshipped in three different provinces. They were chosen to be guardians of soil.  Po Nagar Dara – Kauthara goddess (Khanh Hoa); Po Rarai Anaih – Panduranga goddess (Ninh Thuan) and Po Bia Tikuk – Manthit goddess (Phan Thiet).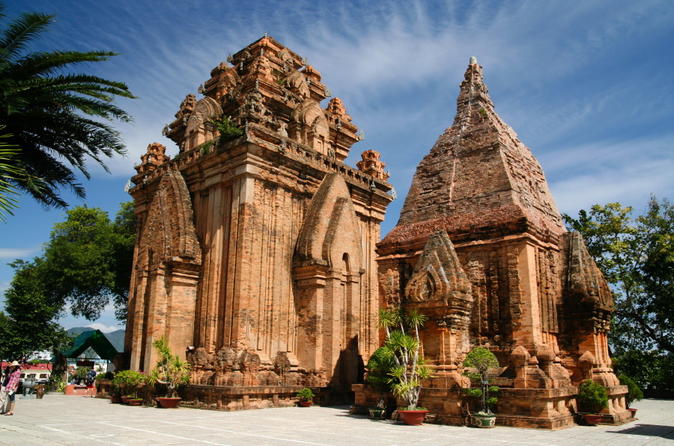 There are many other sites you should visit in Khanh Hoa such as Van Phong Bay, Cam Ranh Bay, Ninh Van Bay, Mun island, Tam island, Tri Nguyen aquarium, Three-Lake Waterfall, Monkey island….
Foods:
Fermented pork rolls in Ninh Hoa: this fermented pork roll is one of many Vietnamese traditional dishes. The fermented pork is wrapped in banana leaves. The meat roll has a sweet, sour, salty and spicy taste. The dish is often named after the region from where the rolls are made. Each region has a recipe and technique to ferment the meat. Ninh Hoa rolls have a distinctive taste and smell, wrapped in many kinds of banana leaves. Local people often grill the rolls and eat with sauce.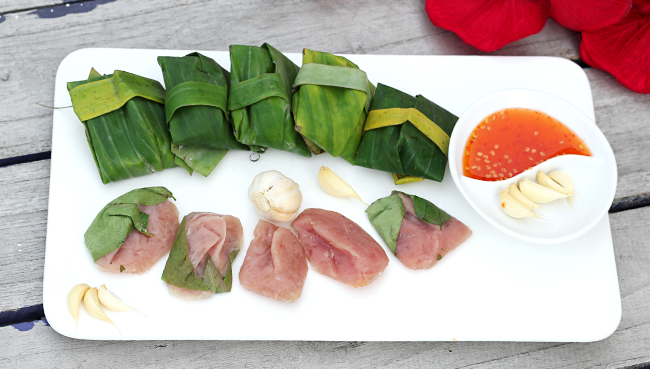 Jellyfish noodles: this dish is made of jellyfish, pork, shrimp, crab, and cha ca. The broth is made of shrimp and fish sauce. Eat this dish with herbs and spices.
Dien Khanh Wet Cake is a speciality of Khanh Hoa province. The thin rice cake is served on a flat plate and shrimp fluffy pemmican, oil and green onions will be put onto the cake. This dish is served with fish sauce and herbs.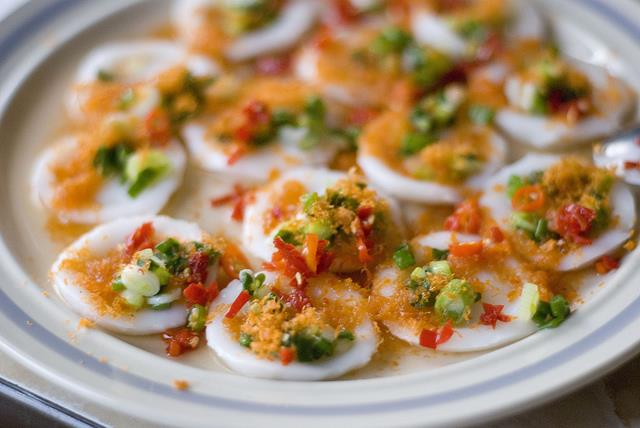 Mango Girdle Cake is a speciality of Cam Lam district. The cake is made of malt and mango. Mangos must be peeled and ground into a sticky puree. Simmer this liquid on coal fire from 2 to 3 hours. After that, the baker will coat the liquid in thin layers on a flat surface of a steel mould. Put them onto a bamboo framework. These layers will be parched by the sun for one day until they are dried and turned golden brown.