Vietnam has them all: hot springs, mineral spring and mud-bath sites all across the country.
Mud-bathing is not something new in Vietnam. In fact, many tourist sites have to develop this kind of service at Central and South of Vietnam. Mud-bathing in Vietnam is not only an effective therapy but also very entertaining.
Why mud-bathing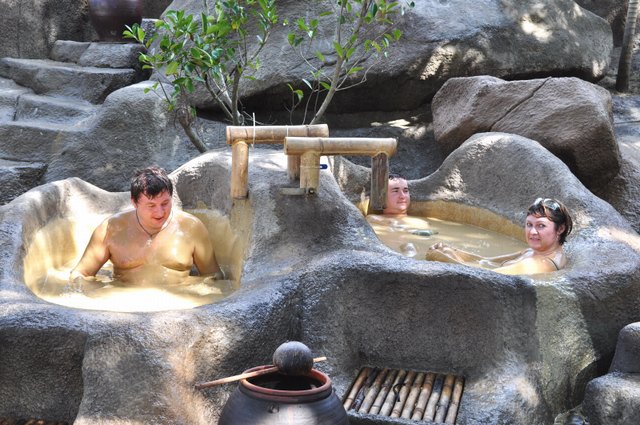 Question is why not?
First and foremost: the medicinal benefits of mud-bathing. It removes dead skin cells, detoxifies, deposits minerals into your body, strengthens bones, reduces fatigue, smoothens your skin and many other good things.
Secondly, mud-bathing is relaxing and fun, too, especially in a country hot and humid like Vietnam. The bath settings often set with vivid colours and fun features. If you go with family and friends, mud-bath is definitely something you can spend time with and enjoy together. If you go alone and prefer privacy, you can have the whole bath for yourself.
Best places to bath
Nha Trang
Besides stunning coasts, wonderful bays and islands, Nha Trang has the most developed mud-bath facilities in the country and also the most well-known.
Thap Ba Hot Spring (Thap Ba Spa & Bun Khoang):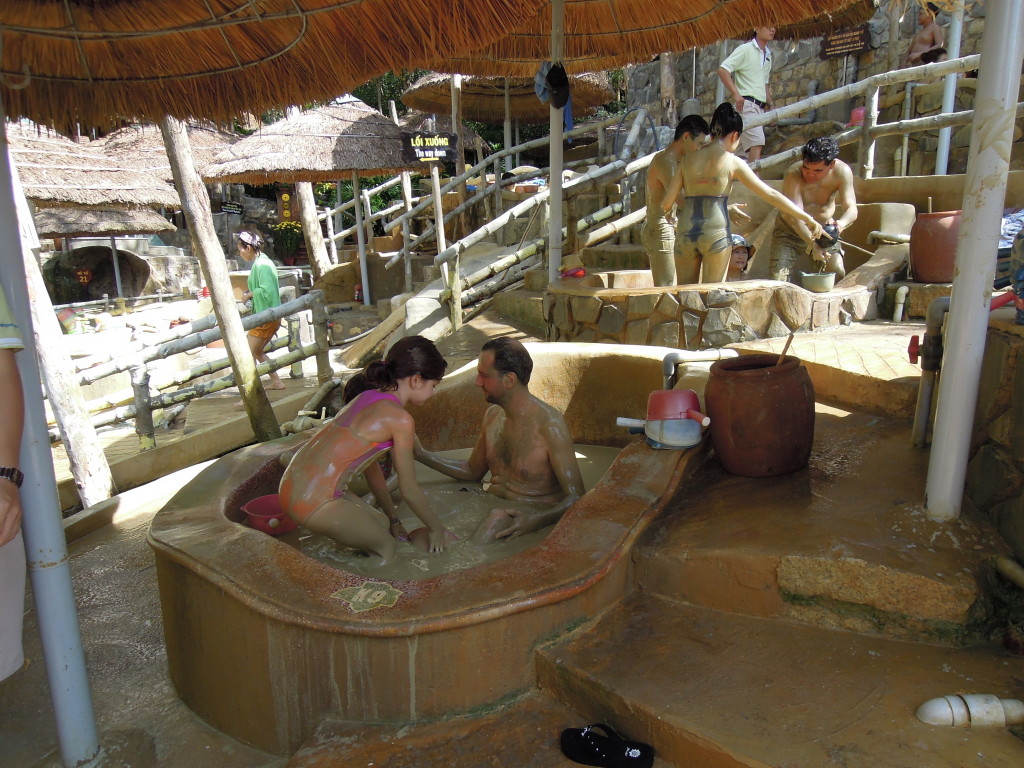 The hot mineral spring and the mud mineral spring were discovered back to 1994. In 1999, Thap Ba Spa & Bun Khoang was opened as the earliest mud-bath service in Vietnam. The place is about 6 kilometres from Nha Trang downtown.
The mud is heated at 37-38 Celsius degrees – most effective temperature. Thap Ba Hot Spring is cheap and most popular which means sometimes it's filled with too many people.
Collective mineral mud bath:
Adult: VND180,000
Children: VND90,000b
(Children: 1m-1,4m, joint with adults)
Private hot mineral mud bath:
Hot mineral mud and mineral water with natural herbs:
Wooden tub 1 person: VND550,000
Wooden tub 2 persons: VND900,000
Hot mineral mud and mineral water:
Three-person tub: VND1,100,000
Quadruple tub: VND1,200,000
Six-person tub: VND1,500,000
Eight-person tub: VND1,800,000
Time for mud bath is 15 minutes for collective tubs and 20 minutes for private tubs.
Click here for more information.
Nha Trang Egg Mud Bath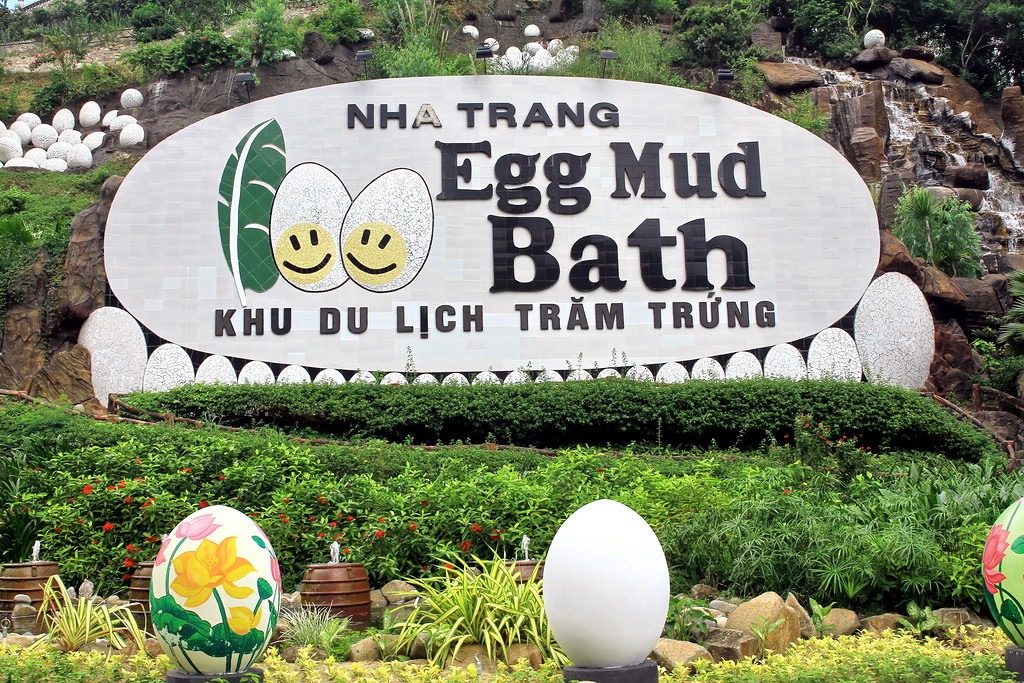 100 Egg Mud spa and park is about six kilometres southwest of Nha Trang. city. It's really fascinating that everything here is inspired by eggs from the bathtubs to decorations.
Adult: VND300,000
Children: VND200,000
Mud-soaking time is 25 minutes. The egg-shaped tubs are placed among the trees and flowers to improve your experience. There are free lockers, change rooms and showers. You will have to pay for towels or swimsuits.
Adult: VND250,000
Children: VND150,000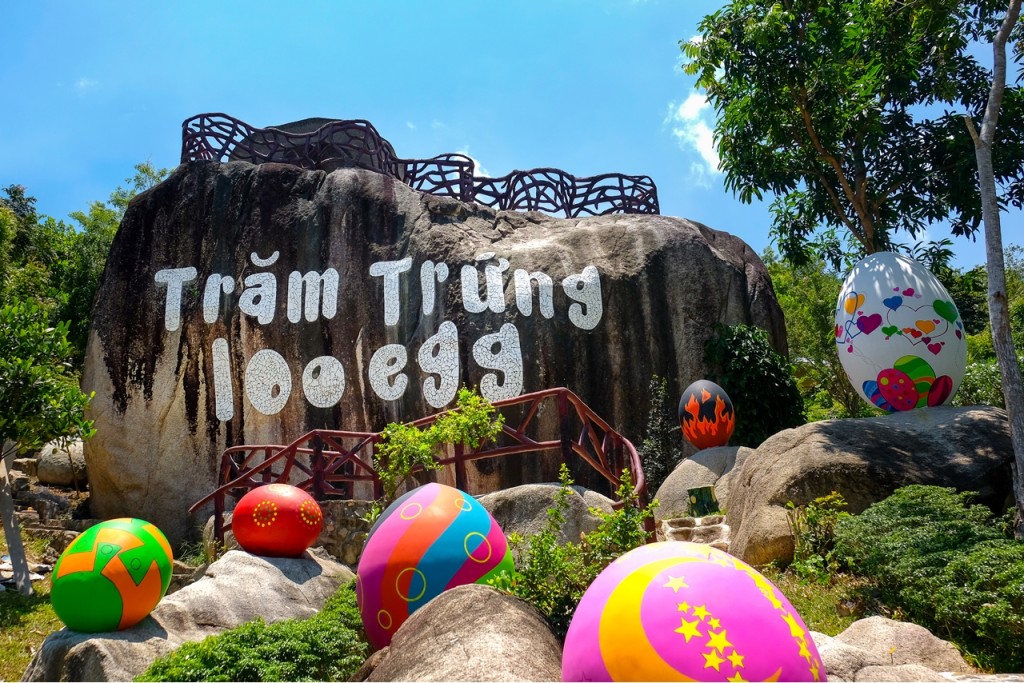 This is the perfect service for families and friends. The pools sizes can be diverse, usually from 4 to 8 people. Mud-soaking time is 25 minutes, free showers, chairs, locker room but charged for towels and swimsuits.
There are services such as buses, fire-camping, teambuilding, spa, the restaurant offering the famous egg coffee…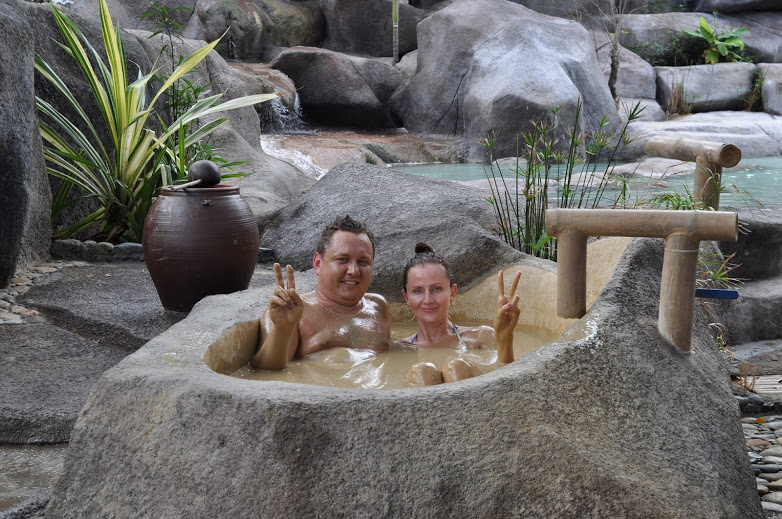 i-Resort has quality mud-bath services with very good facilities. The prices are not cheap, though.
Mineral Cosmetic Mud
VND650.000/Adult
VND500.000/Child
Special Mineral Mud Bath
1-3 person tub: VND450.000/Adult
4-5 person tub: VND400.000/Adult
+6 person tub: VND350.000/Adult
Children: VND250.000/Child
Hot Mineral Mud Bath
1-3 person tub: VND300.000/Adult
4-5 person tub: VND250.000/Adult
+6 person tub: VND230.000/Adult
Children: VND150.000/Child
Danang
Galina Danang Mud Bath & Spa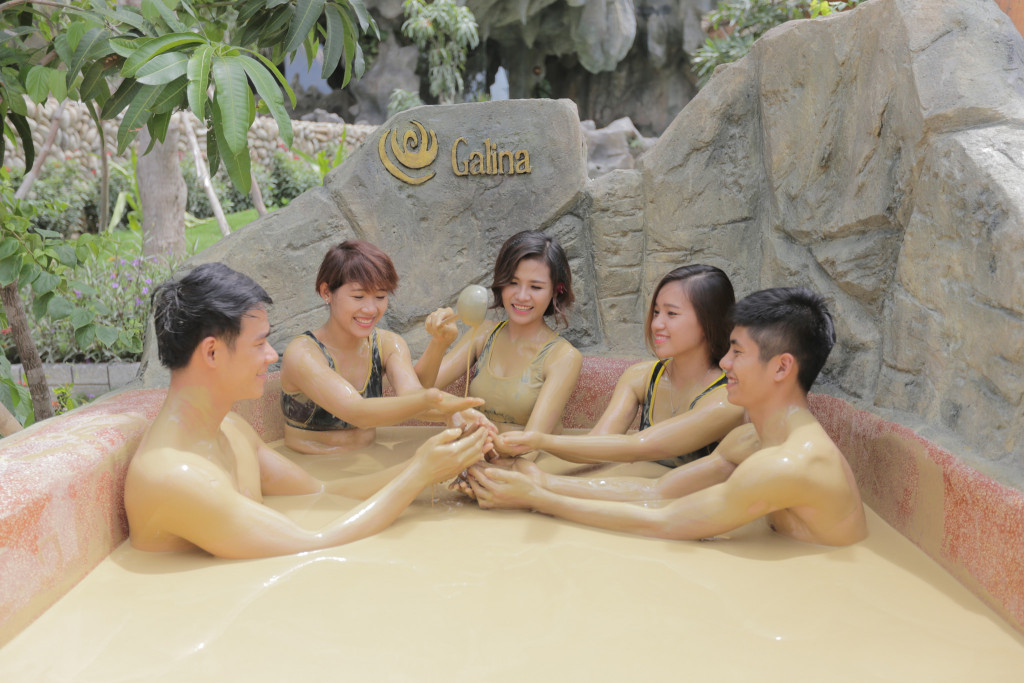 Address: 254 Vo Nguyen Giap, Son Tra, Danang
Hotline: 0919 292 797
Website: http://galinadanangmudbath.com
Located right beside My Khe beach, this place is a wonderful place to spend your time and enjoy the nature.
There are 23 large mud-bathing outdoor pools and 12 indoor pools in total, placed among trees, lawns and flowers making the whole area like an oasis.
All pools are for collective bath, you can have the whole pool for yourself but of course, the price is higher.
1-2 persons: VND360,000
3-4 persons: VND300,000
5-8 persons: VND265,000
Children (1m-1.3m): VND180,000
Children under 1m: free
Phuoc Nhon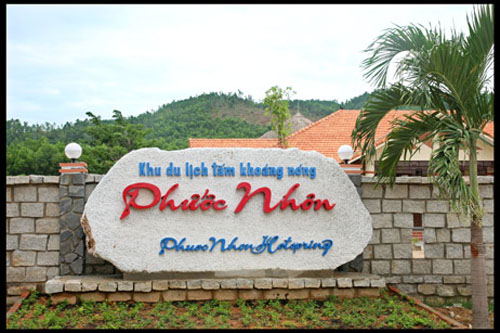 Phuoc Nhon Mud Bath is 25 kilometres southwest of Danang city centre, near the popular tourist site Bana-Nui Chua. Because of its convenient locations, Phuoc Nhon was a perfect rest place for many travellers who came to relax from theỉ mountain trip.
There are 23 mud tubs in total:
Private tub: VND300,000
2 persons: VND500,000
4 persons: VND900,000
6 persons: VND1,200,000
Vung Tau
Binh Chau Hot Spring
The hot spring is quite near to Ho Coc beach. The whole area is about 50 kilometres from Long Hai beach which can be conquered by motorbike or bus.
The mud therapy in Binh Chau is different from other places. After a hot mineral bath about 15 minutes, the mud will be mixed with cajeput oil and this mixture will be smeared all over your body. Wait for 30 minutes for the mud to dry, you will get another 15-minute hot mineral bath. This kind of mud bath costs about VND200,000-VND400,000 for one person.
Mui Ne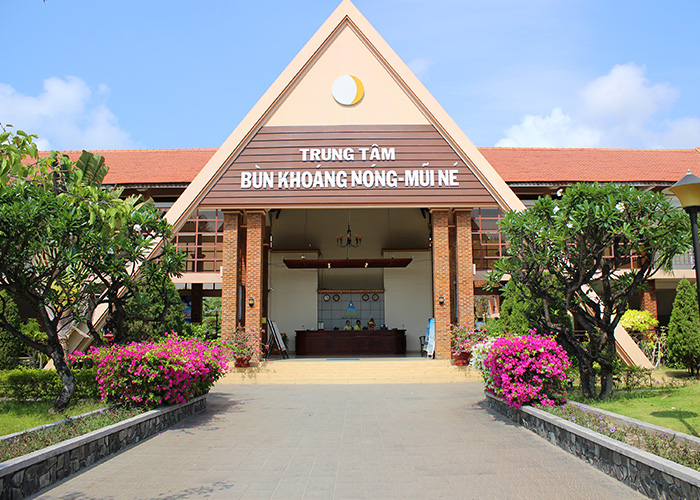 Mui Ne mineral mud centre is located at number 133, Nguyen Dinh Chieu street, Ham Tien, Mui Ne, on a high hill near Ham Tien tourist area. The place is spacious with a lot of trees and separated from all the bustling of the city. With that high level of facilities, the prices for service here are not cheap.
Perfect Mud Bath: VND760,000/tub (for 1 person) – VND5,990,000/tub (for 10 persons)
*Sauna
*Aromatherapy Massage
*Light meal
Standard Mud Bath: VND460,000/tub (for 1 person) – VND2,840,000/tub (for 10 persons)
*Light meal
*Drinks
Couple Bath: VND1,330,000/tub
*Sauna, body aromatherapy massage
*A red champagne bottle
*Light meal
Children under 1m: Free
Swimsuits, towers: free
Hot mud bath for 20 minutes