Nam Du archipelago is located in Kien Hai island district, Kien Giang province, 52 nautical miles from Rach Gia city to the West. On beautiful days, there is a trip from Rach Gia to Nam Du at 9 am at Rach Gia estuary, which is situated parallel to Nguyen Cong Tru Street. To reach the 40 km2 island and 21 big and small islands, the tourists have to spend 5 hours on the boat.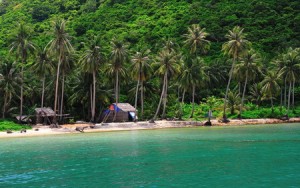 You should start the exploration by conquering Hon Lon Island, the biggest and tallest island lying in the center of An Son Commune. The 26 km tarred road will lead you to the top of Hon Lon Island of 295 m high above sea level. You can ride motorbike or on foot to be able to observe Nam Du archipelago panorama in many different heights.
Standing at the top of the island, the panoramic view of Hon Lon and other 20 islands will appear in front of your eyes. At the East is the fishing village of An Son Commune, the West is Bai Ngu fishing village and further is Hon Ngang Island with houses, boats adjoining together like a floating city. Also, there is a lighthouse on Hon Lon Island. When the night comes, this place becomes the heart of illumination of the island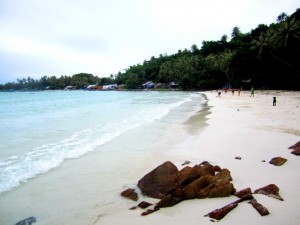 Next, you should rent a ferry to visit Nam Du's surroundings. The not to be- missed islands include Hon Nom Ngoai, Hon Nom Giua, Hon Nom Trong to the South, Hon Dam, Hon Hang, Hon Moc, Hon Tre, Hon Nhan to the North. A special feature in Nam Du's island is the amazing constituted by countless rocks similar to lava.
After visiting the small islands, you should take a ferry to Hon Ngang, the center of Nam Du Commune. The Hon Ngang wharf is the parking place of thousands of boats and nearly 60 fish cages. At the edge of the wharf place rows of side-by-side stilt houses stretching 2 km long. There is only a small 1.5 km road and not any vehicles.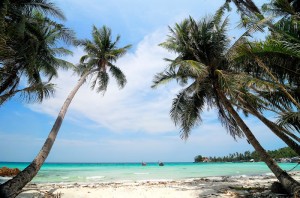 Your trip can not be perfect without visiting Hon Mau, 20 minute-boar ride from Hon Lon. With an area of 200 ha, Hon Mau is the residence of a fishing village of more than 100 households lying in the middle of two sandbanks and three beautiful rocks in the South including Chuong, Da Den, Da Trang and Nam rocks. The next spot is Hon Dau whose primitive forest accounts for 95% area of the island and Bai Ha fishing village, the most peaceful fishing village in Nam Du with 20 households and coconut gardens.