Thung Nang is a tourist destination in Dam Khe village, Ninh Hai commune, Hoa Lu district, Ninh Binh province. I is a complex of historical relics with beautiful unspoilt landscapes and the heart of tourism resources such as spiritual tourism, eco-tourism, mountain climbing…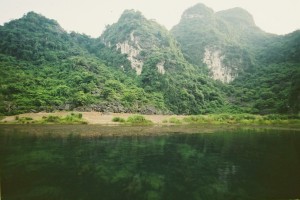 In contrast to animation in Tam Coc-Bich Dong, Thung Nang features tranquil unspoiled beauty with vast blue lake and the reflection of imposing mountains on it.
"Thung" in local language means a floodplain surrounded by mountains. Exactly as its name implies, Thung Nai is overwhelmed with water and sunlight. The sun shines everywhere, through the foliage, rustic thatched roof, and water surface, creating a blazing peaceful scene.
Thung Nang is divided into 2 small valleys. The outside Thung Nang is 3 ha wide and the inside Thung Nang has a width of more than 5 ha. The valleys are connected by a cave system inside the mountain. The deeper the tourists get inside the cave, the more beautiful the setting is due to various cave systems. Some places are so low that you have to bow your head so as not to touch the stalactites on the ceiling of the cave. There are also the places so high that you need raise your eyes to admire miraculous beauty that nature bestowed on this place.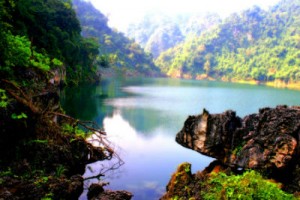 Thung Nang won over visitors not only by unspoiled nature but also by stillness atmosphere of spiritual destinations. Thoong Nang temple is quiet throughout the year leaning against the mountain; ancient stone Voi temple was decorated with elaborately carved worshiping objects. Voi temple was established in Le dynasty worshiping Ly Dong Hai, a mandarin managing mountain and forest. Thung Nang is nearby Thung Nham, primitive forest, But cave, bird garden, Ghe cave, Chau cave…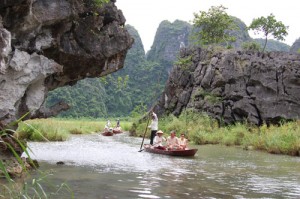 Thung Nang welcomes hundreds of visitors everyday, most of them are from Korea, Australia, England, France … The visitors are very interested to contemplate landscapes in this place. Ecosystem still remains wild characteristics as the early formation of this land – which is particularly attractive to tourists. Thung Nang is a harmonious combination between eco-tourism and spiritual destinations. It deserves an ideal weekend tourist destination for those who love nature and want to explore the untouched beauty.