Located at Van Giao Commune, Tinh Bien District, An Giang Province, Tra Su is a typical flooded forest in the Southern region.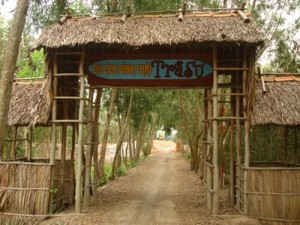 With an area of 845 ha, Tra Su is the home to about 140 plant species, 11 mammal species and 23 fish species, including rare species which have a great value in science.
Thanks to picturesque scenery and diversity of resources, the forest has become an ideal destination for researchers and visitors who would like to explore nature. September and October  is considered to be the best time to visit Tra su indigo forest because it is flooding season, the forest is incredibly beautiful at this time.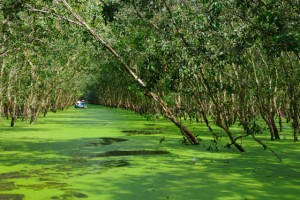 From Chau Doc, visitors could get close to Bung Tien bridge by riding motorcycle  along the way to Tri Ton and turn left. Tra Su forest is 3.5 km ahead.
Guidance on visiting Tra Su indigo forest
Transport: visitors could hire motorcycle or bicycle at Management Board of forest to take a sightseeing of Tra Su indigo forest, but the most interesting is still canoes and boats.
Eating: there is a restaurant in the forest that serves local dishes.
Residence: It is regrettable that Tra Su forest does not provide accomodation service at present.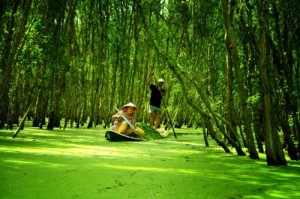 With approximately VND 250,000 (including price for boat and meal) for two people, visitors could offer yourselves a memorable trip and enjoy delicious dishes of river region. Otherwise, it costs only VND 50,000 if excluding meals.