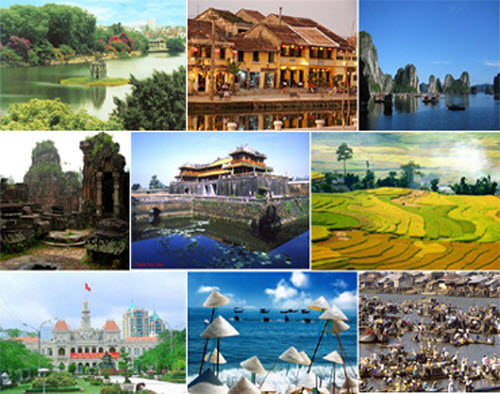 Vietnam – A young nation with ancient history and culture of their own, a vibrant economy, hard working  with inherent discipline in their daily lives, abundance of natural beauty – hills, water bodies, rain forests and miles of green fields. The country stretched S -shape with  border China in north, Laos and Cambodia in West and the South China Sea all along the East going down to the Mekong Delta. Getting Vietnam visa online was quite easy at http://www.vietnamvisa-easy.com. The visa approval letter comes in two days. Then you spend 15 minutes at Immigration Check point at Vietnam international  airports with this letter to get visa stamped onto your passport
To Vietnam, you can watch the water puppet show in a theatre at Ho Chi Minh city or Ha Noi city, then you can go on cyclos around of the city, you can learn the Vietnamese songs and enjoy the rustic food. You can walk the streets of Saigon or visit the ancient streets of Ha Noi or any other places of the country. Da Nang located next to the romantic Han River, is also an interesting tourist destination. The old buildings, pagoda and few narrow streets in Hoi An ancient. There are plenty of shops sell souvenirs you can buy. Looking out of the hotel rooms early morning, you can see the breakfast bar and those vendors selling breakfast on the way. A gas stove, a few utensils, some boiled meat and vegetables, egg,  bread and a few small chairs, tables for the customers. Vietnamese noodle soup with beef, chicken. It tasted pretty good and very fresh. Specially, it not expensive. Ba Na hills in Da Nang have the longest and highest cable car ride in the world. The place around is green with dense vegetation, streams flowing down the hill side. You could see far in the horizon. The mountains end into flat land and then merge with the sea.
To Vietnam, you can not skip Halong Bay –  is a world heritage site. The beautiful boats in the picturesque. Sellers in their small boats selling everything a tourist looks for. You can eat fresh sea food. It's very delicious. The large caves with stalactite and stalagmite designs of various shapes and sizes. Tourists from many countries come here and love it. Do you know why is Vietnam also an ideal tourist destination? It is Peaceful, cheap beyond one's imagination, people are friendly. And another important reason is that getting visa on arrival online is so easy. Go to Vietnam, you will not regret, and  like it./.