As one of the most popular tourist destinations in Vietnam, Phu Quoc allures tourists not only by breathtaking scenery but also by tasty seafood.
Travelling to Phu Quoc, tourists will be excited at delightful activities such as swimming, snorkelling, squid fishing…and satisfied with fresh dishes processed from diverse seafood resources in Phu Quoc.
Herring salad
Herring salad is very famous when we talk about Phu Quoc's tradition food. The dish is processed quite simply. Newly caught fish are gutted, washed thoroughly, then sliced into pieces before being mixed with lemon juice, finely chopped the onion, chilli. The citric acid in the juice changes the texture of the fish, without changing its "raw" taste. According to common wisdom, the lime juice "cooks" the fish – partially or completely, depending on how long it is marinated.
The fish is served with local herbs found in primaeval forests of the island, dried coconut, rice chewy paper and sour and sweet Phu Quoc fish sauces mixed with garlic, chilli and roasted peanuts.
Sea urchin
Sea urchin or sea hedgehog is another must-try dish when travelling to Phu Quoc. There are some variations of cooking sea urchins such as steam, soup or raw salad… The popular way of cooking sea urchin is grilling. Sea urchin is cleaned and roasted over a charcoal fire until you can smell the aroma. Salt and lime juice is added. You can even try a bit mustard and eat it raw with some mug of beer. The raw salad is made by adding some lime juice and mustard on newly-caught sea urchins and then being served with mustard greens.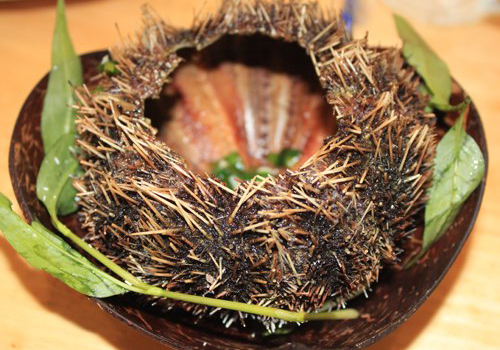 You can also enjoy sea urchin soup, sautéed sea urchin or sea urchin paste. The sea urchin meat is mixed with pepper, spring onion, good fish sauce and then deep-fried and served with roasted rice paper, herb, green banana and dip in Phu Quoc fish sauce. This is a recommended dish for any gourmets travelling to Phu Quoc.
Charcoal grilled squid
Another typical speciality of Pearl Island is. After being cleaned, the raw squids are mixed with salt, chilli and oil for 15 minutes and then grilled on the charcoal stove. The dish will be completed when being eaten with Vietnamese coriander and chilli sauce, along with a little salt and lime.