On the journey of discovering the beauty of exotic Vietnam, no one that has never see or experience Banh Mi themselves. From every corner of Vietnam city, streets and small alleys, there will always be at least one street vendor to offers you Vietnam's finest traditional cuisine, the Banh Mi. You would make a fool of yourself travelling to Vietnam without trying it, so here are our 101 guides on the crunchy, flavourful Banh Mi.
Here are some history lessons
Banh Mi shares a lot in common with other traditional cuisines around Asia, like Japan's sushi or China's dumplings, it was the cheapest source of food for poor people and up until now, through many variations, Banh Mi has grown to become a national cuisine representing Vietnam. However, Banh Mi was not created by Vietnamese people originally but rather an alternative from the French's Baguette early 19th century made by Saigon's people. They made changes to the Baguette's bread forms and quality with their take on the procession from time to time.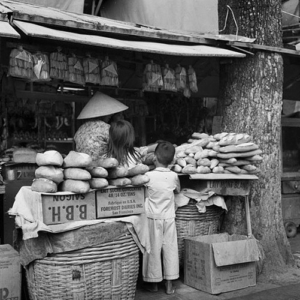 According to a common general principle, which applied for the Brick Oven, Deck Oven and Drum Oven, the baker is divided into 3 workers in the production line: The Standee who takes in and out loads of Banh Mi, The Dough Mixer and The Wheeler. The first-ever load of Banh Mi came out under French's Brick Oven during 1950-60. All of the processes are done by hand, and most importantly, the Standee must be an expert in handling the Brick Oven. The standard for Saigon Banh Mi changed in 1970 when Saigon people wanted a well-temperature, perfectly cut Banh Mi, that is when they replaced Brick Ovens with Electrical Deck Ovens. While most of the requirements are met, less work is being done handily, the process seems less dedicated than the previous one due to the fact that no workers have to take mechanically responsible for the functional of the furnace. Finally, people decided on a more authentic, closer-to-home approach by using the Drum Oven during 1975. The Drum itself represents a metal-like, no pressure barrel and a smaller size compared to the last two ovens. Moreover, the baker was more committed and dedicated to their company, many competitions were held and Banh Mi itself took a more luxury means to it.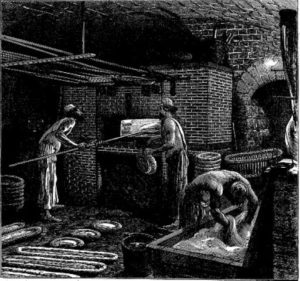 Nowadays, Banh Mi is greeted by every Vietnamese patriot, from the working class to a much younger one, Banh Mi vendors can be seen at schools, streets alleys and famous local restaurants.
From Saigon, Banh Mi has gone to the distance, spreading the basis of its ingredient which is Vietnam bread with various filling (most popular are eggs, pate, sliced pickles and some porks with hot sauce, chillies, etc.). Here is our collection of one of the finest Banh Mi variations from the South to the North.
Ha Noi
Banh Mi Nem Khoai – Bread with fried spring rolls and French fries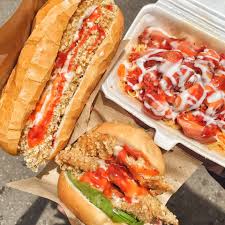 This is a very popular Banh Mi amongst students, you can find it almost anywhere near schools and colleges. Both of the bread and fillings are grilled and fries on the spot, finally with some hot chilly and mayonnaise. The average price is student-price which is 25,000VND.
Banh Mi Ap Chao – Steak Bread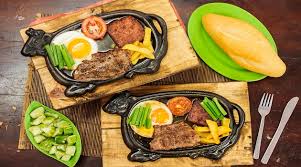 Just like the name suggests, this is an interesting variation of both Banh Mi and the classic Steak. A Banh Mi Ap Chao set is with refillable loaves of bread and steak, omelette, fries, pate, etc. on a hot pan served with soups on the spot. Guarantee to brings an addictive experienced. You can find this on many small local street restaurants, coffee/breakfast. The average price is around 100,000 – 150,000VND
Da Lat
Banh Mi Xiu Mai – Bread with Vietnamese Meatball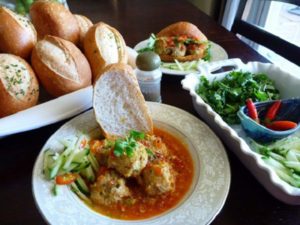 This variation concludes bread and Vietnamese Meatball served on soups. The highlight is the soup where you can add your own take of flavours. You can find this on restaurants only and the average price is of 80,00 – 100,000VND.
Nha Trang
Banh Mi Cha Ca – Bread with Grilled chopped fish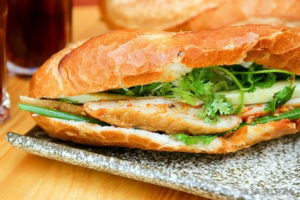 The main ingredients include Nha Trang's crunchiest load of bread and grilled chopped Cod fries on the spot. You can find yourself one exclusively on Southern Cities, e.g. Nha Trang, Da Nang, Ho Chi Minh City with just 16,000 – 18,000 VND.
Da Nang
Banh Mi Ga – Bread with Chicken cream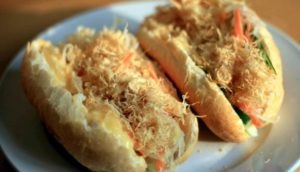 This one-of-a-kind Banh Mi comes with fresh out of the oven special loaves of bread, half in length but double in width, and a mixture of well-made chicken cream and ham with edible vegetables. Da Nang people like their Banh Mi to be super spicy so expected your tongue to be burnt! However, Banh Mi ga can only be found on their land, Da Nang, so if you want to have a taste or just being around the area, be sure to visit a bread street vendors, the normal price is only 17,00VND to 18,000VND.

Hoi An
Banh Mi Phuong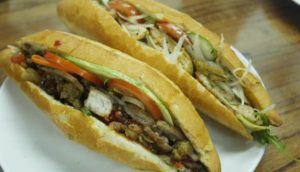 Hoi An's Banh Mi can just be sum up with Phượng's Banh Mi restaurant. It is so delicious that you can hardly order your bread without waiting in line for 30 minutes to an hour! What makes it so special is that besides hot and butter bread, you get a mixture of grilled pork and three special sauces that only available at Phuong's. You can track down the restaurant at 2B Phan Chu Trinh Street, Hoi An with 30,000VND for each.
Hai Phong
Banh Mi Que Hai Phong – The Hai Phong infamous Breadsticks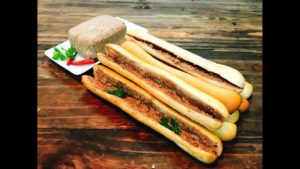 This phenomenal Banh Mi can only be found in Hai Phong back in the 80s, whats make this Banh Mi so special is that the thin, stick-like shape of the bread, the only fillings is pate and most importantly, it must be hell-like spicy! You can find this almost anywhere around Vietnam with a sign specifically said "Banh Mi Que Hai Phong", the price for each breadstick is only 5,000VND and you can never get bored of it.