After 28 days of no new Covid-19 case recorded since 13 February and the recovery of 16/16 infection cases, there were only 4 – 5 days left and Vietnam would announce to be deleted from the global list of "destinations with the risk of community spread of Covid-19". But from the night on 5th March until now, Vietnam has recorded 18 new cases tested positive for Covid-19 including 6 Vietnamese and 12 foreigners, bring the total confirmed cases of Covid-19 in Vietnam to 34th. Please follow this post to understand all the new regulations and policies for tourists coming to Vietnam as well as updating information in the country during Covid-19 Outbreak.
Specific Situation: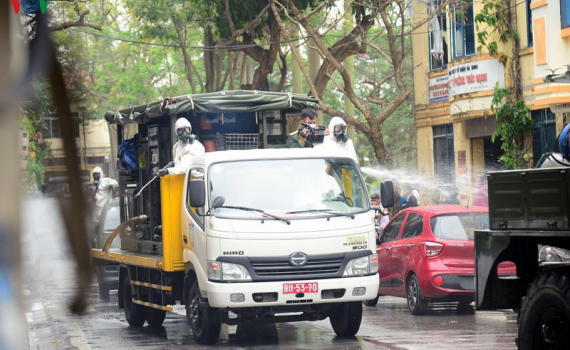 On 6 March night, Hanoi had urgent meetings and announced the 17th case of Covid-19 – the first new case after few Covid-19 free weeks. The 17th case is a 26 years old woman who traveled across European Countries during the Covid-19 Outbreak from 16 February and back to Vietnam on 1st March. She isolated herself in her house on No 125 Truc Back Street, Ba Dinh Province, Hanoi and went to Hong Ngoc Hospital. At 9:30 pm on 6 March, she has been tested to positive for Covid-19 and moved to National Hospital Of Tropical Diseases 2 to receive treatment. Over 200 people including those who had close contact, lived in the same street, and were on the same flight with this patient have been isolated and been under the medical observation.

On 7 March afternoon, Vietnam confirmed the 18th infection case – a Vietnamese man (27 years old) who was back from Daegu, South Korea. On the same day, there were two more confirmed cases which are the 17th patient's private driver and aunt.

On 8 March, Vietnam recorded new 10 infection cases: 1 case in Hanoi, 4 cases in Quang Ninh, 2 cases in Da Nang, 2 cases in Lao Cai, 1 case in Thua Thien Hue and all these cases were on the same flight – VN0054 with the 17th Case. Places and Destinations that these patients coming to have been all closed and zoned for quarantine

, which are Metropole Hotel, Golden Silk Hotel, Conifer Hotel, 5 areas in Quang Ninh Province, Van Tri Golf Club,…

On 9 March, a British man on the same flight with the 17th case was tested positive for Covid-19, raising the total cases in Vietnam to 31.
On 10 March, Vietnam confirmed 3 more cases infected to Covid-19: 1 Vietnamese woman who had contact with 17th patient in London and 2 passengers on the flight

VN0054.
Flights and Visa Policies in Vietnam during the Covid-19 Outbreak: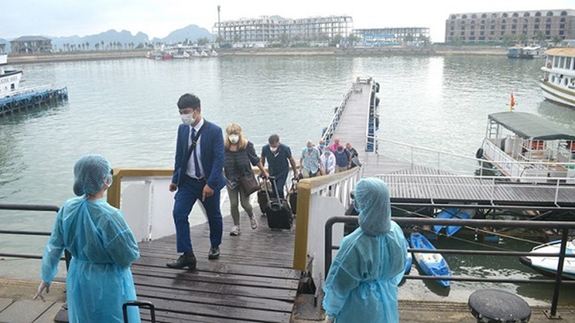 To prevent the risk of the ongoing Covid-19 Outbreak, the Civil Aviation Administration of Vietnam announced all the flights on all airlines from and to China has been indefinitely suspended while reducing the airline running routes and flights to Macau, Hong Kong, and Taiwan.

The passengers on inbound flights or having transited through 3 countries: Korea, Iran, and Italy are all requested to be screened intensively upon arrival. Tourists may be quarantined for at least 14 days in Vietnam or returned to point of departure. 

The Civil Aviation Administration of Vietnam informed to restrict commercial flights between Vietnam and Korea instead of suspending. Many airlines have been canceled and reduced flights to South Korea until the end of March or when the situation in this country is addressed efficiently.

Vietnam's Government decided to suspend visa exemptions for South Korean citizens from 29 February and Italian citizens from 2 March due to the severe Covid-19 Outbreak in these countries.

From 3 March, the government also informed to temporarily suspend the issuance of new work permits to foreigners coming from COVID-19 outbreak areas.

From 9 March, visa-free travel for citizens from 8 European countries (Denmark, Norway, Finland, Sweden, the

United Kingdom

, Germany, France, and Spain) has been canceled temporarily. The government recommended this new measure to push the stronger implementation of Covid-19 prevention and control after an outbreak of 18 new cases in Vietnam.
Entry & Exit Requirements: 
Since 7 March, besides being subject to the intensive screen upon arrival, it is compulsory for all passengers entering Vietnam to submit health declaration, which can be done by either writing a paper form on arrival or fill out a 

Digital Form

 

online in advance. This measure will help the government to take the initiative to find new infection cases easily as well as controlling the spread of the virus. Those who have symptoms such as fever, cough, and shortness of breath will be diagnosed and quarantined in designated health facilities with careful medical observation for at least 14 days.

Non-Vietnamese passengers traveling from the Covid-19 Outbreak areas including mainland China, Daegu, Gyeongsangbuk and other areas recently will be refused entry to Vietnam at this time.
In order to ensure the efficiency of Covid-19 prevention during this sensitive time, all the passengers are mandatory to follow every regulation and the health screening process upon arrival in Vietnam airports.
Safe Checklist for Travelers during Coronavirus Outbreak
Wearing Medical Mask whenever going out. Each mask should be used once and then thrown in the trash.
Washing your hand regularly, especially after touching anything in public places.
If you have any symptoms of infection such as fever, cough, and shortness of breath, you should go to the nearest hospital or clinic right away to examine.
When you cough or sneeze, remember to cover your mouth and nose with tissues/your elbow.
Avoid going to crowded places as much as possible.
Avoid contacting with or touching live animals.
Please follow the food safety rules and eat well-cooked only instead of consuming raw or under-cooked animal products.
All the new information and the situation of Covid-19 in Vietnam will be updated on VietnamVisa-Easy, so don't forget to visit our website frequently for your travel safety.