You are working or having such a good life in Vietnam, but you just run out of your time staying here and start to figure out the way to extend your visa. Visa extension is not complicated, very easy, the only point that makes it not always the best choice is the high price and sometimes limited extension length. You are looking for the alternative option but you don't know what to do and where to start, this post is a key for you, promising to solve your problems from a to z with comprehensive guides and handy tips while saving your pocket from burning. So, keep on reading!
Have you ever been heard the term "Visa Run" before?
If you have, then you could skip this part and move to the next one!
And if the answer is "Nope", now is the right time you need to know.
"Visa Run" is simply "running" from a hosting country to a neighboring country in order to get a new visa stamp and instantly return. In other words, the visa run means renewing your visa at the nearest borders to extend your stay in Vietnam.
In Ho Chi Minh City or other areas in Southern Vietnam, the foreigners often make a visa run to Moc Bai Border Checkpoint because it is easily reachable by bus (only 70km away from the city) so you can save time, energy and money. Moreover, the officers are friendly, you will feel relaxed during the entire process.
What do you need to prepare?
Before starting your journey, you should prepare some essential documents and items for your smooth visa run process to Moc Bai Checkpoint. Here is the checklist: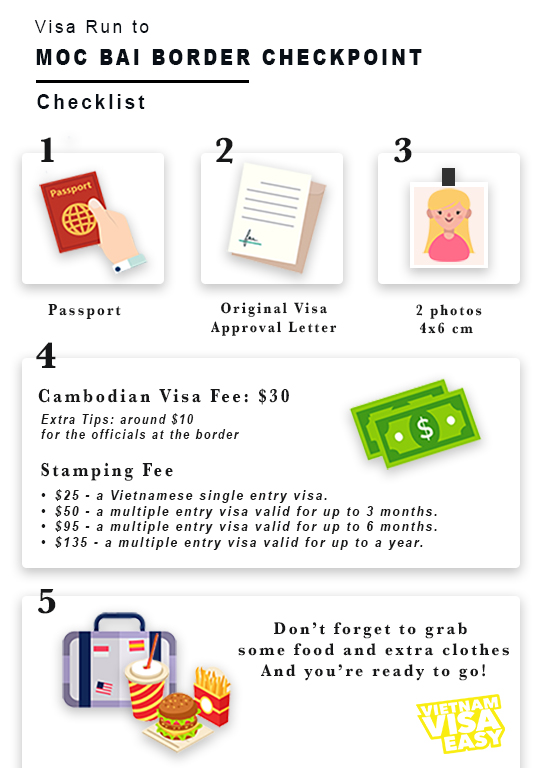 *NOTE:
How to get a visa approval letter through VietnamVisaEasy:

Please send Visa Application Form to support@vietnamvisa-easy.com with an attachment of a passport and information on the travel date, address for original visa letter delivery. If you are interested in the charges,

Click Here

for more details. 

The entry/exit form is available at the land border. It is not required form to get the visa letter. 

The Cambodia visa may be required depending on your nationality. It is important to check the Cambodia visa requirement before you go. If you require a visa to Cambodia, no worries, the Cambodia visa on arrival facility is available and easy at the border. 
Let's get started!
1. How can you "RUN" to Moc Bai Border Checkpoint?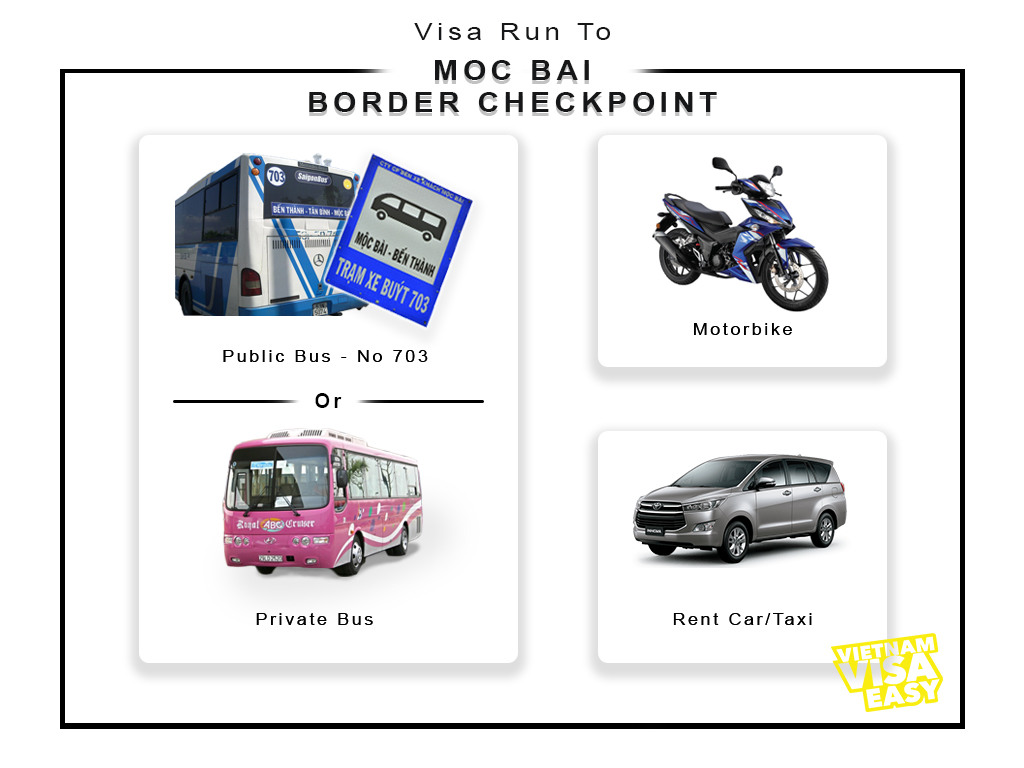 By Bus:  This is the most popular choice to arrive at Moc Bai Border because of its economical price and convenience. Taking about 3 hours to reach Moc Bai Border, buses are well equipped with air-conditioners, comfortable seats, and food for passengers, ensuring your comfort during the trip.
Public Bus: Catch Bus No 703 (Ben Thanh – Moc Bai) which usually leaves the bus station every 30 minutes.
– Location: Bus Station at Park 23/9, at the corner of Pham Ngu Lao Street and Nguyen Trai Street, District 1.
– Ticket Price: $2/person/one way.
Private Bus: Book a 

seat

from any of the agent offices.
– Recommended Transport Company: Mekong Express, Giant Ibis, Samco, etc.
– Location: Pham Ngu Lao Street. 
– Ticket Price: from $9 to $15/person/one way depending on which transport company you choose. The more you pay the more convenient and modern the bus is. 
*NOTE: Don't worry if you are required to submit your passport by conductors before taking your seat off from the bus station, as they will organize and then take your passport straight to the border officer.
By Motorbike: Driving motorbike is considered to be one of the cheapest option and the best choice for those who love discovering the strange feelings and enjoy "visa run" to Moc Chau as a real trip. But we don't recommend this option for you if you cannot suffer a hot and long-distance trip.
– Direction: Just stay on National Road 22 (QL22) from Ho Chi Minh city as it is the one main road to Moc Bai Border. 
– Driving time: around 2 hours.
– Petrol Cost: 60.000-100.000vnd.
– Parking Cost: 10.000vnd. 
By Taxi: You can rent a taxi or car to pick you up at your hotel/apartment but the rental cost is as expensive as a flight ticket.
– Price: $25-$35/ one way.
2. Entry and Exit: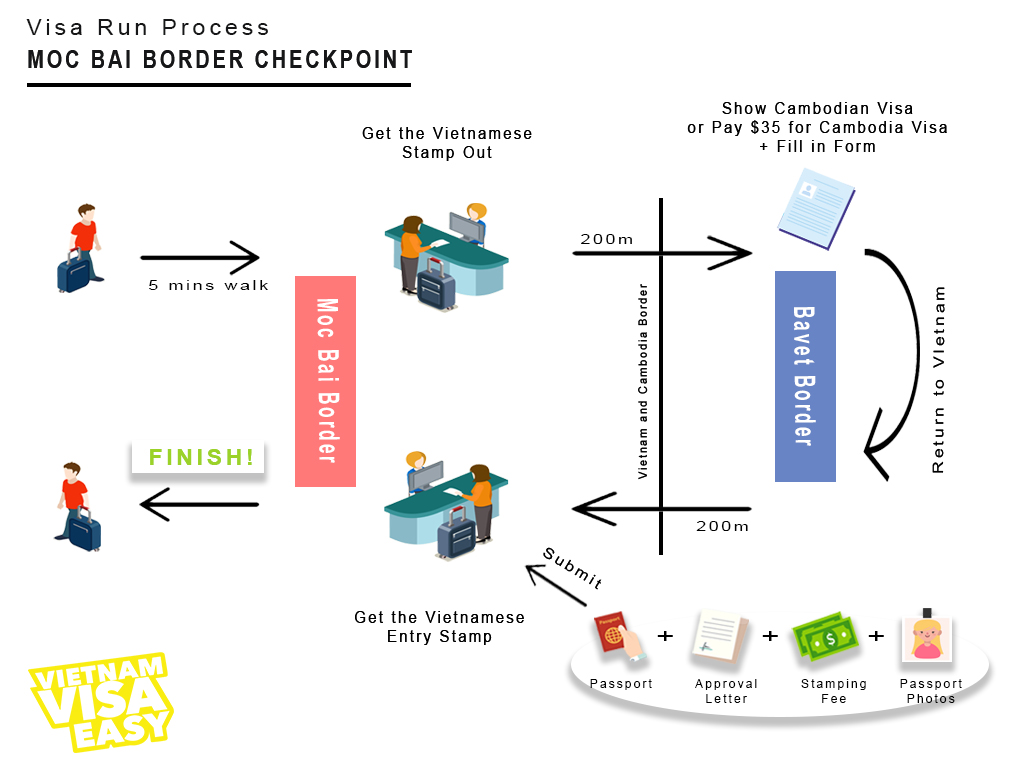 Exit Vietnam – Enter Cambodia: 
After parking your motorbike or getting off the bus, you have to walk to Vietnam Moc Bai Border Gate.

Moc Bai Border Gate is just a 5-10 minute walk from the parking lot

.

Be sure all documents ready for submission

 if you don't want any delays. In case you arrive by bus, you should follow the crowd and wait in line to get your passport back from conductors. Stand in a line, till you are granted the Vietnamese exit stamp. 
Next, walk to the Cambodia Border located 200m from there to complete the Cambodia entry

procedure

. You have to show your Cambodian visa (if you obtained it before) or get a Cambodian visa on arrival and fill in the given form.

The Cambodia visa fee is USD 35. If you are from a visa-free country for Cambodia, the entry stamp is granted for free.
Exit Cambodia – Enter Vietnam:
Moving to the next step after retrieving the stamp into Cambodia, you walk outside the building to be inside Cambodia officially and turn left to reach the exit gate. When getting the stamp out of Cambodia, the officials will ask you to

pay a service fee

 and you can pass.

Go back

to the Vietnam Border

for the visa run.

 Submit your original Vietnam approval letter, passport, 2 passport photos,

completed entry/exit form

with stamping fee

to a customs officer in the booth

 

and get an entry stamp and your passport back in a few minutes.
* NOTE: Stamping Fee
• $25 – Vietnamese single entry visas.
• $50 – a multiple entry visa valid for up to 3 months.
• $95 – a multiple entry visa valid for up to 6 months.
• $135 – a multiple entry visa valid for up to a year.
Entry & Exit Requirement during the Covid-19 Outbreak
Due to the globally spreading outbreak of Covid-19, since 7 March, foreigners entering Vietnam are requested to fill out a medical declaration form. You can either complete the paper form at the arrival airport or fill in a Digital Form online in advance. Those who have any symptoms of Covid-19 will be asked to do medical checks and be quarantined at designated health facilities in Vietnam for at least 14 days.
We are finishing the whole process of getting a new visa now! Congratulations, you can take a ride back to Ho Chi Minh city with a new visa.
If you have any questions about taking a Vietnam visa run to Moc Bai Border, please feel free to CONTACT US!
Related Post:
March 10th, Covid-19 updates: 34th confirmed cases in Vietnam.
Updating 2020: Vietnam Visa Run to Cambodia.
Vietnam Visa Run to Kuala Lumpur.