There is nothing greater than a food tour in Da Nang where you can find the best food with the cheapest prices in Vietnam. 
Street Food at Con Market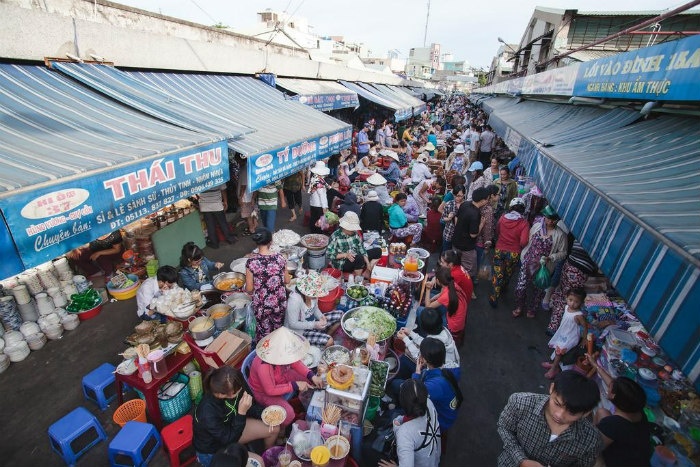 This is the best place to enjoy if you are going to do a food tour in this beautiful city. Con food market is praised as a "street food paradise" where you can find every dish of Vietnam here. The market is located at Ong Ich Khiem Street, Hai Chau district, right at the city centre very near to Da Nang railway station and not very far from other sites of the city. Many locals believe this is the largest market in Da Nang because you might easily get lost in here. As reported, Con market welcomes 11,000 customers a day with 2000 stalls. In the food area, you can see the whole section is well organized and clean. And the smell of various dishes would absolutely make you hungry. Dishes like Mi Quang, noodles, banh trang cuon thit heo, bun cha ca and banh xeo can be found at any corner. They cost you around $1-$3 for one serving or even cheaper. The desserts are also available at very cheap prices. With 5,000VND-10,000VND, you will enjoy the best taste of sweet soup in Vietnam. After enjoying your meals, you can come to other floors of the market to check out many types of products and souvenirs.
Mi Quang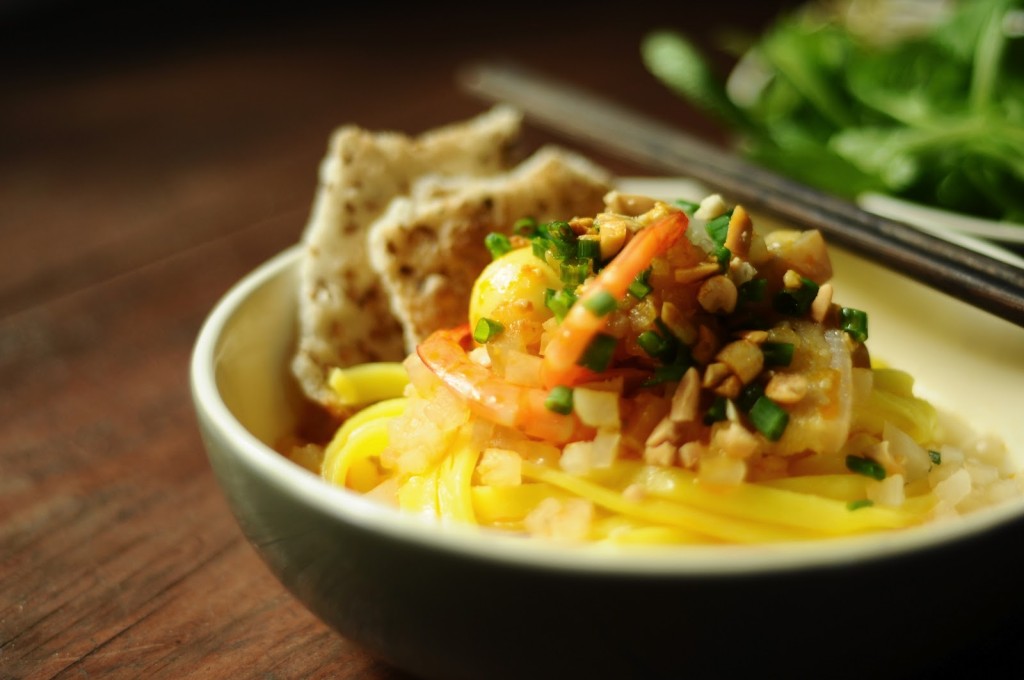 This special noodle soup is known to be the best dish in Da Nang. There are many things featured in one bowl. You can find the very distinct yellowish noodles soaking in the broth made of bones and shrimp. Top of the bowl can be pig's ribs, snake-head, eel or crab, etc. Places you can enjoy for yourself a bowl of this speciality are Hoang Dieu, Phan Thanh, Trung Nu Vuong, and Hoang Hoa Tham for 9 a.m. to 10 a.m. in the morning. If you want to have this dish as your dinner, we recommend you to Nguyen Huu Tho and Nguyen Cong Tru streets, they serve all day long. The price varies in the range of 13,000VND – 25,000VND per one serving depending on the size of the bowl, one additional egg is 3000VND.
Nam O Fish Roll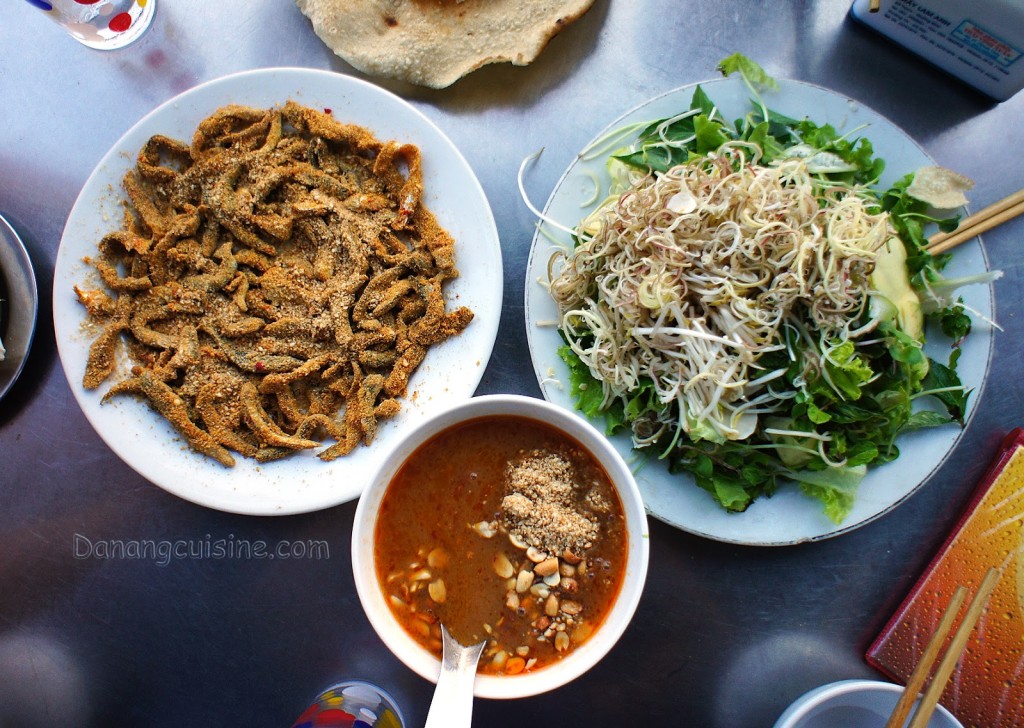 The roll can be made with raw sardine, anchovies… but the best must be fresh herring. The fish's head, tail and bones must be removed, the fish meat will be sliced thin, dried then marinated with galangal, minced garlic, lemon, vinegar…. After that, the fish fillets are coated with roasted corn and peanut powder. The fish juice extracted is then boiled and mixed with Nam O fish sauce, chillies, tapioca and some spices to make the dish's dipping sauce. The herbs you eat with the fish used to be very special leaves that can only found in Hai Van pass. However, nowadays, cucumber, mango and other herbs are commonly used instead. Use a rice paper to contain the herbs and fish meat inside then roll it neatly. Dip the roll into the sauce and enjoy the very strong and flavorful of Nam O fish roll.
To have the right taste of the dish, you must come to Nam O village where this dish is invented. In Nam O, there are many restaurants making this dish with price from 60,000VND to 80,000VND. The most famous one must be Thanh Huong restaurant located at 1029 Nguyen Luong Bang Street. However, you can come to Nguyen Tat Thanh street or Nam O bridge to find this dish, with a price of 40,000VND.
Bun Cha Ca (Noodles with grilled chopped fish)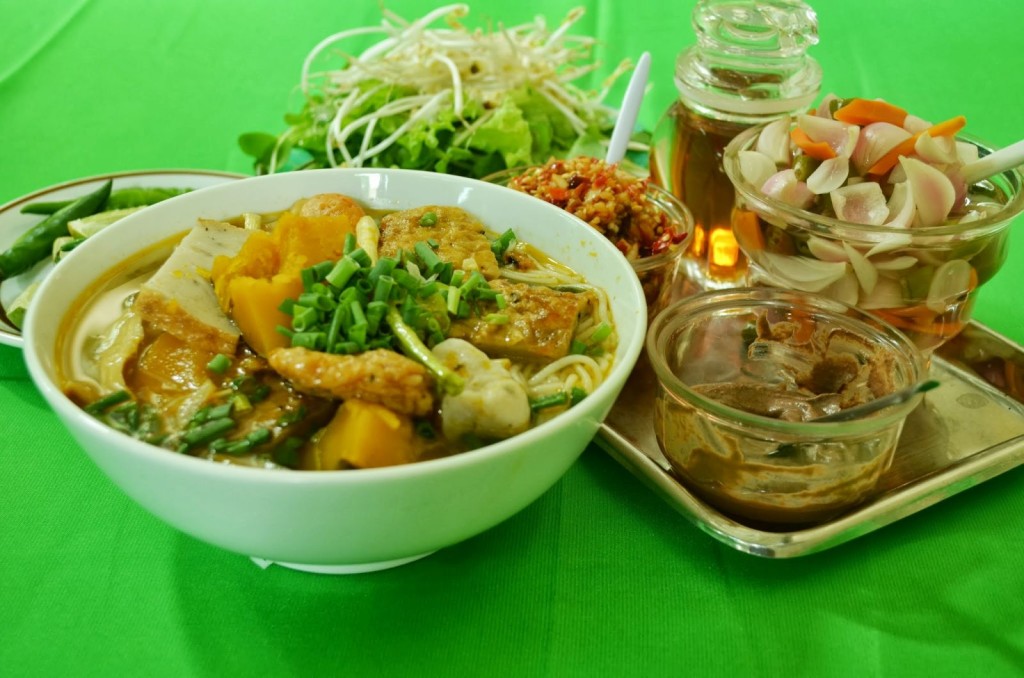 This is not only the speciality of Da Nang but also the speciality of the Central of Vietnam. Somehow the Bun Cha Ca in Da Nang is loved more than that of other regions of Vietnam. Maybe it's the light sweetness from the broth that makes eaters fall in love with, if not it has to be the freshness of the fish meat and herbs from Da Nang. This dish is served with raw vegetables, such as lettuce, basil, cinnamon, raw bean sprouts. Minced garlic and chillies and prickled onion also can't be missed to make the perfect Bun Cha Ca. Sometimes, instead of grilled chopped fish, locals prefer to use raw fish which will be poached briefly with spices. These are usually mackerel or tuna.
There are some restaurants/stalls you have to visit if you want to try a decent Bun Cha Ca. On Hoang Dieu street there is a restaurant open for all day, located near the Hoang Anh Gia Lai building. On Hung Vuong street, there is a stall selling all night. On Tran Cao Van street, opposite of Tam Toa market, a stall only serves in the morning 6 a.m. to 10 a.m. Prices range from 15,000VND-30,000VND.
Banh Trang Thit Heo (Rice Paper Roll with Pork)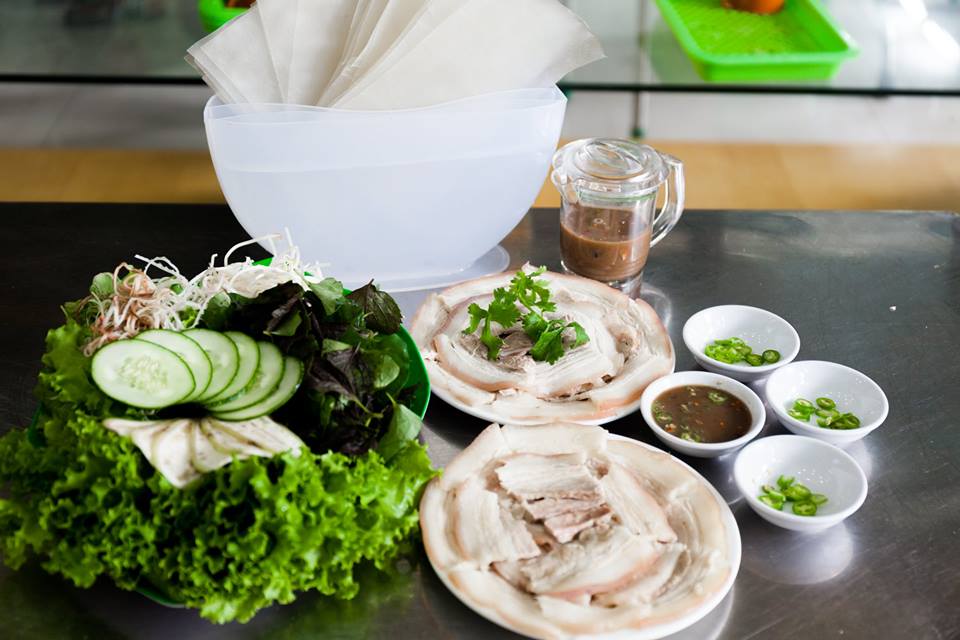 This is the most attractive and interest dish of Da Nang. Technically, you use the rice paper to roll with the pork and herbs inside then dip it into the well-made dipping sauce which is made of "mam nem" with chillies or ginger and pineapple juice. The vegetables used are sprout, lettuce, salad, herb, banana flower. The pork meat is boiled then sliced into fillets. To serve it, put a piece of wet rice paper on dry rice paper, then vegetable, then meat and roll it. Finally, you dip it into the sauce and enjoy the bite. We are sure it will surprise you.
You can find this dish everywhere. Come to Chau Thi Vinh, Hai Phong, Duy Tan, Le Duan, Do Phuc Thinh streets. The prices range from 30.000VND to 80,000VND varying from restaurant to restaurant.
Banh Xeo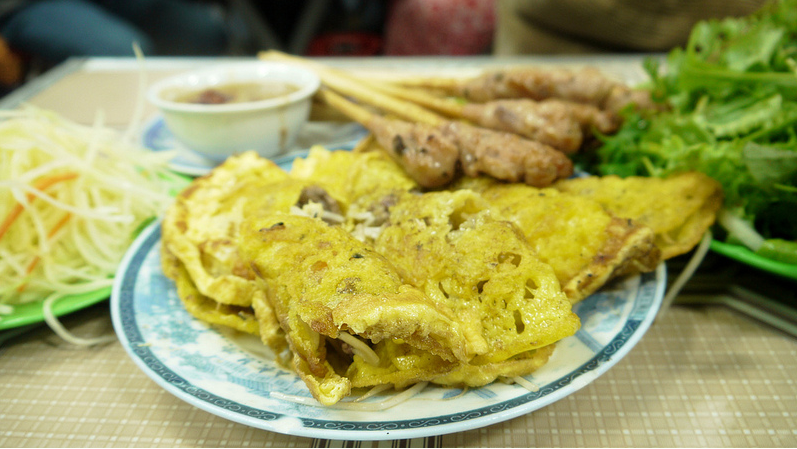 Banh Xeo made in Central regions is smaller than Banh Xeo of the south which is larger and has a darker yellow color to the crepe. But the Banh Xeo in the central region of Vietnam is famous for its very delicious and distinct taste. The fillings are specially selected with fresh shrimps, bacon and bean sprouts. The herbs are banana, lettuce and basil. The highlight of the dish must be the dipping sauce which is made from pig's live and minced peanut. An additional bowl of the traditional fish sauce can be another alternative twist of your Banh Xeo experience.
When we mention Banh Xeo, we must as well mention the very renowned Banh Xeo restaurant of Ba Duong located at the very end of Hoang Dieu street. Each plate of 6 crepes costs you around 40,000VND to 50,000VND.