Southeast Asia countries are becoming a tourism paradise for backpackers, especially those who love to enjoy their adventures on a motorbike – "motopackers". With Thailand is one of the top destinations and Vietnam also is also getting attention for its beauties and distinctiveness along with peaceful Laos and Cambodia full of wonders to discover, Indo-china is the best choice for budget travel. This article will show you how to travel around the Indo-china on a motorbike without any trouble.
Border-crossing with a motorbike is legally possible. In recent years, the laws have been loosening for tourists to go back and forth between Vietnam, Laos and Cambodia; especially when visa on arrival into Cambodia or Laos is available and very easy to obtain at the border checkpoints. Crossing from Vietnam into Thailand or from Cambodia to Laos is possible but difficult to do so.
Things to know:
Visa on arrival into Laos or Cambodia from Vietnam and Thailand is available at the border crossings. However, travellers crossing from Laos, Cambodia and Thailand into Vietnam are required to obtain a visa in advance; there is no VOA at Vietnamese border checkpoints.
It is best to arrive in Vietnam first, and you buy a Vietnamese registered bike. You can cross into Laos and Cambodia with a Vietnamese bike and back. Laos-plated bikes are only allowed into Vietnam if you are the registered owner of the bike. With a Cambodian bike it's not guaranteed if it can be crossed into Vietnam; please update us if you have real experience on this.
Prior to 01/01/2015, you can only be allowed to drive/ride legally in Vietnam if you have a Vietnamese driving license. The law now accepts IDL (International Driving License). So technically you can drive/ride in Vietnam when you have IDL and your driving license issued at your home country. If you don't have the DL, your IDL is in no use.
At the crossings, in easy cases, they might not even ask for the blue card, you just need then fill customs papers, pay for the bike, and visa on arrival. However, the crossing procedure's result depends very much on the officials and their mood, so in some cases, it might be more hassle. And it would be ultimately impossible if they ask for carnet de passage – a document that is not normally required – or they ask you to go back to the capital to have "permission". We suggest you call your embassy in the country to ask them for help.
Crossing procedure:
First, do Immigration, then Customs (mostly filling forms)
You can skip the health check
The price for visa on arrival for Laos and Cambodia varies for each national and at each border crossing. Officially, it's mostly $30 or $35. They might inflate it to $45, but you can pull some trick to haggle it down
$20 for the bike
There is a stamp fee at both sides which will cost you $1-$2. This fee is unofficial but very hard to not pay. You can challenge them by requiring for a receipt. They might waive the fee or, if you are unlucky, tell you to go back
The whole process normally takes you about 1 hour
Required Documents:
International Driving License (IDL): this document which is issued by your National Automobile Association allows the holder to drive a private motor vehicle in any country that recognises IDLs. To be valid, the IDL must be accompanied by a valid driving licence.
Driving License: an official document or card which shows that you have the legal right to drive a vehicle
Blue Vietnamese Registration Card: this is the registration card of the bike and proof of ownership. This is the most important document of the bike. Technically, when you buy the motorbike from a local, you have to show up with the person at an authorized office to change the name on the card into your name. Practically, names aren't really important as long as you have the card matching the license plate and identification numbers on the bike. Except for some countries that require you to be the real owner of the bike, like Thailand.

This blue card is the proof of registration and ownership
Vietnam has 19 official international border crossings, about half of which are crossable with a Vietnamese motorbike.
X: impossible to cross
<–>: crossable with Vietnamese motorbike
?: unclear information
| | | | | |
| --- | --- | --- | --- | --- |
| From Vietnam | Crossing with motorbike | To | Province in Vietnam | Nations |
| Mong Cai | X | DongHung/DongXing | Quang Ninh | Vietnam/China |
| Huu Nghi | X | BangTuong/Ping Xian | Lang Son | Vietnam/China |
| Lao Cai | X | Ha Khau/Hekou | Lao Cai | Vietnam/China |
| Tay Trang | ? | Pang Hok | Dien Bien | Vietnam/Laos |
| Na Meo | <–> | Nam Xoi | ThanhHoa | Vietnam/Laos |
| Nam Can | <–> | Nam Khan | Nghe An | Vietnam/Laos |
| Cau Treo | ? | Nam Phao | Ha Tinh | Vietnam/Laos |
| Cha Lo | ? | Na Phao | Quang Binh | Vietnam/Laos |
| Lao Bao | <–> | DanSavanh | Quang Tri | Vietnam/Laos |
| Bo Y | <–> | PhouKeua | Kon Tum | Vietnam/Laos |
| Le Thanh | <–> | AndongPech | Gia Lai | Vietnam/Cambodia |
| Hoa Lu | <–> | TrapeangSre | Binh Phuoc | Vietnam/Cambodia |
| Xa Mat | ? | TrapeangPhlongPir | Tay Ninh | Vietnam/Cambodia |
| MocBai | <–> | Bavet | Tay Ninh | Vietnam/Cambodia |
| Dinh Ba | ? | Bon Tia Chak Cray | Dong Thap | Vietnam/Cambodia |
| ThuongPhuoc | ? | Kaoh Roka | Dong Thap | Vietnam/Cambodia |
| VinhXuong | ? | KhaormSamnor | An Giang | Vietnam/Cambodia |
| Tinh Bien | <–> | Phnom Den | An Giang | Vietnam/Cambodia |
| Ha Tien | <–> | Prek Chak | Kien Giang | Vietnam/Cambodia |
VIETNAM/LAOS CROSSINGS
Two countries share 6 international border crossings in total. You are allowed to take a Vietnamese-plated motorbike into Laos and back. You can also take Lao-plated bike into Vietnam only if you are the registered owner of the bike. Do not forget the BLUE REGISTRATION CARD because you will need to show it to the officers.
Na Meo/Nam Xoi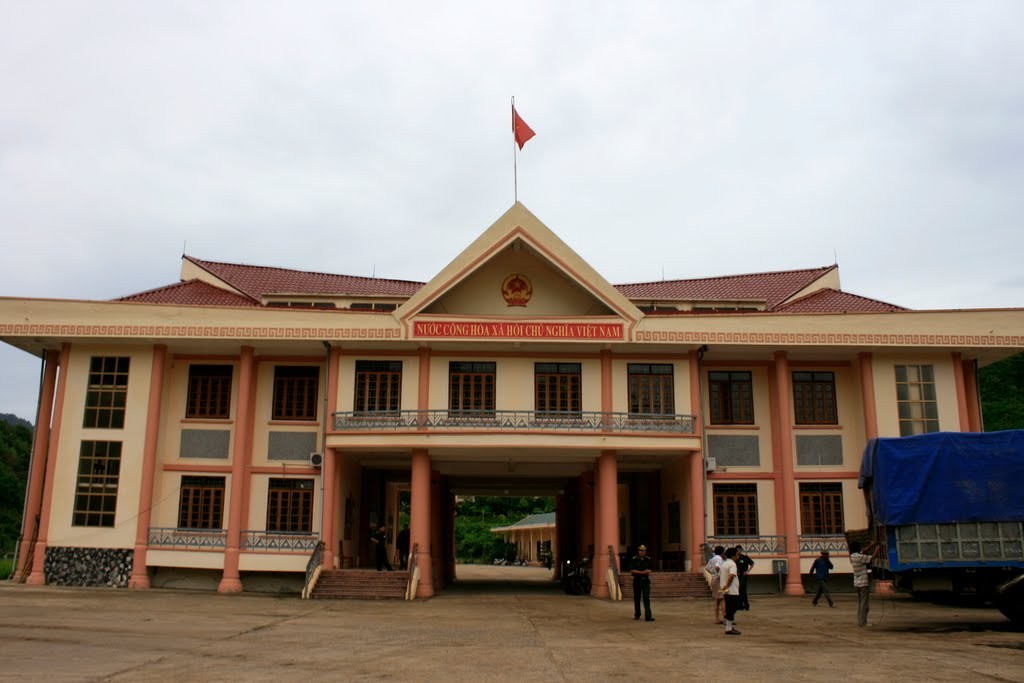 This crossing has the fastest and most convenient procedure. You can easily bring your motorbike into Laos and back without any problem. At the crossing, Vietnamese officers will have you pay them $20 for an "import from". You will have to hand this paperback when you leave Laos with your bike. The price for a Laos visa on arrival is inflated to $45 (while it's officially $30) but we aren't recommending you to try haggling on that. Be careful of the roads.
Nam Can/Nam Khan
Located near Phonsavan in Laos and Vinh in Vietnam, the two crossings are open to tourists. There shouldn't be any problem with crossing with your motorbike as well.
Cau Treo/Nam Phao
Cau Treo and Nam Phao are quite near to Vinh, Nghe An and Lax Xao in Laos. There are reports that Laos side no longer takes in Vietnamese-plated motorbikes.
Lao Bao/Dansavanh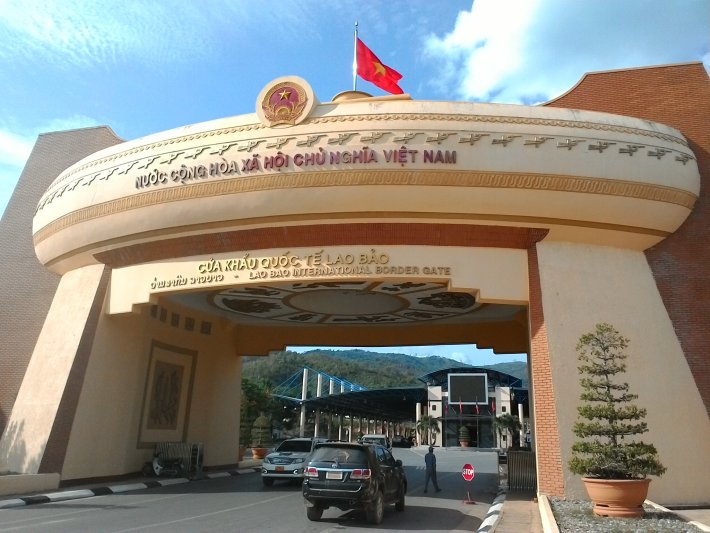 Lao Bao is definitely crossable with your bike. This crossing is not too far from Hue city and the roads are in good condition and convenient for travelling.
Bo Y/PhouKeua
Located between Attapeu, Laos and Kontum, Vietnam. There are no issues at these two crossings. The border officials in Laos and Vietnam did not ask for any bribes, fees or extra money to cross. Absolutely hassle-free.
Tay Trang/Pang Hok
We have conflicting reports on this border post. It's hard to cross with a motorbike at Tay Trang border gate, Dien Bien Phu province. Until 2016, only the motorbikes with local plate number (27) are allowed to cross here. If you rent a local motorbike with a blue card, you might have a chance (rental motorbike from other provinces just don't work).
VIETNAM/CAMBODIA CROSSINGS
Taking Vietnamese-plated motorbikes into Vietnam is possible but there isn't credible information on the other way. Vietnam and Cambodia share 4 international crossings now which are crossable with the bike out of the total 9.
MocBai/Bavet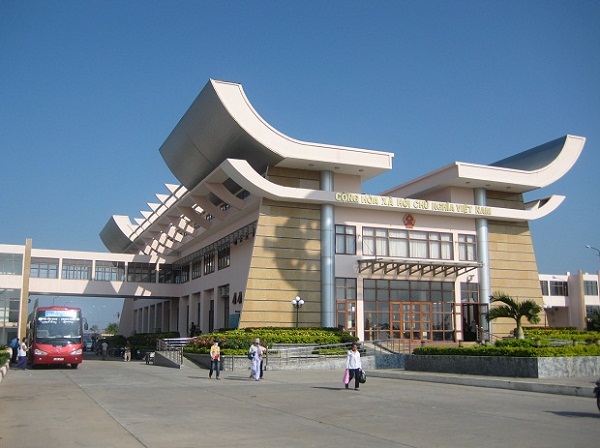 This is probably the busiest crossing between Vietnam and Cambodia. Buses running through from Vietnam to Cambodia regularly choose this border gate. MocBai is the best choice if you start at HCMC wanting to go to Cambodia's capital Phnom Penh. Bringing bikes into Cambodia is possible although you might be asked for a bribe or extra fees.
Le Thanh/AndongPech
The two gates link Banlung, Cambodia and Pleiku, Vietnam. The crossing with motorbike should be expected to be easy with no problem. Especially, the officials don't overcharge you the visa on arrival fee, fixed $30.
Tinh Bien/Phnom Den
Tinh Bien gate is close to the famous tourist town Chau Doc while Phnom Den is next to Kep and Kampot. No problem with crossing border with the bike.
Ha Tien/Pre Chak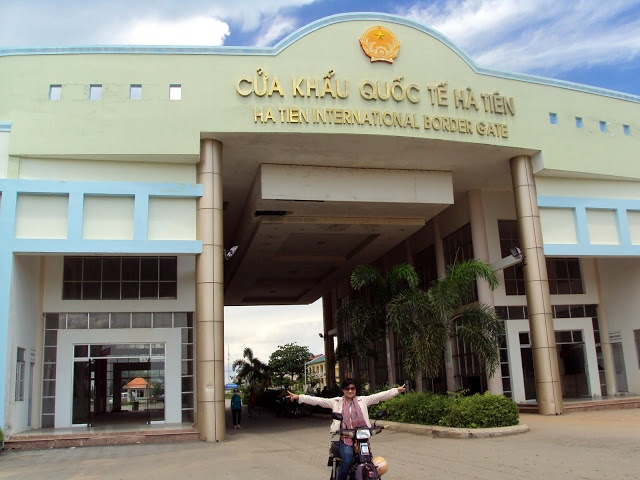 The Ha Tien crossing is not located in a remote region and there are signs to guide you to the gate. The roads are also in very good condition. The procedure takes you about one hour, no hassle at all.
Hoa Lu/TrapeangSre
Thank Joel's information (comment section), now we know Hoa Lu border crossing at Binh Phuoc is an easy one. The visa on arrival into Cambodia is charged at $30 and the motorbike was free.
Of other Vietnam/Cambodia crossings, we don't have the official information or real experience on the possibility of crossing with a motorbike. If you have any credible information or stories with these crossings, please update us at the comment section.
Laos/Cambodia Crossings
According to the laws, no statement is found on crossing Laos/Cambodia borders with a motorbike is illegal. Recently, it's has been more difficult for foreign travellers due to corruption. The only legal border crossings between 2 countries are Veun Kham/Dom Kralor. However, nothing very nice is going on here. There are stories about if you cross one country into the other, they let you cross Laos or Cam but stop you at the other country's border checkpoint. There they say you can't cross the border with a foreign motorbike, making it harder by asking you for carnet de passage document. Eventually, they will advise you to sell your bike on the other side and catch a bus to continue or accept to let your bike through but with a very high charge.
Crossing border into Thailand with a motorbike
It's hard but it's possible. You are allowed to cross into Thailand with a Cambodian or Vietnamese motorbike. Unlike crossing with a Vietnamese bike into Laos or Cam, Thailand requires you to be the correct registered owner of the bike which means your name has to be on the blue card. Documents that need to be filled:
Immigration: Information of Conveyance, Crew List, Passenger List if you have a pillion
Customs: Temporary Import / Export Form
You have 30 days to exit and you have to inform which border you will exit at.
Note:
Do not attempt to hide your motorbike, or cross the border illegally (hiring locals transferring your bike through another way, etc.)
HOWEVER, you shouldn't mention your motorbike first unless the officials ask you