Temple of King Dinh Tien Hoang is located in Gia Phuong commune, 16 km from Ninh Binh city to the Northwest. It was constructed on an area of about 2,500 m2 of Van Bong village.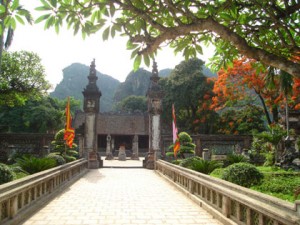 The temple was built in the shape of a Chinese character including 3 parts facing west. The first one is the worshiping place comprising 5 rooms which were designed like village hall. Harem places Dinh Tien Hoang's statue of nearly 2 m in height. The legend said there was a stone "long sang" (bed of the king) built in post Le dynasty in the middle of the temple's ground and semicircular pond in front of the temple.
In 1993, the Temple of King Dinh Tien Hoang in Gia Phuong commune was recognized as national historical relic by State.