If you intend to visit Hue this summer, spare your time to read the following tips. They may be very helpful for you.
Tourist destinations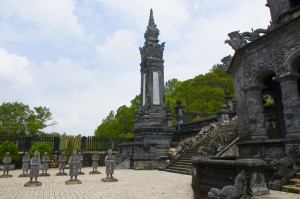 The most popular tourist destinations in Hue are the tombs. From the big tombs such as Khai Dinh tomb (Ung Tomb); Gia Long tomb (Thien Tho Tomb); Duc Duc tom, Tu Duc tomb (Khiem Tomb), Thieu Tri tomb (Xuong Tomb); Minh Mang tomb; Dong Khanh tomb; Hue Imperial Citadel to small constructions like Hon Chen temple. The highlights of the tombs are beautiful location which is imposing, poetic and the harmonious combination between mountain and river as well as the main architectures and subsidiary architectures. Also, the elements like architecture, carving, art or legends associated with each tomb partly make the tombs more attractive in the eyes of the tourists.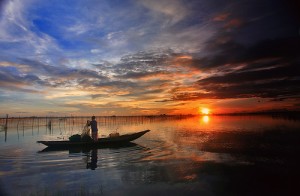 There is one thing that you should keep in mind is that the tombs do not stay close together, so if you travel in groups or with family, you should catch a taxi to save time and energy. To understand thoroughly the beauty of the tombs and not miss interesting details and architectures, you should buy a guide book to prepare yourself necessary information before starting the exploration. The tour will require you to constantly move, thus you should prepare sunscreen tools, shoes, sandals. Year-round cloudy Bach Ma National Park and picturesque Lang Co with white sands, blue sea are next not to be –missed destinations in Hue. We would like to reveal a secret for nature lovers that there are 2 favorite sites of the locals on the way to Bach Ma and Lang Co. They are Vung Voi and Canh Van beach. Moreover, seafood at these places is much cheaper in comparison with Lang Co.
The third tourism complex is Tu Hieu, Tu Dam, Dieu De pagoda… of which the most outstanding is Thien Mu pagoda, one of the most famous beautiful and ancient religious architectures in Hue.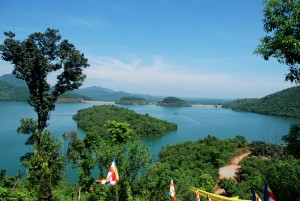 Besides, you could partake in a wide range of activities in Hue such as admiring the sunset on boat, yachting Huong River, visiting Tam Giang lagoon, wandering in Thien An pine hill, bathing in Tan An stream, resting at Thanh Tan hot mineral springs; visiting handicraft villages, shopping in Dong Ba market. If possible, you could stop over at historical vestiges like Hue national high School, Thanh Toan tiled bridge, Van Mieu, Ho Quyen, Vong Canh hill, Phu Cam cathedral…
 Transport
By public transport
Depending on your budget and time for the trip, you could get to Hue by bus, train or plane. The best way is to get information at bus station, train station or airlines ticket agent.
Private transport
If the road is over 300 km, you should use public transport for energy saving and safety. When reaching the tourist destination, you could rent motorbike or take a taxi to travel.
There are 4 ways to move among the landscapes in Hue. They are motorbike (young people of small group), taxi (family), cyclo and car rent.
In the evening, you could buy a ticket (VND 60.000/person) to listen to Hue folk songs on Huong River. It is much cheaper than the group rent a whole boat.
When to go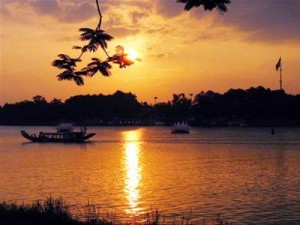 You could travel to Hue any time in the year. However, if you would like to admire the sunset on the river, summer is the best time. The duration from October to December is considered as rainy season in Hue, so you should not go to Hue at this time.
Accommodation
Hue's center consist of Le Duan, Hung Vuong, Hanoi streets… You should base on these routes and your schedule to choose the perfect hotel convenient for you movement. Once more thing, remember to book in advance.
The affordable hotels for the tourists are Citadel, Dai Quang, Dang Quang, Dong Duong, Dong Loi.
Hue specialties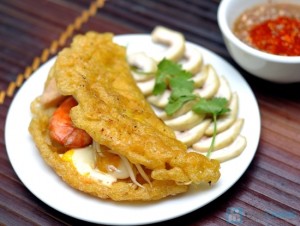 The must-try Hue dishes are com hen, bun bo, banh khoai, nem, chae, tom chua, me xung, hat sen, banh phu the…. Please take note that Hue dishes are rather spicy. Therefore, you should prepare food for yourself if you can not eat spicy food.
Popular restaurants in Hue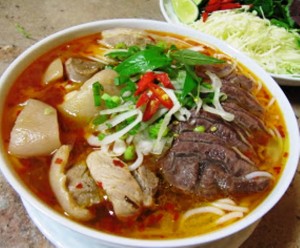 Che hem in Hung Vuong, bun bo Hue in Ly Thuong Kiet street, bun hen and che bap in Vi Da village, banh nam loc in An Dinh palace or Ba Do restaurant in Chi Lang street, nem lui and banh uot thit nuong in Am Phu restaurant in Nguyen Thai Hoc street.