Vietnam has nearly 9000 markets all over the country. This number only can clarify the important role of the market in the daily life of Vietnamese people throughout long history. Most of the markets in Vietnam aren't touristy therefore they are authentic in a sense you see the raw bustling daily life of a local community.
Related: Markets in Vietnam
Dong Xuan Market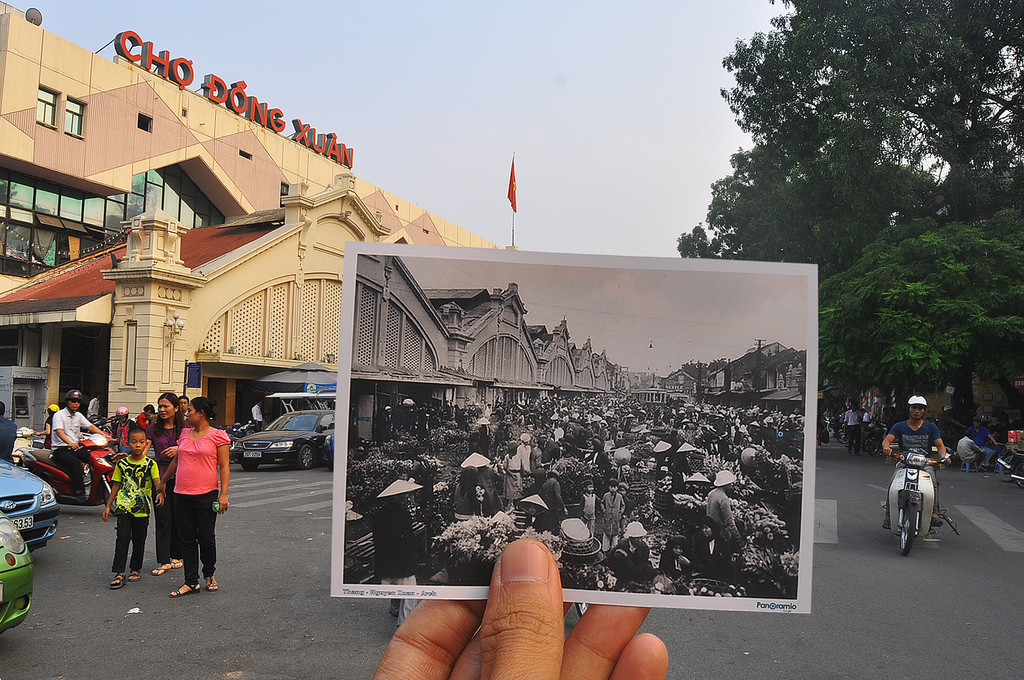 Address: near Hang Khoai street, Old Quarter
Dong Xuan Market in Hanoi is where you can find the largest daily market in Hanoi and the famous night market every weekend. Dong Xuan market is also one of the oldest markets that still remain until today with a history of hundreds of years from Nguyen dynasty.  The market is located in the heart of the Old Quarter, surrounded by many crowded streets. In 1804, Dong Xuan market was first built by Nguyen Van Thanh in the big plan of Thang Long citadel's reconstruction so it makes the hundreds of year market still much younger than the Old Quarter's streets. In the year 1890, the French rebuilt the market with a French-styled façade. In 1994, the market caught a big fire which caused serious damage. Nowadays, Dong Xuan market is mostly for wholesale, retail takes a rather small part. Dong Xuan market has three floors: the first floor with clothing, glasses, footwear, electronic equipment, the second floor is for adult clothing and silk retail and the third floor with items for babies.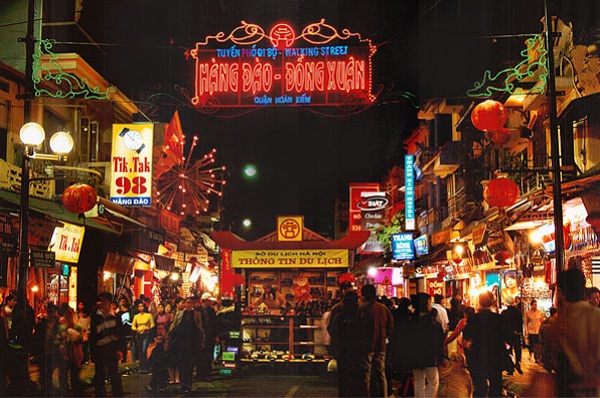 Dong Xuan market is also a historical site which witnessed the fierce battle between Vietnam resistance units and the French. Today, the market has become a "must-visit" destination in Hanoi where you can find anything from fresh food, beer to home appliances. However, the market is not a tourist market; therefore you should be aware of pickpocket and overcharging. Bargaining is very common in all markets in Vietnam; the sellers often offer prices higher two or three times when selling to foreign tourists. One more thing you should notice is the parking sign: if you buy bicycle or motorbike, look for any sign that declares the parking fees which shouldn't excess 3,000VND for motorbike and 1,000VND for the bike. We recommend you to visit the market on foot to avoid any of parking trouble.
Long Bien Market, Hanoi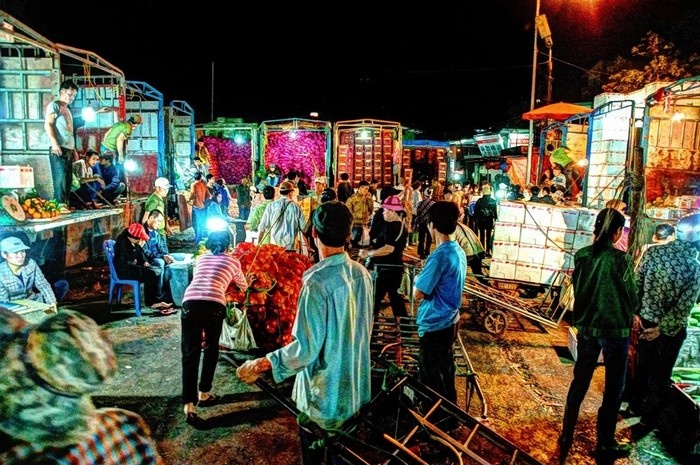 Address: near Long Bien bridge and behind Tran Nhat Duat street
Long Bien is a fruit and vegetable wholesale market or flea market and the second-largest market in Hanoi after Dong Xuan market. Long Bien market is also the trading hub for many traders from surrounding provinces such as Bac Giang, Bac Ninh, Phu Tho, Ha Nam… and suburb districts of Hanoi like Gia Lam, Dong Anh, My Duc and Chuong My. There is just one word to describe how the market is like Madness. Long before the dawn, stallholders from local wet markets, restaurants and other businesses gather at Long Bien to stock up for a new day and make it the busiest scene of the Old Quarter. Fruit and vegetable trucks from the countryside, other provinces and China arrive in between 1:00 AM to 6:00 AM. Many tourists have made their effort to wake up at very early hours just to have an insight into the daily market life and get overwhelmed with its bustling, busy and rushing atmosphere. This may be not a thing to tourists but with local people, it's an exciting feeling when you can hear many accents of Vietnamese at one place. It's also exciting to bend into the traffic of busy traders who are either counting money, or bargaining for an acceptable price, or arguing over the quality of the products; and the fast motorbikes and porters with boxes, bags and baskets full of fruits weaving through the narrow space. And just as the daylight comes off, street cleaners invade the place and sweep away what is left from a busy night.
Recently, Long Bien market has been a part of the Hanoi night trip that several tourists do. A troll on the old bridge at very early morning taking in the mere view of Red River and the vibrant colours of the market would be an unforgettable experience in Vietnam.
Dong Ba Market, Hue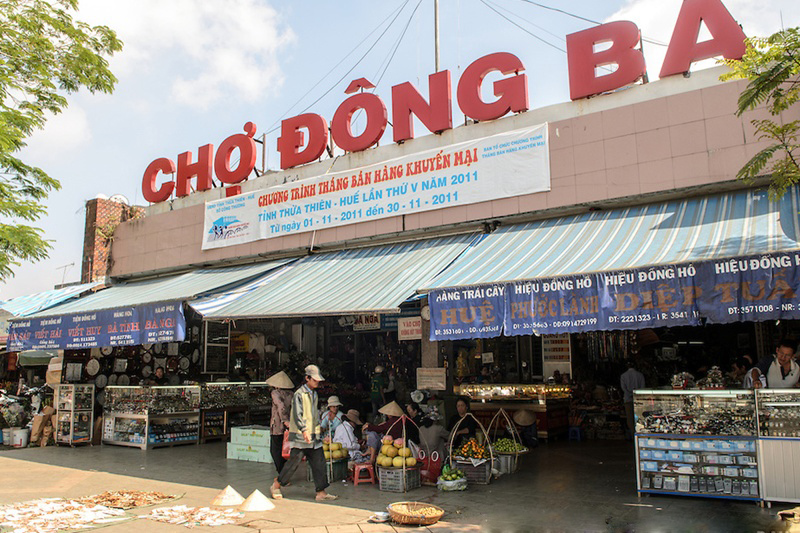 Address: no.2 Tran Hung Dao Street, Hue city
Dong Ba market is a 100 years old market, located right on the main street of the royal city of Hue and just 100 meters away from Truong Tien bridge making it very easy to find. Under the reign of King Gia Long, this market was named as Qui Gia which means "the market of the ones who returned" after the war. In 1885, the market was destroyed by French soldiers then rebuilt in 1887 by King Dong Khanh and the name changed to "Dong Ba". The market supplied food for the royal citadel, migrants, schools and soldiers… and now does for the restaurants and hotels. Through many ups and downs, Dong Ba market as of today has 4 sessions in four directions: front, back, right and left, three floors, with hundreds of stalls. Dong Ba is the first place you should visit if you want to buy some fine souvenir and gifts of Hue such as Phu Cam conical hat, silk paintings, clothes, jewellery, and other crafts,… on the first floor of the market. But it's not the highlight, we can't miss some delicious street dishes at Dong Ba like the famous Bun Bo Hue, hundreds of cakes and one of them is the time-consuming thick mung bean rice cake which was dedicated for only the kings in the past. We also have grilled nem, sticky rice, dried fishes, snails, and renowned colourful Che Hue.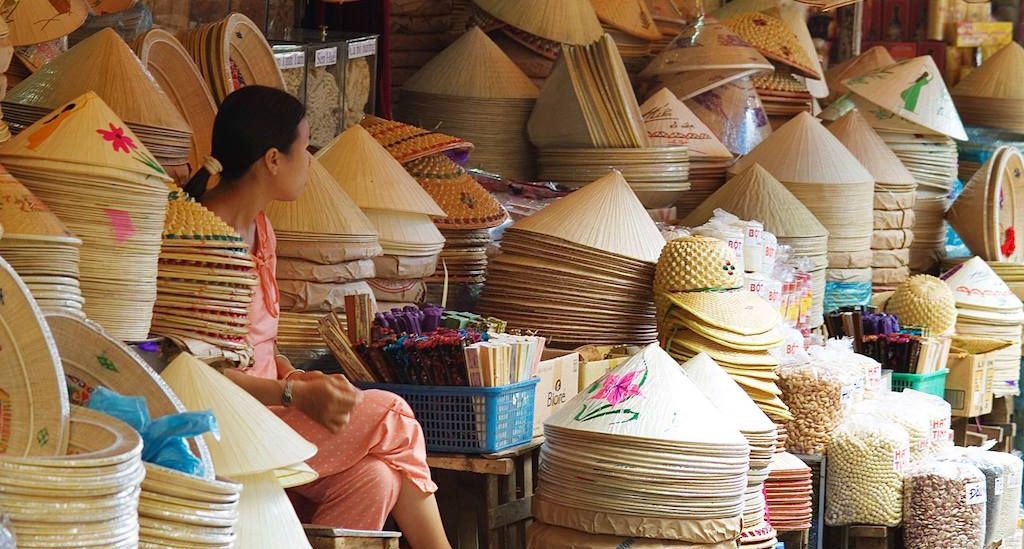 Dong Ba market would make a wonderful stop in your city tour around Hue and it might be the one that keeps you staying for the most of the time. Coming here you will just not only enjoy the good food and pretty items but also the politeness of the sellers, cleanness of the stalls and cheapness of the price.
Dam Market, Nha Trang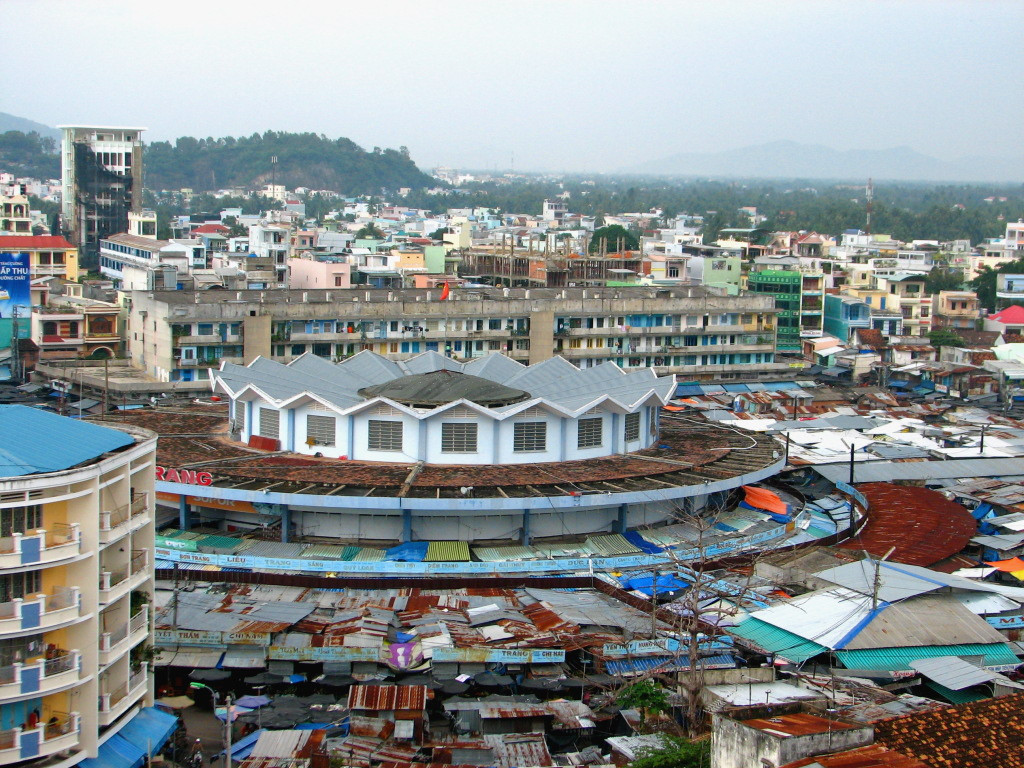 Address: Ben Cho, Van Thanh, Nha Trang city
Dam market is the trading hub, commercial icon, tourist destination, historical landmark and unique architectural construction of Nha Trang city. The word "Dam" as in "Dam Lay" which means swamp can tell you a little about the market's history. Dam market was first built in 1908 near a 7 hectare dried swamp. However, it had to move and be rebuilt when the population increased rapidly. In 1964, the local government decided to build the new market in a round shape with a very special roof that resembles a lotus. But in 1968, a big fire destroyed 126 houses. And eventually, in 1969, the swamp was filled by sand and the market was soon to be finished. With a total area of 5270 square meters and capacity of 3000 people at a time, Dam market lived up to the expectations. However, in 1975 the political conflicts played a great part in slowing down the growth of the market. For the future, there is a plan to renovate the whole area of the market to make it more organized and safer.
As it appears today, the lotus-like main building which is called "Round market" has three storeys with two main merchandises that are souvenir/gift and seafood. Just outside of the market, you can see a great number of glasses, hat, clothing and souvenir shops. The semicircular food pavilion has a "com chay" (vegetarian food) which is pretty famous. Dried seafood like fish, squid, cuttlefish, shrimp, jellyfish and seaweed are many.
Ben Thanh Market, HCMC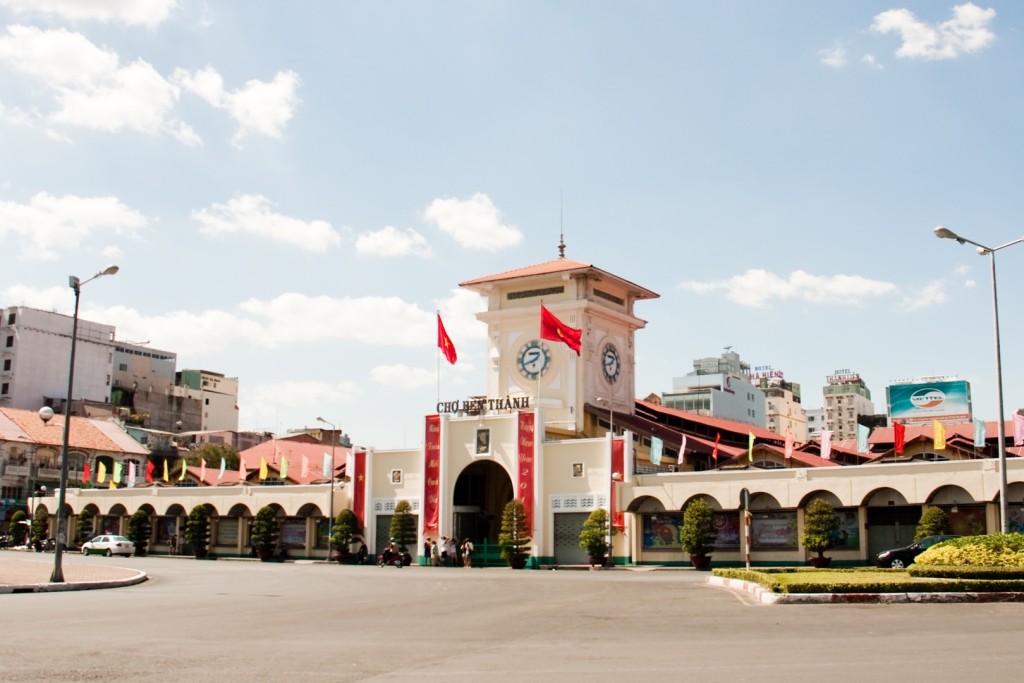 Address: 32-30, 36-34-32-30 Phan Boi Chau, Ben Thanh, HCMC
Ben Thanh market is also an icon and a historical landmark of Ho Chi Minh city. The market was there even before the French invaded Gia Dinh citadel (the old name of Saigon/HCMC). In Vietnamese, "ben" means quay and "thanh" means citadel. The market was located close to a river quay which is the gateway for soldiers and visitors to enter Gia Dinh citadel. Both the quay and market were named "Ben Thanh". The market was burnt to the ground when the French took over, rebuilt by the French and relocated to its today's location also by the French.  New Ben Thanh market was built in 1913 and finished in 1914. Until now, Ben Thanh market is over a hundred years old and has become one of the "must-see" attractions of HCMC.
The latest version of this market has 12 sub-gates and 4 main gates facing four big roads. The south gate or the main gate is where you can find silk, clothing and dried foodstuff. North gate has fresh food, flowers, and fruits. East gate is full of cosmetic shops and confectionaries and lastly, the west gate with full of footwear, handicrafts and souvenirs…. The food area is large and you can find many northern dishes like com tam (broken rice), hu tieu, banh canh… and even dishes from other regions. However, the food here is not cheap at all.
Ben Thanh market is quite touristy therefore it's organized and clean. There is a wide variety of items and products here or probably everything. For the best shopping experience in Vietnam, know more about the bargaining culture which at least will help you feel more confident.