You will be surprised by the creativity and styles of this wonderful dorm-homestays only in Dalat!
TRE's House – 419A Vo Truong Toan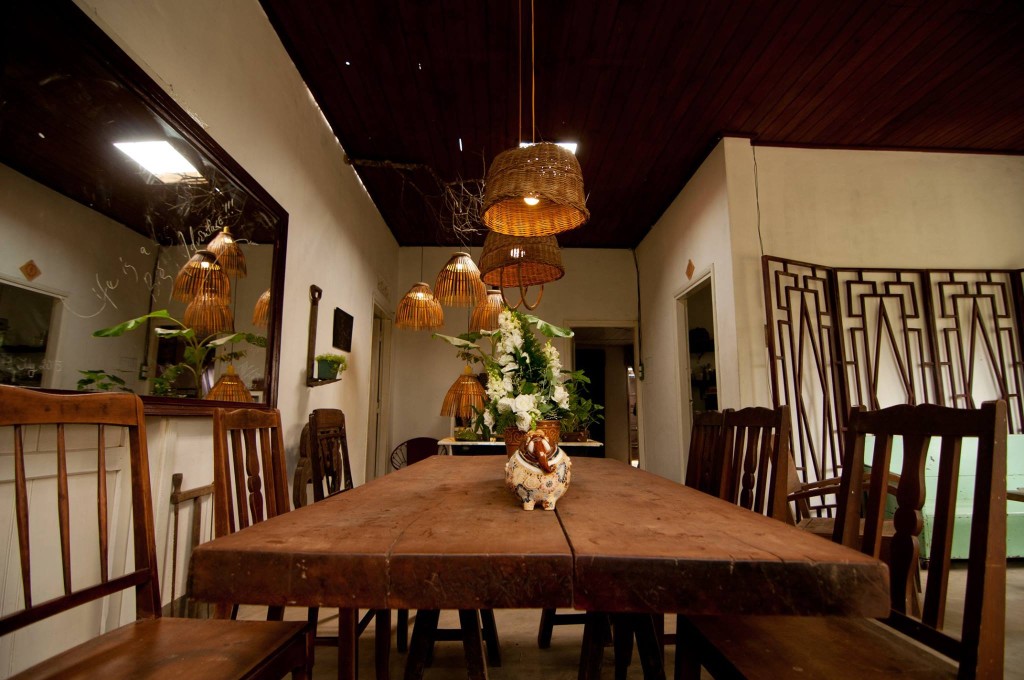 Although named as TRE (bamboo), but it seems there is no… "tre" at TRE's house. However, there is a reason for the name. The first impression you have with TRE must be how hidden and mysterious the entrance of the house is. Second, you will be overwhelmed by the familiarity and friendliness that this space brings to you. All furniture in the house is recycled products made of wood or bamboo (that's why). Have you ever felt like you time travelled at the moment you step inside an old house? Although is not very old, but TRE's house is rustic enough to make you feel that way. It's like time has been frozen in the house in each old wooden armchair, table, bookshelf and even a…typewriter. Decorated with colourful flowers here and there, the house is filled with that French vintage vibe which absolutely is eye-candy for those who love photographing. A special thing about TRE's house is that all the furniture and décor are collected and one of a kind. If there are 6 chairs, they have to be 6 different chairs.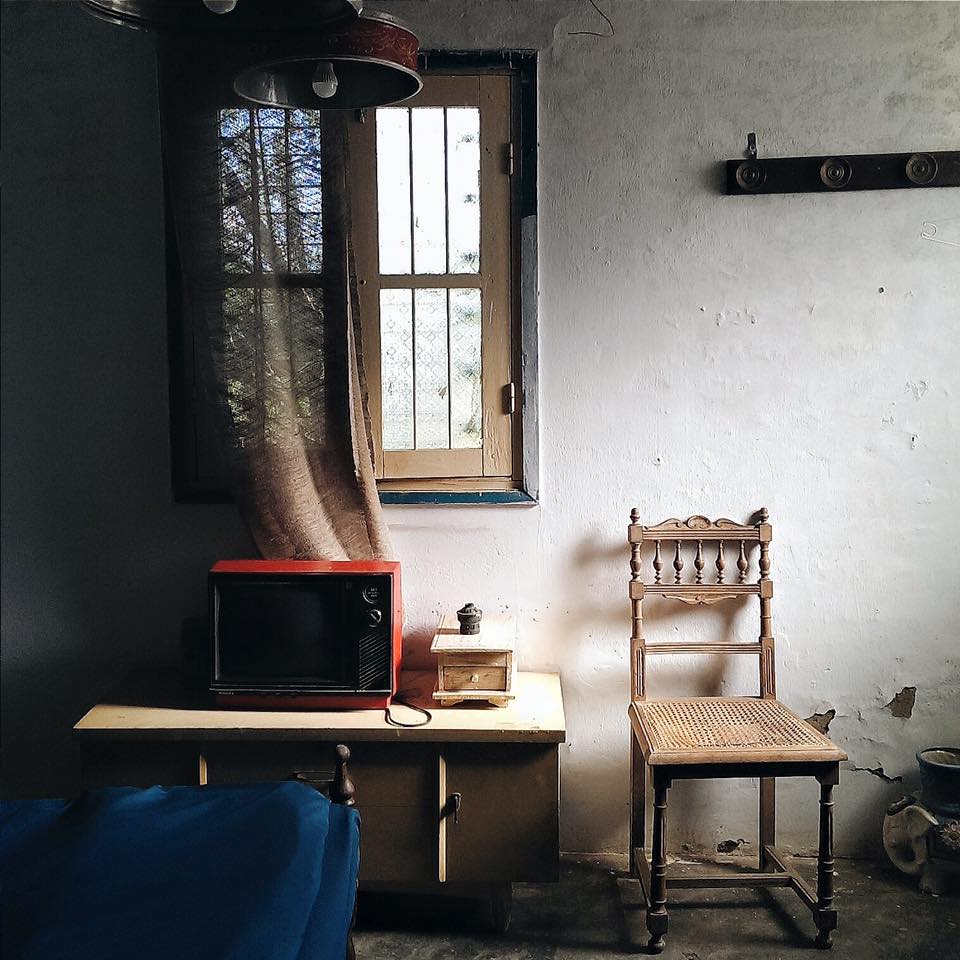 There are two kinds of rooms like in every other homestay in Da Lat: bedroom and dorm room. There are 3 bedrooms with 3 different furnishing styles. Some European features like fireplace are placed among the very 70s Vietnamese things like a wooden armchair, old table fan, cassette… you can easily recognize in any Vietnamese family 30 years ago. The rooms are full of natural light and the bathrooms full of trees!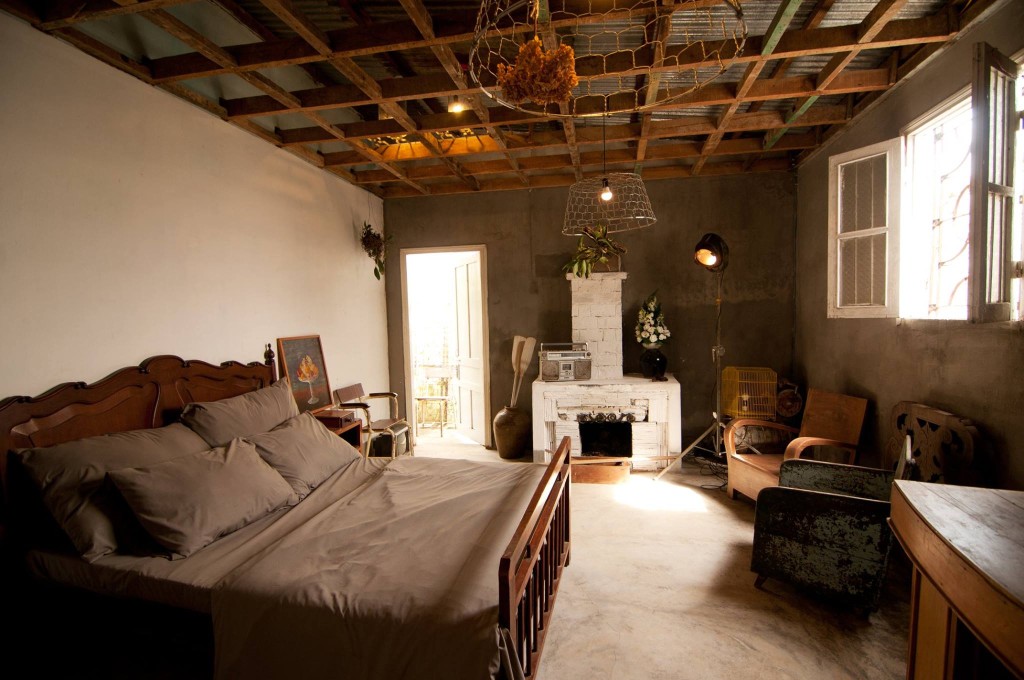 Dorm rooms are places of fun for youngsters. There are about 10 beds placed near each other. Each bed has a pretty curtain hanging on a bamboo bar to separate the room if you want privacy. The dorm is also full of light and plants.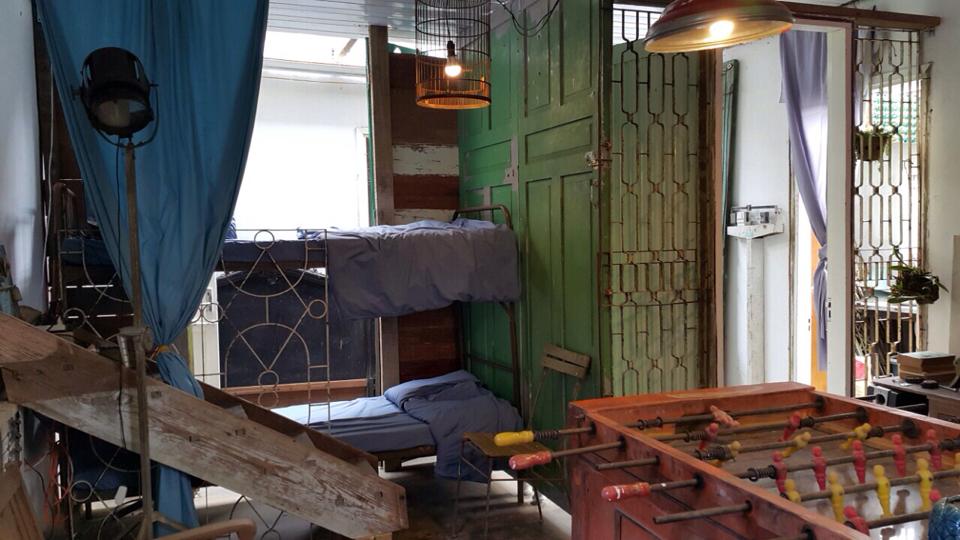 The kitchen and washing area are shared places. The kitchen is quite stuffy and small but there are a lot of things you can use, even …. a double organ. To a Vietnamese, these places are very familiar and just feel like home.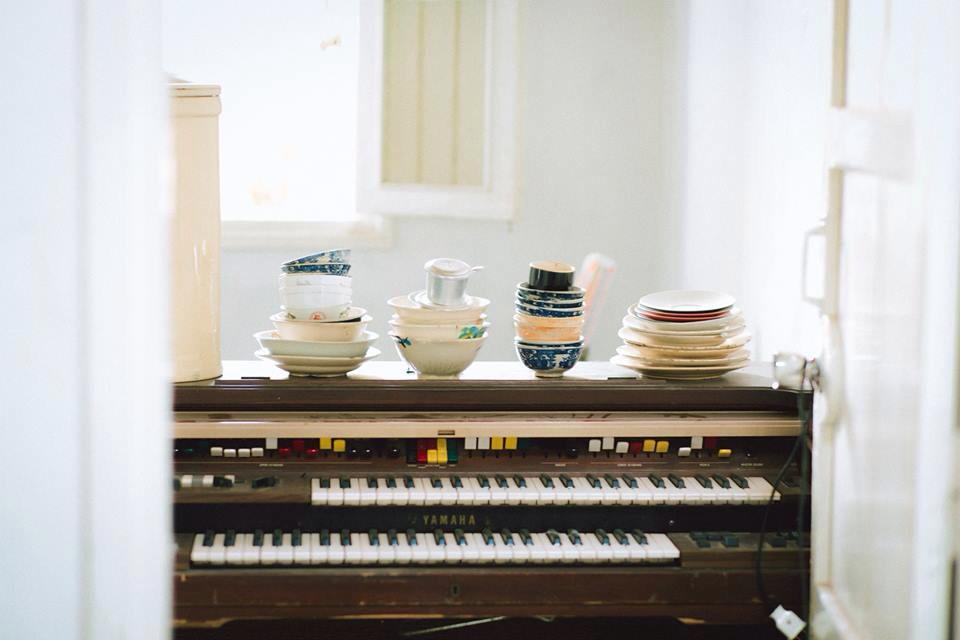 A speciality of TRE we can't ignore is the unique European-vibed garden at the back of the house where you can enjoy the sight of green cabbage rows and bales of straw. At night, this is the perfect place to make a bonfire, or BBQ party.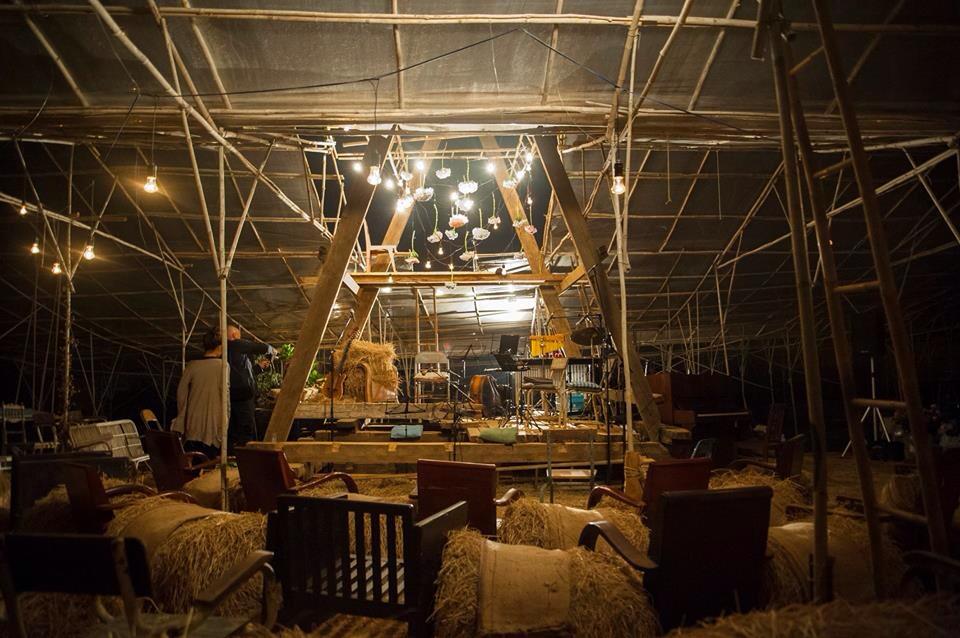 Guestroom: 400,000VND – 550,000VND per room per night
Dorm: 150,000VND per bed per night
LA NHA (Is Home) Homestay – 77 Hang Dieu Street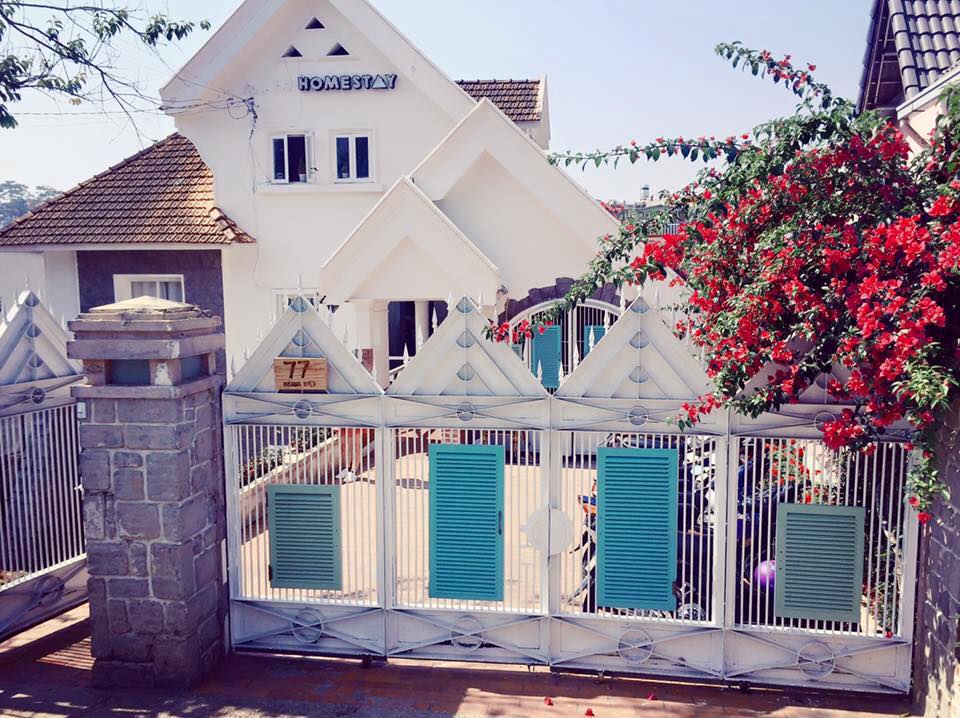 La Nha (Is Home) lives up to its name – being the sweet home to every guest that comes. The homestay gets you from the very moment you look at its gate. La Nha was a former villa as many other villas at Hoang Dieu street until Đình Dzũ – a famous photographer – transformed it into a little paradise as of today. White is the main theme of the house, from the outside to the inside. The living room is very spacious with a lot of windows and a modern design. The U-shaped lounge is adorned by a bunch of colourful pillows.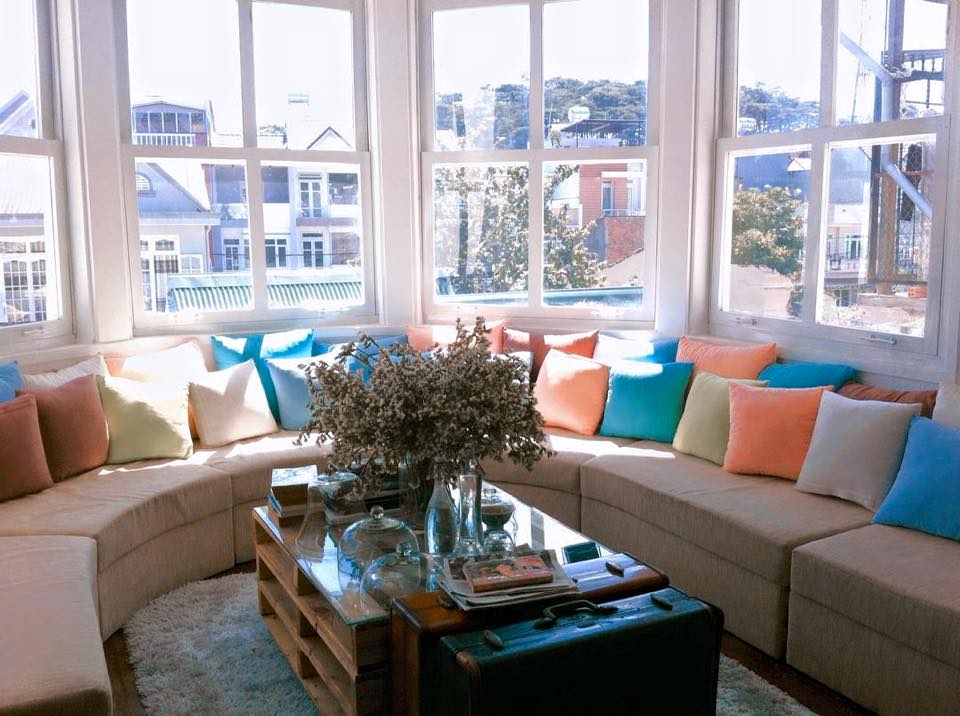 Each room is very simple in design but clean, comfortable and full of light bringing to you a relaxing feeling as if you are at home. There are some old items collected by the host which will remind a nostalgic feeling of an old Vietnam. The rooftop is dedicated to book lovers who just want a silent and peaceful corner to read.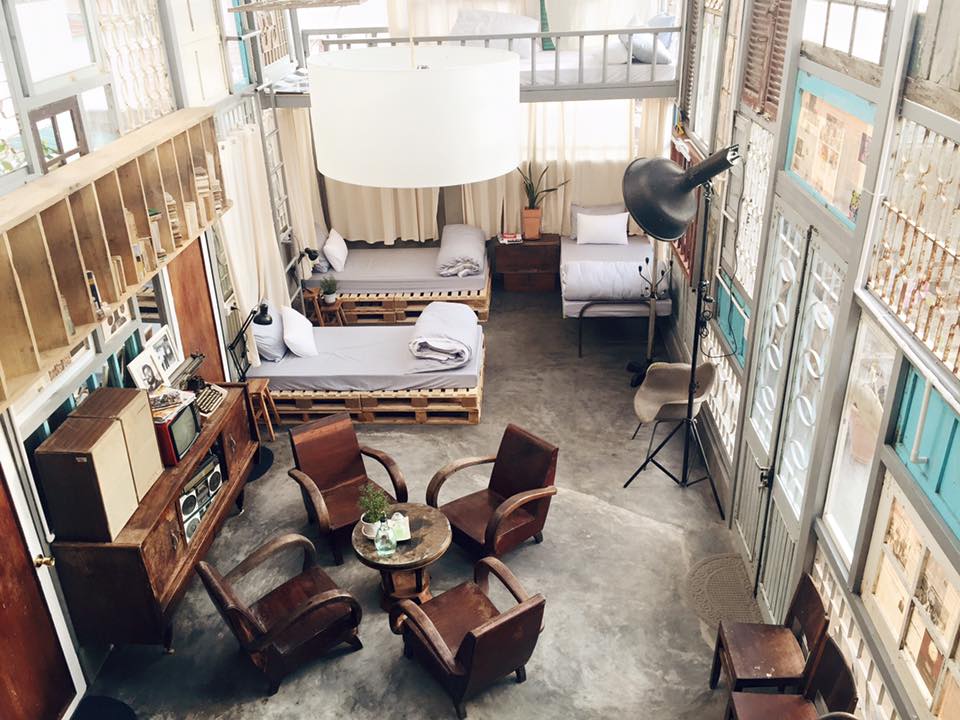 The guestrooms and dorm room are named after flowers. One of the guestrooms is named Violet, common room is Luu Ly (Myosotis), and two separate guest houses are Da Quy (Wild Sunflower) and Do Quyen(Azaleas). All rooms are designed with a retro vintage theme and a lot of windows and flowers, especially in each room there is a pot of rosemary. Each little pretty thing in these rooms like a curtain, box, shelf, ladder, etc. will certainly make you feel that you are cared about. The garden has enough space for all the guests. There is a small ground for camping and tenting. This is the perfect place for parties, small events or just a relaxing time.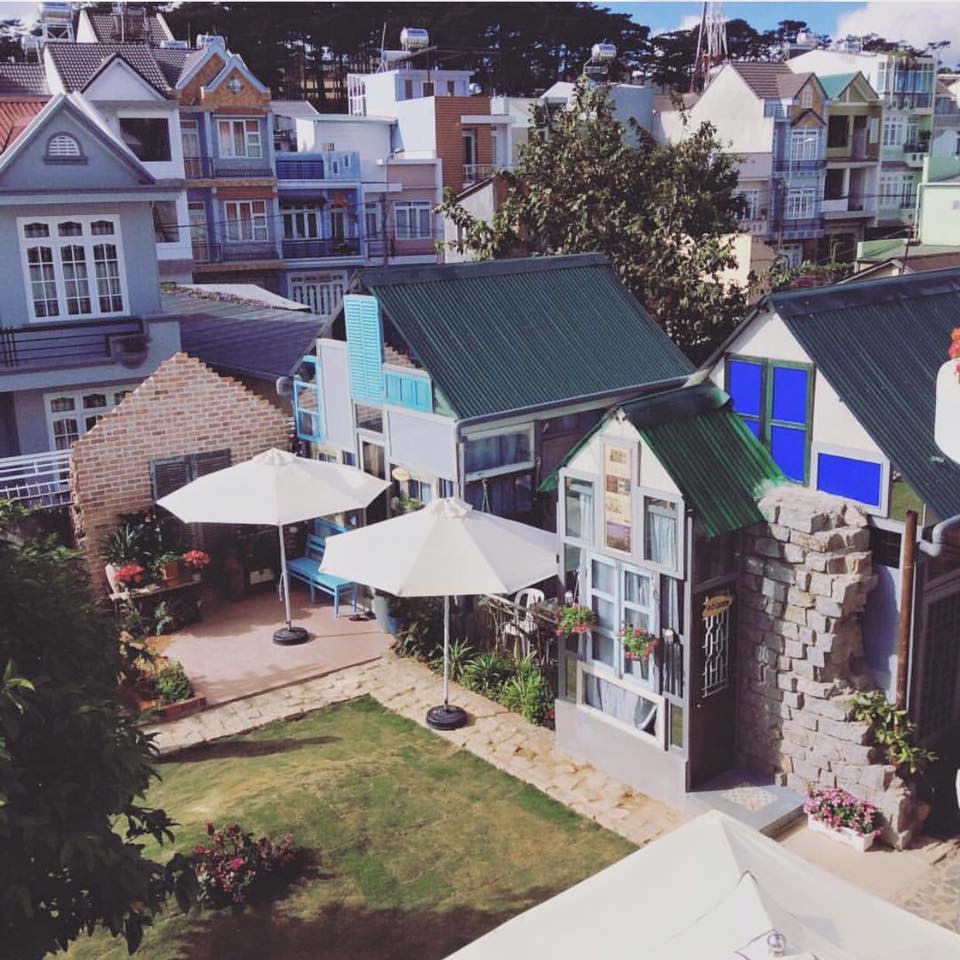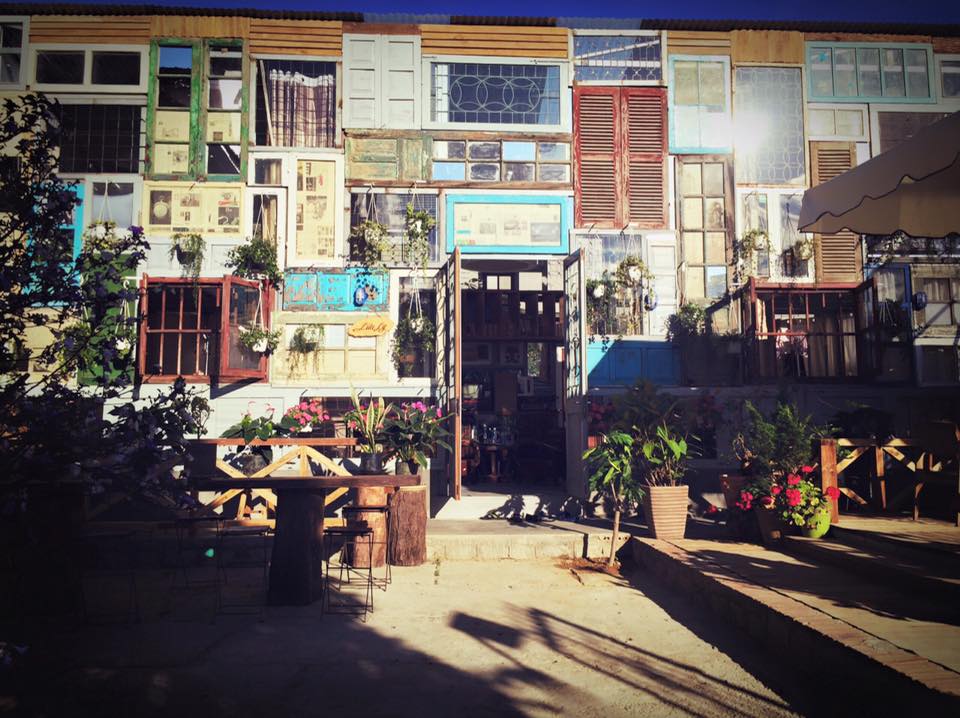 Guestroom: 300,000VND – 650,000VND per room per night
Dorm: 170,000VND per bed per night
LU TAN – 2/6 Tran Hung Dao
According to the owner, "Lu Tan" is the star of travellers, "Lu" means travel, and "Tan" means enlightenment. Which means the journeys that bring enlightenment and self-improvement.
Lu Tan Inn doesn't really look like a hotel or an inn. From afar, the hotel is like a white luxury medium-sized house with just a wooden post craved "Lu Tan" without "hotel" or "Inn" following near the gate. The entrance leads you right to the living room; there is no reception desk like other hotels. Staff will welcome in his/her casual clothing, and it will make you feel like you are not a visitor, you are a family member coming home.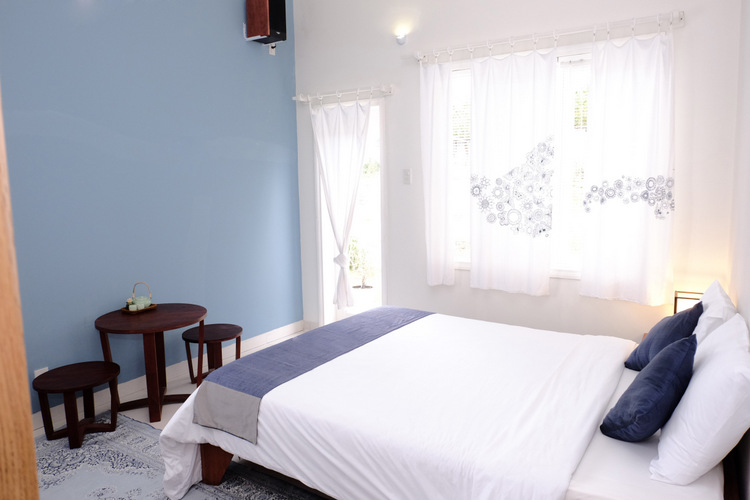 There is one word to speak of Lu Tan, sophistication. The living is spacious with three different table sets, a large Persian carpet, and a piano. The 9 rooms have their own name such as Bule Note, Celadon, Lotus Green…. Each room is designed with a very soothing colour like turquoise, light green, pink with white curtains and fine wooden furniture. Lu Tan's style is similar to the Japanese style but brighter producing soft and calming atmosphere. Being a very modern and charming inn, Lu Tan has no televisions. The host does this with an intention that everyone would have a totally free and relaxing time with Lu Tan and confident that Lu Tan needs no TVs to entertain its guests. Instead, the rooms are equipped with stereo speakers for you to enjoy music. In the morning, breakfast is served free with clean ingredients and pleasing visuals. The kitchen is very organized, clean and with cute items. You can also use this place to cook your favourite dishes. In the second floor, there is a 100 square meter common room named Forever Spring where you can spend a night in Dalat with your loved ones beside a fireplace lounge and terrace.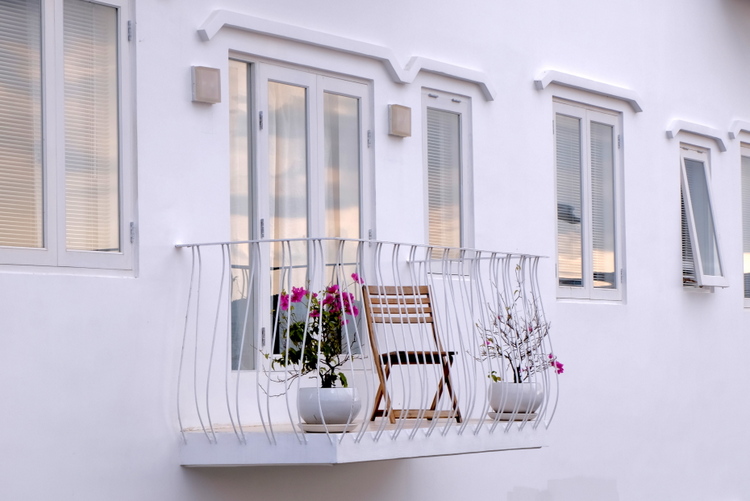 The garden is at the back of the hotel is usually visited by the guests for its romantic setting with a lot of trees and flowers.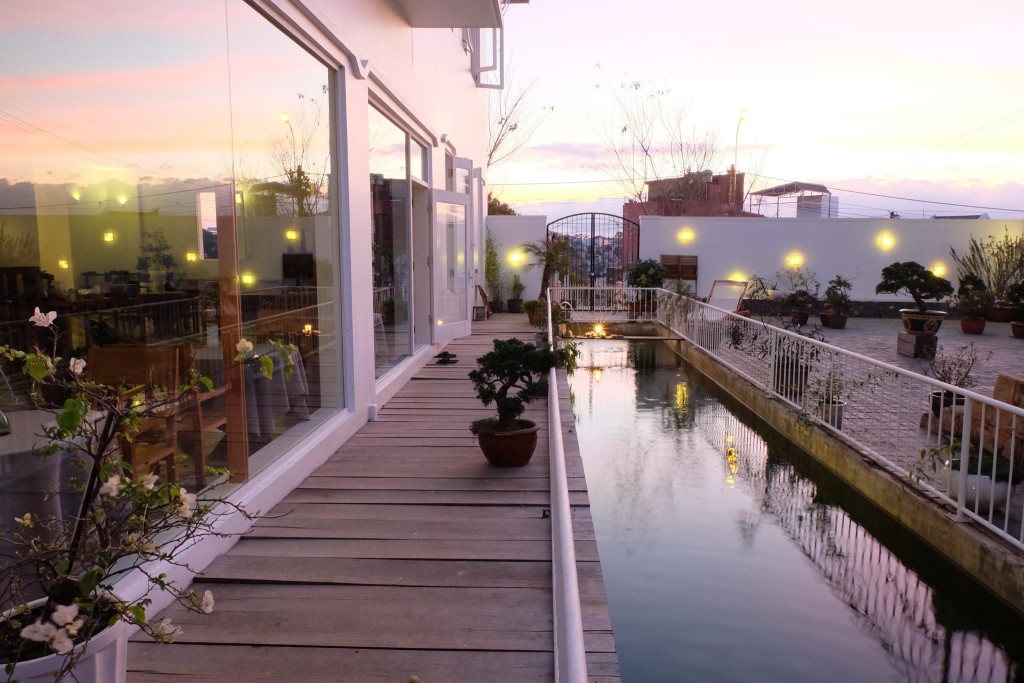 Room's rate: $76 – $132 per room per night
BEEPUB HOMESTAY – 74 Truong Cong Dinh, District 1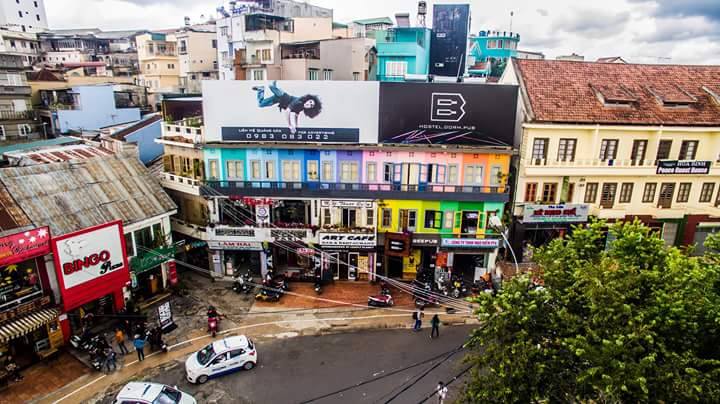 On the outside, you can easily recognize Beepub by the whole colourful floor at no.74 Truong Cong Dinh. Beepub is the perfect example for the homestay service definition in Da Lat – youthful, cheap, homely and creative. The homestay is getting more and more famous among students and backpackers.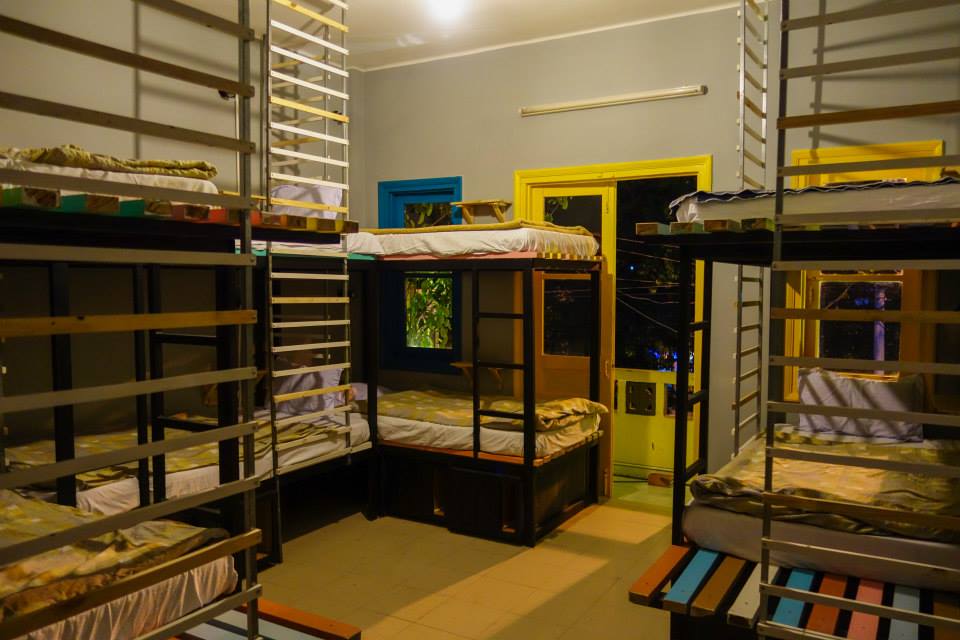 There are also two types of rooms in Beepub: bedrooms and dorm room. The 8 bedrooms here have names and are designed uniquely. Some room is inspired by a cuckoo nest, some are home-like, and some is retro vintage.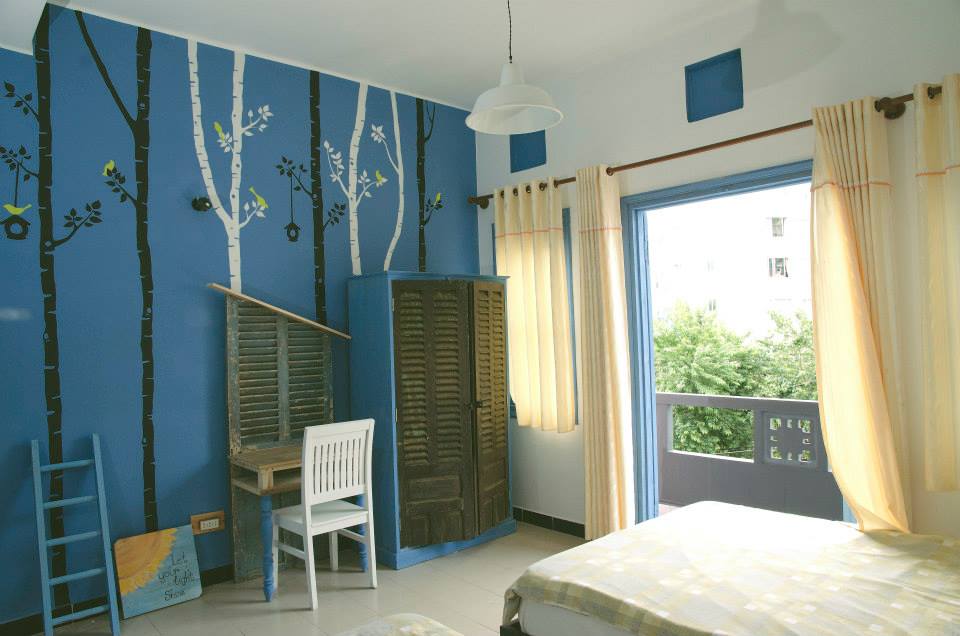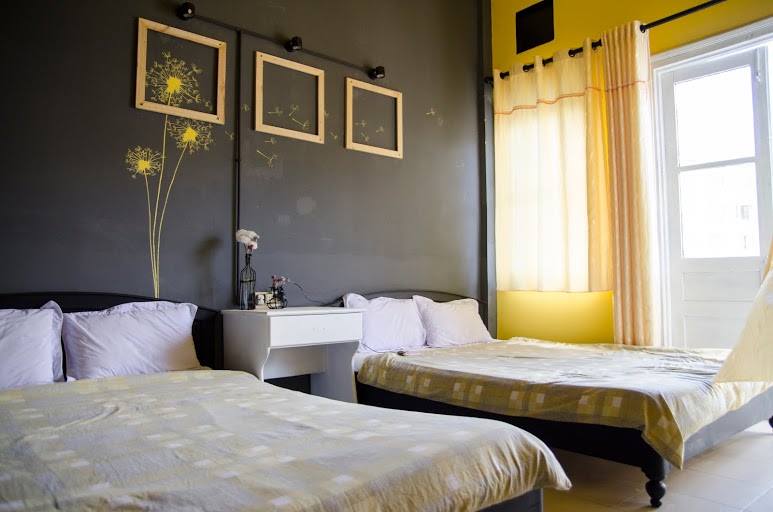 Each room will bring a very different feel. The dorm is also very impressive with beds made of totally woods evoking homely and cosy feelings. There is a special corner for comments and feedbacks of the guests. A plus for Beepub is the friendliness and professionalism of the staff.
Bedroom: 330,000VND per room per night
Dorm: 120,000VND per bed per night