Not everyone is well-informed about what can and can't be brought in carry-on baggage. Even the experienced air travellers may be confused about aviation regulations. To make sure you will not get any surprises at the airport, here are some notices that you must know before departure.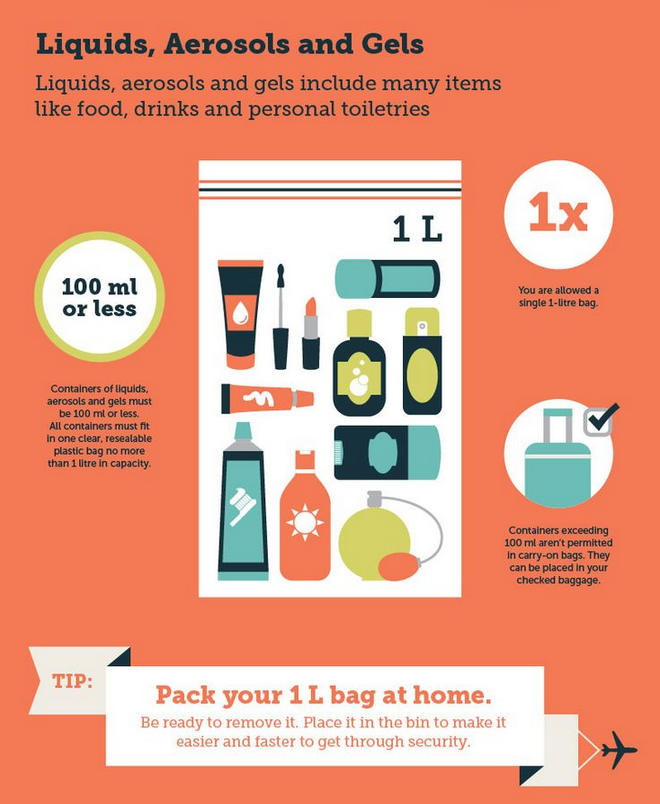 Liquids, aerosols and gels
There are restrictions on the number of liquids you can carry in your hand luggage. Liquids, liquid food, aerosols and gels are accepted only in containers of 100 ml or 100 g. You can make your security screening experience faster and hassle-free by packing your liquids in a single transparent resealable bag of a maximum capacity not exceeding 1 litre. Only one bag is permitted per person. All containers larger than 100 ml must be placed in checked baggage. Liquids purchased at the duty-free area can be brought on board regardless of their amount. Passengers flying with or without their infant are permitted to take breast milk over 100 ml.
Sharp objects
Objects with sharp edges or sharp points that may cause injury or seems capable of being used for this purpose such as knives, scissors, box cutters cannot be carried in hand baggage. They must be placed in the checked bag. Failure to do so is considered a violation of aviation regulations.
Lighters
The passengers are allowed to carry ONE lighter on the plane. However, cigarette lighters with fuel are prohibited in handbag and checked baggage.
Medicines
Although a large liquid container is usually prohibited in carry-on luggage, the passengers who have a medical condition are permitted to carry necessary medical items on the plane. The doctor's letter must be shown at the airport for carry-on allowance.
Sports equipment
For security and safety reasons, sporting goods such as cricket bats, hockey sticks, pool cues, fishing rods are not allowed to carry in a handbag but allowed in checked baggage.
Expensive items
Jewellery, currency and other valuable items should be always carried with you so as to avoid the loss or damage.