After an interview of 20 Korean Tourists isolated in Da Nang, Vietnam was published on Korean Media Channel – YTN News, Vietnamese Netizens have blown up on Twitter with hashtags 
#AppologizeToVietnam

and

#BanhMi

which are now on the Korean and Worldwide top trending.
"Stop and apologize to Vietnam. We have served you with generosity and kindness. If you are not satisfied, you can return to your country. Don't lie about our country"- @HaiVyDn.

"Our soldiers have to go to the forest to make room for the people to quarantine and eat simple meals like this. Please stop complaining and live a little more ethically, you're not the center of the universe" – @kimoanh_136.
The Brief Summary of the Situation
On 24th February, the last flight from Daegu – the center area of the outbreak in South Korea- landed on Da Nang airport with 80 passengers which include 20 Korean passengers. In order to ensure the safety of both tourists and Vietnam citizens during the Coronavirus Outbreak, 58 Vietnamese passengers were sent to Da Nang military headquarter for isolation, while 22 international visitors ( 20 Koreans and 2 Thailand) were isolated in the city's Lung Disease hospital. However, 20 Korean tourists seemed to be not cooperative when denying to be isolated as a requirement. Refusing to stay in the isolation room of a hospital, some of them asked for being isolated in a hotel, others would like to go back to South Korea. To cope with the situation, Da Nang's Department of Health decided to let them move to a hotel belonging to Son Tra District. But with the help from the Embassy of the Republic of Korea, the group of Korean tourists accepted to stay in Lung Disease hospital for careful supervision.
Korean Passengers called for Help!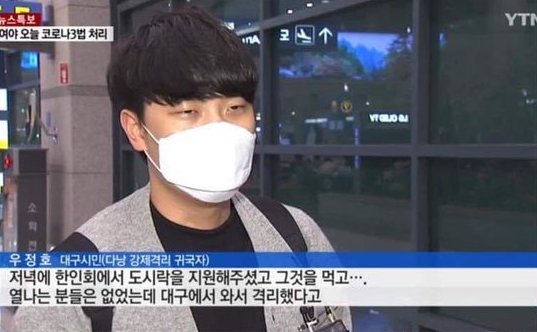 On the night of 25th February, tourists in the group provided misleading information and videos to YTN News (South Korea), showing their disappointment toward Vietnam's isolating part as well as asking for help!
In the interview, they claimed:
– "There are 2-3 sick people in a room"
– "The outside door or door to other rooms were all locked, we were detained".
– "I was given only small slides/pieces of Banh Mi".
– "They treated me so bad although I didn't have any symptoms. There was nothing prepared here".
– "The facilities here were so poor that I couldn't take a shower and there were fewer than 3 meals served per day".
After that, at midnight on 25th February, the group of Korean tourists was sent back to their country. At the same time, Chairman of Danang People's Committee – Huynh Duc Tho sent an apology letter to these international tourists because of some difficulties they experienced and hope to welcome them in the more suitable time.
What really happened?
We all know South Korea is the second country having the largest number of Covid-19 infected cases which just reaches 2,022 cases on 28 February, and has no signs of slowing down. Therefore, isolation measures and careful supervision over people coming from the areas affected by Coronavirus are Vietnam's priority now to prevent the spread of disease.
As we understand the great contribution of international tourists to the development of Vietnam's tourism industry, Korean and Thai visitors were all received special treats by being isolated in a well-equipped hospital and served with the rice box of full Korean traditional foods or Banh Mi – a famous dish in Vietnam. About the locked doors that tourists complained, it is one of the compulsory rules of isolation measures in case any individual escaping from isolation areas. So the information mentioned by these tourists that Vietnam offered them poor accommodation or poor quality received a lot of negative reactions from Vietnamese Netizens.
Top 1 Trending – #ApologizeToVietnam and The Anger of Vietnam's Netizens:
This situation has raised so many opposite opinions, making the number of tweets grows dramatically to nearly 700,000 within only 24 hours. While some Korean people commenting on the way Vietnam treated their people were not really thoughtful, Netizens in Vietnam still ask for an apology as well as wanting to clarify the truth to the world in order to preserve the beautiful image of Vietnam.
Here are some tweets and comments talking about this topic these days:
After #ApologizeToVietnam jumped to the top 1 trending on Twitter, many Korean users have expressed their sympathy with Vietnam's Netizens and say sorry to Vietnam on behalf of these tourists.
From 26th February, the Ministry of Foreign Affair of Vietnam announced traveling restrictions for passengers from South Korea, Italy and Japan. Click Here for more information!
What do you think about this situation? Let us know by commenting below!
Related Posts:
Wuhan Coronavirus (COVID-19) Outbreak Update: Is Vietnam Safe to Travel?