Yen Bai is always an ideal choice for tourists with abundance of exotic landscapes such as Thac Ba Lake, Muong Lo Field, Mo Waterfall,and particularly Mu Cang Chai Terraced Paddy Field in harvest season.
Yen Bai province covers an area of more than 6.000 km2 with a population of 758.6000. Situated in the northern midland and mountainous region, Yen Bai is famous for Khau Pha Pass stretching 30 km. This is the most dangerous route of National Highway No.32. Besides, Thac Ba Lake, Muong Lo Field, Mo Waterfall, and Mu Cang Chai Terraced Paddy Field are also not-to-be-missed destinations when travelling to Yen Bai.
Mu Cang Chai-stairs to heaven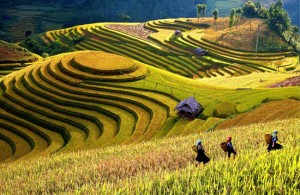 Each season, Mu Cang Chai features distinctive beauty but the most outstanding moment is during rice harvest season in September and October. In autumn, Mu CangChai is outstanding with golden ripe rice fields and scattered stilt houses, embellishing pristine and poetic beauty of the mountainous province. Mu Cang Chai terraced paddy field was recognized as National Scenic Site by Ministry of Culture, Sports and Tourism.
Thac Ba Hydro power Plant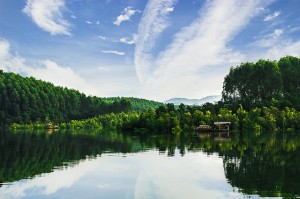 Thac Ba Lake is the largest artificial lake in Vietnam built in 1970 with a total area of 23.400 hectares. Not only is used as a tourist attraction, but Thac Ba Lake also pays an important role in protecting and improving the environment. Due to a stunning cave system constituted by limestone mountain ranges, the lake attracts thousands of arrivals every year. The most prominent of all is Thuy Tien cave, 100 m long, situated inside a rocky mountain. In addition, tourists could visit Xuan Long cave to admire stunning natural statutes, excellent works of the creators.
Cao Bien is the largest and longest mountain range of Thac Ba Lake. Standing at the peak of the mountain, tourists will get bird's eye-view of misting Thac Ba Lake in the early morning.
Travelling to Thac Ba, tourists will have the chance to communicate and exchange culture with ethnic groups such as Nung, H'Mong, Dao, Phu La…. through folk festivals.
Luc Yen Gem Market
For over 15 years now, Luc Yen gem market has been an excellent place to buy and sell precious stones, specifically from Luc Yen District's plentiful gemstone mining areas. At the market, you can see sellers show off their products, including rubies, spinel, opal and jadeite, on rows of small tables. The prices are announced depending on the type of gem which can be ten thousand, hundreds of thousands or a million, tens of millions dong.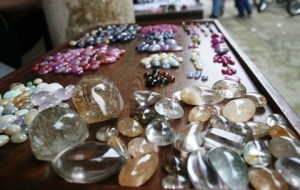 Tuan Quan Temple
3km from Yen Bai city centre, Tuan Quan pagoda was built in XIV century in Le dynasty. It used to be called "Bach Lam Mistress" pagoda. It worships Lieu Hanh mother, Tran Hung Dao, Hoang Bo and other human genies. The temple is associated with many uprisings and recognized as a historical relic in 2005. It is a popular spiritual attraction in Yen Bai with many annual festivals.
Nghia Lo Town
Nghia Lo Town is located in the second biggest valley in the area after Muong Thanh (in Dien Bien) of the North West. Nghia Lo boasts many revolutionary relics, beautiful landscapes, and the calm life which imprint deeply Thai Ethnic Group's culture. Ban Bon and Ban Hoc Hot Mineral water are situated in this place.
Suoi Giang Site is situated on the height of 800-1000 m above the sea level, 20km from Nghia Lo Town. This site is home to age-old tea trees. With the temperature in summer is around 30-320C, and very pure air, Suoi Giang Site is suitable for tourism relaxation, sightseeing and exploring the cultural life of H'Mong Ethnic Group.